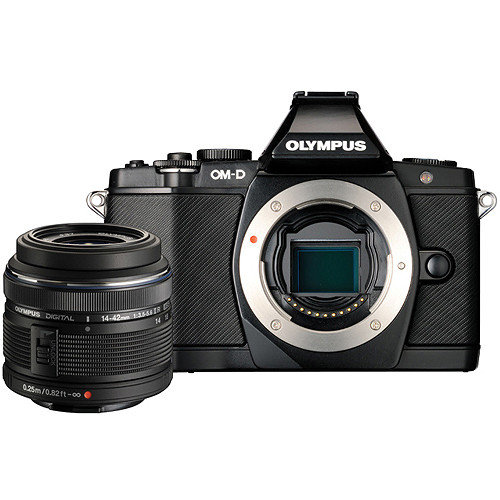 Olympus OM-D E-M5 (IN STOCK at B&H)
When I reviewed the Sony NEX-7, my opinion of mirrorless cameras really started to change. It's a game changer camera that offers a reason to go small and pass on a DSLR, so when I heard all of the hoopla about the Olympus OM-D E-M5 being even better than the NEX-7, I knew I had to check it out.
First Impressions

There are certainly plenty of WOW moments with this camera!
Unedited Cropped Macro Shot (Click for Original) with 14-42mm Kit Lens
f/11 @ 41 mm, 1/200, ISO 200
When I unboxed the Olympus OM-D E-M5, I was immediately reminded of the quality of the Fujifilm X100 and X-Pro1 bodies which is a good thing. However, when I turned it on I was even more pleasantly surprised that the rear OLED display blew away that of the Sony NEX-7 and pretty much everything else I've used. The rear display offers a tilt feature, but it isn't quite as useful as the fold and rotate design found on Canon cameras like the T4i and the G1X. It also offers a touch screen which I usually have disabled, but it's fantastic for photo playback where you can swipe to see more photos, zoom (via a slider only), and pan very easily. This big 3.0" display is the future of camera rear display technology that other brands will hopefully adopt in the future.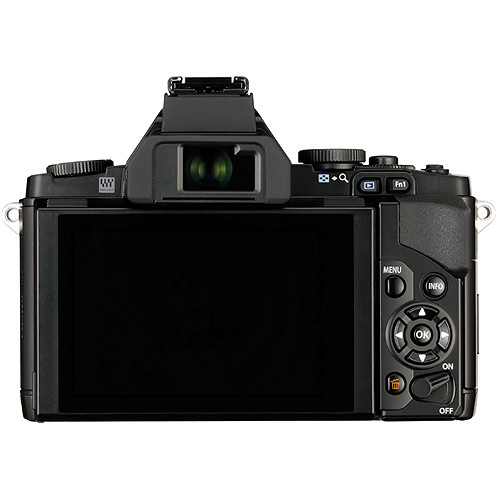 This camera also offers an electronic viewfinder which is a big let down as the display quality is horrible compared to the rear display and not even close to the quality and brilliant design of that found on the Fujifilm X100 and X-Pro1 bodies. In short, it works (and is handy in bright light) but it's more of a checkbox feature than a purchase consideration feature like the Fujifilm cameras.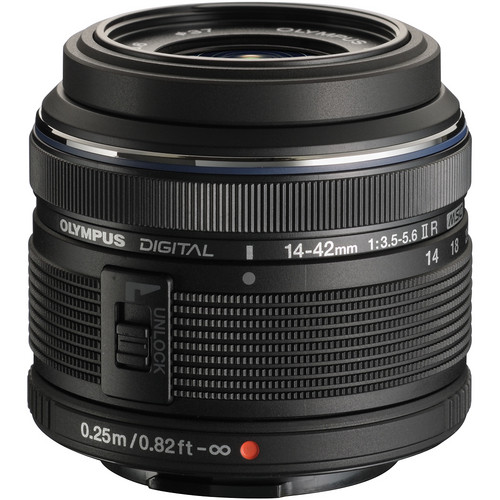 I had the Olympus M.Zuiko Digital ED 14-42mm f/3.5-5.6 II R Kit Lens and the Olympus M. Zuiko Digital ED 45mm f/1.8 Lens with my review unit, but I quickly hated the 1.64' (0.5 m) minimum focus distance of the 45mm f/1.8 prime so I favored the 9.8" (24.89 cm) minimum focus distance 14-42mm for most of my review period.
In my testing I found the battery to last longer than some of the other models I've used, but it is still only good for about one 8GB SD card under normal use. Speaking of the battery, this camera has a separate door for changing SD cards that isn't coupled with the battery so that allows for real-time swapping without turning the camera off which is nice.
I found the grip to be excellent and the controls to be fairly nice, so ergonomically I'd say it's a great design. However, the in-camera menu system – while visually appealing – were cumbersome to use and I found myself lacking quick access to hard buttons for some of the features I wanted handy (although the two programmable function buttons can help). The toggle for the viewfinder to rear LCD wasn't super obvious, and the purpose of the function buttons felt illogical but other than that most buttons were easy to figure out. The rotating knobs were great and didn't accidentally get bumped, and the power switch was fantastic. It should also be noted that with a rear touch screen, it's possible to to address some of my concerns without reprogramming anything but I still found the touch screen to easy to bump to leave it activated at all times.
As of the time of this article, I haven't done any flash photography with this camera yet using the Olympus FL-LM2 Flash that is included with this body (even body only units).
Real World Image Quality
All of the following images are in-camera JPEG's with only in-camera processing (no in-camera editing). Originals are available along with more samples at http://ronmart.zenfolio.com/olympus/omdem5.
UPDATE: See my article Olympus OM-D E-M5 Review–Part II for more images and details not covered here – including ISO 12,800 images.

f/1.8 @ 45 mm, 1/100, ISO 1600 with 45mm lens and AWB
Color was decent under tungsten light with Natural Picture Mode

Decent bokeh was available with the kit lens and detail was excellent
f/11 @ 42 mm, 1/200, ISO 200, Shade white balance

This camera has excellent pixel detail
f/5.6 @ 31 mm, 1/100, ISO 500

The kit lens never let me down
f/5.3 @ 36 mm, 1/200, ISO 200

f/9@ 42 mm, 1/200, ISO 200
Beach & Snow Scene (SCN) Mode wasn't very useful

Pop Art ART Mode adds lots of punch and sometimes works quite well
Mouse over to see Natural Picture Style, and mouse out to see Pop Art Mode effect

However, it can be nasty too – look at what happens to the purple in the leaves here
Mouse over to see Natural Picture Style, mouse out to see Pop Art ART Mode effect


f/6.3 @ 40 mm, 1/125, ISO 200
Image detail is excellent, but dynamic range is not as impressive as the competition

f/4.5 @ 16 mm, 1/200, ISO 200, Shade white balance
Blown highlights were common with ESP metering

f/11 @ 41 mm, 1/200, ISO 200
Macro lovers will enjoy the focus distance of the 14-42mm lens
and image detail is excellent (which is great for tighter crops)

f/5.6 @ 14 mm, 1/160, ISO 200
I didn't even see the spider in this flower until I had this shot on my computer – impressive!

f/10 @ 42 mm, 1/320, ISO 200
Click to check out the original to see how much sign detail is available.
This is a very good 16 megapixel sensor!
More samples are available at http://ronmart.zenfolio.com/olympus/omdem5.
UPDATE: See my article Olympus OM-D E-M5 Review–Part II for more images and details not covered here – including ISO 12,800 images.
Video
People who follow my blog know that I hate doing video, so I put zero effort into my videos. This is just another one of my typical "follow my son on his trike" videos where I test the auto focus and zoom during a lame real-time HD video. This is Program Mode video with default settings, but there's lots of control over what you can do with video so my impressions are that it's above average for cameras in this class.
Noise Concern
At first when I started using this camera I was blown away as it's rear OLED display is very good so the images I took looked fantastic. However, the in-camera JPEG's are very heavily processed (I'd say much more than other brands) so it seems to be noise free even into the higher ISO's. My first gut impression was "wow, this is better than the NEX-7 and even the Fujifilm X-Pro1". As I dug deeper I discovered that this was an illusion as the noise found even at ISO's as low as 1600 was what I'd classify as excessive as you can see here:

100% Crop of RAW file at ISO 1600
The in-camera noise reduction is horrible too as it destroys detail as you can see in the couple 100% crops below from an ISO 1250 image:

Notice how hair detail is lost

and the details in the shirt are obliterated
As a result, if I were advising a friend who owned this camera I'd say turn off ALL noise reduction and use Noiseware or Dfine instead as they do a much better job of preserving detail and not introducing artifacts.
DPReview's comparison images seemed to indicate better results than the NEX-7, but that is not what I experienced in real-world usage. To my eyes the NEX-7 and X-Pro1 had a significant advantages in real-world noise handling and performance.
It should be noted that my camera came with version 1.2 of the firmware for the body and 1.1 for the zoom lens.
Autofocus Performance

f/5.6 @ 42 mm, 1/1000, ISO 2000
(Compare this to a T4i image at the same location here)
The bottom line with this camera is that it's non-tracking focus (aka one/single shot) is outstanding, but it's focus tracking (i.e., continuous/servo focus) is horrible. This is an improvement over a camera like the Fujifilm X-Pro1 which struggles to focus lock on static subjects indoors as focus locks happen quickly, but it just can't track which is a shame given the fact that it can do about 28 JPEG fine or 20 RAW 4:3 full resolution images before any slowdown occurs and it never fully stops in either mode. This camera has all the makings of a great compact sports camera, but the reality is that its noise performance and terrible continuous tracking prevents it from being suitable for this purpose (see my 5D Mark III review for what's possible these days – or T4i for the budget conscience).
The single AF mode is the way to go, but even at 1/1000 sec predictive focus is necessary for a moving subject as you can see here:

f/5.4 @ 38 mm, 1/1000, ISO 800
In this shot my son is swinging, but very slowly so 1/250 sec should be sufficient to stop his movement but I was aggressive and went for 1/1000 sec. During my swing tests I only managed to get about 6 out of hundreds of shots that were usable which is pretty rare these days. Even my X10 point and shoot can outperform this camera at continuous focus tracking.
Exposure Metering
I think a firmware update is order for the in-camera ESP metering as it would randomly get seemingly easy shots over or under exposed. However, the good news is that it'd usually only get one frame wrong and then be back on track. I worried that I might have been accidentally hitting the AEL button which gets programmed to Fn1, but I disabled it to prevent that from happening and I still saw this problem.

ESP and Spot metering gave identical results for this shot
This might be a reasonable ESP exposure, but the funny thing was that shooting in spot or center-weighted metering, I got the same results. I'd expect spot metering to brighten my subject at the expense of the background as other cameras will do, but not the E-M5.
It should be noticed that when I did my metering testing I was in Aperture Priority mode.
Sound of Camera
The first thing I noticed when I turned this camera on was that I could hear it make a low gurgling sound that reminded me of an old air conditioner. I got used to it, but it's the only modern day camera that I can recall being audible to the point of noticing when turned on. Turning of image stabilization, going to manual focus, etc… didn't help – it's just a noisy camera. It didn't seem to impact the video in a significant way, so I wouldn't call it a huge problem. It's just something to keep in mind if you are going to turn this camera on in a quiet place as people will hear and notice it.
Compared with Sony NEX-7, Fujifilm XPro1 and Canon Rebel T4i/650D
Personally, I think the T4i/650D outperformed this camera in all but the quality of the rear LCD and size. The Sony NEX-7 would still be my recommendation for those looking for a mirrorless camera, and the X-Pro1 still wins the dynamic range comparison by a huge margin.
For those who are price conscience, I'd say go for the T4i/650D. For those who are size conscience, I'd suggest the Sony NEX-7.
Conclusion
This is a nice camera that I started to love right away. Based on the gorgeous rear LCD image previews, I expected this camera to dethrone the NEX-7 as the best mirrorless camera – but it didn't. In fact, this camera really reminds me more of the X-Pro1 where it has tons of potential but is missing some key things that hold it back (noise, metering performance, and AF tracking). However, I think the Olympus faithful will still love it. It's a good camera that just a couple years ago would have blown the competition away, but competition is stiff so I just can't help but thinking that Olympus has some bugs to resolve before this camera can start attracting Sony NEX customers.
This camera has a great sensor for capturing detail and the kit lens takes advantage of it. This made it a fun combo for macro shooting.
The Olympus M. Zuiko Digital ED 45mm f/1.8 Lens did great on SLRGear.com's blur index testing, but I didn't care for it as much in real world usage. I much preferred the 14-42mm which did okay on SLRGear, but seems less sharp – but in practice I found it to be a great overall lens.
UPDATE: See my article Olympus OM-D E-M5 Review–Part II for more images and details not covered here – including ISO 12,800 images.
The Olympus OM-D E-M5 is IN STOCK at B&H, so if you enjoyed this article please support this blog by ordering using this link.
Other reviews you might enjoy
Disclosure
If you make a purchase using links found in this article, I may make a commission. I was also provided with a camera to use for this review but it was returned when all testing was completed.