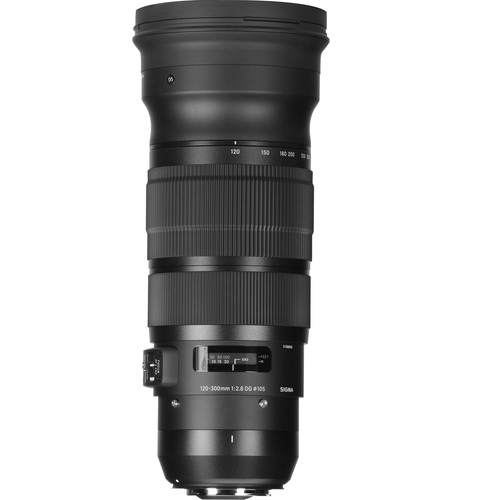 SIGMA 120-300mm f/2.8 DG OS HSM | S
Wildlife photographers have a saying that goes something like the focal length you need is at least 2x of the one you have no matter what lens you bring. I've found that to be true, but I've also found myself wanting to open a stop or two more than my lens typically supports so I can keep my ISO speeds down. With these quandaries, I was quick to accept the opportunity from SIGMA to test out their new 120-300mm f/2.8 DG OS HSM Sports edition lens that replaces a prior model.
This lens has a sexy design with a constant f/2.8 over a wide range, so I was VERY excited to try this lens. While the $3599 USD price (on Jan 4, 2014 at B&H) is expensive, it's certainly cheaper than the $6,799 USD 300mm f/2.8L IS II which lacks zoom or the $11,299 USD 200-400mm which only goes to f/4. However, it is twice as much as the popular Canon 100-400mm I once owned, so I wondered if was worth the extra price at the expense of some reach in exchange for more light.
I honestly hate doing technical lens reviews, so I tried to just enjoy these lens in a real world setting (a visit to the zoo) that might mimic what an average shooter might do. What I learned does apply to more adventurous backwoods wildlife and safari shoots, but in a less challenging scenario.
Would the SIGMA 120-300mm prove to be the perfect balance of price and performance, or would I find myself lusting for the amazing 200-400mm but settling for the 100-400mm or 300mm f/2.8?
Real World Usage Observations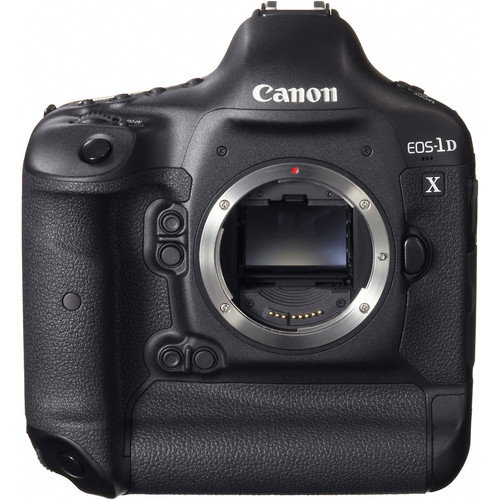 Canon EOS-1D X Digital SLR Camera
I've shot with most high end cameras on the market, but none has impressed me or has been consistently excellent as the Canon EOS-1D X Digital SLR Camera. I've owned 1D bodies since the awful 1D Mark III and I've enjoyed Nikon's best like the D4 and D800, but none of them brings me more joy with the results I get at the end of the day than the 1D X. With a new firmware coming that addresses my only gripes, this camera may be one that lives in my bag many years after its replaced (like it's predecessor the 1D Mark IV that I still own and enjoy as a 2nd shooter). As a result, I thought this would be the perfect camera to pair with this new SIGMA lens.
Due to the holidays I had limited testing time with this lens, but I think I learned enough to give my two cents. Right off the bat the biggest gripe I had with this lens were AF hunting problems. Granted I was in tough conditions, but that's the nature of where I live and rarely are we lucky enough to have "perfect" conditions when it matters the most. As a result, I was cursing this lens the entire day that I was out with it due to many missed opportunities.
Now, I've shot with latest Canon's 200mm, 300mm, 400mm, and 200-400mm as well as all of their predecessor so I'm no stranger to long lenses. I've found all of those lenses to focus very well and the newest models are simply flawless fast focusing lenses with excellent stabilization based on my testing. This is why when this lens was hunting around like a 50mm indoors, I was both shocked and annoyed. When you make a lens with a Sports designation, one thing it must do well is focus fast and accurately – especially when paired with the 1D X - the best focusing camera body I've ever tested by a huge margin (even over the D4).
Another thing that really irritated me was rotating the lens within the collar. Since a heavy lens like this requires a monopod at a minimum (and a gimbal head ideally), you rely on the collar being smooth so you can switch easily between portrait and landscape modes. Sadly, this lens lacks the smooth ball bearing design of the Canon lens collars so its very jerky and sticky when you loosen collar to rotate. In fact, it takes a lot of turns to get it loose enough to rotate fully which is time consuming enough to miss a shot more than once. I found this so annoying that I almost ended my review short as I could not live with this collar – it's horrible. If I owned this lens I'd seriously pay money for a better design as this simply wouldn't work for my needs.
Weight-wise this lens weighs just a half pound lighter than the Canon 200-400mm but a couple pounds more than the 300mm f/2.8 II prime, so it's a heavy lens to lug around all day. Whatever Canon did to lighten its II series lenses certainly would be helpful here, but I'll trade weight for zoom at a constant f/2.8 any day.
Sample Images from Woodland Park Zoo
The following images were taken at the Woodland Park Zoo in Seattle, Washington on December 30, 2013 in overcast, cold (44 degrees) and wet conditions. I shot with a Canon 1D X using the 1.2.4 firmware and the v1.0 firmware with default settings on the new SIGMA 120-300mm f/2.8 DG OS HSM | Sports lens.
The images are unmodified from the in-camera JPEG's shot with mostly camera default settings but with Shade white balance and Landscape picture style. The lens was supported using a Gitzo GM5541 monopod (monopod comparison article) and I was using the spot AF point when possible in manual single shot drive mode. Where needed (rare) AI Servo was used.
Exposure settings were set manually and accomplish the artistic mood I was trying to convey for any given image. As a result, some images may be darker or brighter than others, but that is not a characteristic of the lens – that is a decision I deliberately made for my own reasons.
Visit http://photos.ronmartblog.com/sigma/120-300mm for a full gallery and click the images to see the full-size originals. All images are copyright Ron Martinsen – ALL RIGHTS RESERVED. You may view them, but you may not store, edit, print, distribute or otherwise reuse any images without written consent.

Canon EOS-1D X, f/2.8 @ 300 mm, 1/100, ISO 200, No Flash
The bokeh is gorgeous from this lens

f/2.8 @ 300 mm, 1/100, ISO 250, No Flash
A series of this image exist at multiple ISO's for those curious about 1D X noise performance

f/2.8 @ 300 mm, 1/125, ISO 320, No Flash
I was wishing for another 240mm here (see the Canon 200-400mm version below)

f/2.8 @ 300 mm, 1/125, ISO 400, No Flash
Sometimes I got lucky and the animals were close
Notice the detail in the eye

f/3.5 @ 300 mm, 1/200, ISO 800, No Flash
An unexpected opportunity shot through a hole in the brush
had me once again wishing for 540mm or more!

f/4 @ 145 mm, 1/100, ISO 1000, No Flash
High ISO starts to impact the image, but the detail is still very good even in the eye
Too bad for the ugly fences at the zoo!

f/4 @ 300 mm, 1/60, ISO 1250, No Flash
Not my best Lion shot, but it's my lowest ISO version
as I was shooting during one of the shortest days of the year.
Again more zoom or major cropping is needed here.

f/5.6 @ 128 mm, 1/25, ISO 1600, No Flash
Even at ISO 1600 the detail was very good

f/8 @ 300 mm, 1/100, ISO 2000, No Flash
As we get to f/8 the ISO climbs but there's still a usable shot here

f/5.6 @ 300 mm, 1/160, ISO 4000
Nowhere was the lack of reach more frustrating than this opportunity

f/3.2 @ 220 mm, 1/125, ISO 5000, No Flash
I was blown away by the quality of this image at such a high ISO,
so this team certainly can perform well at ISO 5000!

f/5.6 @ 300 mm, 1/160, ISO 6400, No Flash
ISO 6400 was still giving very satisfying sharp images with this combo

f/9 @ 300 mm, 1/320, ISO 8000
While I have better shots at this ISO and focal length, I thought this demonstrated f/9 well

f/5.6 @ 120 mm, 1/200, ISO 12800, No Flash
Three years ago this shot wouldn't have been possible, so to see such detail
and sharpness at this ISO means wildlife shooters are going to be
happy with this combo for tough weather days like this!

f/22 @ 128 mm, 1/13, ISO 12800, No Flash
With these settings softness is a given, but it was okay all things considered
Three years ago I would be gushing at the results I got with this SIGMA lens. It's a sharp lens that performed admirably from an image quality standpoint, but in the last two years a lot of new super sharp lenses have been released. With this new bar being set for sharpness and stabilization performance, I'd classify its performance as very good. The Canon 1D X certainly helped it shine and get the best results possible, and honestly some post processing sharpening could easily yield fantastic results with any of the shots captured above. As a result, I'm not going to complain about the image quality performance in the real world as I thought it did good enough to justify its price.
Versus the Canon 200-400mm
Click here for my full review of the Canon 200-400mm, but suffice it to say that I enjoyed both the reach and AF performance of that lens far more than this SIGMA. Of course that Canon is obscenely expensive and beyond the reach of mere mortals, so for most that lens isn't a consideration for anything but renting. However, if you have the budget here's a unedited few shots from that other article that will help you understand why I like that lens so much:

Canon EOS-1D X, f/5.6 @ 560 mm (400mm with built-in 1.4x extender),
1/400, ISO 3200, Shade White Balance, Standard Picture Style

Canon EOS-1D X, f/5.6 @ 560 mm, 1/500, ISO 1600

Canon EOS-1D X, f/4 @ 400 mm, 1/200, ISO 320
Bookshelf Test
The following were all shot with the same camera in identical conditions mounted to a tripod using mirror lockup and a 10 second timer. The camera settings were identical as well so color variations are caused by Auto White Balance (AWB) with this particular lens. It should also be noted that while I matched up the SIGMA lens to the 200mm setting (white line pointing to the middle zero) I apparently needed to bump it over a little more. As a result, I got 193mm – SLRGear.com seems to have done the same thing in their testing too, so I must not be a complete idiot. Unfortunately I didn't discover this until I had boxed up the lens to send it back (it was a loaner).

Sigma 100-300mm @ f/4 ~200 mm, 6s, ISO 100, No Flash
This is a really bright lens so it's no surprise to me that it managed to have the shortest exposure time of the three lenses tested. I will disclaim that these were all shot at different times, but they were done at night under identical lighting conditions. This sort of variability is not uncommon between lenses.
Sharpness-wise when I look at all three under these conditions at f/4 I find that the 70-200 is the sharpest followed by the Canon 200-400 then the SIGMA 120-300mm. Based on the testing at SLRGear, it would indicate that the sharpest range for this lens is at f/5.6 to f/8 across all focal lengths with f/8 through f/11 being stronger at 120mm – 193mm and f/5.6 through f/8 at 300mm. It does seem (as is common with zooms) that it gets a little softer at maximum zoom (300mm), so it begs the question if a 70-200mm f/2.8L IS II USM with a new 2x extender would be just is good in practical use (i.e., as sharp as the SIGMA at 200mm @ f/5.6 – f/11).

Canon EF200-400mm f-4L IS USM, f/4 @ 200 mm, 8s, ISO 100, No Flash

Canon EF70-200mm f-2.8L IS II USM , f/4 @ 200 mm, 10s, ISO 100, No Flash
A full gallery of images for both of the big zooms can be found here for SIGMA (http://photos.ronmartblog.com/sigma/120-300mm) and here for Canon (http://photos.ronmartblog.com/lens/canon/200-400mm).
Conclusion
The sharpness of this lens reminds me of my old 100-400mm which could get shots like this:

Canon 1D-Mark III w/ 100-400mm @ 220mm f/5.6 1/320 sec at ISO 1600

Canon 1D-Mark III w/ 100-400mm @ 260mm f/5.6 1/500 sec at ISO 3200
Overall I found the sharpness to be satisfactory, but you can use the sample images in this article to be the judge if they meet your sharpness bar or not. The images I got are plenty sharp for typical post processing that I always do on my images. As a result, I can't fault this lens for sharpness. When this lens is paired with a great camera like the 1D X, D4, D800E, etc… it's sure to impress. I think 7D and D700 users might find it too soft for their liking due to the ability of the sensors on those cameras, so with the best sensors from the current generation of mid to high end DSLR's you'll get the best out of the lens.
With that said, I am not happy with the AF hunting issues I saw with it during my testing. Granted, my testing time was limited so SIGMA has extended my loaner period so that I can do more extended testing with the USB dock to see if I can get performance improvements that change my initial opinion. If I see change in behavior I'll publish a new article and update this one.
I had similar AF problems when I first started testing my 100-400mm lens, but in the real world field use it never let me down. As a result, the problem I had could be (as SIGMA has claimed) unique to me, but this is how the lens shipped and performed with default settings so I don't think my experience is going to be isolated. If you've used this lens then I highly encourage you to comment on this article with your experience, both good and bad. You can also read the reviews on B&H mostly seem to be glowing in every way except for the weight of the lens.
My limited testing with the dock during a brief four day test period did nothing to address the focus hunting problems I saw on this shoot, but in all fairness I didn't have a laptop with me at the zoo to make on the fly changes during those exact conditions. While some additional time might address my focus performance issues, I don't expect it to change my opinion of the annoying lens collar.
With only the experience I have as of today, I definitely wouldn't trust this lens with a fast moving sports event or bird shooting. Since those activities demand lenses with super fast and precise autofocus that changes rapidly based on the conditions, I'd be reluctant to entrust my shoot to this lens at this point in time. I hope I can find a magic tweak via the USB dock that resolves my issues as I thought for sure this was going to be a dream lens that was going to go on my wish list. Again, if you are an owner of this lens and have found non-default settings that improved your AF focus speed performance, then I'd love it if you could share them with me via the comments.
Please note, that I'm not experiencing any front or back focusing issues so no micro adjustment (aka focus setting adjustment) was necessary. The issue I have is the failure of the focus to lock on the target – even when the subject is stationary and well beyond the minimum focus distance. When this happens the focus hunts around and fails to give a focus lock beep which in some cases required me to go to manual focus to get the shot (so accurate focus was indeed possible).
It should also be noted that in the zoo most of the time my subjects were stationary so One Shot AF with the Spot AF point was sufficient, but in the real world objects tend to move more rapidly which would require AI Servo. For those who aren't well versed on when to use which AF drive mode, a general rule of thumb is that you use One Shot when the subjects legs are stationary (even if their body is actively moving) and AI Servo when the subject is traveling in any given direction (i.e., legs moving). You use shutter speed in both cases to freeze the subject, so if a bird is flapping its wings but hanging on to a branch then One Shot is sufficient. If a bird lets go and starts to take flight then AI Servo is required. What's more, the less predictable your subject is the more AF points you need, so a moving bird will typically do better with a cluster of AF points (or zone) than a single AF point as is possible in the zoo where animals can easily be found idle for minutes at a time.
For now I'd advise those looking to buy this lens to either try a friends unit or rent from LensRentals.com before making your final decision. I'm not a regular wildlife or bird shooter so your mileage may vary, but I felt like a zoo offers the easiest possible experience for wildlife photography so I would expect things to be much harder in typical field conditions.
Where to order
Click here to learn more or order the SIGMA 120-300mm f/2.8 DG OS HSM | S lens at the B&H web site. My friends at Amazon have it available here as well.
Where to Rent (DISCOUNT OFFER)
Lenses like this are crazy expensive, so it's always a good idea to try before you buy. My friends at BorrowLenses.com have lenses like the Canon 200-400mm available to rent here, and they have a 5% off discount for my readers on my discount coupon code page. LensRentals.com has it available here and my readers can get it from them with a 5% off from on my discount coupon code page. LensRentals.com offers the Sigma 120-300mm too.
Other articles you may enjoy
If you enjoyed this article, you may also enjoy these:
Disclosure
If you make a purchase using links found in this article, I may make a commission. It doesn't cost you a penny more, but it does help to support future articles like this.