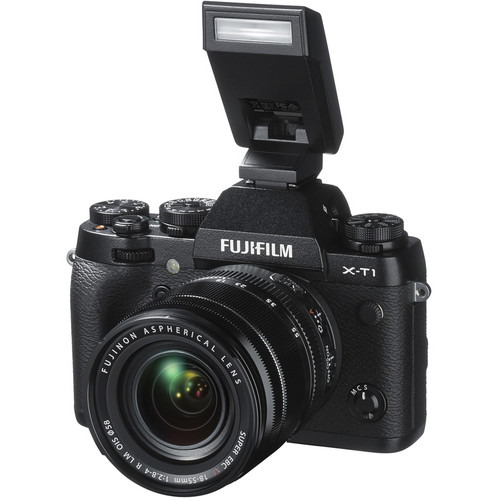 Fujifilm X-T1 Mirrorless Digital Camera with 18-55mm Lens
The 16.7mp, 1.5x crop factor Fujifilm X-T1 seems to be built from the ground up with the real photographer in mind. People who enjoy quick analog access to things like drive modes, metering, ISO and more are really going to love this camera (with one huge exception I mention at the end).
The included popup flash also proved to be excellent and much better than a popup flash found on your typical full-size DSLR. The viewfinder also impresses and an auto rotating text when in portrait mode to make it one of the more enjoyable viewfinders I've had the pleasure of using.
As a camera body, I only found the selector buttons (see later in this article) and the easy to accidentally open SD card cover the only real major flaws of what is a very fun camera to use.
It also feels very good in the hand even with the heavier kit lens with an outstanding raised grip that is a huge improvement over all of the other currently shipping X-Series cameras. In fact, it's tough for me to go back to my X-E2 after using this DSLR-style grip!
In this part of my review I'll focus on some real world testing with this camera in the mountains, but I'll also tell you my thoughts on the kit and 23mm lenses I tested with. I've saved my video walkthrough and bookshelf test for the next installment, so be sure to come back for the second part where I give my final conclusions on my most anticipated camera of 2014!
Fujifilm XF 23mm f/1.4 R Lens with the X-T1
Last October in New York I heard a former Fujifilm employee refer to the XF 23mm lens and the "future killer Fujifilm camera" (which I now know to be the X-T1), as being the best Fujifilm combo this person had ever used. This was this persons pinnacle of perfection from Fujifilm, even more than the x100s, so I made sure to have this lens along with me for this review.
When viewing my gallery of images, you'll often see effective duplicate images. If you look carefully at the caption or metadata you'll see that often the difference is between the kit lens and the XF 23mm taking the same shot (or video).
If you download the images and use Lightroom to pixel peep them, you'll often see the 23mm difference – it is sharper, but not as much as I expected or hoped. Here's an example:

18-55mm at 22.3mm vs XF 23mm on a tripod with a timer shutter release
Please click to view at 100%
One of things I discovered after my days out shooting with the kit lens is that the 23mm mark on the kit lens is sadly 22.3mm, so many of my comparisons aren't he apples to apples comparisons I was hoping they would be. However, they are close enough to give on an idea of the extra sharpness you get with the prime. To see the originals, click the links for 18-55mm at 22.3mm vs XF 23mm.
There's no doubt that the 23mm is a decent lens and better than the kit, but it's not like comparing the Zeiss 55mm Otus to any other 50mm.
I'll have more examples coming soon, but here's also an example of the bokeh you get from the 23mm at f/1.4 in a real world scenario:

f/1.4 @ 23 mm, 1/4000, ISO 400, No Flash, XF 23mm
This is a good $899 lens (full retail price, $749 when on sale), but it's not what I'd call a wow lens like I've seen from select lenses on Canon and Nikon DSLR's. If you are someone who lives for the 23mm lens (35mm effective), then I'd suggest saving some money and going for the x100s instead. You can get that entire camera for not much than the cost of this lens and you don't have to worry about dust on the sensor!
Unedited Sample Images
You can view the full set of casual snapshot photos at http://photos.ronmartblog.com/fujifilm/x-t1. Please note that this gallery currently contains images that up until March 16, 2014 were shot with the internal noise reduction feature set to the default of 0.
My biggest lesson learned after evaluating these images was something I expected before I took this camera out of the box – Fujifilm's internal noise reduction sucks – big time! You are better off turning noise reduction to –2 and then using a product like Noiseware (tutorial) to get rid of the noise than to let this camera destroy your in-camera JPEG's with its horrible detail destroying noise reduction. Of course if you only process the RAW's (which sadly means you'll miss some of the Fujifilm processing magic), then you'll need to run your own noise reduction anyway – in which case I still recommend Noiseware.
The film mode choice was frequently Velvia which won't be to everyone's taste, but I like it enough that I typically don't do very much post-processing on X-Series images shot in Velvia. That's exactly what I want from a compact camera, so it's one of the many reasons I like this platform.
Please note that all of these images are the original jpeg's as they came out of the camera. If you click the image you'll see the full size version exactly as it came out of the camera. The file name and metadata will offer a clue as to what's what lens and settings were used when the shot was taken.
You may download and inspect these images for your own review, but please delete them when you are done. You may not alter, re-post, print, or otherwise use these images in any way without my signed (on paper) consent. Copyright © Ron Martinsen – ALL RIGHTS RESERVED.
Click the images below to see the full-size 16 megapixel originals (4896x3264), then click them again in your browser to see them at 100%.

f/8 @ 23 mm, 1/170, ISO 200, Handheld (XF 23mm lens)
The dynamic range of this camera is pretty sweet!

f/16 @ 23 mm, 0.6s, ISO 200, Tripod (XF 23mm lens)
The x100s still seems to have the advantage on landscapes
and it's sealed body means no dust spots as I ended up with here

f/8 @ 23 mm, 1/38, ISO 6400, Handheld (XF 23mm lens)
Despite horrible in-camera noise reduction with the default settings,
the raw noise level is low enough that ISO 6400 is quite usable

f/1.4 @ 23 mm, 1/60, ISO 250, Handheld (XF 23mm lens)
The 1.5x crop factor means this camera won't blow away the full frame a7R,
but with a f/1.4 lens the bokeh isn't too shabby

f/5.6 @ 23 mm, 1/125, ISO 5000, Handheld (XF 23mm lens)
Nobody does in-camera panos better than Fujifilm, and the X-T1 doesn't disappoint

f/18 @ 25.4 mm, 1/9, ISO 200, No Flash, Handheld (Kit Lens), Standard Film Mode, AWB
Highlights are always protected well, but dark areas can lose
detail quicker than some other cameras I've tested

f/16 @ 23 mm, 1/25, ISO 200, Tripod (XF 23mm lens)
Internal noise reduction ruined this shot, but even still I was
disappointed in the detail in this shot compared to what I saw with the x100s

f/8 @ 23 mm, 1/60, ISO 2500, Handheld, AWB, Velvia Film Simulation, (XF 23mm lens)
Velvia was a little over the top with the red of this wet red wood log

f/16 @ 23 mm, 1/60, ISO 2500, Handheld (XF 23mm lens)
The x100s made me confident to go to f/16, but this isn't the x100s.
It's not bad, but just not as crisp as the x100s. However, a light wind was a factor here too.

f/8 @ 18 mm, 1/13, ISO 200, Tripod (Kit lens)
While I favored the 23mm, the kit lens isn't bad at all – and it's handy to have on hand!

f/7.1 @ 25.4 mm, 5.3s, ISO 200, Tripod (Kit lens)
The kit lens was plenty sharp and I had no light leak issues detected

f/7.1 @ 21.4 mm, 0.7s, ISO 200, Tripod (Kit lens)
Fujifilm cameras always impress me with extreme lighting situations like this.
The bright lights are under control and detail is still visible in the shadows.

f/2.8 @ 18 mm, 1/1100, ISO 400, Handheld (Kit lens)
You aren't going to get dreamy bokeh with the kit, but it's still a nice lens

f/4.5 @ 55 mm, 1/42, ISO 800, Flash (-1 EV FEC)
The included hot shoe flash did a great job!

f/7.1 @ 20.5 mm, 1/60, ISO 2500, Handheld, Flash (-1 EV FEC) (kit lens)
Capturing toddlers is a challenge with this camera due to very slow focus locking
1 in 10 photos were misses during my first wave of testing due to focusing challenges

f/4.5 @ 55 mm, 1/56, ISO 800, No Flash (kit lens)
Despite occasional cooperation from my son, Kai, I was frustrated by the AF struggling
(Click to zoom to on the original to see how soft this shot really is and notice the in focus areas)

f/10 @ 39 mm, 1/5, ISO 3200, Handheld (Kit lens), AWB
I was testing high ISO (hence the f/10) and lens stabilization here,
but got surprised by the Auto White Balance (AWB) having a strong red tint on this one>
Fujifilm's internal skin softening seems to be alive and well, but perhaps less harsh
than its predecessors.
More images to come in part II!
Video Review
I'll do my own video review in the next installment, but in the meantime here's an enjoyable review from DigitalRev TV. While I don't agree with everything that Kai says, many of his observations mirror mine:
Light Leak Issue
My test unit with a serial number starting with 41A0 did not exhibit any light leak issues that I detected during my testing. Here's a couple tripod based long exposures that I took in bulb mode. Because I didn't have a remote release I had to hold my finger on the release button, so these aren't as sharp as if I would have had a proper remote release with me:

28 second bulb mode exposure - f/5.6 @ 18 mm, ISO 200

90 second bulb mode exposure - f/8 @ 18 mm, ISO 800
Apparently Fujifilm is stepping up to the plate and addressing this issue for serial numbers 41002001 to 41006000 with a fix. Click here to learn more.
The New Selector Buttons – How do I hate the? Let me count the many ways!

X-T1 Selector Buttons shown up top,
X-E2 shown at the bottom
At first glance one might look at the new X-T1 selector button design with its raised outer edge and think – wow, that's an improvement! I'm sure some engineer thought this new design made perfect sense, so to out with the old tried and true design that worked very well (shown below – from an X-E2). However, I'm here to say that I would never buy nor recommend any camera with the X-T1 selector buttons as shown here.
To say that I hated these new X-T1 selector buttons is an understatement. In fact, if I had a dollar for every time I cursed them or struggled with them, I'd be sitting on an island right now enjoying my retirement.
The problem with the new design is that your thumb effectively goes into a bowl and its very difficult to feel the top, left, right and bottom buttons. As a result it becomes easy to hit the wrong one as your thumb glides to the raised edge trying to figure out what's what.
In the bottom design for the X-E2 the edge is inverted so the first thing your thumb feels as it moves off the Menu Ok button is a raised edge. I know it seems very subtle, but in in practice this is a HUGE difference.
One of my readers and assistants complained of this problem and I figured it would just be a change that one needs to get used to, but after using this camera for two weeks I haven't got used to it yet. In fact, I've wanted to toss this camera back in the box and say forget it – send me a proper set of selector buttons before I'll continue my review!
I've actually thought about this one long and hard and I'd seriously PAY MONEY to send my X-T1 in and have the crappy new selector buttons replaced with the old X-E2 design because I hate them so bad.
The X-T1 is an excellent camera with a ton of things to love about it, but this one thing hurts usability and overall enjoyment so badly that I really couldn't in good faith not raise this issue to my readers. This is more than an annoyance – it's a significant usability problem that would frustrate you a heck of a lot more than light leaks or whatever other BS issues the web pixel peeping trolls are finding out in the wild.
Never in the 7 years that this blog has existed have I hated one feature so badly that I've called it out like this, so I implore Fujifilm to correct this problem with units that ship in the future and offer a replacement program for existing X-T1 owners.
See also my "Do you like the new Fujifilm X-T1 selector buttons?" article.
Conclusion
Click here to read my final thoughts, however you can see from the images that this is indeed a nice camera. Aside from the selector buttons that I despise, this is really a delightful camera thanks to the addition of physical knobs for ISO, drive modes, metering and more. New function buttons round things out to make this overall one of the best Fujfilm bodies I've ever tested, but those darn poorly selector buttons ruin it all to make it one of the more frustrating cameras to use as well!
Where to order
Click here to learn more or order it on the B&H web site. My friends at Amazon have it available here.
Other articles you may enjoy
If you enjoyed this article, you may also enjoy these:
Disclosure
If you make a purchase using links found in this article, I may make a commission. It doesn't cost you a penny more, but it does help to support future articles like this.