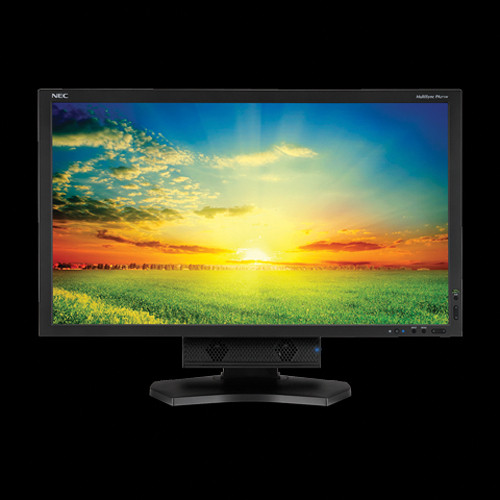 Many people like me have come to love the NEC PA Series displays for their outstanding image quality, color and value (compared to the nearest competitor – Eizo). However, if you are also like me you probably had to a monitor before that included an integrated speaker so one of the downsides of going with a new high end display is the lack of integrated audio. Of course, you can put speakers on your desk, but who wants the clutter of that?
NEC has been listening to this concern and has responded with the Soundbar Pro (available at B&H and Amazon). This is a no-frills, but effective business-class speaker that mounts on the bottom of your display with no hassle. Sure, it's not as sexy as Edifier Spinnakers nor does it possess the audiophile quality sound of Audioengine A5+ Premium speakers, but it gets the job done in a compact size that integrates nicely with your NEC MultiSync 90, P-Series, or PA-Series display.
Reasonable price for a sound bar, but better and cheaper freestanding might make it a hard sell for some (e.g., Logitech X-140 2.0 Speakers are < $30).
It's super easy to install and integrates very well.
A USB extension cable is a nice included item because this allows you to plug the sound bar into the computer and leave your SpectraSensor Pro plugged into your display. It kinda makes you wonder why printer makers don't include USB cables huh?
There's no external visible indication it's on or getting power on my unit – unlike the blue light shown in the photo above. I consider it a negative, but others might consider it a plus. To be fair though, the display responds to volume adjustments and push to mute so you can easily see it working.
The volume control feels flimsy and I prefer an old rotating knob, but its design (much like many cars these days) allows for push to mute and digital synchronization with volume changes on your desktop (which a traditional knob typically can't do).
The sound quality is mediocre compared to my old Dell Soundbar that had a rotating knob, light, and nice integration with the display.
Conclusion
While this speaker won't win any audiophiles hearts, it gets the job done at price that will be worth it to some so they can keep their desktops free of speaker clutter.
Where to order
Click here to order the SoundBar Pro at the B&H web site. My friends at Amazon have it available here too. As of the time of this article, this product was not sold by Adorama.
Other articles you may enjoy
If you enjoyed this article, you may also enjoy these:
Disclosure
If you make a purchase using links found in this article, I may make a commission. It doesn't cost you a penny more, but it does help to support future articles like this.
I was also provided with a SoundBar Pro to test with my NEC PA Series display (that I purchased myself at full retail price from B&H).