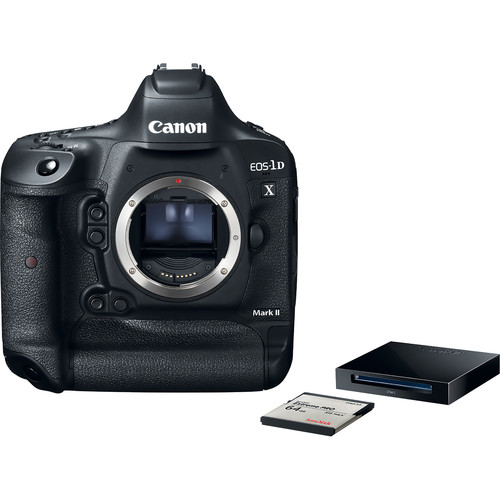 Canon EOS-1D X Mark II Body with CFast Card & Reader
When I did my Nikon D4s vs Canon 1D X review, I declared that the D4s had the best autofocus system I had ever tested. As a result, when the D5 came out, I was very eager to get my hands on it and see what improvements Nikon had made.
As Canon 1D X owner, I was expecting to be blown away by the D5 so much that I'd finally switch over to the Nikon camp. However, my D5 testing reminded me of an old saying amongst the Nikon faithful - don't get the D series until the D*s model comes out. Sadly, this would be the case again as the D5 disappointed me greatly with its poor and inconsistent metering behavior, and an AF system that took a step backwards from the flawless performance I experienced with the D4s.
Canon has underwhelmed me for quite some time with its sensors, so I was expecting to be very disappointed with the 1DX Mark II. However, I was extremely surprised to discover that this time they seemed to make some improvements to dynamic range.
About this review
There will be plenty of people doing reviews that focus on the sports aspects of this camera, and that makes a lot of sense. However, I'm taking a different approach for this installment where I focus on the everyday use of this camera.
While I do shoot sports, a good portion of what I also shoot are pictures of the kids and things that grab my eye in every day life. I like the performance features when photographing my kids, and I love the control I have over my camera for pretty much every subject matter you can imagine. This is the unsung value of pro camera bodies that goes far beyond the glamourous sports photographer usage.
Camera Body Thoughts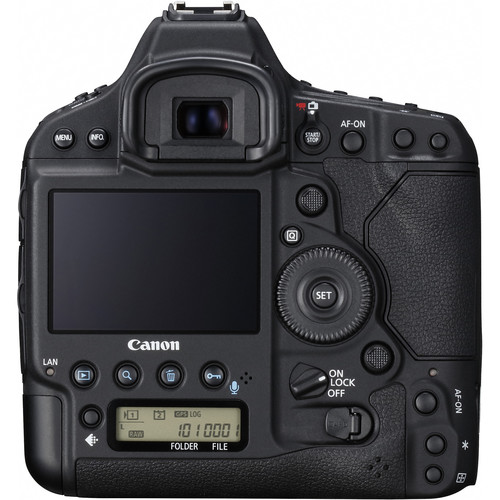 Canon EOS-1D X Mark II Rear View
While these camera bodies look slightly different, they are functionally very similar. Canon users will appreciate and be more familiar with many things that will cause them to gravitate to the 1DX Mark II and Nikon users will do the same with the D5. With that said, both have a wealth of new features that only previous pro body users from both camps will understand initially - and both thankfully mostly mirror their excellent predecessors.
I appreciate that Nikon locates the row of buttons to the left of the LCD instead of under it as shown above on the Canon, but Cano's wheel is a huge improvement over Nikon's thumb pad - especially its touch sensitive feature for video.
Batter performance and features are excellent on both, so my experience was both was that they are a delight to use day in and day out. Really the only gripe that can be made is about the weight, but they are built like an old Mercedes so you feel armed with a tool that definitely seems to be optimized for Gulf War photojournalism duty.
Where both bodies shine is where you can control the range of many settings and show/hide features to get your configuration set up exactly the way YOU work . You can even dial in exposure compensation in-camera for the meters so the 0EV performance matches your preference - not the choice of the engineers that built it. Basically it is tweaking to your hearts content, so if you've ever been unhappy about a feature in a lesser camera body - this is the camera that will allow you to dial in things the way you want it. This also includes reprogramming the buttons to different things beyond what their labels imply.
Canon Fails

f/2.8 @ 200mm for 1/1000 sec at ISO 1250 [UNEDITED]
Not necessarily a fail shot, but a good fail face
Whereas Nikon learned from the D4/D4s that trying to combine Compact Flash with XQD was a stupid idea, Canon didn't get that memo and foolishly opted to force users to only one CF slot and only one CFast slot. This means if you don't jump on the CFast bandwagon, you are limited to one card. However, if you do, you still need a CF if you want to use that other slot. This is super frustrating because the rollover from card 1 to card 2 slots means a drop in performance if you use CFast and it means card switch time if you don't. Dumb, dumb, dumb, dumb, dumb!
Another thing that is annoying is that Canon didn't match Nikon's touch screen which has twice the resolution and support for swipe and pinch to zoom on playback. Since Canon offers a touch screen, hopefully this functionality will come in a firmware update.
Lastly, Nikon stumbled in its implementation but I commend them on shipping the AF Fine Tune feature (video in this article). This feature attempts to make setting the AF micro adjustments much easier, but Canon didn't try that here. Given the price of both bodies, you want each to do everything possible for their mega price.
Canon Surprises

f/4 @ 67mm for 1/320 sec at ISO 160 [UNEDITED]
Because I am a Canon shooter, I tend to notice the faults and take its strengths for granted. The D5 reminded me once again that while Nikon may have some advantages in high ISO performance, their metering is child's play compared to what you get with Canon.
While shooting RAW will save the Nikon from ruining a shot, the out of camera result I get with a Canon 1D X Mark II is print worthy whereas the D5 always requires white balance, curves and vibrance tweaks.
This won't matter to web trolls, but photojournalists and event/wedding photographers will appreciate how the Canon will give them something they can deliver to a client straight out of camera - especially if they tweak the picture styles to their desired output.
To minimize high ISO usage, I typically limited my shutter speed to a maximum of 1/1000. This introduces some occasional motion blur, but that's not the fault of the camera.
Nikon has Picture Controls for this same functionality, but I find that more challenging to dial them in without also having the camera in the correct white balance mode (often shade) and manually adjusting the exposure just right (since the in-camera meter often fails to do what I want like the Canon does).
Excellent focus performance

f/2.8 @ 135mm for 1/1000 sec at ISO 1000 [UNEDITED]
Click for original to see how the eye is still in focus despite the foot distraction
This was taken using default camera settings and single point AF
As a former Canon 1D Mark III and up owner, I've invested a ton of money while Canon has learned how to build a proper focus system. After testing the Nikon D4s, I was frustrated that Canon could have made it that easy to use, but now they finally have.
While the Canon has more options to dial in your desired preferences, it also means it is easy to shoot yourself in the foot. However, the defaults are almost as good as the D4s defaults. With basic tuning (i.e., setting focus as a priority over speed), you can get performance that noticeably outshines the 1D X.
In full auto with face detection is was about as good as I could do with a single point on Nikon D3s or 1D X. Using a single-point AF with no pre-focusing (i.e., half press shutter button for a half second) using a default speed priority, I could typically get all but the first two shots in perfect focus. If I did a focus priority shot with pre-focus, then I got D4s autofocus performance (which is superior to D5 in my opinion).
ISO 25,600 is definitely usable

f/4 @ 70mm for 1/80 sec at ISO 25600 [UNEDITED]
While my white balance was off here (user error),
the in-camera jpeg high ISO quality was definitely usable
I'll discuss more about image quality and ISO in part II, but I found the high ISO performance to be very good at 25,600. This is every bit as good as ISO 6400 just a few years ago, so I'd have no issues with printing images shot at this ISO. For on-screen display I'd probably run Noiseware on the RAW and sharpen it.
Real World Shots
Work duties have kept me from getting out and enjoying this camera as much as I would like, but I did manage to do some casual shooting here and there. As usual, the images featured are straight out of camera and you can click on them to see the full-size in-camera JPEG originals. Unless noted, the photos are taken with default camera settings except for the exposure settings. I also favored the Auto Selection AF in AI Servo Case 1 using the EOS iTR AF (Face Priority) setting for most of my shooting.
You can view the images while you are viewing this article in your browser, but please delete them afterwards. No permission is granted for reuse, printing, editing, redistribution, etc... without signed written consent.
Click here to see the gallery for other images not shown..

f/8 @ 24mm for 1/160 sec at ISO 1250
Despite shooting in a dark black interior, the improved dynamic range and metering managed to balance the scene well to still get decent outside color and detail while still preserving details in the shadows of the floor mat area

f/5.6 @ 67mm for 1/2000 sec at ISO 1000
I included this candid shot of my 7-year old playing because his face was transitioning from sun (here) to shade (below) during the burst mode. I was impressed with how the meter compensated perfectly for the two adjacent frames taken in the fastest burst mode

f/5.6 @ 67mm for 1/2000 sec at ISO 1000
The D5 I tested would have failed miserably exposing this series.

f/4 @ 70mm for 1/250 sec at ISO 1600
Improvements in the red tones are obvious for Canon users

f/4 @ 70mm for 1/320 sec at ISO 3200
Again, I was very satisfied with color of the flower being very close to its real life appearance

f/4 @ 70mm for 1/400 sec at ISO 2500
Yellow tones were also good even when back lit

f/5.6 @ 70mm for 1/80 sec at ISO 8000
A default exposure showed great improvements in dynamic range
over what I've seen from my previous Canon cameras

f/5.6 @ 70mm for 1/200 sec at ISO 5000
When I compensated by -1EV to bring the colors out in the sky,
I was impressed at how much detail on the golf course remained

f/2.8 @ 130mm for 1/1000 sec at ISO 640
Kai is never predictable, yet this camera got him nearly time

f/2.8 @ 130mm for 1/1000 sec at ISO 800
It's common for AF to focus on that hand, but not the 1DXM2

f/2.8 @ 200mm for 1/1000 sec at ISO 1600
See comment below
Click here for a link to a series of 45 shots taken in burst mode using the aforementioned settings.A few shots had minor focus misses, but that's pretty good for a face detection fully auto mode!
Click here to see the gallery for other images not shown.

f/9 @ 85mm for 1/200 sec at ISO 100
Want to be able to count the pours, facial fuzz and eyelash textures? Check!
This camera really shines when paired with good glass and so far the best glass I've tested it with has been the amazing SIGMA 85mm Art Series lens. Click here to see my review and click here to see my 2nd bonus review which features 4k video and some cool outdoor shots like this:

f/16 @ 85mm for 1.3 sec at ISO 100
Yet even at f/16 this lens and camera combo is incredible!
Conclusion
I'll be back for more in part 2 with more thoughts and photos, but so far the hype for this camera seems to be true. I'm glad given the price!
Check out the Comparison: Canon 5D Mark IV vs 1DX Mark II article too!
Learn more or buy
Click here to learn more or buy your own via B&H.
Other Articles You Might Enjoy
Disclaimer
If you make a purchase using links found in this article, I may make a commission. Thank you so much for supporting this blog by coming back here and using my links when making your purchase!