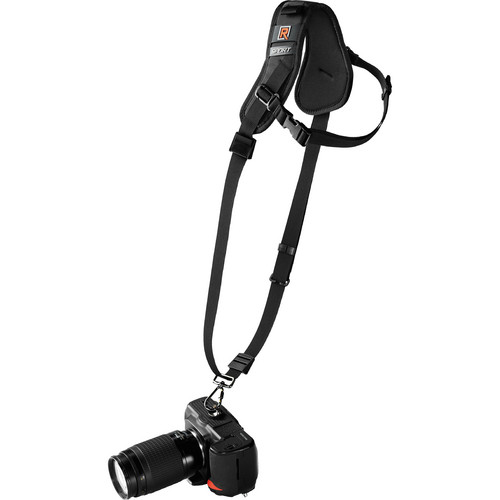 BlackRapid RS-Sport Camera Strap
Sometimes a product is so helpful to me that I just start using it and never get around to writing about it. This was certainly true of my original Hoodman Loupe and I'm sad to say it's been the case with my BlackRapid RS-Sport Camera Strap. I got this product a little over a year ago and immediately put it to good use at a Seahawks game (see below):

All grins looking like Tim Taylor of Home Improvement with my Think Tank Photo Modular Components and Keep It Up Shoulder Strap as well as my BlackRapid RS-Sport Camera Strap
I've been using it nearly every time I go outside of the studio since that day. At first I hated the strap that goes under the arm, but I found that when I run around I find it super helpful to keep the strap snug on my shoulder. Your mileage may vary so you can go with this strap and remove the under arm strap if you find it to be annoying (as I once did).
Long-Term Report

Here's how I carry my long lenses
Yes, it's true that if you aren't careful this strap will cause your camera to swing around and whack things – mostly your own thigh. To prevent that you need to lock the clips and swing it behind your hamstring which I found to be the safest place for it. I didn't like mine on my hip bone so I typically just toss it to the back.
I'm also ultra paranoid based on reports from users who have had accidents, so I am always checking my camera mount to make sure its screwed in tight whenever I lower my camera. In the year plus that I've used mine none of those checks have ever caught an even remotely loose connection, so I'm not too worried about any accidents while using this anymore.
I also still like to have my regular camera strap as shown earlier, so these days I'll wrap it up in a BongoTies.
Great Video from blog reader, Donald Scarinci
One of my blog readers, Donald Scarinci, made this great video that demonstrates how to use this strap with a Arca Swiss style bracket so that you don't have to remove your bracket from your camera. It's a very well done video that I encourage you to check out:
Conclusion
As photographers we are constantly bombarded with new crap to buy, so it's hard to tell the good stuff from the junk. We all make mistakes and buy some junk products from time to time, but this is one that has stood the test of time as being essential to my kit. I love my BlackRapid RS-Sport Camera Strap and highly recommend it.
Where to order
Click here to order the RS-Sport strap or click here to see a selection of BlackRapid straps on the B&H web site. My friends at Adorama have them available here and Amazon sells them here.
Other articles you may enjoy
If you enjoyed this article, you may also enjoy these:
Disclosure
If you make a purchase using links found in this article, I may make a commission. It doesn't cost you a penny more, but it does help to support future articles like this.
I also live in the same city as BlackRapid so I've been given straps to test with no obligation. I also have been featured as a Friend of BlackRapid.