I was big fan of the Nikon D7100 and D7200, so when I heard Nikon was doing a APS-C sized sensor (23.5 x 15.7 mm) camera, I wondered where this would fit into the line up. After learning about its 10fps burst mode, it immediately became clear that this was to be a direct compete to the Canon 7D Mark II (review). In fact, I spent a little time comparing the specs of all three side by side to get my head around all of the differences. In a nutshell the D500 gives you:
Same fps burst mode as the 7D Mark II (10 fps)
The best in class high ISO range (51,2000 and more in extended modes)
The best LCD resolution with touch screen support
153 phase detection and 99 cross type autofocus points (but you can still only select up to 55 of them)
4k video
A bigger price tag and a few other minor improvements
Given how much I enjoyed the D7100 and D7200, this all sounded good so I was excited to give it a go.
Accessories Tested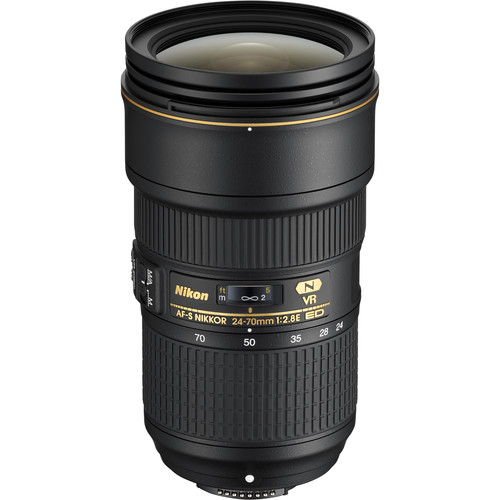 Nikon AF-S NIKKOR 24-70mm f/2.8E ED VR Lens
Ever since I heard Nikon released the 24-70 f/2.8 VR, I've been anxious to try it - but it has alluded me due to high demand - until now. While this is a very expensive lens, the idea of having my favorite travel range of 24-70 with both f/2.8 and VR was a dream come true.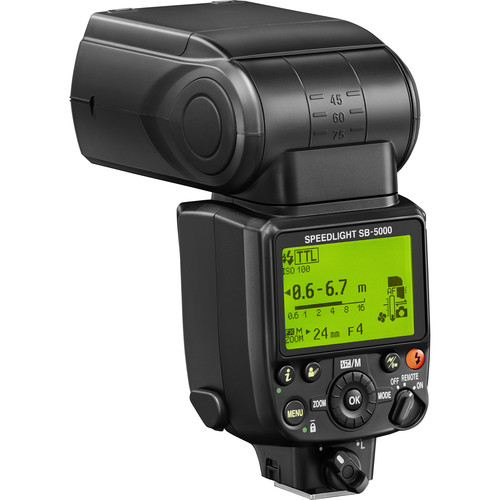 Nikon SB-5000 AF Radio Control Speedlight
Another item high on my todo list from Nikon was the SB-5000 speedlight which features both radio control support, as well as a tiny fan to allow for up to 100 consecutive shots without overheating. Given the problems the SB-900 & SB-910 had with overheating, this was a big improvement and the radio control puts it on par with the Canon 600EX-RT flashes that I shoot with.
Unfortunately for this review, I didn't have the WR-R10 so I wasn't able to test the off-camera radio control support.
Hands On Impressions
One of the main features of this camera is its burst mode performance, but a fast burst mode is meaningless if the buffer fills up and you cant' take photos. It's hard to quantify burst mode and buffer flush times in text, so I decided to do a quick video where I do a quick high level overview of the body and show off its burst mode in action:
Ultimately I liked the body performance which mimics the great Nikon design with lots of physical hard buttons that are user reprogrammable. It's burst mode was great, and buffer flush times were reasonable - although not as blazing fast as the D5 (review) - of course. That said, I didn't test XQD, but even with a SanDisk 16GB Extreme Pro UHS-I SDHC U1 Memory Card (Class 10) it was very fast.Simply put, buffer flush times aren't going to be an issue with this camera based on my extensive experience testing other camera bodies.

f/4 @ 70mm for 1/2000 sec at ISO 360
This is one of a series of 42 burst mode images
so you can see how many shots were in focus vs blurry
During my testing, I found the performance to be closer to the D5 than I expected but not as good in the tests that I ran. This is to be expected since I wasn't using a sports lens for this test, so your mileage may vary depending on the lens used.
Like the D5, the best performance was in AF-C single point mode for moving subjects and of course AF-S single point for stationary subjects. Just like the D5, when you try to use the dynamic area modes it seems to get lost sporadically during the burst mode before locking onto the subject again.
Overall, I found myself getting less in focus shots than I did with the D7100 and D7200 I tested, but again that could be due to the lens used. Bargain hunters should keep this in mind when deciding which lens to buy (my recommendations), as I would expect the best in-focus shots performance to come with the newest and best Nikon sports lenses.
A Word About Nikon Metering
If you read the marketing material for Nikon's metering system it sounds wonderful - in fact, it sounds revolutionary. However, in practice the metering experience I've had on the D5 and the D500 is the worse metering I've ever seen on a digital SLR since 2007.
This statement will infuriate the fan boys and cause me no end of hate mail, but I've got to say it because it's been such a nuisance in real world testing. I've experimented with all of the modes (see the manual here) and here are my observations:
Matrix - This is the mode you want to use (and the default) because it's supposed to take into consideration the entire scene and balance the exposure for the scene using the most advanced algorithms developed by Nikon. Sadly, it is very inconsistent alternates between dark and light exposures even when the camera and subject doesn't move. In real world use it can drive you made, so you'll start trying other modes.
Center-weighted - this is a classic simple mode that is supposed to meter based on what in the center of the frame and in some cases it can be the best choice, yet for the D5 & D500 it isn't quite as reliable and is prone to errors just like Matrix
Spot - Many of my Nikon friends both in the pro and prosumer ranks have sworn that Spot metering is the way to go on Nikon because it will meter off your focus point. In theory this sounds brilliant, but in practice even this can screw up if your spot is on an dark eye vs the cheek of a subject. The cheek will give you the metering you want and the wrong focus, but eye will over expose with perfect focus. It's very frustrating!
Highlight-weighted - This looks like spot, but what I does is assign the greatest metering weight to the highlights which ends up being the wrong choice for pretty much every circumstance unless your subject is a Geisha with hot highlights of light on her face. Nikon suggests it for use with stage actors, but I haven't used it for that so I can't comment if it works well but for everything else I tried it with it would make the highlights great at the expense of what you cared about.
The more you time spend fighting it, the more you learn how to work around it (hint: spot metering is you friend and often with -1EV of exposure compensation), but why does it have to be so difficult? For all of the Canon, Fujifilm, Sony, Panasonic, and Olympus cameras I've tested the default metering modes just work so it's something you never really need to fool with. In fact, out of 400,000+ shots I've taken with Canon cameras, I've only switched from Evaluate metering mode to Spot mode < 10 times, and while I've demonstrated what it's Partial and Center-Weighted metering do, I've never really needed to use them.
I think this will be a frustrating point to new DSLR owners who buy this camera, and ironically it was never this bad with other models before the D5 & D500. Yes, those benefited from spot metering and weren't as good as I'd like, but they were loads better than the D5/D500 metering.
Hopefully Nikon will address this in a firmware update at some point, but in the meantime don't say you haven't been warned! It's also another reason to make sure you shoot RAW.
Auto Fine Tune Frustrations
If you don't know what Auto Fine Tune is, you can see a good video in my D5 first look article, but what this does is "automatically" calibrate your lens with your camera to avoid any focus errors (aka back focus / front focus). On most cameras this has to be done manually using something like a Datacolor SpyderLensCal Autofocus Calibration Aid, or software like the like Reikan FoCal. Both of these work, but it's not as easy - in theory - as the camera doing it for you.
There lies the rub, I've found that it doesn't work well and often makes things worse more than it helps. I'm not alone with the frustrations and inconsistency in the results as you can read on DPReview here.
I'm glad they have it and I hope they perfect it, but for now I strongly advise people to avoid this buggy feature and do it the good old fashion ways mentioned earlier in this section.
24-70 f/2.8 VR Thoughts

f/3.5 @ 70mm for 1/250 sec at ISO 720
Minimum focus distance of this lens was amazing
even when babies attack while you are shooting
I like the 24-70mm range on any camera platform as a versatile every day / travel lens, but surprisingly it's been a common practice to offer a f/2.8 without any sort of vibration reduction/image stabilization, but it has shown up on f/4 variants. As a result, it's been a long-time ask of fans of many platforms to have their cake and eat it too by getting a lens that is both a 24-70mm f/2.8 AND VR. Of course, the predecessor 24-70mm f/2.8 was an outstanding lens, so getting VR at the expense of image quality simply wouldn't do.
During my testing, I've been very happy with the sharpness but even more impressed with the minimum focus distance. As any parent will tell you, when you photography kids - especially little ones that are on the move - they are going to come after you as soon as they see the camera. As a result, you have precious little time to try to get a shot before you end up with a finger on your lens. Typically this results in a series of blurry out of focus shots, but the nice thing about this combo was that the excellent minimum focus distance meant that I could still acquire focus even as a child would cross into my personal bubble. The burst mode and great focus of the D500 allowed me to get the shots I wanted and surprise shots that were closer than I expected to get.

f/22 @ 24mm for 1/100 sec at ISO 400
Shooting in the sun used to always create lens flare like this, but it's less common with premium lenses these days. I was disappointed that this lens didn't do better.
The only major concerns that I had with this lens was that it doesn't have the warm contrast punch that I typically enjoy of lenses in this price range, and it was subject to a lot more flare issues than I would have expected. Lenses like my Canon 11-24mm have a coating that basically eliminates flare, so I would expect a lens of this price point to leverage a similar technology for excellent flare protection. Of course if you don't shoot into direct harsh light like the sun this won't be an issue, so it's not a serious problem.
I give this lens high marks for parents and travel photographers who want a single lens that's good for unpredictable situations in life under all lighting conditions. The VR can save you from camera shake blurriness, and the physical size of the lens isn't too obnoxious to carry around.
I liked it and and can easily recommend it for parents, event and travel photographers.
SB-5000 Thoughts

f/2.8 @ 60mm for 1/250 sec at ISO 45600
I was a bit surprised that the camera with SB-5000 flash
chose such a high ISO when in Auto ISO mode and Matrix metering
While I didn't get to do as much testing as I would have liked with this flash, I was impressed with how well it coordinated with the camera to give me the right amount of flash when I needed it. It also had a good harmony with the auto ISO which means that backgrounds weren't pitch black when in matrix metering mode. However, you may want to cap the maximum auto ISO when using it as sometimes I think it went too far - as in the case above where it chose ISO 45,600. While technically right, it wasn't what I expected after using other flashes for so many years so this is something to keep in mind.
The SB-900 and SB-910 suffered from overheating issues when used heavily, so this flash addresses that by having a built-in fan that fires up briefly after you take a shot (and yes, you can disable it). I didn't' find the noise to be a problem in real world use, and I appreciated how fast this flash was ready to go for another shot (much faster than any flash I can recall using).
When used properly it can give you results that give you the amount of light you need without having the overly bright look that you see in the shot above (pointed directly due to this being taken in pitch black darkness during July 4th fireworks).
If I were a Nikon shooter, this is the only flash I would want to have on my camera. I'd gladly take it over the SB-910 any day. The radio wireless support makes it an even better choice for anyone that needs a proper flash.
Overall Thoughts
Everything I've seen seems to indicate this is the camera that most were hoping it would be - it's basically a D7200 on burst mode steroids with improved AF performance and higher ISO support. The camera body is a delight to use, and I definitely prefer it over the Canon 7D Mark II. While the usability of both the Canon and Nikon are very good, I'd take the Nikon over the Canon for better high ISO performance and overall image quality.
Real World Shots
For my reviews I always like to take casual shots of every day life using both RAW+JPEG with default camera settings (excluding exposure and other where noted below). These shots have been unedited and are 100% exactly s they came out of the camera.
All images are copy protected and may not be used for any other purpose beyond this review, and must not be printed, edited, uploaded, displayed or otherwise used without signed written consent on a notarized document.
Click here for a full gallery of images, and see my comments on a subset of those images below...

f/4 @ 70mm for 1/2000 sec at ISO 280
This was the 149th of 156 shots in a running series and my son was all of the place for the last part of this sprint. I was pleased at how great the focus was with him being at the edge both from the camera and lens performance. The minimum focus distance also made the last few shots sharper than I usually get with sports cameras.

f/2.8 @ 56mm for 1/640 sec at ISO 100
The colors are a bit exaggerated here because I forgot the camera in Vivid picture control mode
but the image quality was solid. This was a bit of a dynamic range torture test that passed with flying colors - especially with the data in the raw file

f/22 @ 62mm for 1/125 sec at ISO 250
Excellent dynamic range for a cropped sensor means that if you can position yourself right you can get great in the sun shots - just be mindful of the position of the inevitable flare spots

f/5.6 @ 62mm for 1/1600 sec at ISO 100
On a full frame with this lens this spider would have been a speck so this shot wouldn't have been possible, so this was definitely a case where I was happy to be shooting APS-C!

f/11 @ 34mm for 1/60 sec at ISO 100
I needed a flash here but didn't have it, but I was impressed with the dynamic range that I got despite that reality. This was one frame of a bracketed shot, so I definitely can save the shot via HDR processing later in Aurora.

f/3.5 @ 70mm for 1/250 sec at ISO 720
While you can't tell from this shot, my son was walking and looking the other direction when I yelled "hey Kai". With one frame in single-shot mode it managed to nail the focus quickly and the cropped sensor meant that I could put the focus point exactly where I wanted it (his eye instead of just below it on full frame sensors)

f/8 @ 24mm for 1 sec at ISO 800
Long exposure shooters will appreciate the switch to close the viewfinder to avoid light leaks during events like firework shows where you are surrounded by people with cell phone flashes going off during your long exposures

f/5.6 @ 24mm for 1/160 sec at ISO 2200
The dynamic range is good even as the ISO's climb yielding much better results than I expected for tough conditions like this shot

f/2.8 @ 38mm for 1/250 sec at ISO 1600
The bokeh of the 24-70 is quite pleasing and I was plenty satisfied with the sharpness even when it was wide open at f/2.8. Edge performance was impressive too!

f/3.5 @ 70mm for 1/500 sec at ISO 900
In camera processing is very pleasant even with the Standard Picture Control
and Auto1 White Balance. It's rare to see an image this pleasing out of a Nikon, but thanks to three Auto white balance choices, you can get great in-camera results instead of the historically cold neutral tones

f/22 @ 62mm for 1/60 sec at ISO 51200
Read those settings - both the lens and camera impressed me here with an image that would have not been this good even at 1600 ISO just 7 years ago! Yes, the high ISO performance is great and the VR made this handheld shot super sharp!

f/5.6 @ 62mm for 1/100 sec at ISO 2800
The great minimum focus distance of the 24-70mm will make it a great choice for amateur macro photographers who want the one lens that does it all during their vacation
Conclusion
It's been a while since I shot an APS-C sensor, but this camera reminded me why there is still a place for them in the crowded camera body market these days. I loved being able to put my focus points all the way to the edges of the frame without having to point and recompose like I must do on full-frame cameras. I loved the extra reach especially when at the minimum focus distance zoomed at 70mm. This makes the tilting LCD on the back during live view even more important and useful - as is the pinch to zoom!
This camera is everything everyone has been saying it is. It's got very good AF performance with even a simple travel lens like the 24-70, and its got the burst mode and buffer flush performance to make it a great choice for sports photographers. I also loved how well it worked with the SB-5000 so that you only needed to be mindful of your flash head position and not have to fight the flash as I've had to do with earlier Nikon body and flash combos.
While I thought the metering sucked because series of shots would be ruined with overly dark and overly bright exposures in the middle of a series, this same problem exists on the D5 so I can't help but think Nikon will get to the bottom of this issue for both camera bodies and issue firmware updates to fix it - let's hope! The good news is that when the meter gets the exposure right, it does a spectacular job so take advantage of the great AF performance and fast buffer speed to take a few extra shots and it won't be an issue in real world use.
This is a very good camera that is sure to please the Nikon faithful who are looking for a new body to replace their D7200 or D750 shooters who are longing for better burst mode performance that is closer to the D700 with a battery grip - even if it is at the expense of a cropped sensor.
While I don't care to use DSLR's for video, the 4k video support is sure to please aspiring videographers too.
In the end, it's easy to give this camera a high recommendation but if you don't need the FPS, 4k video and the extra reach, the D750 and D610 are still excellent cameras that are worth considering.
Where to order
Click here to learn more or order on the B&H web site. Click here to learn more about the Nikon AF-S NIKKOR 24-70mm f/2.8E ED VR Lens, and click here to learn more about the SB-5000.
Other articles you may enjoy
If you enjoyed this article, you may also enjoy these:
Disclosure
If you make a purchase using links found in this article, I may make a commission. It doesn't cost you a penny more, but it does help to support future articles like this.