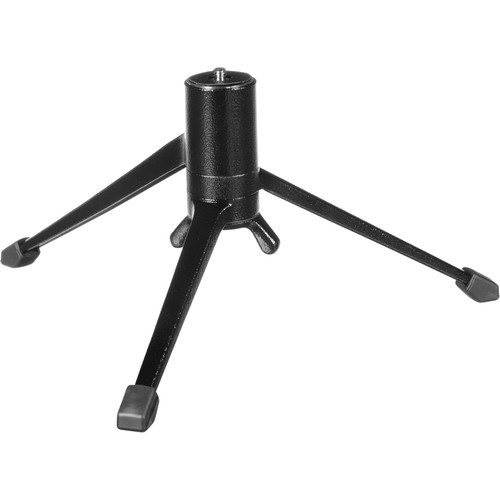 Leica Tabletop Tripod with Folding Legs (1/4" Screw)
The above little device looks simple huh? You may be thinking that is just a table top tripod and you don't need an expensive one like this – and for years I agreed with that thought. The device below is a more insanely priced ball head for the aforementioned tripod which I thought could certainly live without (or find a cheaper alternative).
I'm here to confess that I was wrong and stupid for not buying these both years ago, but NOT for the reason you might think. While these make a fine combo for a tabletop tripod, I don't need a table top tripod. I can usually find a table or garbage can or something to rest my camera on that does a perfectly fine job as a tripod. That isn't why I use this combo – and specifically recommend THIS combo ONLY. What's more I use it with full size DSLR's including my Canon 1D X pro body – not small cameras (but it's usable with them too).
The reason why I love this combo and paid the outrageous price for it was because of a brilliant thing that a Pulitzer Prize winning photographer showed me during one of my own workshops. You see, Gary Parker demonstrated that his 20+ year secret weapon for stable for slow shutter speed shots (for lenses with and without stabilization) is this combo as you see shown here:

My smartest investment ever ($328.95) – thanks Gary Parker (shown above)
You mount your camera – any size – and using your hand on the camera as normal you can leverage the tripod on your chest to stabilize the camera. This has allowed me to get shots two to four stops lower than image stabilization alone (super valuable for D800/D800E shooters) which means I can use lower ISO's. Despite his advice, it took me almost two years to bring myself to finally buy it myself. In short, it changed my life and helped me to realize how this little investment helped me a lot more than many of the $1000+ investments I made to improve my photography.
The Leica Tabletop Tripod ($119) and Leica Large Ball Head ($209.95) combo are stupid expensive ($328.95), so I can understand your resistance buying them. However, I've not found anything else that has worked as well – and I've tried! The stability of this model of tripod is stronger than anything I've used and the ball head (the expensive part) is long enough to work well with big DSLR's and flexible enough to let me get whatever position I need.
Given the ridiculous price of this combo, almost no photographer will buy this set for themselves, but like a great set of high quality steak knives – you never regret it (or can go back) once you own it. As a result, this is the perfect gift for your photography friend!
Video Demonstration

Click here to view on YouTube (1080p version available)
This video was filmed using this lens and these lights with a 5D Mark III
Conclusion
I know that I'll get flamed for the stupid price of this pairing – I CAN RELATE. I knew about this combo for years but refused to buy it due to its insane pricing, but I can honestly say that nothing has improved the sharpness of my lower handheld shots better than this combo. If you own a Nikon D800/D800E then you will thank me after investing in this!
I finally rationalized this purchase when I realized that if it is good enough for a Pulitzer prize winning photojournalist who prides himself on getting the shot with the least expensive solutions – why am I not using it? Now that I have it, I'm kicking myself for waiting so many years to do this!
Where to order
Click here to learn more or order the tripod and click here for the ball head on the B&H web site. My friends at Amazon have the tripod available here and the ball head here.
Other articles you may enjoy
If you enjoyed this article, you may also enjoy these:
Disclosure
If you make a purchase using links found in this article, I may make a commission. It doesn't cost you a penny more, but it does help to support future articles like this.