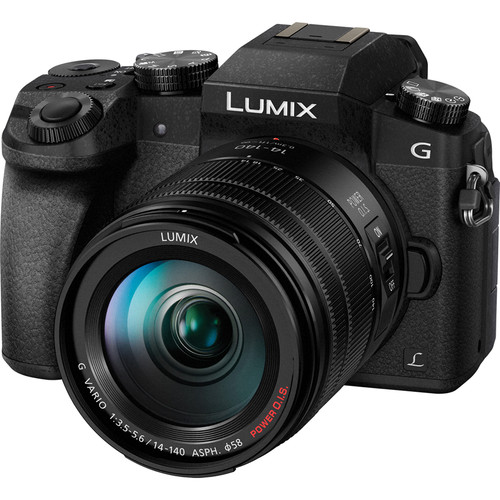 Panasonic Lumix DMC-G7 with 14-140mm Lens
I just spent the last month using the Olympus OM-D E-M5 Mark II so my expectations about camera body quality are very high right now. I was pretty disappointed with the plastic feel of the body right away, but would this translate to image quality? Based on what I had been hearing from my readers is that this is an awesome camera that can do 4k video at 30 fps, so I had to give it a try.
I'll talk more about the body in my next part of this interview next week after I've had more time with this camera.
Real World Samples
The following images come straight from in-camera JPEG's using the camera default noise reduction settings. Most camera settings are the default with the exception of RAW+JPEG, a desired White Balance (only Shade or AWB), and a desired focus point. I chose to use the Vivid Photo Style as I found it to be pleasant and not overly done with i.Dynamic set to Auto and i.Resolution set to standard.
Click here for a full gallery of unedited images.
All images are copyright Ron Martinsen – ALL RIGHTS RESERVED. You may not save, print, edit, modify or otherwise use any images featured in this article or the gallery without expressed written permission.

f/5.6 @ 37mm for 1/2000 sec at ISO 200
I had to shoot full manual to get an exposure that wasn't completely overblown

f/9 @ 14mm for 1/60 sec at ISO 1250
I was pretty disappointed with the in-camera meter which seemed to like to
overexpose by 1/3rd of a stop compared to what I'm used to seeing from other cameras

f/9 @ 84mm for 1/200 sec at ISO 2500
If your images final output will only be the screen or small print then the quality is great, but if you look closely at the original you'll see lots of digital noise at higher ISO's

f/9 @ 55mm for 1/160 sec at ISO 200
Even without using negative exposure compensation the greens were pleasing thanks to the Vivid photos style. Sadly the dynamic range was lacking despite using i.Dynamic Auto.

f/9 @ 46mm for 1/100 sec at ISO 500
Great colors with hot spots was the name of the game, so definitely get familiar with how to do negative exposure compensation if you buy this camera.

f/4.4 @ 32mm for 1/500 sec at ISO 2000
I think I shot this one in the standard picture mode and was disappointed so I went back to vivid. Fortunately this subject could handle less saturation ok. The detail in the original really shows off this lens and sensor resolution very well.

f/5.1 @ 55mm for 1/125 sec at ISO 1600
This scene tripped up the AF as it had a hard time getting a lock and then eventually chose poorly. These were big leaves and I should have been within a traditional minimum focus distance for this lens so I can only attribute to this as to the lack of contrast of the subject.

f/4.6 @ 37mm for 1/320 sec at ISO 1250
I botched this shot but I loved all of the leaf detail so I included it so plant shooters
can zoom in and confirm that this is definitely a good camera for nature lovers.
Click here for a full gallery of more unedited images.
Panos
I often forget to test out the pano feature of cameras these days because so many offer this feature. However, this scenic area had me wanting to take a pano of the beautiful environment so here are a few handheld shots that I did:

f/5 @ 17mm for 1/640 sec at ISO 200 (6976x1920)
Only an HDR pano can overcome this challenge of drastically different
exposures required to get the full scene, so don't knock the camera for this one

f/3.5 @ 14mm for 1/125 sec at ISO 320 (4752x1920)
I stopped early for this one and went a little longer below

f/3.5 @ 14mm for 1/125 sec at ISO 250 (8176x1920)
This required me to twist my body and the result ended up
being some stitching problems in the railing

f/22 @ 14mm for 1/25 sec at ISO 3200
Without a pano you can either get the boardwalk… (and notice the railing doesn't have jaggies)

f/11 @ 28mm for 1/60 sec at ISO 1600
… or the river, but not both
You lose resolution and detail with the in-camera panos, so they are often better for personal mementos than high quality images to be printed large.
4k UHD (3840x2160) at 30fps Video
While I hate doing video, one of the things that intrigued me was this cameras ability to record 4k video (3840x2160) at 30 fps. I use a NEC PA322UHD as my primary display, so it isn't very often I get to see a video on this amazing display that takes advantage of its full resolution. As a result, I listed to readers like you who really wanted me to check out this product.
Now I have to start with a disclaimer for my online readers who haven't had the chance to do a class or training session with me. I've always stated that cameras are NOT camcorders and therefore the best results are done using proper stabilization equipment and manual focus points for carefully planned scenes. No matter how great the camera is, they lack proper video stabilization and focus speed to get camcorder results so the results will always be shaky if done handheld.
This certainly applies here, but multiple it times four since you are taking a super high resolution video where movement is going to be even more obvious. As a result these informal handheld shots are representative of what you get if you try to treat a high end video device like this like a camcorder.
NOTE: Check out this article and search for Panasonic to see a GH4 fitted in a $40k video kit.
WARNING: You Tube lists quality by height so 4k is listed as 2160. What's more, it usually takes a few seconds before it starts streaming true 4k so right click the video at full screen and choose "Stats for Nerds" to see what video quality you are really getting. If you don't get 4k the first time at full screen (which requires a 4k display and video card) then SLIDE THE PLAYBACK SLIDER BACKWARDS (do not restart) to watch the video again and it will often correct itself. The dimensions AND resolution BOTH must say 3840 x 2160 before you are really seeing true 4k video. You can NOT see 4k in the thumbnail versions included here so be sure to make them full screen after you start them.
Conclusion
Where to order
Click here to learn more or order on the B&H web site.
Other articles you may enjoy
If you enjoyed this article, you may also enjoy these:
Disclosure
If you make a purchase using links found in this article, I may make a commission. It doesn't cost you a penny more, but it does help to support future articles like this.