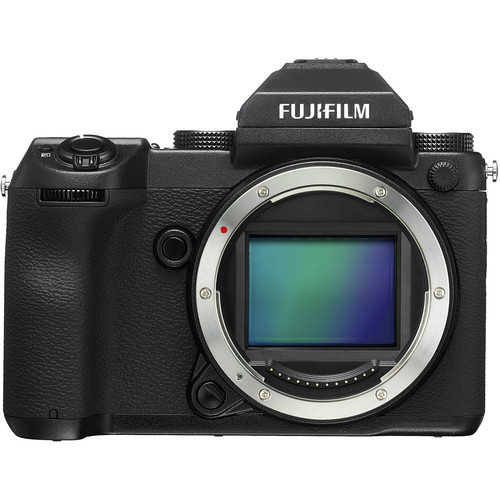 FUJIFILM GFX 50S Medium Format Mirrorless Camera with 32-64mm Lens Kit
Most people have no experience with a medium format camera from one of the big names in the business, but they are as expensive as a luxury car (not including the expensive lenses) and frequently lack all of the creature comforts we take for granted with modern DSLR and mirrorless cameras. High ISO? – Forget about it. Format your card in your camera? – Nope, you've got to do that on your computer. Handhold and shoot? – Only if you are using studio lights. And the list goes on and on and on.
Now, medium format shooters who spend the money have to defend their decision to spend so much for a camera that offers so little, so they will argue til the death about why their cameras are so much better than yours. However, unless your shooting billboards or other commercial work where every pixel counts, the reality is that most prosumers these days end up discarding most of their megapixels when they post their photos online or display their images on their TV's / digital frames.
As a result, this always begged the question – why can't we have a camera with all of the creature comforts that high end cameras offer that simply adds a larger size sensor? Seems simple, but it sure took a long time to see that become a reality.
At just under $7800 USD (2019-03-02) the GFX 50s and its 32-64mm lens aren't cheap, but it's still less than some Hasselblad zoom lenses! At 51.4MP it's also about half the megapixels which actually looks closer in specification to the Canon 5Ds/5DsR, Nikon D850 and the phenomenal Sony a7R III – all of which are much cheaper. This begs the question, is the bigger sensor worth the bigger price?
Ron's Take on 50s Body Usability
When you analyze specs and high ISO performance, it's easy to have a negative perception of Fujifilm cameras. However, every Fujifilm camera I've ever reviewed has had some magic that makes me fall in love with photography all over again. Perhaps its their more retro and classic designs, but I think it really boils down to the amazing film simulation modes (e.g., Provia, Velvia, etc…) that give you an image that straight out of the camera that is just wow – no additional work is required. To me, this makes them much like an iPhone XS in the sense that you stop thinking about what you need to do with the images after you shoot and just focus on composition which is so refreshing.
While some features will require you to peek at the manual to figure them out, once you learn you come to love this camera body real quick. Features like:
push button locks on the dials that make them easy to turn, but also easy to lock in place (brilliant!!!);
excellent touch enabled 2.36M-dot LCD
removable tilting (!!!) electronic viewfinder that is fantastic quality, but something you can leave off to save battery if you want;
built-in focus stacking that performed the best of any that I've ever tested;
excellent built-in eye tracking auto focus with auto, left, and right eye priority options;
and an industry leading number of drive modes that include exposure bracketing, film simulation bracketing, time lapse , and so much more.
Check out B&H's awesome interactive 360 view of this camera to really see what it is like in your hands and get your geek on at all of the glorious technical details about this camera on Fujifilm's website.
Yeah, I loved this camera body and it was durable too. I shot in the rain, snow, and even took a hard fall on the ice and there was not a single scratch on this camera by the end of my review – that's rare these days.
This love spilled over to the awesome GF32-64mmF4 R LM WR lens which features my much loved aperture dial so that with this feature and the 1.28-inch monochrome LCD monitor can be viewed in all conditions (including bright sunlight), you can easily set all of your settings without needing to get bogged down in menus that slow you down.
Simply put, this is a well engineered tool for photographers who hate menus and who know how to shoot manual. With that said, every dial and option has an auto setting so if you want to let the camera do all of the work then it will – and quite well from my experience.
Lastly, if you haven't shot a Fujifilm camera with its outstanding film simulation modes, you are really missing out. What's more, if you don't like something (say Velvia is too dark in the shadows and perhaps a touch to vibrant for your taste), you can easily adjust the default settings. The customization in this camera is excellent, so you can genuinely have a series of presets and programmable buttons to match your style with final images that will cause you to just use the raw as insurance because the in-camera JPEG's are spot on most of the time.
So yes, in case you haven't figured it out yet – I love this camera body & lens. It was a delight to use and extremely difficult to return back to B&H when I was done shooting. In fact, I ended up keeping it much longer than the typical allotted time I devote to my review camera check-out window.
Fun with Focus Stacking
Focus stacking has been around for quite some time, but I never got into it because it was too cumbersome for my busy (and impatient) lifestyle. With that said, this camera makes focus stacking incredibly easy to use and improvements in Lightroom and Photoshop have made the process about as easy as processing a raw file. Yes, it does take some time, but the result is worth the reward.
Here's an example of the kind of detail I got of a 58 images (2 flash misfires missing) shot of a lily with a very long stem – a shot that is totally impossible without focus stacking. This image is 100% unedited from RAW except for it being cropped and focused stacked & RAW processed in Lightroom:
Here's a 100% crop with no post-processing of any type (including NO sharpening):

Click to see the full Photoshop stacked 8280 x 6208 original image
f/11 @ 64mm for 1/100 sec at ISO 100 (x 58 1 step frames)
No editing adjustments – only stacked from RAW via Lightroom
The 50s has a deep body so that during focus stacking the sensor can move 1 to 10 steps between each frame and you can set the interval for how long to pause between each frame (great when using a flash). This flexibility was excellent, but even more impressive is that this feature came out as a newly added feature with the 3.30 firmware update! Who doesn't like new features after you've bought the camera?!!
For those new to focus stacking, here's a great example of why you need to stack to get more depth of field:
Lightroom has FINALLY got the raw processing of Fujifilm film simulation down to where it can match in-camera results, so I found no difference between the focus stacked in-camera JPEG vs the Lightroom processed RAW. Both also resulted in a ~19.5GB file in Photoshop if you keep all 58 layers, so I always flattened to have a more manageable ~296 MB file. Oh and yes, this is one case where the more RAM you have in your computer (and you better have a fast SSD & processor) will save a lot of time.
I also should note that if you get things right in camera, then focus stacking with the in-camera JPEG results in nearly identical results to focus stacking with the RAW as you can see here:
Other than white balance, can you tell the difference? The raw is on the right, but was the time required to process it took twice as long.
However, if you get things wrong in camera, then obviously having the RAW images can save the shot as shown here:

Click here to see the amazing detail of the flowers in the yellow roses RAW processed shot. It's another textbook case of focus stacking really saving the day!
Black & White Lovers Delight
Fujifilm is so well loved for its great in-camera black and white conversion that they even made monochrome only versions of a couple of their cameras a few years back. Here's three shots taken in my studio where the first two are straight out of the camera using the ACROS+R film simulation and the last is obviously edited but you can click it to see the in-camera original.

f/11 @ 58mm for 1/125 sec at ISO 100
Can you believe this is straight out of the camera with zero edits? This is literally the in-camera JPEG that I loved so much that I printed it and put it on my Meural frame. Impressive!

f/10 @ 64mm for 1/125 sec at ISO 100
Even at 1/125 sec there's still a little vignette on the left edge caused by this camera having a very slow flash sync speed. However, the JPEG image that comes straight out of the camera is pretty amazing!

f/5.6 @ 64mm for 1/60 sec at ISO 100
Kai and I even had a little fun with it (and yes he wanted to be 7' tall)
Edited shown, click to see full original unedited file
Some say that if you really want to see the face, shoot monochrome, otherwise it gets lost in the color. I think that rings true, so if you love making black and white images you are going to love this camera.
Bracketed Exposures
I found myself using the exposure bracketing drive mode quite a bit with the 7 exposures setting with 1 stop between each exposure (i.e., -3 to + 3). I really liked the menu design for how bracketing works on this camera.
Just for fun, here's the RAW files merged with Aurora HDR for Windows with highest ghosting, chromatic aberrations correction and the Balanced Interior preset:
I wasn't impressed with how it handled the sky and tree line and there were some artifacts in the stream, but it did a good job in the shadow details.
Here's a Lightroom Classic 8.2 Photo Merge HDR with Auto Align, Auto Settings and High deghost amount:
This was a much better merge but a lot of detail is lost on the rocks and in the trees.
Here's my final edit using a high-end photo retoucher manual HDR technique from RAW then edited with Luminar 3:
I think too much was lost in the sky, so I tried to distract from it via the sunrays filter in my final edit via Luminar 3.
As someone who enjoys shooting landscapes, I really loved this camera.
In the Studio
Medium formats pretty much own ultra high end studio photography, so I was looking forward to taking this camera into the studio to see how it compared to the 5Ds I used for my personal portrait. Read on to see how it did.
I was pretty shocked when I discovered that the flash sync speed was below 1/160 as shown by the black bar at the left of the frame here (f/7.1 @ 64mm for 1/160 sec at ISO 100), so I had to shoot at 1/125 sec in the studio:
This shot was also pretty heavily overexposed, but there's tons of details in these raw files so this was a trivial recovery for a gorgeous final edit:
As someone who does a lot of studio portrait work, I was extremely happy with the GFX 50s!
Again, because this is a large sensor the depth of field is much more shallow so when the eye auto focus on my left (camera right) eye did its job, my deep eye wells and big nose resulted in unexpected softness. As a result, a face like mine required f/11 or better (photo taken by my wife):

f/8 @ 62mm for 1/125 sec at ISO 100
As you can see going to f/10 solved the problem, but that's something I wouldn't have needed to do on the full frame sensors I'm using to shooting with.
When you compare the image below with a similar shot my daughter took of me with the 5Ds, you'll notice that the hot spots on the face aren't as harsh. This is the recurring theme I'm seeing for indoor and outdoor shooting with Canon vs Fujifilm & Sony – they do sooo much better and preserving details in the highlights which saves a lot of time in post-process editing.

f/10 @ 64mm for 1/125 sec at ISO 100
The Provia film simulation is pretty impressive straight out the camera with default RAW processing from Lightroom Classic 8.2

f/10 @ 64mm for 1/125 sec at ISO 100
The same RAW file switched to Velvia processing really makes the eyes and tie pop and the blacks deeper on the suit, but it makes the background too yellow.
When I did a background replacement to white on the next frame after the shot above and asked Facebook friends to compare Velvia to the Provia, most came back saying they preferred the Velvia. I felt the skin tone was too red, so I merged the skin of the Provia to the rest with Velvia, replaced the background and did typical processing for this final result:
Yeah, I love this camera as a studio portrait camera too – the details are outstanding! This would definitely be my studio camera of choice if I had one, but I'd definitely use a longer focal length lens (I generally prefer 200mm). The 64mm focal length is the full frame sensor equivalent to a 51mm which I consider a horrible lens for portrait photography (makes subjects look fatter than they are), so keep that in mind when making your lens choice if you photograph people.
More Unedited Images
The following images in this section are all 100% unedited and exactly as they came out of the camera via in-camera JPEG originals. While I did use my mini-tripod setup, I did not use any lens filters or in-camera photo adjustments. Most shots are Velvia or Provia film simulations with no other camera adjustments beyond setting white balance to taste.
ALL images in this article are copyright Ron Martinsen © All Rights Reserved. You may not save, copy, edit, print, link to or otherwise use any of these photos without ink on paper signature and a consent agreement with Ron Martinsen.Contact me if you are interested in prints or licensing.
If the photos in this article aren't enough for you, click here to visit the full gallery more images with duplicates taken at various apertures or settings for comparisons.

f/32 @ 32mm for 3 sec at ISO 100
f/32 means you can pretty easily get a long exposure without needing to carry a ND filter

f/5.6 @ 64mm for 1/10 sec at ISO 100
Because this is medium format, you get roughly half the depth of field you'd get with your full frame sensors. As such, f/5.6 is pretty shallow and f/4 feels like f/2.8.

f/32 @ 32mm for 4 sec at ISO 100
You have to view with no ambient light, but even in Provia mode the shadow areas are pretty blocked up. As such, if you need shadow detail you'll either need to adjust the shadows default behavior or handle via raw for post-processing.

f/32 @ 48mm for 4 sec at ISO 100
If you compare this shot at f/32 and the one below at f/22 & f/16, you'll see that unlike many full frame cameras there is a visible depth of field differences. What's more, f/32 suffers from very little diffraction compared to other brands, so I didn't avoid f/32 with this camera.
Notice how crisp the details are in the background rock on the right in the river.

f/22 @ 48mm for 2 sec at ISO 100
Details in the background definitely drop off at f/22 so that rock isn't as crisp, but the foreground does get slightly sharper.

f/16 @ 48mm for 1 sec at ISO 100
f/16 is plenty sharp but at the expense of a smooth river, so I found myself comfortable with longer exposures at f/32 with this camera.

f/11 @ 44mm for 1/5 sec at ISO 100
While I was pleased that flare wasn't a huge issue, the backlit foreground details weren't totally lost despite shooting into the sun. While dynamic range isn't close to the Sony a7R III, it's not terrible.

f/11 @ 32mm for 1 sec at ISO 100 (-1 EV)
This was the –1 EV exposure of a bracketed series, but a great starting point for a fun edit. However, when I got home I regretted shooting it at f/11.

f/32 @ 32mm for 20 sec at ISO 100
This is one of those fairytale scenes in nature that only Fujifilm Velvia film simulation can properly capture. I also felt f/32 was a must for the details on the tree laying down in the woods at the top 1/3rd of the frame.

f/16 @ 32mm for 6 sec at ISO 100
Yes, f/16 was sharp but the depth of field loss wasn't worth it.

f/6.4 @ 64mm for 1 sec at ISO 100
High megapixel images give you lots of details so that when you downsize your images for the web, more details are preserved. The detail in the tree stump here is a great example – it's way more crisp

f/32 @ 32mm for 1 sec at ISO 100
This is an in-camera natural starburst from shooting into the sun, but I did get some nasty rainbows on the rock and in the trees so the anti-flare coating isn't close to what Canon offers in some of its amazing lenses like the 11-24mm

f/8 @ 32mm for 1/2 sec at ISO 100
Even if your composition sucks, this camera makes every scene just look gorgeous!

f/32 @ 38mm for 3 sec at ISO 100
I had a love affair with f/32 since I didn't have a ND filter for my review, but this sensor does so well at f/32 it felt like I was shooting film. I really didn't have the fear of diffraction like I do when shooting with Canon and Nikon (both of which are useless after f/11)

f/32 @ 32mm for 4 sec at ISO 100
The DR-AUTO feature which is supposed to help increase the dynamic range didn't impress me. The Sony a7R III would not have blown out this long exposure as bad as this camera does.

f/16 @ 32mm for 17 sec at ISO 100
You become obsessed with scenes with tons of detail when shooting with this camera because you look on the rear screen LCD and just say "oh my god" every time you do. If you love super detailed images, this camera will delight you to no end!

f/16 @ 40mm for 10 sec at ISO 100
Personally, I love shooting in the Velvia film simulation when doing landscapes, but others mock it and call it Velveeta because it is too saturated. Compare this image to the one below which is using Provia to decide which you prefer

f/16 @ 40mm for 10 sec at ISO 100
Provia film simulation is still excellent in my opinion, but if you hate it too there's tons of flexibility in this camera to adjust the saturation, contrast, highlights, shadows, sharpness and more to create your own film simulation. In fact, you can even bracket shoot with multiple film simulations to give yourself options later (assuming you only shoot JPEG)

f/8 @ 57mm for 19 sec at ISO 100
This is a shot where I got burned by this being a larger sensor camera. f/8 was waaaaay too shallow depth of field for this scene, so I learned that lesson really quick

f/22 @ 32mm for 14 sec at ISO 100
Even at f/22 if you focus on nearby subjects you are going to get much less depth of field than you are used to with full frame cameras, but this thing can focus stack like nobody's business so the choice is yours as to whether or not you embrace it (as I did in this shot) or work around it.

f/5.6 @ 32mm for 1/27 sec at ISO 800
Sadly you lose a lot at higher ISO, so 800 is the max I'd use for this camera. That's a tremendous difference from mainstream DSLR's where I have no reservations at shooting at ISO 25,600 (or higher on some models)

f/5.6 @ 40mm for 1/17 sec at ISO 800
Using my assisted handheld technique I managed to get a MUCH sharper shot with the GFX than I did with my iPhone XS (which is VERY RARE) due to the low light conditions. However, my pure handheld shot was completely unusable so I had to delete it in the field

f/22 @ 32mm for 4 sec at ISO 100
I started to risk life and limb to get shots with this camera – that's a good sign of a fun camera that rewards the effort

f/11 @ 32mm for 1/26 sec at ISO 100
Some AF systems I've tested struggle in snow, but the Fujifilm didn't focus hunt during my entire snow shoot

f/4 @ 42mm for 1/140 sec at ISO 200
Obviously if you've got good light then you can do hand held shots so I was pretty pleased with the in-camera results on this shot

f/32 @ 64mm for 1/2 sec at ISO 100
The 50s ability to capture lots of detail made this the perfect camera for a snowy day at the falls

f/4 @ 53mm for 1/100 sec at ISO 100
Edited version on Instagram
Default metering struggled with this scene, so I had to resort to some exposure compensation in the subsequent shots as shown below

f/5.6 @ 64mm for 1/40 sec at ISO 200
My 9 year old son had a shaky hand when taking this photo and the pixels literally shifted!
This is NOT a handheld friendly camera

f/5.6 @ 64mm for 1/40 sec at ISO 200
Edited version on Instagram
But with the same settings and not moving, he got a crisp shot.
My wife despised the focal length as it made her face super wide compared to what it is in real life and with longer focal length cameras. Guys, do NOT photograph your wife with this lens!
Full Gallery for more images at https://photos.ronmartblog.com/fujifilm/gfx50s
ALL IMAGES COPYRIGHT RON MARTINSEN © ALL RIGHTS RESERVED – NO LINKING, SAVING, PRINTING, ETC… WITHOUT WRITTEN AND INK SIGNED PERMISSION
The Occasional "Off" Shot
On a few occasions I got a shots where things just felt way off compared to the adjacent shots. In some cases the shots were super blue so it was obvious that the white balance was off, but the white balance was set to shade so how could that be? In the shot above things weren't the extreme blue, but it felt darker and more blocked up in the shadows than I typically saw during my review with other shots.
Of course these are all easy to fix if you have the raw file as you can see below:
In some cases some might even prefer the result of this anomaly even more than the accurate shot!
If you've seen this, please feel free to comment. Due to massive spamming, I am slow to manually approve comments and I generally don't approve comments with links in them.
Conclusion
In case you haven't figured it out yet, YES I love this camera and highly recommend it. The camera body performance and features were excellent and this lens was plenty sharp. While the price is too steep for me to afford it, it's a bargain compared to the medium format cameras I've used over the years with clients. I also think the odds of getting BETTER results because of all of the features (like eye AF, auto ISO, etc…) mean that this is the medium format camera of the future.
Fujifilm cameras have some special magic that always makes me love them, and this one was no different. If you find yourself in a rut and looking for inspiration, then definitely buy or rent one from my friends at LensRentals.com.
Where to Buy?
CLICK HERE to learn more or buy today.
Other articles you may enjoy
If you enjoyed this article, you may also enjoy these:
Enjoy these and more on the Reviews tab as well as Ron's Recommendations.
Disclosure
If you make a purchase using links found in this article, I may make a commission. It doesn't cost you a penny more, but it does help to support future articles like this.