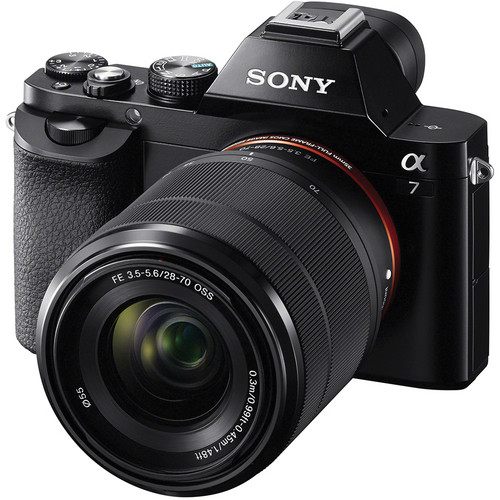 Sony Alpha a7 Mirrorless Digital Camera
The Sony a7R that I reviewed impressed the hell out of me. It's a very, very good camera that will blow peoples minds when its paired with great lenses. However, it had some shortcomings in terms of everyday usability that had me wondering if the Sony a7 was the better choice for those who can only see more than just megapixel statistics.
Body wise the a7 is identical to the a7R which is a good thing, because this is a very good camera body. The menu system usability leaves a lot to be desired, but the wealth of buttons, knobs and feature all result in pleasant shooting experience. What's more, features like focus peaking are super handy when manually focusing.
The burst mode of this camera and its AF performance are sufficient enough that I feel good recommending this camera for parents – with one caveat – shoot in shutter priority or manual mode. However, one huge limitation of this camera is the lack of a built in flash so save money for an external flash – which sadly takes away some of the portability of this camera.
This camera is a little hefty as compared to other mirrorless cameras, but it feels well enough built that it should hopefully stand up to wear and tear well.
As I mentioned in my a7R review (which I suggestion you read), the electronic viewfinder (EVF) is brilliant. What's more the rear screen is very good and this camera will even display images at a full 4k (3840×2160 pixels / 8.3MP) if you hook it up to a 4k TV.
Which is better, the Sony a7 vs a7R?
Now before the Sony fan boys get their panties in a bunch, YES I do agree that the image quality of the a7R is indeed superior to the a7. However, it's a bit like saying a Bugatti Veyron Super Sport is faster than a Bugatti Veyron original – both the a7R and a7 are excellent, so you aren't getting a bad camera with either one. What's more in typical web posting and print sizes your spouse won't likely see the advantage of the a7R over the a7 – when you are using a tripod.
Like all super megapixel cameras, the a7R requires higher shutterspeeds to get a crisp shot than its lesser megapixel sibling, so if you are shooting handheld the odds of getting a blurry shot with the a7R go up. This is why I strongly believe that if you handheld shoot under normal lighting conditions more than you use your tripod or studio lights then the a7 is the better camera in terms of usability. Of course the inverse is true too – if you are primarily a studio shooter or landscape photographer who always uses a tripod then by all means go for the a7R. In the real world that's a small number of people, so if you are new to cameras of this caliber then you'll be much happier with the a7. What's more, if you have kids the superior burst mode performance and hand holding friendliness of the a7 will serve you much better than those blurry and out of focus extra megapixels on the a7R you thought you had to have because it has more megapixels.
Here's a good video from DigitalRev TV that definitely mirrors many of my observations of these two cameras (well, except for the last part about the colors <g>):
Bookshelf Test
The following shots are done on a tripod with all camera default settings except I also enable RAW. The full gallery of bookshelf images can be found HERE, but I've included a noteworthy images below. Please keep in mind that the images are not crooked – the camera is level, but the bookshelf has sagged over time due to weight so I use camera level instead of adjusting the camera for a level shot of the bookshelf.

f/2.8 @ 35 mm, 3.2s, ISO 100, No Flash
Like the a7R, the image quality and color is fantastic. Yes, the a7R has an advantage (comparable image) but this is pretty freakin spectacular. All bookshelf testing was done using the same camera settings and environment with the Sony Sonnar T* FE 35mm f/2.8 ZA lens.
If you want to fault this camera, fault it for its price, but not its image quality. High ISO performance is pretty impressive too – especially when you turn in-camera noise reduction OFF and use Noiseware (Tutorial) as I discussed in my a7R article.
Please read my a7R article bookshelf test results as the only difference here is that the a7 seems to be just a little softer and ironically (and perhaps counter intuitively) exhibits a little more bokeh in the test images.
Lenses Tested
In addition to the FE 28-70mm f/3.5-5.6 OSS Kit Lens, I also used these lenses during my review: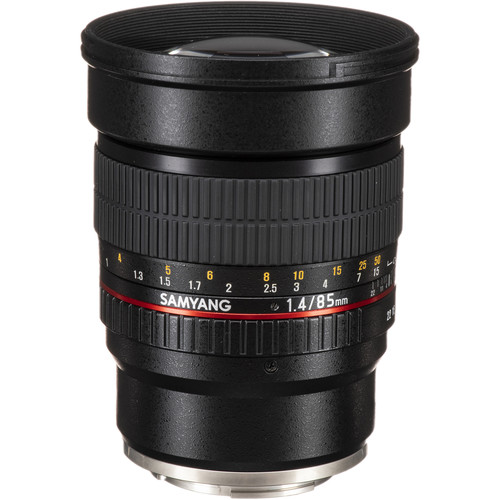 Samyang 85mm f/1.4 Aspherical IF Lens for APS-C Sony E-Mount Cameras
B&H tells me this is a hot selling lens so they encouraged me to try it out for this review, but in retrospect I probably should have tested out the Samyang 14mm f/2.8 ED AS IF UMC Lens for Sony E Mount. The reason why is that I wasn't super impressed with the 85mm. It's a cheap lens and it performs like a cheap lens which I think diminishes the quality that possible from this sensor, so if you are the type of person who would put no-name generic tires on a luxury sports car then this lens is for you.
In the photo gallery, photos from this lens do not have aperture information and the lens is simply shown as --- in the metadata. In my testing I felt like f/5.6 and f/8 gave the best results, but it had the most chromatic aberrations that I've seen from a lens in a long time.
Honestly, if you've really gotta go cheap on the lenses I'd suggest choosing from Sigma's selection of Sony E-Mount lenses.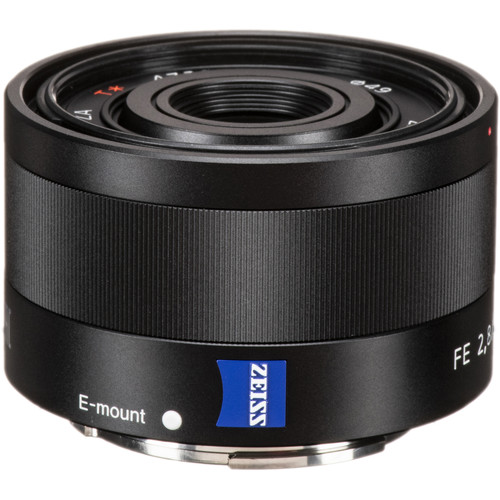 Sony Sonnar T* FE 35mm f/2.8 ZA Lens
I tested this lens with the a7R, so I had to test it with this camera (especially for the bookshelf shots where I knew people would want to do comparisons between the two cameras). This is a very good lens that will satisfy you more than the more flexible kit zoom lens, but the range is hard to work with. Personally, I'd still buy the zoom for its practical use and pick up the Sony 55mm over the 35mm.
I will be testing the Sony A-Mount to E-Mount Lens Adapter with Translucent Mirror Technology adaptor, but I didn't have any test images at the time I wrote this article.
Real World Sample Images
The following images come from in-camera JPEG's using the camera default noise reduction settings. Most camera settings are the default with the exception of RAW+JPEG, a desired White Balance, a desired focus point, and occasionally a desired creative style being used.
I've included the designations Kit and Samyang to denote when I used the kit lens versus the Samyang for 85mm images. If no designation and 35mm, then the 35mm prime was used.
All images are copyright Ron Martinsen – ALL RIGHTS RESERVED

f/5.6 @ 70 mm, 1/100, ISO 6400, No Flash
Gorgeous color and sharpness even with the kit lens and high ISO

f/4.5 @ 28 mm, 1/100, ISO 5000, No Flash, Manual Focus, Handheld
Using focus peaking I was able to easily dial manual focus to emphasize inside the flower

f/4.5 @ 42 mm, 1/100, ISO 2000, No Flash
The kit lens does a decent job

f/? @ 85 mm (Samyang), 1/100, ISO 640, No Flash, Manual Focus
This shot made me get excited about the Samyang lens, but it would often disappointed.
Having to shoot manual focus also means a higher number of blurry shots when handheld

f/4 @ 35 mm, 1/80, ISO 1000, No Flash
The 35mm is a pretty sweet lens

f/4 @ 40 mm, 1/125, ISO 1600, No Flash
Kids are best shot using M mode with AF on, but even with the kit the results are great
Be sure to look at the eyes if you open the original

f/4.5 @ 43 mm, 1/60, ISO 3200, No Flash
This is almost D600 good, and it's good enough if you ask me

f/9 @ 35 mm, 1/40, ISO 6400, No Flash
Great dynamic range and metering under tough conditions

f/5.6 @ 35 mm, 1/60, ISO 5000, No Flash, Shade WB
The ultimate camera torture test, but it did well (except for horrible internal noise reduction)

f/3.5 @ 28 mm, 1/60, ISO 6400, No Flash
Unless I used flexible spot focus points, I'd often get blurry shots like this

f/3.2 @ 35 mm, 1/60, ISO 320, No Flash
The spot AF is good and the 35mm is razor sharp

f/3.5 @ 28 mm, 1/125, ISO 6400, No Flash
Tough conditions, but I felt the a7 handled it well

f/2.8 @ 85 mm (Samyang), 1/60, ISO 2500, No Flash, Manual Focus, Handheld
This camera will get the most out of any lens. Notice how sharp
the eyes look with no editing. Now listen for my wife beating me for sharing this no makeup photo with you!

Samyang chromatic aberrations on the handle are easy to see here
NOTE: Green here is a reflection from a green object in the background
Conclusion

This camera will have you taking pictures of everything again
f/4 @ 40 mm, 1/60, ISO 6400, No Flash, Heavily Edited (Original)
This is the kind of camera that gets you excited about photography and its compact size makes you want to take it everywhere. From an excellent electronic viewfinder (this and the a7R are the only ones I'd really use) to outstanding image quality, this is a camera that will delight most users.
With my only gripes being the lack of a built-in flash and the same gripes I have about every Sony camera, I can easily give this camera my HIGHEST RECOMMENDATION. What's more, if I had to choose a camera that was released in 2013 that impressed me the most, this would definitely be the one that stole the show. In fact, if I were going to buy a mirrorless camera, this would be the one (and yes, even more so than the Fujifilm X-E2).
Now, if it could just catch up to Fujifilm in terms of high quality lens offerings I think it would definitely give Fujifilm cause for concern. In fact, from a image quality standpoint Canon and Nikon should be worried as well!
Where to order
Click here to learn more or order this camera on the B&H web site. My friends at Amazon have it available here.
Other articles you may enjoy
If you enjoyed this article, you may also enjoy these:
Disclosure
If you make a purchase using links found in this article, I may make a commission. It doesn't cost you a penny more, but it does help to support future articles like this.