The X-Rite i1Display Pro, ColorMunki Display, NEC SpectraSensor Pro and Eizo (DataColor) EX1 are all current wide gamut colorimeters NOT spectrophotometers. The purpose of this article is to demystify a lot of confusion about display calibration devices on the market and educate you on some new models to let you know which display calibration device is right for you.
WARNING: I go super geeky at first to help clear up terminology and massive confusion, so if you know what you want and can't deal with the geeky stuff then page down until you see a picture of the product you want to buy or research.
Profile vs Hardware LUT Calibration
What this means is that they are designed to calibrate your display against a series of colors swatches for which the display calibration software used knows exactly what value the sensor should read for each swatch.
The results of this data obtained by the sensor is used by the display calibration software in one of two ways:
To create a display profile (most common) – this is where the display calibration software does what it can to adjust your display to show colors accurately and it creates a lookup table of differences in a file a profile. In simple terms it's like having yellow paint that is supposed to look green so you keep a measurement of how many drops of blue you mix into the yellow paint until it is the shade of green that you want. The profile is that sheet of paper where you jotted down the information about how much blue is needed. Your computer operating system uses these profiles to work with your display card and monitor to make color adjustments to the red, green and blue channels to render color more accurately. This method works well, but it is system dependent and can't be dynamic.

To perform a display LUT Adjustment (a.k.a., programming the LUT) – Expensive and advanced displays improve upon the model above to actually write this data into the monitor hardware itself so that the monitor can do a better job than your OS at rendering accurate color. The method has the advantage of allowing you to use the same display with different computers without the need to calibrate because your operating system is bypassed for color rendition. This is less common on inexpensive displays, but very common on high end displays best suited for photography.  The downside to this design is that you usually need to the proprietary software by the display maker (i.e., NEC SpectraView II, Eizo Color Navigator or EasyPIX, etc…) as other third party software (i.e., the software included by X-Rite or DataColor) is sometimes not able to program the display LUT directly and will resort to creating a display profile (very bad when using a LUT based display). X-Rite has partnered with Eizo so that its latest software can program Eizo displays that are compatible with ColorNavigator can be programmed with i1Publish, but NEC still requires SpectraView II.
A Word About NEC & Eizo (proprietary) Display Colorimeters
The NEC SpectraSensor Pro is a colorimeter built by X-Rite specifically for NEC to calibrate wide gamut displays built by NEC using its proprietary SpectraView II software. The Eizo EX1 is a colorimeter built by DataColor specifically to calibrate Eizo displays using its EasyPIX software. They both can be used with their corresponding software to program the LUT of supported displays and therefore are offered as bundle when buying Eizo and NEC displays.
These colorimeters are just fine as they have been developed and tested under the supervision of the display maker to ensure they are able to program the monitors LUT using their proprietary software.
NEC SpectraView (i1 Display) Colorimeter
NEC used to also offer a special version of the i1 Display as shown below that supported wide gamut display calibration (the X-Rite i1 Display DOES NOT support wide gamut):
If you are a NEC display owner with one of these devices (or are considering buying one used), you do not need one of the products discussed in this article as it will still calibrate your NEC wide gamut display accurately. NEC and X-Rite will eventually phase out support for this product, so I wouldn't invest in one at this point. Using today's software and this hardware you should be able to accurately display any NEC display that supports SpectraView II, so an upgrade is only necessary in the future when you upgrade your operating system and/or SpectraView software to a version that no longer supports this device (won't happen overnight).
Spectrophotometers – Display and Printer Calibration

Spectrophotometers like the ColorMunki PHOTO
calibrate displays plus create paper profiles
Click here to read an article that does a good job at explaining the difference between a colorimeter and a spectrophotometer.
A spectrophotometer can be used to create paper profiles which is the process where you print out color swatches of known RGB values it and then measure the colors using a spectrophotometer to compare what color actually gets printed. The operating system, the printer, the inks and paper you use all combine to contaminate the color that ultimately ends up on the paper, so a printer paper profile used in conjunction with a display color profile (or calibrated LUT) is critical to get the colors you see on your screen to look the same way on the paper that comes out of your printer.
This is a tricky process due to all of the variables that come into play, which is why X-Rite created a great product called the ColorMunki PHOTO (which is a spectrophotometer, NOT a colorimeter like the ColorMunki Display (discussed later in this article) along with its proprietary software to make this whole process work smoothly. I talk about this in my color management article, but know that currently this is the most easy to use and accurate method for getting your prints to look like what you see on your display (excluding the limitations of your display).
If your goal of reading this article is to match your prints with your display then my advice is to  go get a ColorMunki Photo from Adorama or B&H as that's a color management workflow issue. Advanced print master (discussed in my printing 101 eBook) will use even more advanced and complex products like these:

B&H sells the i1iSis – an expensive spectrophotometer

i1 Pro shown with a
i1iO Automated Scan Table
X-Rite has replaced the i1XTreme I reviewed with thei1Photo Pro UVcut Professional Color Management for Photographers and offers the i1iO Automated Scan Table (shown above with a i1 Pro attached). It also offers the i1Sis which is only used for fast creation of paper profiles so a separate colorimeter is required.  It should be noted that this device is offered in a non-UVcut version as well.
Now before you go out and get a spectrophotometer besides the ColorMunki PHOTO, be aware that you will invest thousands of dollars and lots of time so mere mortals are going to find their money best spent on a product like ColorByte ImagePrint (new version 9 is awesome) that just has all the profiles you need available on demand so you are back to only needing a colorimeter to calibrate your display.
Colorimeters
Okay if you read the stuff before this then I'm sure your head is spinning. I'm happy to say that I won't get too geeky from here on in as I'll simply focus on which "gizmo" you need to make your display to the best job it can at showing colors accurately.
WARNING: If your display sucks, a colorimeter may not help!!!!
Please keep in mind though that colorimeters aren't miracle workers. If you are using a crappy display you got free with your computer, then it may not be able to display color accurately no matter what you do. I know that on paper many displays seem like they are "just as good" but as the saying goes "there's lies, damn lies and statistics".  Statistics do not tell the whole story my engineer friends, so if you are serious about color management then you'll need to invest a good wide gamut display (and no you can't get one off eBay for $100). Here are a few models that I've used and have witnessed them display color as accurately as possible with todays technology:
Eizo ColorEdge CG243W – The best photography display I've ever used, but also the most expensive. If you have a Ferrari or Rolls Royce sitting in the garage, then this is what you want to buy. Joking aside, it doesn't get better than this.

Eizo FlexScan SX2762W – You insist on Eizo quality but can't stomach the price? Then this display is a nice alternative.

NEC PA Series – If you a working middle class grunt who wants near Eizo quality for a fraction of the price, then this will rock your world. I use the PA241W and love it, and only a trained eye will see the difference between this an a Eizo.
I'm told HP has DreamColor displays that are fantastic too, but I've had such bad luck with HP products over the last decade that I'd recommend sticking with highly trusted brands like Eizo and NEC.
If you must choose a different brand then you'll want an IPS display that can display at least 95% of the Adobe RGB color gamut, has a DisplayPort (even on the PC), has a programmable LUT for hardware calibration, and supports a minimum resolution of 1920x1200 (not 1080). 10-bit color is an added plus. If the display you are researching lacks any of these features then I'd advise you to keep shopping.
X-Rite i1Display PRO – (Ron's Favorite)

i1Display Pro ($269.00 MSRP – Adorama, B&H)
Professional Display Calibration for the Most Demanding Color Perfectionists
In the summer of 2011 X-Rite released two new calibration devices to replace their popular X-Rite i1 Display 2 and Pantone Huey PRO colorimeters – neither of the older units supported wide gamut display. The i1Display Pro and ColorMunki Display have the following in common:
Wide gamut color calibration
X-Rite ADC [Advanced Display Control] to control supported hardware to ensure the highest quality results.
Support profiling projectors (i.e., Canon SX-80 Pro Photography Projector) and includes a tripod mount to assist with calibration in large venues
Multiple Displays Supported (but more advanced via software for the i1Display Pro)
Flare Correct™ compensates for flare light falling on the surface of the display (but honestly I hate this feature <g>)
The ability to measure the ambient light to include that data in your profile when your display is not in an ideal viewing environment with a hood
and more….
Unique to this model is the bundled software is based on the all new i1Profiler software (which I'll be reviewing soon). It can run in both a simple mode as well as advanced mode which means this solution can grow with you as your color management skills improve.
This model has advanced multiple displays support that also is useful in workgroups where you need all of the displays in your facility to be viewing colors the same way. Now based on my experience is that you need all of the same series displays built and purchased at the same time for the best result, but that's not usually possible so this does the best job that I know of at getting you in the right ballpark.
This device will work with the latest version of NEC's SpectraView II and Eizo ColorNavigator calibration software.
Here's how to set the preferences for this device in NEC's SpectraView II:
It should be noted that if you use a NEC display that supports hardware calibration then you must use SpectraView II and therefore can not (and should never) use X-Rite's included software. Windows 7 will automatically detect and install the "i1Display 3" driver and it will work the next time you start SpectraView II and change your calibration sensor preferences as shown above.
If you have a photography business, then this is the device you need.
X-Rite ColorMunki Display – the photography hobbyist ideal solution

ColorMunki Display ($189.99 MSRP Adorama, B&H)
Advanced Display Calibration Made Easy for Color Perfectionists
Simply put, if photography is your hobby and not your profession then this is a great solution for you at a reasonable price. The software is a little more user friendly with no advanced mode, but the colorimeter device itself is identical so the end result of calibrating your display versus a i1Display Pro will be identical on a single display. The i1Display Pro has advantages for multiple displays, but this device supports multiple displays as well so don't get too hung up on that point.
I like this device because its easy to use and it typically just works (unless you are like me and you are using 6 different devices without rebooting <g>).
Here's a video walkthrough of the ColorMunki Display calibration process on a MacBook Pro in Easy Mode:

Click here to play in HD. Viewing in full screen is recommended.
Here's another video walkthrough showing the Advanced Mode:

Click here to play in HD. Viewing in full screen is recommended.
NEC SpectraSensor Pro (NEC Display Owners Only)
If you currently own or will in the future own a NEC display that supports hardware calibration and you don't have a calibration device already, then this is device you'll want to buy. In fact, if you haven't purchased your display yet then I'd advise that you purchase the bundle that includes it with your display (only one per computer needed).
When using SpectraView II it can be a little confusing choosing the sensor type if the Auto-Detect button doesn't work properly (usually it does) or if you have more than one sensor installed. The reason why is because you must choose "XRite iOne Display Pro (i1D3)" as the sensor type as shown here:
The software actually reads the model information from the device so you can tell that this is really the NEC SpectraSensor Pro device, but it can be confusing so it's worth mentioning that here.
Eizo EX1 by Datacolor (Eizo FlexScan Owners Only)
For the last month or so I've been using a Eizo FlexScan SX2762W for the purpose of doing my review. To my dismay the only way it could be calibrated was using Eizo's EasyPIX solution which bummed me out as Eizo's Color Navigator software is much better. However it worked well enough, so if you own (or are buying) an Eizo FlexScan SX2762W (or equivalent) then go for the bundle and get this.
This is just a Datacolor Spyder 3 rebranded so I was actually able to use it with my NEC SpectraView II software to calibrate my NEC PA241W (note you must physically plug it into the display you are calibrating when doing hardware calibration). Here's how to configure it in the preferences:
NEC SpectraView II Calibration Comparison on a NEC PA241W
To compare the devices in this article I used the NEC SpectraView II software because it does a good job working with a large variety of sensors, it has good reporting info, and the hardware calibration means that no operating system issues will skew the results. With that said, here's my calibration settings:
The Eizo EX1 (Datacolor Spyder 3) was the sixth device I have used to calibrate this display on this machine so SpectraView is pretty good about letting you most of the popular colorimeter sensors on the market. For as long as I've been in the computer industry, I'm honestly shocked I was able to get all but one of working on one machine in harmony without my system crashing – well done X-Rite!
In the sections that follow I'll discuss how a variety of products performed when calibrating this display. To be fair I had the display turned on for over 6 hours before doing the calibration so the display was fully up to temperature. My methodology for testing on a 64-bit Windows 7 system with was as follows:
Making sure that NEC SpectraView II wasn't running, I'd plug one and only one sensor directly into the same USB port on the NEC PA241W.

I'd launch the software, go to Edit | Preferences and click Auto Detect to make sure that the sensor type selected was correct. I visually confirmed the model name as well.

I'd run the calibration and also confirmed that the sensor shown during the placement step was the same as what I was using.

At the conclusion of the calibration I pasted the results in this article. I ran each test two or three times more to see if it was statistically any different.
Eizo EX1 (Datacolor Spyder 3)
This was by far the worst result and multiple runs didn't produce significantly better results. When analyzing a calibration the first thing you want to do is look at the Delta E value. Many say that 2.0 or less is acceptable, but closer to 0.50 or less is realistically possible these days. Chromix has the following statement in their definition of Delta E:
A Delta E of 1 or less between two colors that are not touching one another is barely perceptible by the average human observer; a Delta E between 3 and 6 is typically considered an acceptable match in commercial reproduction on printing presses. (Note: Human vision is more sensitive to color differences if two colors actually touch each other.)
The 1.20 Delta E below my expectations because I'm accustomed to looking at a calibrated display that typically has a Delta E of 0.50 or less. The targeted 6506K white point is being calibrated to 6633K which in practical terms meant my display had an unusual blue cast to it and was not calibrated accurately enough for print soft proofing.
The contrast ratio (the larger the first number, the better) was lower than expected as well at 258:1. As a result I have to give this device, on this display using this software (which granted it's not purposely built for) a UNSATISFACTORY grade. This device plugs in and runs, but I wouldn't recommend it for accurate color calibration on this display using this software.
Of course I'll be fair in reminding you that this device is designed for use in calibrating an Eizo FlexScan SX2762W with the EasyPIX software, so I am using it in an unsupported fashion. When using it on the Eizo with the EasyPIX software I got a Display Luminance of 99.7 and a temperature of 6507K. Easy PIX doesn't report contrast ratio, but overall the results were acceptable on the Eizo. There was still a touch more of a blue cast on the Eizo than the NEC, but I'd say this device does well for what it is designed for, so perhaps there's some tweak in it for Eizo that doesn't translate well to NEC and/or SpectraView.
If you are considering a Datacolor device I'd suggest borrowing a friends Datacolor Spyder 3. You can't return calibration devices so do your own tests to make sure you are happy before purchasing if possible. In fact, the the new Spyder3 Elite might perform better, so try it if you can.
X-Rite ColorMunki PHOTO Spectrophotometer
I was unable to test the ColorMunki Display colorimeter due to the OS not recognizing it for some reason. I plugged it in and tested on my MacBook Pro and Lenovo W510 with no problem so it was an issue specific to my Windows 7 system and this device (perhaps because I had installed the i1Display Pro).
At any rate, I was curious to test its big brother the ColorMunki PHOTO to see how this spectrophotometer would do compared to its big brother, the i1Pro. I ran the test three times and got statistically the same result each time so I was a little disappointed to see that the Delta E was 0.94. Of course this is below 1.0 so in theory this is acceptable.
Ironically with this one the contrast ratio was 615:1 so I'm not sure what to make of that result. The white point was only 14K off its target and the luminance was just 0.4 over 100.0 so to my eyes the result seemed ACCEPTABLE.
NEC SpectraSensor Pro
This device is made by X-Rite for NEC so it should do the best job, right? I must admit that I was shocked when I ran the results and saw that the Delta E was 0.72. At 6543k and a contrast ratio of 513:1, the calibration felt "about right", but the data proved it was off more than the maximum 0.50 Delta E that I prefer to see for everyday use. Ironically if I used the i1 Pro sensor type in the preferences dialog I was able to get the Delta E to drop to 0.68.
The Delta E was well below 1.0 so I'm going to give this device a GOOD rating.
My only explanation here is that there's probably some manufacturing tolerance that comes in to play so this is probably considered within specification so it shipped. Your copy might be better than my copy so I wouldn't consider this to be a wide enough margin for you to refrain from getting this. In fact, I'd let price be your guide because as I said – under 1.0 is going to be impossible for most to notice.
X-Rite i1 Pro
Note, the UVCut version was used in this test, but a non-UV version exists.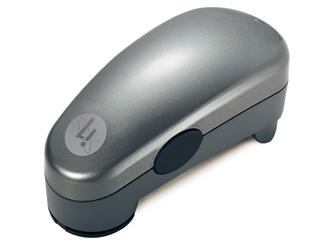 This is the most expensive sensor I have on hand, but it is a spectrophotometer so it can do paper profiles too. It did a VERY GOOD job with a 0.32 Delta E and a 469:1 contrast ratio. Of course it cost about 4 to 5 times as much as the other devices so it should do well right?
X-Rite i1Display Pro
Before running these tests my gut feel was that this was the best device, and my testing verified that was correct. In fact I ran this test 3 times just to make sure I wasn't making a mistake. With a Delta E of 0.23 it performed the best and gave me the result that to my eyes seemed most accurate when soft proofing. Again, there's probably some variation from unit to unit, but it's no doubt this one is a dandy.
Conclusion
X-Rite is an industry leader in color management solutions, and a brand I trust. This article simply confirms my belief in their products is valid.
My bottom line advice is that if you aren't going to be doing your own printing then you don't need a spectrophotometer. If you are using a monitor that supports hardware calibration then get whatever bundled calibration device is offered with it and the display makers software. If you are going to be doing software calibration then go for the i1Display Pro (Adorama, B&H) if you can afford it, but if not then go for the ColorMunki Display (Adorama, B&H).
Amateur printers should get a ColorMunki PHOTO (Adorama, B&H) as the best cost effective solution. See my color management article to learn why. If you are print master then I'll have more for you soon in my i1Publish article, so stay tuned to this blog to learn more.
Disclosure
Eizo, NEC, and X-Rite all provided me with calibration devices used in this article. The Eizo EX1 was not intended for this testing, so it was only included because I had it on hand. If you make a purchase using the links in this article I may get a commission, so thanks for supporting my blog by using my links when you are ready to make your purchase.