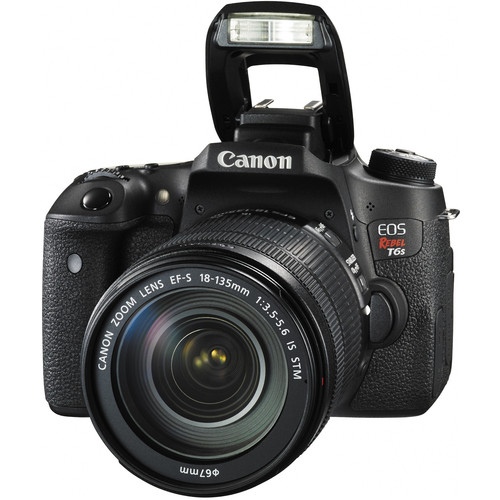 Canon EOS Rebel T6s DSLR Camera with EF-S 18-135mm f/3.5-5.6 IS STM Lens
The Canon
T6s/760D
is probably the most advanced and exciting Rebel series camera I have ever used. It has all the ease of use and advanced features of a typical Rebel, but it takes it to the next level by adding the top of camera LCD that is typically reserved for the next step up (
70D
at the time this was written):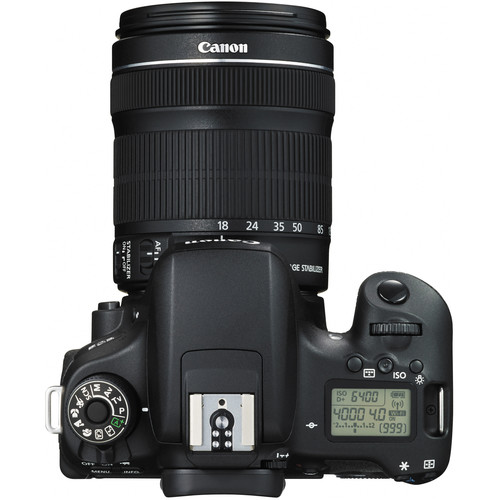 Top View with LCD not found on the T6i
The
T6s
adds the following features not found on the T6i:
A top LCD panel (shown above) which experienced photographers will appreciate
HDR movies – this seems to only be available in SCN mode so I didn't try it for this part of my review.
An electronic level which is handy when you are on stabilizing your camera on a tripod or surface
A quick control dial on the rear panel which I found to be invaluable (see below)
T5i
which I found to be too sensitive for my taste. This time I found myself enjoying the touch screen and loving this LCD quite a bit.
Here's a complete list of the T6s body features likes and dislikes during my testing:
Likes
AF Zones
A dedicated button to switch between single AF point, AF zones and full Auto
Touch screen support
Fully articulating LCD
Quick Dial
Top LCD
Electronic Level
Silent Mode
Built-in Flash
Dislikes
The insanely annoying power switch that requires you to stop in the middle for photographs as it easily goes straight to video.
Lack of a support for using the Q button to jump sections in the menus which is possible on the more expensive bodies.
Auto ISO stops at ISO 6400
No ability to set a minimum shutter speed in aperture priority
No exposure compensation in manual mode when auto ISO is enabled
Lacks 5D Mark III's proper HDR mode (only minimalistic SCN mode offered)
Click here for the product page on Canon's website
. The EOS Rebel website also features
some cool stuff here
.
Real World Snapshots
As usual, these are all in-camera JPEG's that have not been modified in any way outside of the camera beyond the filename and metadata. No changes have been made to the crops or color, so click to see the full-size originals to see exactly what you could expect if you took these photos.
You may view these photos for informational purposes, but you may not print, edit, upload, share, display, etc… these images for any reason without my expressed written and signed consent. ALL RIGHTS RESERVED!
Most of these shots are taken using camera default settings in Aperture Priority mode and Auto White Balance with no flash unless otherwise noted.

f/5.6 @ 135mm for 1/1250 sec at ISO 100 Shade White Balance
Despite the cropped sensor, creamy bokeh was readily available with the kit lens

f/5.6 @ 50mm for 1/60 sec at ISO 320 -2/3 EV Shade White Balance
General scene shots contained plenty of detail and rich colors

f/5.6 @ 135mm for 1/1600 sec at ISO 320
I caught the bee in this shot, but the slow focusing kit lens was responsible for hundreds of misses. I also wasn't very impressed with the weak dynamic range in this shot compared to what I could get with a more expensive Nikon D7200

f/7.1 @ 67mm for 1/640 sec at ISO 100 +1/3 EV
I was extremely pleased with this kit combo for this tough shot in mid-day sun with no clouds

f/4.5 @ 20mm for 1/40 sec at ISO 100 Shade White Balance
Like nearly all cameras, the face will generally take the priority
even in evaluate metering mode so the background will suffer

f/5 @ 20mm for 1/160 sec at ISO 100 Flash White Balance Flash
While the default flash settings are still a little blah for my taste, it does a reasonable job with no user intervention at capturing a clear shot of the subject and properly exposing the background. This will please amateur users who know to use Aperture Priority (vs Program Mode or Full Auto)

f/5.6 @ 18mm for 1/40 sec at ISO 160
With diffused natural light in your favor, a well balanced exposure is possible with more sharpness than you probably want for a portrait

f/5 @ 50mm for 1/60 sec at ISO 400 Shade White Balance
I didn't see an option for setting the minimum aperture so potentially good family shots like this were ruined by subjective movement and a shutter speed that is too slow for kids

f/5 @ 50mm for 1/200 sec at ISO 100
In harsh mid-day sun once again the evaluate metering mode favored the human subject but this camera lacks the dynamic range to save the details lost in the hot spots on the arms. Nevertheless it made the right tradeoffs for a keeper shot for amateur & family users.

f/5 @ 50mm for 1/1600 sec at ISO 100 Shade White Balance
This sensor doesn't do especially well with pure reds, but the farther you get away from pure red the better it does. In this case I thought it did a respectable job under harsh conditions.

f/5.6 @ 108mm for 1/1600 sec at ISO 200
Here's an example where I thought this camera did a excellent job in harsh daylight and in this case the AF managed to focus properly on the busy bee

f/6.3 @ 35mm for 1/500 sec at ISO 2000
This kit lens is plenty sharp and this sensor is no slouch up to ISO 3200
To see a full gallery of photos, visit
http://photos.ronmartblog.com/canon/t6s
.
Videos
Here are a couple handheld videos with stabilization turned on and auto ISO at 1/60 sec in manual mode:
Click here to download the original 1080p MP4
Click here to download the original 1080p MP4
Unless you invest in some video stabilization hardware, you can easily see that this isn't going to perform as well as your camcorder or cell phone which is true of ALL DSLR's. This is a common frustration point for amateurs who mistakenly assume they'll get camcorder performance from a DSLR especially when they feature these STM lenses (which are really just silent motor lenses).
Click here to see more videos that have been professionally edited and shot using stabilization equipment. Great video is possible, but it's not point and shoot easy like a typical camcorder or cell phone.
T6s vs iPhone 6
The iPhone 6/6+ is a very impressive camera phone, so I decided that for a couple shots I'd do a head to head comparison for my own curiosity. What follows are the results where you can click to see the original and compare them side by side on your local computer. I've included my observations below:

T6s f/5.6 @ 24mm for 1/30 sec at ISO 100
For this image I appreciated the better bokeh and separation between the subject and background with the T6s. I also felt that the color was more natural as it appears in real life.

iPhone 6 f/2.2 @ 29mm for 1/120 sec at ISO 50
This is a gorgeous shot to view on the iPhone's retina display with its rich colors. The small sensor means a 7.21 crop factor so this is more like a f/14+ shot so there's lots of depth of field in the flowers which some might find desirable while others may hate.

T6s f/5 @ 59mm for 1/500 sec at ISO 100 -2/3 EV
The larger sensor meant more detail and bokeh in places, but the dynamic range was rather disappointing compared to the iPhone 6.

iPhone 6 f/2.2 @ 29mm for 1/860 sec at ISO 32
The f/14+ aperture once again favored the iPhone 6 resulting in a image with incredible sharpness overall with the only detail loss being in the smaller flower buds.
The iPhone 6 was definitely impressive, but anyone who loves color accuracy and the creamy bokeh that separates the primary subject from the rest of the image will certainly appreciate a DSLR – even an entry model like this T6s. However, I'd call the iPhone 6 images "good enough" for those non-critical images you take for fun (i.e., the food shots) – especially after a one click edit with Perfectly Clear.
Conclusion
See my conclusion here in part II, but overall I felt this is a good starter camera. While I don't think the image quality will satisfy 70D, 6D and 5D Mark III users seeking a second camera body, it does seem to be roughly on par with the 7D Mark II.
I was very disappointed in the AF performance of the STM lens so I'd encourage those that can afford it to look at my lens recommendations. Unless you are doing primarily video, even a slightly softer 24-105mm (which is easily found on the used market) will offer much faster autofocus speed based on my real world testing.
Where to order
Click here to learn more or order on the B&H web site.
Other articles you may enjoy
If you enjoyed this article, you may also enjoy these:
Disclosure
If you make a purchase using links found in this article, I may make a commission. It doesn't cost you a penny more, but it does help to support future articles like this.