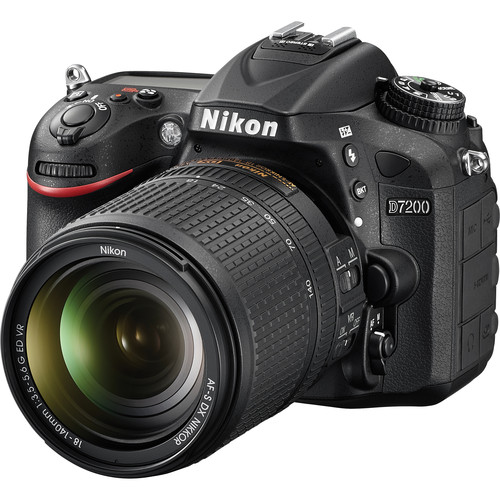 Nikon D7200 DSLR Camera with 18-140mm Lens
I've been a big fan of the Nikon D7xxx series ever since I reviewed the D7000. It's always been a solid performer, so when I reviewed the D7100 I was considered picking one up for myself. I'm a Canon shooter, so I didn't need another camera – especially one that couldn't use my existing lenses, but that's just how much I liked the predecessor to the Nikon D7200.
After some seat time with this camera I've discovered that everything that I liked about the predecessor returns plus it gets a EXPEED 4 processor, WiFi & NFC included as well as much improved buffer to hold more images before you have to wait for the files to write to the memory card. Click here to see a complete comparison chart.
What the improvements really mean is that you'll be able to take 3x the number of photos (compared to the D7100) before you are waiting on the camera to finish writing, and you'll be able to use much higher ISO's with acceptable performance. How high is subjective, but I personally found ISO 25,600 to be usable for personal use and even 12,800 to be quite good.
What I've always really loved about the D7xx series is that it has a great balance of ease of use with a wide spectrum of advanced features. This means that even the most advanced photographer will likely get excited about D7200 features like:
An 4 level adjustable Auto ISO that comes in handy in Aperture Priority because you to control how aggressive the camera is at shooting slower or faster shutter speeds. At its fastest setting faster shutter speeds will be chosen to minimize blurry shots or having to use an arbitrarily high minimum shutter speed setting (or manual mode). I wish all cameras had this (especially my Canon's!). It should also be noted that this feature is supported in Manual mode with exposure compensation too for the maximum in flexibility!
An auto white balance that favors warm temperatures (Auto2) so skin tones look healthier rather than technically correct (although still not as warm as you'll get with Canon – which some people love, and others hate).
Fast physical button access to exposure compensation, flash exposure compensation, bracketing, metering modes, video recording, and more.
A usable built-in flash. While off-camera and hot shoe flashes are better, it's good to have something when in a pinch and Nikons popup flashes perform better than the competing products I've tried.
51 focus points accessible quickly via multi-selector button along with support for remembering separate portrait versus landscape orientation points.
Built-in intervalometer for doing time lapse photography
Two user programmable mode dial points for your favorite settings (U1 & U2)
Scene and Effects modes for amateur photographers who want to leverage the internal technology to its fullest so they can focus on shooting instead of camera settings
Programmable buttons for when you'd rather move things around or expose functionality that would otherwise require a menu visit.
While many of these feature are neither new nor available only on this camera, what I like about the D7200 is that it is a great bridge between features offered on more advanced pro bodies while retaining some of the ease of use features of the entry level bodies. It really is a camera that you can grow with from first time DSLR shooter all the way to the semi-pro level. The burst mode performance also makes it great for both wildlife shooters as well as parents who have been struggling with blurry shots of their little bundle of joy indoors. The great high ISO performance also means those shots won't suck when you go to edit them.
Kite Test
I don't typically do a kite test on a camera in this price range because it requires a sophisticated AF system that isn't easily confused, but after spending time with the D7200 I began to have confidence it could handle it. Here's a good example of where the D7200 performed admirably:

f/2.8 @ 75mm for 1/2000 sec at ISO 720 with Nikon 70-200mm (unedited)
Photographing people with kites is tough because you not only have to worry about tracking your subject, but also keeping the kite in the frame. As a result you leave extra space when framing, so having some extra megapixels to spare when you crop will come in handy! I ended up with usable shots like the ones above and below, but I definitely could use a much tighter crop. Thanks to a good image file size, it is quite easy to crop without losing any important detail from the image (assuming your output isn't a huge print).
Click here to see 36 images from my kite testing including my favorite one below…

Kai's first lift off with a kite
f/2.8 @ 70mm for 1/2000 sec at ISO 2200 with Nikon 70-200mm (unedited)
The value of 24 megapixels
Megapixels are often overrated because in reality people rarely print anymore, so the largest output most people often see their images displayed is on their 1080p HDTV (which is only 2 megapixels!). Even a UHD 4k display only requires 8 megapixels, so generally speaking we often discard megapixels when downsizing our images to the web or in small prints.
With that said, having some extra megapixels around does have one advantage and that's to crop and still have a usable image for displaying on the web. I mentioned this above, but here's a much better example:

f/11 @ 200mm for 1/640 sec at ISO 280 – Edited to show detail
100% crop – See full-size original below
While the shot above isn't going to win awards because it is bad on so many levels, what is interesting is that I wasn't out shooting eagles. I was shooting something else entirely when I spotted something huge flying overhead. I raised the camera and fired off a couple shots (hence the unnecessary f/11!). As you can see from below, I had no clue it was kind of bird it really was:
Despite being in full automatic AF mode I was able to successfully capture this image and with the bring enough detail out to see the underbelly of the bird using only the JPEG (RAW had been disabled when I was testing something different).
While this lame image won't be appearing in any wildlife photography magazines, it does show the value of megapixels when cropping and the strength of the D7200 AF system. I had the wrong settings and wasn't ready, but yet I came away with a shot that I could clean up and post on Facebook as proof that I saw a eagle circling above me.
When people ask me why they need a DSLR in these days of great cellphone cameras and mirrorless systems, I use cases like this to show that the DSLR still has great value. Yes, other cameras may have the megapixels and resolution, but few have everything they need to pull it all together. While poor, this shot clearly identifies the eye of the bird and the separation of wings from the in-camera JPEG.
Now imagine if I had a 400mm lens and was actually ready for this shot with better camera settings! On this camera that would be the 35mm (full-frame) equivalent of 600mm thanks to the 1.5x crop factor which comes in handy in scenarios like this. Wildlife shooters on a budget are going to enjoy what this camera brings to the table!
Swing Test

f/4 @ 86mm for 1/1000 sec at ISO 2000 with Nikon 70-200mm (unedited)
When a camera shows signs of being good for parents I get my kids to be my swing test subjects. If you've ever tried to take photos of kids on swings then you know what a challenge it can be getting a decent shot, so in the world of real life shooting it's one of the bigger challenges for both the parent and the auto focus system.
While this is certainly no D750 or D4s caliber performer, it did do a very good job for a fraction of the cost. The AF system was by no means flawless as I would see a few missed focus shots in most series, but I'd occasionally get an entire burst that was usable.

f/4 @ 86mm for 1/1000 sec at ISO 800 with Nikon 70-200mm (unedited)
Click here to see the beginning of 83 swing test shots I did including this one which is the beginning of a continuous burst of 65 straight images (JPEG only) that were done without releasing the shutter button.
Real World Shots
My real world shots are about showing pictures taken from real life activities that haven't been planned or labored over for hours. These are casual snapshots where only a few frames are shot and the best is taken for your review. Shots featured here use the kit lens first section and then the 70-200mm at the end where noted.
Most camera settings are in-camera defaults and the unedited in-camera JPEG is shown. Unless noted, Auto2 white balance is used with the Standard picture control setting. Aperture priority or manual mode was used with Auto ISO and all shots are handheld.
The goal here is to capture shots you'd expect to be able to capture yourself and results you could expect to see on your computer before post-processing.
Click the images to see the unedited, full-size, in-camera JPEG original images. All photos in this article are Copyright © Ron Martinsen – ALL RIGHTS RESERVED. You may view the images on your computer while this article is active in your browser, but you may not retain, print, edit, or otherwise use any images without my written consent.

f/5.6 @ 140mm for 1/500 sec at ISO 100
I felt this was a wow shot for a straight out of the camera result with a kit lens. Excellent dynamic range with reasonable sharpness and great shadow detail. It wasn't long ago that you needed a couple extra grand to get these kind of results!

f/5 @ 52mm for 1/1000 sec at ISO 100
The Shade white balance turned this image a bit too yellow and camera meters always turn white to gray (tip: overexpose by 1/3rd stop), but what you are left with here is a RAW image that has all the data it needs for a decent image. The kit lens requires f/5 at 52mm so that hurts this shot especially due to its poor bokeh quality, but I've definitely seen worse from a kit lens.

f/5.6 @ 140mm for 1/800 sec at ISO 100
While I was unimpressed with the kit lens,
beginners are going to be pleased with this level of detail

f/5.6 @ 140mm for 1/640 sec at ISO 100
Excellent shadow detail is a given with this camera

f/5.6 @ 66mm for 1/200 sec at ISO 500
The purpose of this ugly shot is to show off the tremendous dynamic range from the super bright areas on the left that still retail some detail to the intense dark creek bed which still offer clearly visible rocks and ripples. This impressive for a camera this affordable!

f/4 @ 32mm for 1/500 sec at ISO 1250
I got a little overzealous in cheering my son on in this 10 shot burst series, but that's easily correctable with a rotate in editing. What's interesting is that the high ISO is not even noticeable as the image quality is excellent for the entire series. Even more impressive is that the AF system nailed every shot while in full auto mode.

f/3.8 @ 23mm for 1/160 sec at ISO 100
I chose the wrong shutter speed and failed to add exposure compensation for the backlighting, but the D7200 gave me a shot I can still use – especially with raw processing. I was very pleased with the shadow detail of the face and the brightly lit background

f/5.6 @ 18mm for 1/160 sec at ISO 100
Kit lens users will appreciate that they can go pretty wide at 18mm as shown here,
or very deep as shown below taken from the same spot

f/5.6 @ 140mm for 1/500 sec at ISO 720
Full zoomed in from above, detail at the end of the trail is clearly visible at 140mm
thanks to the crop factor which makes this an effective 210mm reach

f/5.6 @ 27mm for 1/80 sec at ISO 220
My dynamic range torture test here shows how shadows under the escalator to bright areas in the glass and building outside are all within range – impressive!
The following photos were all taken handheld with the Nikon 70-200mm f/2.8 VR II instead of the kit lens…

f/3.5 @ 200mm for 1/640 sec at ISO 720
With a proper lens incredible detail can be captured with respectable bokeh.
Be sure to click to view the pollen on the original at 100% – impressive!

f/4 @ 200mm for 1/640 sec at ISO 1000
Using the 70-200mm felt like I had a different camera body.
Zoom in to check out the detail on the main flower!

f/5.6 @ 195mm for 1/200 sec at ISO 2200
I was very impressed with the sharp detail despite this high ISO.
I was also very pleased that, despite being handheld and zoomed in tight,
I got such crisp detail on the tips of the flower!

f/2.8 @ 190mm for 1/200 sec at ISO 280
While a full frame FX sensor would have been better here, I was
once again impressed with the image quality from yet another D7xxx series body
To view the entire gallery of unedited original in-camera JPEG's, visit http://photos.ronmartblog.com/nikon/d7200.
Bookshelf Shots
CLICK HERE to see or download my full collection of various bookshelf shots. You can also click the images below for a full-size original. While I can't imagine why anyone would want to use them, please note that all are Copyright ® Ron Martinsen – All Rights Reserved.
As I've noticed in the past, the Nikon 70-200mm f/2.8 VR II causes the camera to expose brighter than other lenses in this test. Feel free to balance the exposure of the bookshelf shots for a better comparison on your computer for a more accurate comparison, but the net result is still that the image quality is very good for the 70-200 compared to the softer kit lens.

f/4 @ 70mm for 6 sec at ISO 100 (70-200mm f/2.8 VR II)
Based on the images above and below I'd classify the image quality of the D7200 to be very good, but there are definitely better cameras on the market – for much larger price tags. As p

f/5.6 @ 140mm for 6 sec at ISO 100 (Kit Lens)

f/5.6 @ 18mm for 1/250 sec at ISO 12800
ISO 12800 was the maximum ISO I felt comfortable with for dark shots, but in bright light 25,600 is totally usable. I review a lot of incredible cameras so I wouldn't call this great high ISO performance, but it's definitely better than any mirrorless that I've tested in this price range.
Video Performance
I've shot some video and will be including them here next week. Overall I thought video performance was average for DSLR in this price range. Parents shouldn't consider any DSLR a replacement for their camcorder or cell phone – both of which are more foolproof – but with careful planning excellent video results are within reach with the D7200.
Compared To…
Generally speaking, I expect that the average buyer of this camera is going to be upgrading from an existing Nikon already. However, in the world of DSLR's I thought I'd toss in my 2 cents about how I think this camera stacks up to the following:
Models below the D7200 in the Nikon lineup are simply not in the same league in my opinion. Those are entry level cameras whereas this is a camera that an amateur can use and a semi-pro photographer will love. As a result, I'm not including them here as they are more suited for discussions when comparing cameras like the Canon Rebel T6s.
Nikon AF-S DX NIKKOR 18-140mm f/3.5-5.6G ED VR Lens

Nikon AF-S DX NIKKOR 18-140mm f/3.5-5.6G ED VR Lens
When considering the crop factor, this lens is a 27-210mm (35mm equivalent). This is an awesome range, but like all lenses I've tested that try to cover so much range – it falls short on image quality. While I wouldn't classify it as bad – especially if you never print or zoom in – it does create a softer image than this sensor is capable of displaying (based on what I saw with the 70-200mm). As a result, I'd opt against the kit and just go with the body only when ordering.
Conclusion
Photography is expensive so it's easy to get caught up in the upgrade game or jonesing for what others have. I teach a lot of students who have made the wrong choices, so that's why I get excited about this camera. This camera is a solid performer so I know I'll never tell a student who uses it that "you'd probably be better off if you had got this other camera" when they are complaining about blurry shots or image noise.
Yes, a great photo can be made with any camera, but the mere mortals do best when they have the right tool that does a lot of the heavy lifting for them. The D7200 is just that – a camera that puts the fun back into photography by increasing your keeper rate. As a result, I highly recommend the D7200 for parents and those who take photography seriously, but who also need to keep their expenses in check!
Where to order
Click here to learn more or order on B&H's web site.
Other articles you may enjoy
If you enjoyed this article, you may also enjoy these reviews and articles:
Disclosure
If you make a purchase using links found in this article, I may make a commission. It doesn't cost you a penny more, but it does help to support future articles like this.