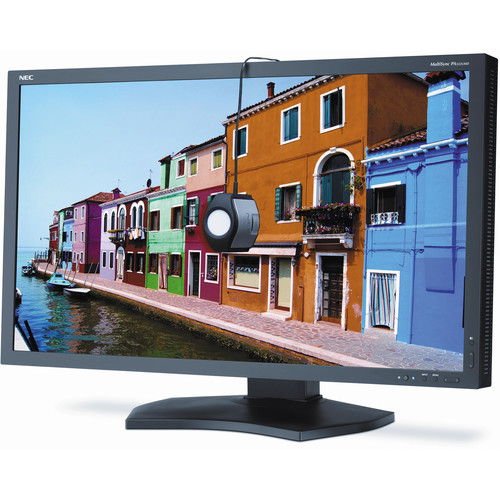 NEC PA322UHD-BK-SV 32" Widescreen LED Backlit
Color Accurate IPS Monitor (Shown with SpectraView II)
When I was a kid there were two ground breaking HBO specials by the comedian Eddie Murphy called Delirious and it's sequel RAW. These were a uncensored stand up comedy programs like nothing anyone had ever seen on TV before (at that point). As a minor watching them when my parents were sleeping I found it to be rib cracking funny to watch and 30 years later I still quote numerous bits from these movies. Why am I telling you all of this? Well because my first thought when I first started my PA322UHD review unit was a direct quote from these movies – "goonie goo goo". My jaw literally dropped when I saw this glorious 32" beast come to life, and if you knew my full history with 4K displays dating back to 2010 you'd realize that is a very hard thing to do!
Right out of the box I was able to calibrate this display with my NEC SpectraSensor and SpectraView II 1.1.18 on my Windows 7 system to a staggering 0.26 Delta E. What this means in non-Geek terms is that this display was able to be calibrated – on it's first try out of the box – to a level that is almost an identical match to the reference target white point. This is one of the lowest Delta E's I've seen on a display right out of the box, so this puts this display up there with the best Eizo display's I've used.
So let's see what NEC has to say about the features of this display:
The ultimate in reliable, accurate color. The 32" MultiSync PA322UHD is the benchmark desktop display for color accurate work, from photography to pre-press to videography. Featuring a UHD resolution (3840 x 2160) IGZO technology IPS-type panel with wide gamut white LED backlight, this display provides 99.2% coverage of the Adobe RGB color space while consuming less power than comparable displays. Packed with features and backed by a 4 year warranty with Advanced Exchange, the MultiSync PA322UHD will reliably deliver high quality, accurate images simply and beautifully.
Superior screen performance (1000:1 contrast ratio, 3840x2160 UHD native resolution, 350cd/m2 brightness)
14-bit 3D internal programmable lookup tables (LUTs) for calibration
Picture in Picture and Picture by Picturemodes increase productivity by displaying two or four sources simultaneously
MultiProfiler™ software provides complete control over the five picture modes, including the loading of any ICC profile directly into the monitor for optimal color space matching
DisplaySync ProTM controls two computers with only one keyboard and mouse
Wide connectivity includes two DisplayPort with 10-bit support, four 10-bit HDMI, two DVI-D inputs as well as a USB hub (new -2 model includes HDMI 2.0 support)
NaViSet Administrator 2: Free software solution that greatly eases administration and management of larger display device installations
Available with SpectraViewII Color Calibration Kit (PA322UHD-BK-SV)
Now let's look closely at that 99.2% coverage of the Adobe RGB color space claim with the Color Gamut overlay that shows the Display's color gamut on the outside and the faint triangle on the inside as Adobe RGB:
That doesn't look like 99.2% to me – it looks to be > 100%. However, there might be some tiny bit of red missing that is hard to tell from this graph, but what I can tell you is that if you are doing color critical work – this is THE display to have! This is as good as I've seen boys and girls!
If you read my review of the NEC EA244UHD 4k Display, then you can safely assume that nearly every negative comment I made about that display has been properly addressed by this display. Specifically, this is a BRILLIANT display for photo and video editing that has proper physical buttons (instead of the EA series annoying non-tactile touch controls) and it's physically large enough that Photoshop is actually readable! If you haven't read that review, I encourage you to do so now as I won't be repeating a lot of points about 4k / UHD and video cards.
To learn more about NEC 4k UHD, I'd encourage you to check out this web site that they have created.
Warning: This beauty is a beast!
This is definitely the dream display for photographers and videographers, but beware – it is HUGE! Weighing in at a whopping 45+ lbs (20.5 Kg) and 29.3 inches wide – you need a LOT of space on your desk (or a seriously heavy duty monitor arm). It really is big enough where I'd replace a traditional 2 x 24" display setup with just this one to avoid having to cross displays. As a result, don't plan on putting this on some flimsy desk – it will destroy it!
White Point Matching/Copy
One interesting feature of this display for those who are doing color critical work is that it features the ability to copy the White Point from one display to another. This is important because it helps you to have an exact match between two displays to reduce the variation between displays.
To learn more, see Page 33 in the English manual.
UPDATE: New PA322UHD-2 Model

PA322UHD-2 (left) vs PA322UHD (right)
In May 2016, NEC replaced the PA322UHD with the PA322UHD-2 model which looks identical at first glance, but on the side you see the key difference (shown on the left above). The new model now features HDMI 2.0 support including a new HDMI 2.0 port on the side. This is important because the best resolution and refresh rate on the previous model could only be achieved via DisplayPort, but its now possible with HDMI as well.
If you have the older model, don't fret unless you need HDMI 2.0 support because the performance of this display is otherwise identical.
Conclusion
When I imaged what 4k UHD would be like on a display, this is what I was expecting. With incredibly accurate color, excellent edge to edge consistency (which is shocking on such a huge display), and a physical size that helps make 3480 x 2160 readable on poor behaving legacy apps (like Photoshop on Windows 7) – this is without question the best 4k UHD display I've seen to date. I am simply blown away and will be crying like a baby when I have to send this one back to NEC!!!!
My only gripes about this display are the massive weight and cost. At more than 2x the cost of the EA244UHD (as of this writing), is it really that much better? In my opinion – ABSOLUTELY. However, that's more money than I can afford for a display, so I'd have a hard time justifying the cost of a display like this at this price. Hopefully as time passes we'll see it drop to the sub $2500 range where it at least will start approaching the cost of a good DSLR.
NOTE: For more information about UHD video cards, 4k Netflix, Photoshop in 4K & more, then I highly recommend you read this past review of the PA322UHD's cheaper sibling.
Long Term Report - July 2016
I've had my PA322UHD for over a year now, and I can easily say this has been the most enjoyable display that I've used in my entire lifetime.
I have a lot of experience with display technology and devices that can output 4k and beyond, but many still lack the edge to edge color quality and color consistency over time that this display offers.
Using this display is a bit like watching a Harry Potter movie because it's like looking at photo that is alive on your display. The screen resolution is very close to print resolution, so if you want a display that looks as good as a 15x27"+ size print - THIS IS THE DISPLAY YOU WANT!
I've also appreciated the matte finish of the display which minimizes reflections, and the color accuracy and quality appears - to my eyes - to be superior to the Apple 5k displays (which have an extra 1k due to the width / aspect ratio).
Where to order
Click here to learn more or order on B&H's web site. My friends at Amazon have it available here. I STRONGLY encourage you to use the NEC SpectraSensor (or equivalent X-Rite) and ONLY the SpectraView II software with it to get an accurate calibration. As a result, if you don't own a sensor or the SpectraView II software, then I'd strongly suggest that you consider the bundled version with the sensor and software. You can also buy the SpectraView II software here if you already own a 4k wide gamut compatible sensor from X-Rite or DataColor. Please note that this software is only designed to work with NEC displays.
WARNING: If you want the new -2 model, be sure to check for "MFR # PA322UHD-BK-2" when ordering. If you purchase via B&H, you can place your order and call or email to confirm that you will get the "MFR # PA322UHD-BK-2" model. This will only be a short time issue though after inventory is depleted as only the new model is shipping now.
Other articles you may enjoy
If you enjoyed this article, you may also enjoy these:
Disclosure
If you make a purchase using links found in this article, I may make a commission. It doesn't cost you a penny more, but it does help to support future articles like this. NEC provided me with a loaner display for testing and reviewing, but I don't own it. My love of NEC PA series displays has also led to be being featured on their website.