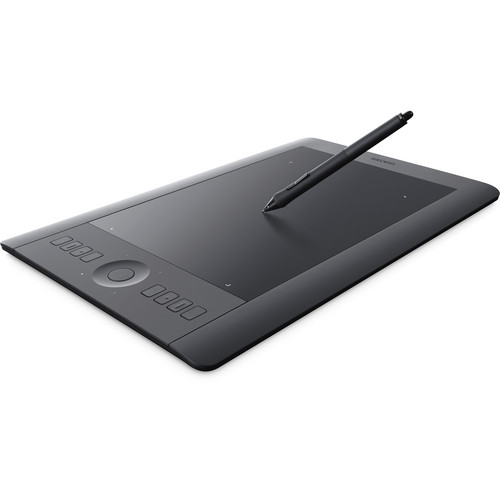 Wacom Intuos Pro Professional Pen & Touch Tablet (Medium)
I've been using Wacom tablets since before the Intuos line came out, but it wasn't until the Intuos 3 that I really started to love them. However, there's one feature that has been included in my last couple of review units that never quite worked the way I hoped it would – WIRELESS!
If you own one of these tablets prior to the Intuos 5 with the wireless kit, you know EXACTLY what I'm talking about – especially on Windows. The tablet worked great when it was plugged in – but the wireless? Yeah, that was a feature that was cool when it worked, but that was a rare event based on my past experience. Since I review a lot of products and pollute my system with a lot of third party software, I figured it was just my machine being flaky. However, when I talk to Intuos owners about the new tablet the first thing we start talking about is the unreliability of the wireless in previous generations.
Now it's my understanding that the Intuos 5, which I didn't own, had the wireless kit that kicked off the improvements. However, as someone coming from a Intuos 4 Wireless the differences are huge!
The new version seems to have learned from the mistakes of the past and has moved away from the unreliable BlueTooth design to a new WiFi design that works like a typical wireless mouse or keyboard where you attach a dongle to your USB port. While it does stink to lose a USB port, the reward is that this is rock solid reliable wireless based on my testing. Even on my sometimes quirky machine, it's been rock solid for more than a month without a single failure – even on Windows!
So my first comment about this tablet has to be "it's the one where wireless REALLY works"!!! Beyond that reality, you get a tablet that performs in a manner that is similar to its predecessor. The drawing area is roughly the same size, and the number of buttons and wheel are the same. The medium tablet I use is roughly 5% larger than its predecessor and it's a little heavier, but the buttons are nicely spaced out and it gains a big new feature – touch.
In this new era of touch everywhere devices, one place where things were a bit clunky with pen tablets was that there was no mechanism for doing natural touch gestures like swipe. This new version changes that by allowing you to use a toggle button to change the behavior of the tablet from a pen writing surface to a touch pad – much like you get with the built-in touch pad on a Macbook Pro. While I'd still rather a touch screen for those activities, the best displays on the market for photographers (at the time of this writing) do not support touch. As a result you are forced to choose between touch or a high quality display, so this new tablet bridges that gap.
Perhaps my only gripe about this new tablet over its predecessor is that it loses the LED labels that were used on the previous version to tell you what functionality you had assigned to your buttons. I REALLY liked that feature, so I'm pretty bummed that it has been removed. Aside from that, everything seems to be as good as or better than its predecessor. I do like the space between buttons again (they were butted together on the previous version), and the surface has a more tactile feel to better support touch. These features with rock solid wireless have made this my favorite Wacom tablet yet!
Video
Here's a short video overview of this tablet:
If you are new to Wacom tablets, check out this video and others on YouTube.
Conclusion
If you are happy with your existing Intuos 4 tablet or greater and don't require wireless or touch support, then there's probably no reason to upgrade. If you have the 5 and the wireless kit, it's my understanding that you only get an improved button layout so there's probably no reason to upgrade either.
Now, if you are coming from any older version or a Bamboo, then this is a nice upgrade that is worthy of consideration – especially if you like using touch and/or wireless.
I've tried the various sizes and Medium has always worked best for me. Your mileage may vary, but I always encourage people to start with a Medium and if you are dissatisfied after using it for a week then work with your reseller to get an alternate size (B&H is good at taking returns and doing exchanges).
I've been a long time user of Wacom tablets and HIGHLY recommend them for doing photo editing work like using the healing brush, creating complex masks, HDR, dodge & burn, painting, etc… Even if you have a good touch screen, nothing replaces the Wacom for photo editing in Photoshop (and it's pretty darn handy in Lightroom if you use the adjustment brush). It's just so much more easy and natural than using a mouse, and you get used to them REALLY quick to the point that you can't live without them. This reliable wireless design also makes it easy to take it on the road with your laptop when you travel too!
TIP: Try as I may, I personally still prefer using a mouse for my mouse work and the pen for my pen work. Some people can do both, but I mention this for those who get a new tablet and find themselves frustrated when trying to use it as a mouse. It's not a binary decision – you can use both together quite well – or just one – it's your choice. I've used my tablet with touch screens, Windows and MacBook Pro based systems and all have complemented the pen tablet very well without conflicting with each other.
Where to order
Click here to learn more or order on the B&H web site. My friends at Amazon have it available here.
Other articles you may enjoy
If you enjoyed this article, you may also enjoy these:
Disclosure
If you make a purchase using links found in this article, I may make a commission. It doesn't cost you a penny more, but it does help to support future articles like this. At my request, Wacom has provided me with a tablet to review for this article.