On June 6, 2016 I picked up an Intel NUC Kit NUC6i7KYK Mini PC as my primary computer (RAM and storage sold separately). In the past year that I've used it for my Photoshop, Lightroom and Camtasia 9 video editing system, I haven't had a single regret.
Here's some of the highlights from the system:
At the time I ordered this setup it was $1092.98, but the RAM was only $103.99 so as of July 9, 2017 this setup cost about $1117 USD. Now it's VERY important to note that not just any DDR4 RAM will work in this system, you must have 1.2 or 1.35v DDR 2133 SODDIMS or it WILL NOT WORK. Since this RAM type is less common, the prices will fluctuate based on availability.
Dual Displays - No Problem

NUC shown in red on my current desktop setup
Click for a full size view
For my left and primary photo editing monitor, I use a 32" 3840x2160 4K UHD native resolution (NEC PA322UHD) display in landscape orientation as shown in the middle above and a NEC PA241W in portrait orientation as shown on the right. The big gray box on the right is my GTI light box for viewing/comparing prints against my calibrated displays.
Notice how tiny the NUC is - it's about as thick as two of my Wacom Intuos Pro Pen and Touch Tablet, Medium (PTH651) (review) stacked on top of each other. It's barely wider than three of my NEC SpectraSensor Pro calibration puck. Simply put, this thing isn't a problem when it comes to space, and if it is then you can mount it to your display to get it out of the way.
Here's more info on my main display: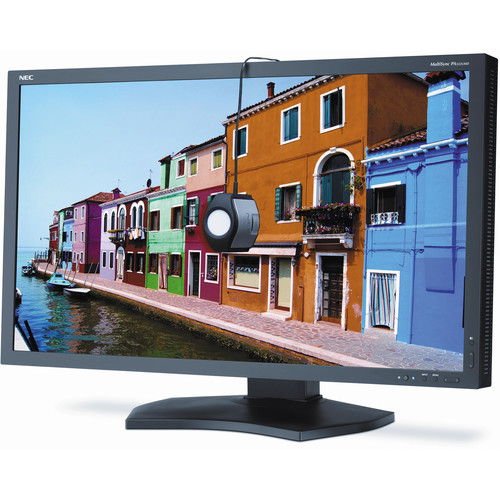 NEC PA322UHD-BK-SV 32" 4k Display at Amazon and at B&H (review)
Performance
Here's unedited iPhone video of me turning on my Intel NUC Kit NUC6i7KYK Mini PC with fast boot enabled and legacy boot turned off after 1 year of use with no disk degrag and 126 GB free disk space (40 seconds):
Here's unedited iPhone video of me restarting my Intel NUC Kit NUC6i7KYK Mini PC with fast boot enabled and legacy boot turned off after 1 year of use with no disk degrag and 126 GB free disk space (18 seconds):
What about Photoshop?
Here's a video I did that shows how fast Photoshop and some image files (including one that's over 700 MB) took to open:
NOTE: Please excuse my error in the video - I meant to say 10 bits per color channel, not 8. Read here to see why 30-bit (10-bit per channel) is a big deal.
I've been using this set up for over a year and edited countless files, and I've never found performance to be a problem. Because my work includes reviewing cameras, I've used the Nikon D800, D810, Sony a7R, a7R II, Canon 5Ds and 5DsR and their large files haven't been a problem for me either.
Lightroom performs well too, but for confidentiality reasons I am not able to provide a good demo. What I can say is that my catalogs are created for each calendar year and contain 35,00 - 45,000 images all living on my external NAS, and I've never been bothered by the performance.
A note about Photoshop performance & Plug-ins
90% of your boot time for Photoshop is loading your plug-ins. For the record, I load A LOT of plug-ins so if your list is smaller than this then your boot time will be faster:
What about creating video?
I don't do much video so I can't comment a whole lot, but I can say that my typical 5 minute blog videos generally take about 10 minutes to render via WMV - much faster (around 2 minutes) if I'm only doing 1080p MP4. There are a lot of variables so your performance will vary. This machine can certainly handle video, but you'll want to be doing something else while it renders because it's not breakneck fast.
Is 512GB storage enough? Where do you keep your photos?
I use a Synology 1515+ with 16 terabytes of a usable space for my photo storage needs plus a ioSafe DS1515+ (review includes Synology details) for redundant data protection as mentioned in my Scott Kelby article
99.9% of my photos get loaded directly off and saved to the NAS as part of my workflow and that hasn't been a performance problem that has ever bothered me.
What about your laptop?
I use a Surface Pro 4 as my laptop, and I own a Mid 2015 i7 based Retina 15" Macbook Pro that I use for blog videos. I love them both, but I prefer the Surface Pro for the weight and Windows Hello for logging in. However, I don't do much photo editing on either, I use my NUC 99% of the time. That said, when I have edited photos on both of them I haven't had any issues, so I'd say I'm happy with both.
Conclusion
Yes, using a tower system with multiple SSD drives as I had done in the past is faster. However, I'm extremely happy with this much smaller, quieter, more reliable and cheaper system than ones I've purchased in the past from Alienware, Dell, Gateway, and more.
Drivers have been reliable and updates are issued more often than I need or want them, but that's a good thing. I haven't updated in months and my system has been rock solid (no blue screens or any problems whatsoever).
Windows 10 can be a little sluggish in Explorer sometimes for reasons I can't fully understand, but Devices & Printers and the Settings control panel always open instantly on the builds I'm using. Office and Outlook run extremely well too (and I have all mail dating back to 2009 loaded locally).
All of the NUC's feature the Visual BIOS which is the most beautiful BIOS I've ever used in my 30 year high tech career, and Intel has been awesome about making updates easy with the driver update utility 2.8.1.9 shown:
Where to Buy?
CLICK HERE to learn more or buy today. Intel has also has a great NUC website here, and
Other articles you may enjoy
If you enjoyed this article, you may also enjoy these:
Disclosure
If you make a purchase using links found in this article, I may make a commission. It doesn't cost you a penny more, but it does help to support future articles like this.