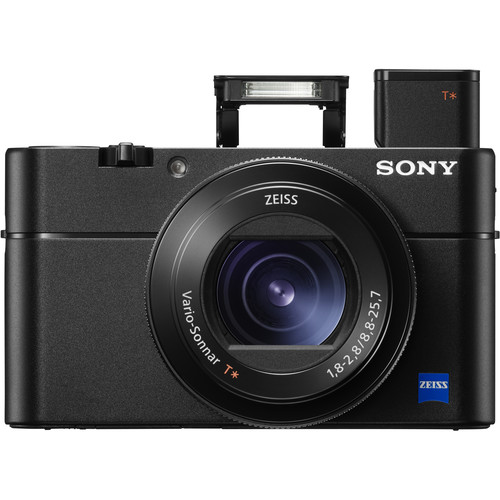 Sony RX100 V at B&H
I'll admit that since I've purchased my iPhone X last year, I've not been taking as many photos with any other camera. While it fails to impress when you look at images at full resolution, the images on the iPhone size screen and social media make it "good enough" to call it a day for casual shots.
With this in mind, I spent some time in February and March with the Sony RX100 V to see if it would still be worth owning a compact "point and shoot" to complement the iPhone X when quality mattered.
In this article, I share some of my favorite unedited in-camera JPEG shots from the RX 100 V along with some thoughts about the image quality, based on what I see from years of reviewing cameras. Of course, in the right hands the RX100 series will blow away some of the best DSLR shooters, but what about in the hands of a mere mortal like me during daily life?

f/4 @ 183mm for 1/100 sec at ISO 6400
What struck me here was how much detail there was in the rocks and the thin wires hanging from the ceiling - this was a fun shot that made me glad I had the RX100 X on hand

f/1.8 @ 88mm for 1/60 sec at ISO 5000
The dynamic range RX100 V won't be mistaken for a a7R III or a9, but it's loads better than it used to be a couple generations back

f/4 @ 88mm for 1/25 sec at ISO 6400
If you go full auto and let the camera decide everything for you like you would your cell phone, you'll generally find that it uses slower shutter speeds so that come with a higher risk of disappointment. With that said, the stabilization is very good so I rarely got blurry shots.

f/1.8 @ 88mm for 1/60 sec at ISO 3200
Foodies will love the better bokeh you'll get with the Sony over your high end cell phones like the iPhone X

f/1.8 @ 88mm for 1/60 sec at ISO 4000
Food shots are where I think the Sony is easily the clear winner

f/1.8 @ 88mm for 1/60 sec at ISO 5000
The more shallow depth of field definitely makes the RX100 V the camera of choice for food

f/1.8 @ 88mm for 1/60 sec at ISO 5000 (vs iPhone X)
Here's another great example where the Sony even destroys the iPhone X portrait mode

f/4 @ 88mm for 1/500 sec at ISO 125
Nearly any camera will get a good shot on a sunny day, but I was pleased with the action shots on the playground vs what I traditionally get with my phone

f/4 @ 88mm for 1/500 sec at ISO 125
I think my iPhone X has an edge in burst mode, especially since I'm shooting raw plus JPEG with the Sony, but I still got the shots I wanted in burst mode with the RX100 V

f/1.8 @ 88mm for 1/60 sec at ISO 1250
Even at f/1.8, this is still a small sensor camera so you'll get plenty of depth of field vs more expensive mirrorless and DSLR full-frame cameras

f/1.8 @ 88mm for 1/60 sec at ISO 1000
The advantage of the small sensor means you won't accidentally get a shot that's blurry because of a shallow depth of field, but it also means you have to be more intentional to avoid getting shots like this which look more like a cell phone shot

f/2.8 @ 257mm for 1/200 sec at ISO 125
Here's an example where I was at near maximum zoom with some distance between my daughter and the background, so the result was a nice portrait that is definitely better than what I'd get with iPhone's portrait mode feature

f/2.8 @ 151mm for 1/250 sec at ISO 125
Here's an example where I didn't zoom in all of the way so even at f/2.8 the entire background is way more in focus than I'd like. As such, you can't shoot it like you typically would a full frame camera or you'll end up with shots that look like they were taken with a cell phone - in a bad way
See the full gallery of unedited photos taken for this article
Compared with the iPhone X
I've taken 14,000+ iPhone X photos vs 2000 RX100 V photos, but I feel I've got a good handle on both.
Generally speaking, I found that the only time you clearly see the advantage of the Sony is when you view the files at full size or print them. If your goal is to just toss a file on social media or only view them on your phone, you aren't likely to see a benefit that warrants an upgrade from your phone.
Here's a couple concrete examples of shots taken with both close to each other under similar circumstances along with the differences that I see called out in the captions:

f/1.8 @ 88mm for 1/60 sec at ISO 1000
What I see is slightly improved dynamic range and color accuracy in the Sony

iPhone X
However, iPhone X does a more saturated shot and uses a higher ISO to show more details in the shadows which some might find desirable. The same is possible with the Sony, but it requires a manual exposure that takes a little more effort to dial in.

f/1.8 @ 88mm for 1/60 sec at ISO 2000
If you pixel peep at full size, the Sony is the easy winner of this comparison. However, if you are just posting to social media then the iPhone clearly wins due to less distortion and a sharper text on The Linq hotel

iPhone X
When you view full size you get an image that looks pretty nasty due to noise, but viewing it on a phone or a small size like above makes it not look too bad

f/2.5 @ 108mm for 1/60 sec at ISO 4000
To my eyes, this is one where the Sony was the clear winner for what I was going for. Both shots are hampered by a dirty window in the pod I was in, but I much preferred the exposure choice for the Sony over the iPhone

iPhone X
If it wasn't for the review, I'd delete this one. The only thing I found pleasing about this photo was the purple lights on the Ferris wheel vs the white above, but that was a feature of the Ferris wheel, not the camera
Conclusion
I love my iPhone X and have been using it way more than I should, but this review reminded me that as far as the iPhone has come, so the RX100 series still seems to stay a step ahead. The question then becomes, is it worth spending $998 USD (at the time this article was written) for this camera when you might have a cell phone in your pocket that is "close enough"?
I think the answer for most will be no.
My advice is that if you are going to spend the money, then spend more and get something like a Sony A7 II or Sony a6500 where you can take advantage of interchangeable lenses and better image quality.
For those who want a pocketable camera with more controls over the iPhone, but without the bulk of interchangeable lenses then it make sense to get this camera over any other point and shoot I've ever seen.
Where to Buy?
CLICK HERE to learn more or buy today (or pre-order its replacement the RX-100 VI today)
Other articles you may enjoy
If you enjoyed this article, you may also enjoy these:
Enjoy these and more on the Reviews tab as well as Ron's Recommendations.
Disclosure
If you make a purchase using links found in this article, I may make a commission. It doesn't cost you a penny more, but it does help to support future articles like this.