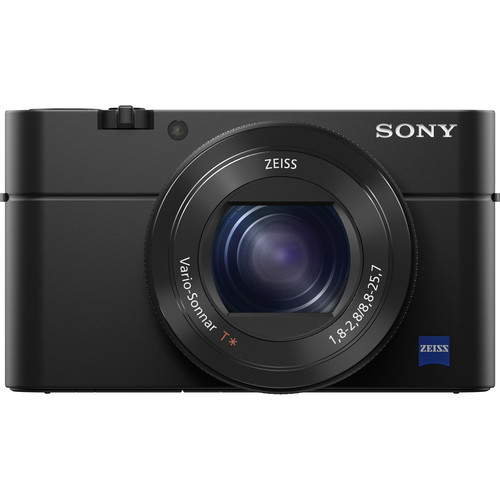 Sony Cyber-shot DSC-RX100 IV Compact Camera
Due to the advances made by cellphones like the latest iPhones and Samsung Galaxy's, the reality of the the compact market these days that it takes a lot of money and tech wizardry for a compact camera to outperform the best smart phones.
Our expectations demand that cameras like this, especially at this price point, exceed the quality we can get with our phones otherwise what's the point? In this respect, the RX delivers by offering a Zeiss lens, a pop up flash and electronic view finder (useful for bright sunlight outdoors) that all offer advantages over anything a smart phone offers. This plus features like NFC, WiFi direct (to send photos to your phone or computer automatically), and support for custom third party apps make this a very compelling camera indeed.
The price and features of this camera clearly position it as being for the serious photographer who wants a pocketable alternative to their DSLR or Mirrorless camera. While other companies have premium compacts, only the Fujifilm X30 offers anything close to the performance of the RX100 series – but in a much larger package. As a result, the RX100 IV enjoys an interesting position in the market of offering a camera that offers the ease of use and features a consumer would expect but at a price and quality level that more squarely targets the Leica D-LUX (Typ 109).
Compact but still feature packed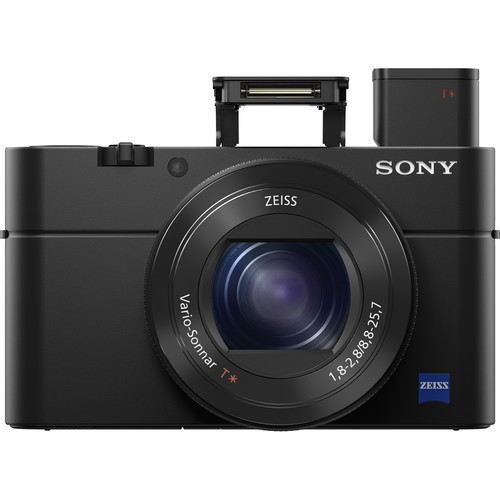 Pop Up Flash and Electronic Viewfinder (EVF) Extended
This is one of the very few compact cameras on the market left that still warrant owning even if you have the latest high-end smart phones – even those in the future that will challenge it for image quality and ISO noise performance because nothing they do on a phone can replace the value of features like a pivoting LCD, a better flash, a larger and higher quality zoom lens, and a EVF that allows you to compose your shot better in direct sunlight. What's more, you have complete control over your camera settings plus the benefits of cool apps that help make up for any built-in shortcomings or advantages you typically find on your phone.
For more thoughts on what I think of this camera body, please be sure to check out my reviews of the previous models at:
ISO Auto Minimum Shutter Speed Feature

ISO AUTO Min. SS Feature
One of my long-standing complaints of Sony RX series cameras was their love affair with 1/30 or 1/60 sec shutter speeds when using Program and Aperture Priority modes. The RX100 IV features at the bottom of the fourth group of camera settings labeled ISO AUTO Min. SS that address this problem by letting you specify a minimum shutter speed or use the camera defaults.
Simply put, if you are getting blurry pictures due to slow shutter speeds, this is a great setting to change from the default. Personally I like the 1/125 sec option when I'm dealing with kids indoors as kids don't stay still for long so its rare for kids to do anything that won't be blurry at shutter speeds below 1/125 sec. Rapid motion will naturally still is best handled using Shutter Priority for the appropriate speed to freeze the action you are shooting, but this helps with general purpose shooting where you are more distracted on the shot than the camera settings.
Real World Samples
The following images come straight from in-camera JPEG's using the camera default noise reduction settings. Most camera settings are the default with the exception of RAW+JPEG, a desired White Balance (only Shade or AWB), DRO Auto and a desired focus point. I chose to use the Standard Creative Style for most shots featured, but I did use Vivid for some of the floral shots taken in harsh direct sunlight.
Click here for a full gallery of unedited images.
All images are copyright Ron Martinsen – ALL RIGHTS RESERVED. You may not save, print, edit, modify or otherwise use any images featured in this article or the gallery without expressed written permission.

f/1.8 @ 8.8mm for 1/250 sec at ISO 125
Unlike your typical smart phone, you can still separate your subject from the background even when zoomed to the widest angle thanks to high quality Zeiss lens

f/3.5 @ 25.7mm for 1/400 sec at ISO 125
DRO Auto and Multi Metering Mode couldn't handle this bright flower on the dark background, but advanced users will easily get the shot with some exposure compensation like the –1EV adjustment I did for this shot

f/5.6 @ 20.63mm for 1/320 sec at ISO 125
You won't get the creamy bokeh with the depth of f/5.6 featured here with your cell phone or a cheap point and shoot

f/2.8 @ 8.8mm for 1/100 sec at ISO 125
The color red is a torture test that separates the good sensor from the cheap one, and even with auto white balance the many shades of red strawberries are faithfully produced against black tapioca pearls (aka Boba)

f/2.8 @ 25.7mm for 1/1250 sec at ISO 320
Unedited 100% Crop (615x615px) of 5472 x 3648px Original
This is a good sensor and lens, but make no mistake
it's still a 1" sensor that's no match for a DSLR with a good lens

f/4 @ 12.64mm for 1/40 sec at ISO 3200
I was very impressed that this handheld shot still didn't show any serious noise artifacts and was fairly detailed and sharp even on my NEC PA322UHD 4k display

f/1.8 @ 8.8mm for 1/30 sec at ISO 125 – Built-In HDR Mode
The built-in HDR mode was a joke as this small sensor didn't have the dynamic range to handle the bright and dark extremes here. I do this test a with most cameras that I test and this was a below average result, so HDR fans simply need to do their own bracketed exposures (at > 1EV) and merge them later using something like Photomatix

f/2.8 @ 11.69mm for 1/40 sec at ISO 1600
The AF system with Face Tracking performed well even indoors with this difficult shot of my hyper and uncooperative son Kai. This is a shot that most would miss even with an average DSLR if you didn't have a single AF point on the face.

f/2.8 @ 8.8mm for 1/640 sec at ISO 125
Any on-camera flash will blast a shower of direct light which creates hot spots, but the flash exposure compensation offered the RX100M4 means you can tone down the power of the light to get the best result possible when diffusion and off-camera flash options aren't possible

f/2.8 @ 8.8mm for 1/200 sec at ISO 125
Despite harsh direct light, I was pleased with the color and tonal range captured. Some cameras I've tested in these conditions end up washing out the subject so bad that negative exposure compensation is necessary but that wasn't required here

f/2.8 @ 23.34mm for 1/320 sec at ISO 125 Shade WB & Vivid Creative Style
Without the EVF I never could have got this shot, but the Vivid Creative Style was a bit too much when viewed in the sRGB color space such as a web browser

f/2.8 @ 25.70mm for 1/200 sec at ISO 125 Auto White Balance
Auto white balance tends to be on the bluer/colder side

f/2.8 @ 25.70mm for 1/125 sec at ISO 125
Shadow detail was good in this sensor stressing side lit shot

f/2.8 @ 23.73mm for 1/100 sec at ISO 125
Default metering did a good job in this harsh backlit scene of exposing the face well despite some lens flare challenges. Many point and shoots and cell phones would way over expose the face in a shot like this

f/2.8 @ 25.70mm for 1/250 sec at ISO 125
Kai didn't want to be photographed, so I had to rely on face detection to get the shot when I asked him to turn around. He turned back away quickly but the camera did it's job of getting a sharp shot with less than a second to work with

f/3.2 @ 25.70mm for 1/800 sec at ISO 125
The 25.70mm maximum optical zoom (70mm in 35mm equivalent) is inadequate in many scenarios so I found myself frustrated and wishing I could zoom more without having to resort to digital zoom

f/2.8 @ 25.70mm for 1/160 sec at ISO 125
Faithful 18% gray metering is readily apparent here in this dress that features a white background. This shot was taken at sunset with perfect light but the meter did what it was supposed with the help of what it could see in the dress

f/4 @ 8.8mm for 1/160 sec at ISO 125
I was impressed with the sharpness of this lens and the level of detail it captured throughout the scene and how well it captured the clouds in the sky on a very bright sunny day

f/4.5 @ 25.70mm for 1/160 sec at ISO 125
Despite being zoomed all the way in, it always felt like I was shooting a wide angle lens so kept wishing I had 2x more reach than what was possible
Click here for a full gallery of unedited images.
Video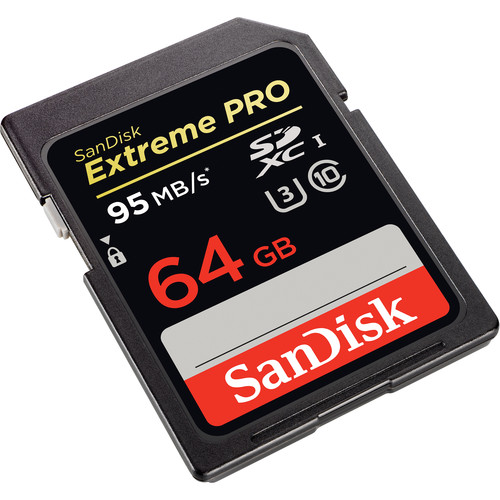 SanDisk 64GB Extreme Pro UHS-I SDXC U3 Memory Card (Class 10)
The cool feature here is that you can record 4k video but it requires you to have SDXC cards which are a special type of SD cards that I don't have. If you look very carefully you'll probably noticed that even your 95 MB/s cards are often SDHC which is similar but not supported for 4k video recording (it's fine for taking photos and the default 1080p video mode). Keep this in mind if you decide to pick up one of these cameras because you'll definitely want a SDXC card (typically found in 64GB and larger only versions).
Bookshelf Shots

f/2.8 @ 8.8mm for 2.5 sec at ISO 125
For this class of camera, the image quality is excellent with decent noise handling. Check out the full gallery of bookshelf shots starting here, and check out my reviews of the RX100 III, RX100 II, and RX100 to see how it compares to its predecessors.

f/2.8 @ 8.8mm for 1/25 sec at ISO 6400
Conclusion
This is by far the best Sony RX 100 series camera yet because it pretty much addresses almost every complaint I've had about the previous versions. While I wish it had a longer optical zoom for more reach for distant subjects, at least the quality of the lens is sharp and the stabilization is good. I also wish it had a touch screen LCD as Canon has proven how handy they can be for things like quickly setting your focus point and reviewing images.
People who have followed my blog know that I'm a big fan of Fujifilm so the inevitable question comes up, is this camera better than the x30? Without question, I have to say that yes it is far better than the x30 – which I actually love. While I wish the physical buttons and knobs were as easy as the Fujifilm, the flexibility of programming the RX100 IV's buttons and ring dial means that it's just a matter of learning new places to put your fingers to get the same results. While Sony's menus still drive me mad, the net result is that it is a better camera is all of the things that matter the most – unless you just prefer the in-camera process results of the x30 (which I do).
For consumers who wonder if their cell phone is good enough, I can definitely say it is a lot better than a cell phone, but better comes at a price both in terms of physical size and cost. A one inch sensor with all of the limitations in image detail and dynamic range that offers compared to larger sensor cameras, but you get a lot for a compact camera that isn't a burden to carry.
Where to order
Click here to learn more or order on the B&H web site.
Alternatives
You might also consider the Ricoh GR II, Canon PowerShot G7 X and Leica D-LUX (Typ 109) which I have not had the pleasure of reviewing yet. However, I have used predecessors to all of those models and still prefer the Sony RX 100 IV the most which is why I chose to review it and the x30 instead.
Other articles you may enjoy
If you enjoyed this article, you may also enjoy these:
Disclosure
If you make a purchase using links found in this article, I may make a commission. It doesn't cost you a penny more, but it does help to support future articles like this.