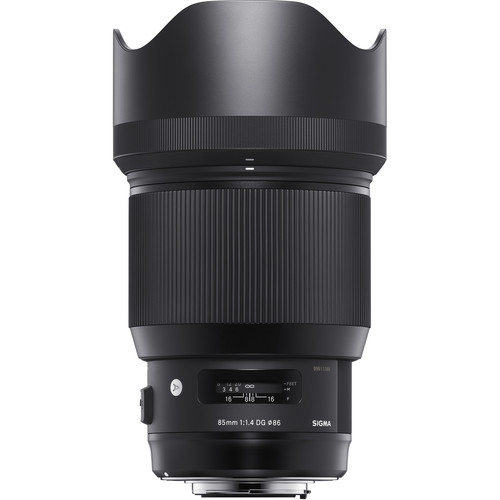 Sigma 85mm f/1.4 DG HSM Art Lens
Quite often on the web the fan boys come out and overhype their latest object of affection so much that you get the feeling that you've just "gotta have it". However, nothing is worse than reading a bunch of hype and pulling the trigger to find out that it was more hype than reality.
My mission for this blog has always been to shoot it straight even when my opinion might be at odds with the hype or marketing machine behind a product, but I'm here to say that this product is da s**t! Yes, it's beyond Zeiss Otus 85mm sharp with fast and accurate autofocus for a fraction of the price. I don't say that lightly because I've never been one to choose value over quality, but this is seriously one of the sharpest lenses I've ever tested from any brand at any price.
100% Unedited Shots
What follows are the in-camera JPEG's exactly as they came out of the camera - no cropping, no editing, no white balance adjustments - nothing. Granted I was using a Canon 1DX Mark II which is a pretty good camera, BUT there are cameras that are cheaper like the Nikon D500 or Canon 6D which I think would be just as impressive with lens. There are also higher resolution cameras like the 5D Mark IV, 5Ds/5DsR and D810 that would benefit even more from what this lens has to offer. Heck, even a Canon T6s is going to create amazing images with this crazy sharp glass!
NOTE: All images are copyright Ron Martinsen - ALL RIGHTS RESERVED. You may view these images while your web browser is open to this article, but you may not print, edit, save, upload, share or link to any of these images without a ink on paper authorization from me.

f/1.8 @ 85mm for 1/125 sec at ISO 1600
Want to add some bokehlicious background lights to your images? Check!

f/9 @ 85mm for 1/200 sec at ISO 100
Want to be able to count the pours, facial fuzz and eyelash textures? Check!

f/9 @ 85mm for 1/160 sec at ISO 100
Want to be able to pick out the detail of lace fibers? Check!
Hell, if this lens has a flaw it's that it might be too damn sharp for using with people because you'll spend a lot more time in Photoshop addressing things like the texture of lips, skin fuzz, pours, fly away hairs and material flaws that normally wouldn't be noticeable with a softer lens!
Bookshelf Test
For newbies, my bookshelf test shots are unedited and shot with mirror lockup using a timer on a tripod with the viewfinder door shut. These are done as a mechanism to have an unscientific but close approximation to compare across my other lens and camera reviews, and I can tell you these are the best results I've seen on my 1DX Mark II.
YOU MUST CLICK these images and VIEW AT 100% to get anything out of this section. What you see inline is meaningless.

f/1.4 @ 85mm for 5/10 sec at ISO 100
At f/1.4 the bokeh is so strong a full frame that the adjacent green Hobbit and blue strip poker books are out of focus while the red book is razor sharp. There's also some vignetting that darkens the outer edges, but that goes away at f/1.8

f/5.6 @ 85mm for 8 sec at ISO 100
By f/5.6 I was checking the front of my camera to see if I was shooting with a 5DsR or A7R Mark II because the detail in the texture of the spine and laces on the blue strip poker book was on par with super resolution sensors!
There was a point where this lens actually made me angry. I wasn't angry at the lens, but I was angry to see just how much more I could get out of my sensor when I pair it with a lens this sharp!

f/16 @ 85mm for 30 sec at ISO 200
At f/16 I saw something I can't recall ever seeing in my previous lens tests - texture on the back wall behind the book with boys on the spine to the right. f/16 with diffraction and ISO 200 was still sharper than the best aperture at ISO 100 of other lenses I have tested - holy c**p!!!
When it comes to sharpness and bokeh, I can think of very few lenses that can compete with this lens and every one that comes to mind is thousands of dollars more expensive than this lens!
The old Sigma 85mm I tested years ago wasn't to bad, but if given a choice I'd still take the Canon 85mm f/1.2L. However, I now wouldn't take the Canon 85mm f/1.2L if you tried to give it to me for free after using this lens because it had a horrible minimum focus distance (0.95cm / 3.1 ft), a god-forsaken electronic focus ring that felt awful and was slow as hell at focusing.
This SIGMA feels like a fine German engineered lens (even though it's from Japan) that reminds me a lot more of the amazing build quality of the Zeiss Otus 85mm than it does the Canon 85mm f/1.2L.
This great glass comes with an "unspecified" weight by Sigma, but to my hands it feels a lot heavier than the Canon (or Nikon equivalent). Yes, it's lighter than the Otus for sure, but it's still big enough for people to say "wow, that's a long lens" (and your arms to say "and it's heavy too"). If you are the type who thinks a 70-200mm f/2.8 is too heavy or you are already considering mirrorless for weight reasons, then this lens is definitely not for you. For me, it's worth its weight in gold for the quality you get out of it, so I have no issues with the weight whatsoever.

f/9 @ 85mm for 1/160 sec at ISO 100
Finally and 85mn that allows you to get in close and personal with your subject!
As previously stated the minimum focus distance of the Canon or even the Nikon 85mm f/1.4G (3.0' / 91.44 cm) needs more space than this lens at a much more usable (2 feet 9.5" / 85cm) - which is very important for a portrait lens! While I would hit the minimum focus distance limit in real world shooting, it was much more rare than ever before with an 85mm and when I did I was often less than an inch from where I needed to be to acquire focus and get the shot. I can't emphasize enough how important this detail is - even more so than sharpness!
Finally, I found the hood to be very effective with no negative effects with vignetting after f/1.4 and the focus speed felt on par with my 70-200mm f/2.8 in studio shooting scenarios. In real world testing I only had a few shots that were out of focus due to the lens and most often the reason was due to the shallow depth of field you get at f/2.8 and below (when up close to your subject) or minimum focus misses during fast shooting scenarios.
Simply put, I'd have no qualms in saying that this is every bit as good as a Canon L lens or a Zeiss Otus lens in terms of build quality.
With all that said, one place where I think this lens does fall short is the color you get out of it. Experienced shooters will understand what I am saying here, but some lenses just have out of camera color that seems to be blessed by the color fairies. My old Canon 16-35mm f/2.8L II and 85mm f/1.2L were lenses that just "had it" when it came to color, but this lens has more of a blue to neutral tone that might be more accurate but is less flattering. It's easy to overcome with white balance adjustments or post-processing, but if had to knock this lens for something that's pretty much the only place where I felt disappointed.

f/8 @ 85mm for 1/200 sec at ISO 100
During my testing it was easy to accidentally get the high-key look because this lens is so efficient at light gathering. As a result I had to forget my usual settings and dial back the lights to get a nice skin tone free of blown highlights
Real World Shots
Anybody can make any lens look good under studio lights as I did for the previous shots, but what about when you are just around the house with minimal lighting and just flash like the 600EX-RT?

f/2.5 @ 85mm for 1/200 sec at ISO 400 using 600EX-RT
You must view this crab's eyes at 100% to fully appreciate how awesome the sharpness is on the focus point and the beautiful bokeh in the background
How about with no flash at all - backlit?!!!

f/1.8 @ 85mm for 1/200 sec at ISO 10000
While not perfect, this is a shot that would have led to endless focus hunting with other 85mm's I've used. While I'd say this is a reject by my standards, I was just pleased to see that it got a shot that is reasonably usable thanks to a very good focusing lens and camera combo

f/1.8 @ 85mm for 1/200 sec at ISO 400
Another reject shot, but I had to share because it nailed the focus with such beautiful bokeh it makes you want to keep every shot you get out of this lens! Look at the details in the eye lashes and tear on her right eye!!!

f/4 @ 85mm for 1/250 sec at ISO 800
Last in the shi**y shots camp is this shot, but I had to share because of the texture in the strawberries and the bokeh in the center hole and candles. I don't think I've ever been as excited about a birthday cake shot as this one - especially given how bad this looks before editing! :)
I still have more testing to do and I'll try to drop images in the review gallery here, but I had to share these few because even dud's are worthy of admiration with this lens.
Too Good For One Review
For the first time in the history of this blog I have actually reviewed the same piece of gear twice because I loved this lens so much! Check out the other article entitled Sigma 85mm f/1.4 DG HSM Art - More Pics, Cool 4k Video & Dock Info for more info!
Conclusion

f/10 @ 85mm for 1/200 sec at ISO 100
One more shot - just because ;-p
In case you haven't figured it out by now, I kinda like this lens. Given my past history with the Sigma 35mm Art and the Sigma 50mm Art I expected this lens to be very special and it didn't let me down. In fact, I was kinda hoping it wouldn't be so good so I could talk myself out of adding it to my wish list, but I definitely want this lens.
This lens has outstanding build quality, fast autofocusing, and a very usable minimum focus distance that will empower you to take beautiful images with incredible sharpness and delicious bokeh. If you've always wanted an 85mm or you are a portrait photographer who hasn't yet invested in a 70-200mm f/2.8, then I can easily say that you should definitely buy this lens!
I give this lens my highest recommendation!
Where to Buy?
CLICK HERE to learn more or buy today.
Other articles you may enjoy
If you enjoyed this article, you may also enjoy these:
Disclosure
If you make a purchase using links found in this article, I may make a commission. It doesn't cost you a penny more, but it does help to support future articles like this.