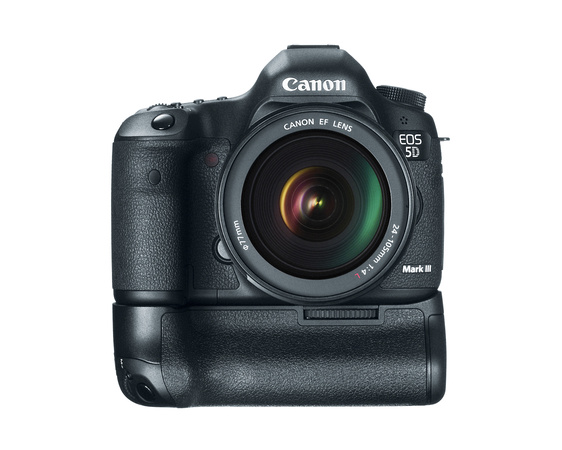 5D Mark III – Front with Battery Grip
All of the photos in this article are unprocessed photos that come directly from the in-camera JPEG file created by the 5D Mark III. All of these images are linked to a gallery of photos where you can view more info about the shot or download the original file that came from the camera (some files renamed for but otherwise untouched).
These photos are copyright Ron Martinsen - ALL RIGHTS RESERVED. You may not redistribute, link or otherwise consume without expressed written consent of Ron Martinsen.
Nice Dynamic Range and Color
I've been very pleased with the dynamic range and color I've been getting from the in-camera JPEG's shown here:

1/200 sec at f/10 (handheld), ISO 3200, 100mm AWB

1/500sec at f/2.8, ISO 160, 70mm AWB
Garage Lighting – No Problem
Here I just snapped off a shot in the garage of a good looking car:

1/30 sec at f/4 (handheld), ISO 3200, 47mm AWB
Even at ISO 3200 the image looks clean (click for a link to the original). Garage conditions like this are tough, so I was impressed that without a flash I could get a shot like this.
High ISO with People
All of these are handheld shots with no flash.
The orange cast from auto white balance here is annoying but it can easily be fixed in DPP, Lightroom or Photoshop. I tested intentionally with the default settings and did not post-process this issue away. ISO 2000 shot shows good dynamic range compared to predecessors
In-Camera HDR is pretty good
Here's a single exposure as it came out of the camera "perfectly exposed". The detail is good and the dynamic range of colors and exposure are decent, but even the X10 can out do this:

1/125 sec at f/11, ISO 200, 115mm AWB
Here is a handheld in-camera HDR shot using the Natural effect:

Auto Adjust Dynamic Range Setting with Natural Effect
This wasn't my favorite example, but it's one where you can see even with moving water and a slight breeze that the handheld HDR image alignment is pretty decent. This is in stark contrast to the G1X which is useless unless its on a tripod. It's hard to believe these products come from the same company!
HDR Effects Samples
All of the following shots were shot hand-held and have not been modified from the in-camera result. No in-camera editing was done either. I suspect if I would have used a tripod and it wasn't so windy then these results would have been much better, but I wanted a real-life experience for this article.

1/100 sec at f/8, ISO 800, 100mm
No HDR Effect – Single Exposure
After my testing today I've got confidence in the "Auto" Adjust dyn range setting and the Natural effect. I figure I can always go for the extreme look later, but in-camera I want it to look natural.
Beware Moving Subjects
This is true of ALL HDR and is logical when you think about it, but for those who are new to HDR I thought I'd show you what can go wrong if you don't think about what's really happening in HDR mode. Here's a setting that with a single exposure is okay but the sky is blown out: To fix that we can do HDR but if we forget about having a shutter speed that can deal with moving people AND the Auto ISO to cover the range of exposure needed to get the shot at that shutter speed, then ghosts will appear:

Ghosts during HDR can sometimes be corrected (see below)
Ideally you want a clean shot, but sometimes that's never possible. The best bet is to wait for the foreground subjects to leave, crank up your shutter speed, try again as I did here:

1/500 sec shutter speed used as the base for this HDR
This taught me that it's best to be mindful of your situation and pay close attention to the shutter speed to get the best results.
Conclusion
I'm very pleased with the high ISO performance and features of the camera that allow me to get the shots that in the past would have been lost while I went searching for my flash. I'm feeling very comfortable shooting in manual and letting the ISO dictate the exposure, but I do find it tends to shoot one stop darker than I like with no exposure compensation. As a result I find myself dialing in the necessary ISO as needed.
I feel totally comfortable with using shots up to ISO 25,600 with anything at or below 6400 being as solid as ISO 1600 and below on my 5D Mark II.
I'm also impressed with the HDR mode which seems to work well even hand held. This is handy enough that I think I'll do more HDR as there's no post-process headache yet you can save the exposure to leave that option open if you like. I've come to love the EXR mode of my X10, so I'm pleased to have an option to get results that good from my DSLR and the benefit of it not being JPEG only (for the individual exposures – not the HDR image) is a big plus.
To see more real world shots not posted here, start here: http://ronmart.zenfolio.com/5dm3firstshots/hdd6bb28#hdd6bb28
More to Come
I've got more to come on the 5D Mark III including a big article just for parents. Check back to learn more!
Order Yours Now - Special Offer
Adorama has a good deal on Lightroom 4 ($50 off) and Eye-Fi ($15 off) if you buy them together
Disclaimer
I paid full-price for this camera (zero discount) and was not paid a penny for this article from anyone.
If you use links in this article to make a purchase I may make a small commission.