Canon 5D Mark III, f/13 @ 100mm, 30 sec, ISO 100, Tripod, Mirror Lockup, 30 sec timer
Image shown is cropped and edited, but click to view unedited in-camera JPEG
Cityscape shots are a little tricky because it's tough to get a good overall image focus. In the shot above, I used my Canon 5D Mark III to dial in focus to get the best focus possible before taking the shot. After focusing, the only variable I couldn't control was the wind, but for a 30 second exposure the result was okay – not great, but okay. (NOTE: The shot you see above is cropped and edited – click the image to see the out of camera original)
Once I have my settings dialed in, I switch to manual focus and use Live View at its maximum zoom to adjust my focus on items in the foreground and background to get the best balance of focus across the entire image. This is the greatest reason to use Live View in my opinion, so it's automatic anytime I'm doing any shot that will allow me to use it (typically landscape or other static subject work).
For this to work my camera must be on a tripod and my subject must be static. The scene above of Seattle is a great test, so I took a few shots. While I'm not super happy with any of the shots I took due to wind, one of the huge problems I had during this test when comparing the Canon 5D Mark III against the Nikon D800 was the performance of the Live View on the D800.
Simply put, I found the Live View feature on the D800 to be unusable at maximum zoom under low light conditions like these. When I would zoom in with the Canon I'd get great detail and could easily dial in my focus on a detail like the people in top of the Space Needle. However, when I zoomed in with the Nikon all I could see was noise like you'd see on a old analog color TV. It was horrible and unusable!
Evidence of the D800 Live View Zoom Bug
Now, I know my comment in the last paragraph will infuriate D800 owners and Nikon fanboys, so I created a little video to show what I mean. Let's start by saying that both cameras were on their default Live View settings and focusing on this piece of tile:
It was low light at night, but there's some ambient light from three overhead lights. I set both cameras to use a tungsten white balance and zoomed in digitally to the maximum value each camera would allow (which is what I always do when using Live View for focusing).
In the video below the D800 is on the left and the 5D Mark III is on the right:
I find the results of the D800 to be so horrible that I really am starting to wonder if it is a bug worthy of a recall. I can use a Rebel T2i and get better results than the D800, so with Nikon's claims of video parity and in some cases superiority to Canon's video support, how can they expect people to use this?
The consequence of this bug meant that despite my best attempts, the best shots I was able to take that evening were these two shots both of which aren't focused very well. Sadly autofocus didn't even create an image worth saving: So much potential lost due to the inability to focus accurately with Live View
Unedited in-camera JPEG D800 f/11 @ 200mm, 30s, ISO 100
Click for original D800, f/14 @ 112mm, 4s, ISO 100, Unprocessed, AWB
Click for unedited JPEG original
The D800 would clearly be the better camera for this shot with the right lens (and I don't think the Nikkor 70-200mm f/2.8G ED VR II is the right lens for this one). However, you need to have precision focusing for a shot like this and that was impossible with the D800.
My best shots were done when I focused through the viewfinder with the diopter adjusted to the best view I could get out of the D800. Focusing to infinity and taking a shot in the dark didn't result in a better shot either as one might expect.
Update
Here's a few shots I took with my iPhone of the problem while I was at the Space Needle: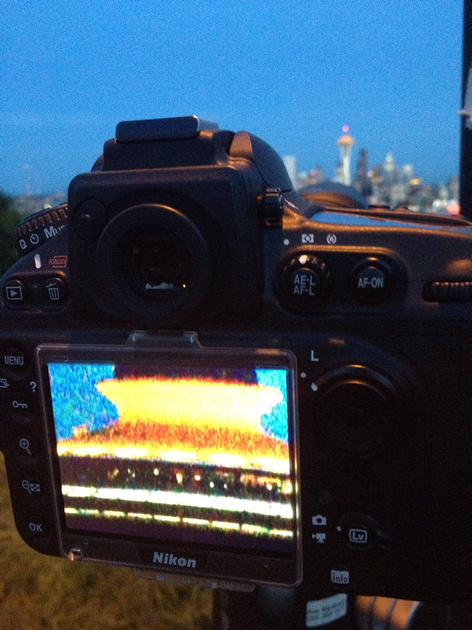 As you can see, it's hard to do precision focusing with this.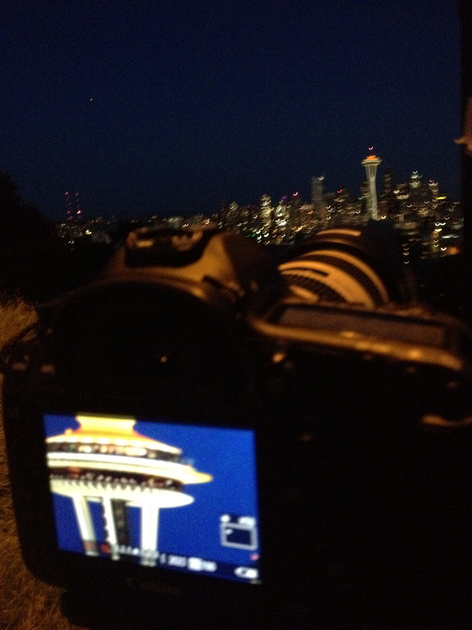 The 5D Mark III was much easier to use for seeing detail on the Space Needle and getting a sharp accurate focus.
I should also note that some have tried to raise concerns about my pics due to the wind. To that I say, ignore the output photos and focus on the facts clearly illustrated by these photos here. The LCD has massive noise on the D800 and the 5D Mark III does not. Of the two LCD screens above, which did you think is easier to use to achieve an accurate focus?
Conclusion
If I were a D800 owner, I'd be very mad about this and would use this video (or your own) as evidence to Nikon that they could do better. Hopefully they will in a future update as the D800 has so much potential for landscapes and cityscapes that it would be a shame if they could only be done during good light for the best focusing experience.
Despite what people might think, I actually like Nikon cameras. I like Canon and Fujifilm too! I wrote this article to raise awareness of what I believe to be a bug that limits the usability of the D800, not to bash it. My hope is that Nikon can and will fix this issue to create a Live View feature that is on par with Canon. This is what Nikon owners who have bought this camera deserve, so I hope this article helps make that possible.
There's a lot to like about the D800, so learn more about how it stacks up in my article entitled COMPARISION: Nikon D800 vs Canon 5D Mark III.
Disclaimer
If you make a purchase using links found in this article, I may make a commission.