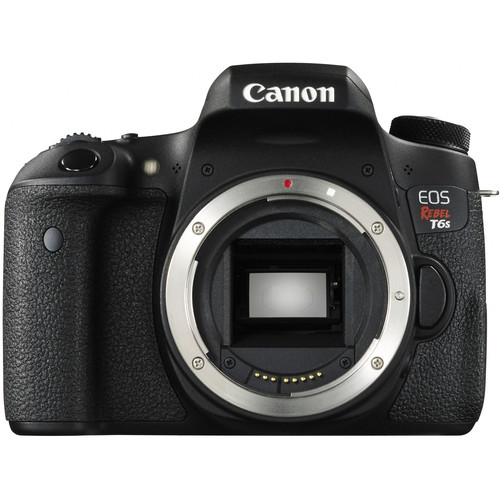 Canon EOS Rebel T6s/760D DSLR Camera (Body Only)
In the first part of my review, entitled REVIEW: Canon Rebel T6s/760D with 18-135mm f/3.5-5.6 IS STM Lens (Part I of II), I covered pretty much everything except for my bookshelf shots. As a result, I'd encourage you to read that now if you haven't already.
In this installment I'll finish up with a few more unedited real world snapshots and the bookshelf shots and give my final verdict.
Real World Snapshots Part II of II
As usual, these are all in-camera JPEG's that have not been modified in any way outside of the camera beyond the filename and metadata. No changes have been made to the crops or color, so click to see the full-size originals to see exactly what you could expect if you took these photos.
You may view these photos for informational purposes, but you may not print, edit, upload, share, display, etc… these images for any reason without my expressed written and signed consent. ALL RIGHTS RESERVED!
Most of these shots are taken using camera default settings in Aperture Priority mode and Auto White Balance with no flash unless otherwise noted.
For more, click here for the first part of my review OR click here to view the full gallery.

f/5 @ 50mm for 1/1600 sec at ISO 100
The kit lens is sure to please beginners and those who have never had premium lenses

f/5.6 @ 18mm for 1/40 sec at ISO 400
f/5.6 is the sweet spot of this lens so my lack of a tripod on this trip forced me to settle for a lot of f/5.6 shots to keep my ISO as low as possible. For static subjects like this the image stabilization performed well.

f/5.6 @ 85mm for 1/125 sec at ISO 1000
Aspiring photographers will appreciate the easy access to exposure compensation via the Quick Mode Dial (not found on the T6i) to help with shots like this

f/5.6 @ 35mm for 1/60 sec at ISO 200
Pinch to zoom on the touch screen is super handy to do a quick verification to make sure you got the shot for handheld images like this with lots of detail

f/5.6 @ 27mm for 1/160 sec at ISO 320
The on-camera flash isn't as bad as some that I've seen, so its better than nothing in a pinch

f/5.6 @ 18mm for 1/40 sec at ISO 160
Like all Canon's, the default settings give great results with healthy warm skin tones that aren't too far from reality (vs Nikon where they are more accurate but make people look ill unless you adjust the white balance away from the default setting)

f/5.6 @ 18mm for 1/160 sec at ISO 100
Since the kit lens doesn't come with a hood, flare can be problematic. As a result, I'd highly recommend purchasing the hood to avoid unwanted flare.

f/7.1 @ 74mm for 1/640 sec at ISO 100
Under the right conditions this lens is sure to please…

f/5.6 @ 27mm for 1/30 sec at ISO 6400
But indoors is where both the lens and sensor will most likely disappoint parents
For more, click here for the first part of my review OR click here to view the full gallery.
Bookshelf Test
Using a tripod, mirror lockup and a timer with camera default settings, I take these bookshelf shots to show off how a camera and/or lens performs under controlled testing. In this test, the 18-135mm kit lens performed very well at 18mm, but not so well at 135mm. The sharpest results are shown below for 18 & 135mm respectively.

f/5.6 @ 18mm for 8 sec at ISO 100
Click the above image to see it full size and zoom around. What you'll notice is that it is laser sharp in the center and then it starts to get softer (blurry) with text the farther you get out to the edges. This happens due to the distortion which is common at 18mm, yet this lens seems to have quite a bit of distortion.

f/8 @ 135mm for 15 sec at ISO 100
Click the above image to see it full size and zoom around. What you'll notice is that it is reasonably sharp, but not nearly as good as 18mm. This is typical of zooms – especially ones that span so much zoom range. There is some distortion even at 135mm, so I'd classify this as a lens worthy of its price. It's not great, but it doesn't suck either.

f/5.6 @ 18mm for 1/8 sec at ISO 6400
At its sharpest setting, this is showing the highest ISO I'd feel comfortable using. ISO 6400 is reasonably good, but 12,800 is only for emergency use. This is relevant because most parents photograph their kids indoors in very low light (typically lamps), and that requires high ISO's to get the shutter speeds you need for the images to not be blurry when your kid is sitting mostly still.
Click the image above and zoom in to see how much digital noise you'll see at ISO 6400 and the impact of the in-camera noise reduction (detail is lost during noise reduction). These results aren't horrible, but there are other cameras out there that perform better than this.
18-135mm STM vs 11-24mm f/4L
The 11-24mm f/4L is one of the sharpest lenses Canon has ever made, so for kicks and giggles I thought I'd compare to see how this lens at 18mm f/8 compares with the 11-24mm f/4L. Nobody buying a T6s could ever afford the 11-24mm f/4L, so this is purely an academic comparison to show how sharp it is in the center but how that goes away quickly at the edges due to distortion.

Center sharpness
Click image to zoom
In the shot above, I've zoomed in to show how the kit lens is extremely sharp in the center. You can click that image for a larger view, but it definitely is impressive in the center with these settings – especially since the lens on the right cost $3000 USD!!!

Sharpness away from center
Click image to zoom
Now notice above that as you go to the you can see how the kit lens starts to get less sharp. Take notice of the words "Japanese Woman" and see how it feels like you need to put glasses on when you look at the left side, but the right is sharp. This is expected given the price difference of the lens, but this softness at the edges is something to consider when taking photos with this lens at 18mm.
Where you really see the difference is in the distortion you get with the kit lens as shown below:
Now before you start thinking that the 18-135mm lens is "just as good" as a $3k lens, keep in mind that this comparison is done with the best image I could get with the kit lens in controlled conditions. When you start to zoom or change apertures, the quality of the kit lens deteriorates quickly.
The lesson here is that if you need ultimate sharpness with the kit lens, f/5.6 or f/8 at 18mm is going to serve you well.
Conclusion
Overall this is a fun and easy camera to use that offers a little more functionality for people wish to go beyond the keeping the camera in full auto mode all of the time. The top LCD and Quick Mode Dial both make the T6s worth the extra money over the T6i if you can afford it. However, if you are never going to take the camera out of auto mode then don't bother as these features are only for those interested in advanced shooting techniques.
I was very disappointed in the auto-focus (AF) performance of the STM kit lens, so those seeking something better should to look at my lens recommendations. Unless you are doing primarily video where STM is necessary, a non-STM lens is going to offer better AF performance. Even a slightly softer 24-105mm (which is easily found at a reasonable price on the used market) will offer much faster autofocus speed based on my real world testing.
I'd recommend this camera for amateur photographers, but I'd advise against it for parents. The Nikon D7200 is going to be a better investment for parents with a few hundred extra to spend. See my recommendations page for my latest advice.
Product Advisories
There always seems to be some white disc conspiracy theory with every camera that comes out these days, so camera makers are getting used to it. Canon has quickly issued an advisory and free repair offer for impacted customers should this happen to you, but I didn't see this problem during my testing.
SIGMA has also issued an update to the firmware for their lenses when using Live View with T6x models. Click here to learn more.
Where to order
Click here to learn more or order on the B&H web site.
Other articles you may enjoy
If you enjoyed this article, you may also enjoy these:
Disclosure
If you make a purchase using links found in this article, I may make a commission. It doesn't cost you a penny more, but it does help to support future articles like this.