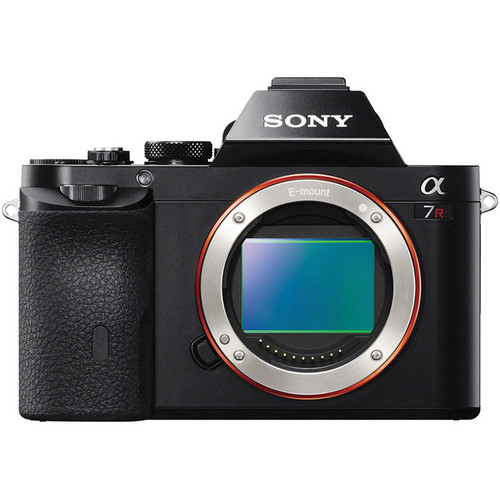 Sony Alpha a7R Mirrorless Digital Camera
When I first learned about the Sony a7R last October in New York, I was anxious to see it in action at the Sony booth (at PhotoPlus 2013). It seemed to mark the future of camera technology by being both mirrorless and full-frame with a whopping 36.4MP camera.
Upon closer inspection of the specs on this camera it becomes obvious that this camera not only sports all of the features that are endeared by Sony compact and NEX camera users, but it's gone even farther with things like NFC (for tapping to share), apps support, native 4k TV output over HDMI, and much more.
Yes, this camera on paper is a technological wonder and others have done a pretty good job enumerating the wonders of those features in other articles. However, that isn't what I typically focus on for my reviews. When people visit my blog to see an article they want to know "does this camera suck or is it as awesome as the fan boys say it is?", so that is how I've tested it. If you want to know about how all the bells and whistles work then read the manual or a brochure because I reviewed this wondering if it would be a camera that could replace one of my DSLR's (either now or in the future).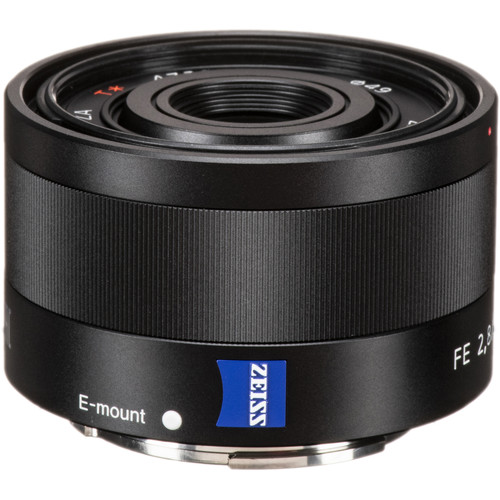 Sony Sonnar T* FE 35mm f/2.8 ZA Lens
It should be noted that I was only provided with one lens for this review, the Sony Sonnar T* FE 35mm f/2.8 ZA. My findings are based off the performance of this camera with that lens, but like all interchangeable lens cameras, your performance will vary if you choose a different lens. My contact at Sony assured me that this was a top performing lens and confirmed this was a better choice than any of the current zoom offerings to see the best possible performance of this camera. As a result, I did not request to borrow any other lenses for my review.
Hands On Thoughts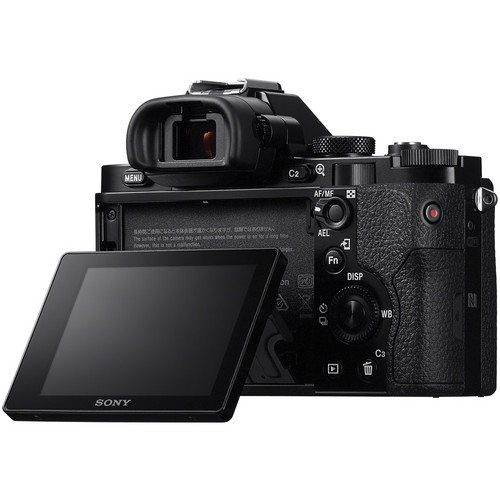 Rear View with Tilt Screen
(Sadly, you can't do selfie's with this screen)
In my hands, this camera reminded me a lot of the Fujifilm X-Series cameras like the X-E2 (my review). It seems solid and well built, but it also features the nice control wheels like the NEX-7 that I reviewed. Physically speaking, I had no issues with this camera, but from a usability standpoint I really hated the zoom location and lack of quick access to changing the focus point. While this camera does allow for an above average amount of customization to its controls to overcome these frustrations, it's up to the photographer to remember what he's reprogrammed all of the buttons to which can be confusing/cumbersome. Simply put, nearly all photographers buying $2000+ cameras will want to set their focus point manually so this should be something that is very easy to access in the default configuration.
After using this camera for a month I'm convinced that this camera was designed by really smart engineers (read Geeks) who focused so deeply on the technical marvels like NFC, Full-Frame mirrorless, etc… that they forgot to get real photographer feedback to explain to them how these things are really used. The 24 menu screens are maddening, yet the manual does little to help you understand apparently "obvious" features like with simple names like Zebra really do. Now some cameras have issues like this but looking at the feature options typically explains it, but Zebra offers Off, 70, 75, … 100, 100+ as its options – silly me, it's so obvious what it does now right? (trick question – answer is heck no).
Simple things like Format are found on the 5th submenu of the 6th menu item (which can be accessed in 3 button presses if you go backwards) show that little concern was given about day in / day out usability. Sure the all-important exposure compensation has a knob, but there's no built-in flash nor is there a fast way to change flash exposure compensation should you spring for a hot shoe flash.
I also found frustrating quirks and rules built into the system like the timer not wanting to work if I released the shutter button under long-exposure low light conditions. While I think the problem had something to do with the focus mode I was using during testing, even with a single flexible spot focus point I'd frequently have the camera beep to confirm focus, start the time and then immediately stop once I lifted my hand off the shutter release. Seriously, WTF?!!!!!
I'm sure there's some great features that I never tested (like possibly the aforementioned Zebra feature) because I couldn't easily determine what they were by using the camera or reading the printed manual. However, I try to treat all cameras equally so if I can't figure it out it doesn't get tested because my experience with real photographers and consumers has taught me that if I can't figure it out then most often they won't understand it even if they do read the online help. This reality has been great for my photography consulting business, but it's a real testimony to the fact that many cameras are just getting too complicated and difficult to use these days.
The geek in me who has enjoyed computer programming since 1991 can't have enough features in a camera, so this isn't a request to Sony for less features – it's a request to make the important stuff easy to get to and the printed manual / in-camera values helpful to geeks.
Now before the Sony fan boys skulls split over what many of the faithful followers insist is the greatest camera in the history of photography, I will say that many of the quirks I encountered can be addressed in firmware updates and reading online resources. There's also workarounds for certain features going disabled for reasons I find less logical than on any other manufactures cameras I've tested.
Battery Life
I'll also point out that despite the wealth of WiFi, NFC, etc… crap that this camera has that I have no desire to use, I didn't have any real world problems with the battery. It's about average to to what I've seen mirrorless from Fujifilm, Olympus, and Panasonic do under similar test loads that I do for my testing. Personally, I'd always keep an extra charged battery handy with any mirrorless sporting an electronic viewfinder, but I never found myself cursing this camera's battery.
Electronic View Finder (EVF)
Of all of the EVF's I've tested to date, this is by far my favorite. In fact, I hate EVF's so bad that I typically avoid using them but for this camera I actually found myself using it more than the larger rear screen LCD. This often made me forget that this was a mirrorless (as did its loud shutter release noises) while I was out in the field. This is actually a good thing and a testimony to what great progress has been made in this area. While I still prefer a high quality optical viewfinder, this is one I could definitely live with.
After the learning curve
Once you reprogram the buttons and take the time to learn that features like Zebra are really cool (it helps you to identify overexposed areas by showing zebra stripes at your selected opacity), I came to like what Sony was trying to do with this camera. While there's plenty of usability improvements that can be done to make this camera significantly easier to use (like a better designed Q button instead of a programmable tap to the center button by the scroll wheel), the determined user will find a workaround for almost every initially annoying quirk in this camera. It's chock full of cool features that geeks will be getting the best pictures of their cat that you've ever seen!
But what about all those megapixels?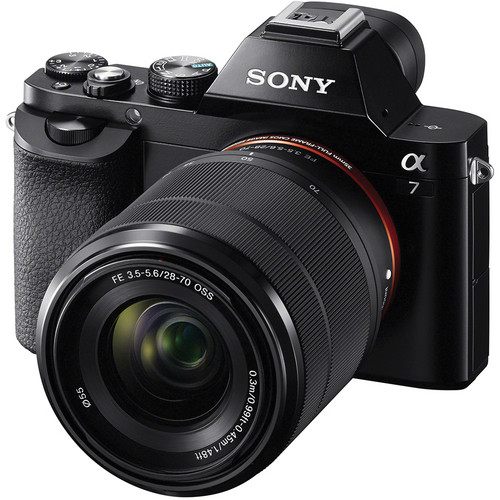 Sony Alpha a7 Mirrorless Digital Camera with FE 28-70mm f/3.5-5.6 OSS Lens
Wouldn't 24.3MP be enough?
I was hard on the Nikon D800/D800e for having too many megapixels to be especially useful in everyday real world life. There comes a point where you capture so much data that the age old rule of 1/<focal length * crop factor> no longer gives you a shutter speed that can compensate for expected minimal camera shake. This means features like stabilization (or SteadyShot as Sony calls it) become more critical, but faster than traditional shutter speeds are also needed to freeze your subject when the megapixels get too high. As a result, my conclusion on the D800/D800e was that they were great cameras for photographers taking shots of static landscapes or those who use studio lights, but it was a terrible choice for the casual photographer who actually holds the camera in their hands under typical lighting conditions.
In my testing of this camera I had a short 35mm lens so its more forgiving than say a 200mm zoom, but it didn't have any stabilization. My real world testing indicated that getting a steady shot using the cameras default Aperture Priority shutter speeds was challenging under low light. Perhaps this is why I was encouraged to test with a 35mm instead of a longer lens as this camera behaves like all Sony's that I've tested which means it loves to be at 1/30 or 1/60 sec shutter speed in the auto modes (unless you program it otherwise). This resulted in me having so many blurry shots in real world testing that roughly 120 shots weren't even worth putting in the gallery.
As a result of this below average performance, I'd be more inclined to advise my readers to consider the 24.3MP a7 shown above instead of the a7R if you plan to use your camera away from studio lights or off tripods. Yeah, all those extra megapixels are great if you get the perfect shot, but they are useless if they just help you to get a blurry shot during that critical moment.
MORE MEGAPIXELS are NOT a good thing for most people – especially since most people will more times than not discard megapixels more often than they have times finding themselves not having enough (and Perfect Resize can solve that problem quite well). Even 4k TV only requires 8 megapixels, so 24.3MP is plenty. I applaud Sony for acknowledging this reality by offering a a7 model for those who still want full frame mirrorless without the wasted megapixels.
Bookshelf Test
The following shots are done on a tripod with all camera default settings except I also enable RAW. The full gallery of bookshelf images can be found at http://photos.ronmartblog.com/sony/a7r, but I've included a few noteworthy images below. Please keep in mind that the images are not crooked – the camera is level, but the bookshelf has sagged over time due to weight so I use camera level instead of adjusting the camera for a level shot of the bookshelf.

f/2.8 @ 35 mm, 3.2s, ISO 100, No Flash
In ideal conditions (i.e., on a tripod or in studio light), this is one of the most impressive cameras I've ever tested. Yes, it is every bit as good as the best DSLR cameras by the competition and it blows away any cropped sensor DSLR I've ever tested. This camera definitely will take advantage of the best lenses you can throw at it, so image quality under the right conditions will certainly please owners of this camera – it's very, very good.

f/2.8 @ 35 mm, 1/80, ISO 25600, No Flash, From RAW with only ACR 8.3 default processing
At ISO 25,600 the in-camera noise reduction on the JPEG's is pretty bad, but if you take the unprocessed RAW (shown above after ACR defaults) you'll see that it's got lots of good data with easy to remove noise. The image below is the same file (click for full-size) with Noiseware (Tutorial) default settings. The result is a very clean file at a very high ISO – well done, Sony – now just put Noiseware in the camera and we'd be in great shape!

ISO 25600 from ACR 8.3 with Noiseware Default
Be sure to click the above images to really get an appreciation of what's happening here at full-size. This camera passes the image quality and high ISO noise tests with flying colors. In fact, I find that it outperforms the D800 in high ISO noise performance based on my bookshelf test of that camera.
Real World Sample Images
The following images come from in-camera JPEG's using the camera default noise reduction settings. Most camera settings are the default with the exception of RAW+JPEG, a desired White Balance, a desired focus point, and occasionally a desired creative style being used.
UPDATE: It should be noted that except the pictures of my son, nearly every image I took with this camera was taken using this setup to prevent camera shake induced motion blur.
All images are copyright Ron Martinsen – ALL RIGHTS RESERVED

f/2.8 @ 35 mm, 1/60, ISO 3200, No Flash
Got kids? Don't plan on photographing them on the fly with anything but manual settings indoors or else you'll see lots of a soft photos like this

f/5.6 @ 35 mm, 1/60, ISO 100, No Flash
Default colors and Auto White Balance (AWB) were very good

f/22 @ 35 mm, 1/60, ISO 400, No Flash
f/22 resolves nicely with this lens on this excellent sensor

f/5.6 @ 35 mm, 1/80, ISO 100, No Flash
Don't have enough reach? Take the shot and ditch some pixels – you've got plenty to spare!

f/9 @ 35 mm, 1/60, ISO 5000, No Flash
Noiseware (Tutorial) on RAW images over ISO 640 is recommend

f/4 @ 35 mm, 1/160, ISO 500, No Flash
Dynamic range was very good, but not jaw dropping

f/5.6 @ 35 mm, 1/60, ISO 3200, No Flash
This camera does details very well

f/5.6 @ 35 mm, 1/60, ISO 5000, No Flash
Like a Nikon, you'll probably go to Shade White Balance over the greener AWB (shown here)

f/5.6 @ 35 mm, 1/60, ISO 4000, No Flash
Auto White Balance was very accurate – using
a custom WB measurement resulted in the same colors

f/20 @ 35 mm, 30s, ISO 100, No Flash, on Tripod
My weekend hotel room offered plenty of detail for f/20 pixel peepers

f/8 @ 35 mm, 3.2s, ISO 100, No Flash
Landscape shooters will be delighted with the detail captured

f/5.6 @ 35 mm, 1/60, ISO 3200, No Flash, DRO Auto
DRO Auto needs some tweaking as it didn't really help with the default metering mode. The Yellow flowers were blown out pretty bad (Zebra warning! <G>)
More photos can be found at the full gallery here.
Video

Be sure to view in full 1080p for the best results
I hate video, but for completeness sake I did a quick video with full auto settings to show how this camera compares to others tested in a similar manner. I found the lack of SteadyShot with this lens to be a real problem for getting a smooth video.
Conclusion
For those who are willing to learn and put up with the maddening menu system and default configuration of this camera, you will be rewarded with outstanding image quality for your photos taken on a tripod or in ideal lighting conditions (i.e., studio lights and sunny days). The landscape or studio photographer with a simple workflow is going to love this camera for the images it produces when paired with the right Zeiss lens. For that class of photographer, it's a no compromises alternative to the DSLR that really impresses me significantly more than the Nikon D800 did. While this camera is really more of a competitor to the D800e due to its lack of a low pass filter, I really think it is in a league all of its own due to the wealth of a features it offers (many of which are typically found only on consumer cameras and smart phones).
While I personally have zero desire to own this camera due to its poor menu layout and too many megapixels for my needs, when paired with the right photographer (or any Sony fan boy) it is sure to be worth every penny of its purchase price. It's also by far the most impressive camera I tested in 2013 (when I first started to review this camera).
I would not recommend this camera for parents as the extra megapixels will haunt you when trying to capture your child under low light conditions or if you try to shoot video without a third party video stabilization device.
Where to order
Click here to learn more or order this camera on the B&H web site. My friends at Amazon have it available here.
Other articles you may enjoy
If you enjoyed this article, you may also enjoy these:
Disclosure
If you make a purchase using links found in this article, I may make a commission. It doesn't cost you a penny more, but it does help to support future articles like this.