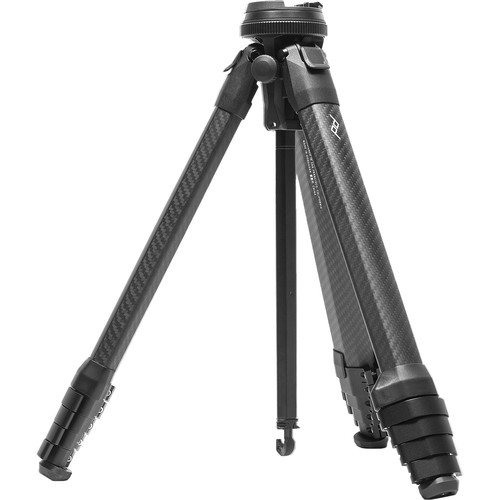 Peak Design Carbon Fiber Travel Tripod
Years ago I did my tripod recommendations and I settled on a Gitzo GT1541 with a RRS BH-55 head. I also did a tripod head comparison where I switched from the RSS to the Arca-Swiss Monoball Z1 sp (Single Pan) head as my primary ball head of choice.
During some end of year business spending a few years back I also picked up a Gitzo GT2531EX to simplify the process of shooting macros, but the reality is that I usually preferred to the GT1541 so it was used more in the studio than in the field.
All told I probably spent over $2000 for the two complete carbon fiber tripods and ball heads that I still own to this day. With as little as 30 minutes with the Peak Design Carbon Fiber Travel Tripod I found myself wanting to sell all four of them (seriously, make me an offer) so can get this awesome tripod and head combo!
Hands On Thoughts

So lightweight and practical I actually found myself overusing it!
Right up front what I loved the most about this tripod was its lightweight but highly usable built-in ball head design. It addresses the bulkiness challenges I deal with for both my existing ball head and tripod combos I own today, without losing any functionality that I enjoy today. I especially enjoyed the speed and ease at which I could attach and detach my camera with complete confidence.
What surprised me even more was just how well this tripod is built – every detail and texture seems to be meticulously thought about so it makes you feel like Apple designed it. Just take a look at how nice the fast to operate (compared to Gitzo) angle adjustments are below:
Outstanding design and build quality
That knob shown on the right is for height adjustment of the center column, and it has a wonderful soft tactile feel that just screams quality. You can also see the cool looking carbon fiber pattern legs in the shot below.

Sexy Carbon Fiber legs with no pinch height adjustment
Of course pretty means nothing if it doesn't work well, so I put this camera to use right away with a Sony a7R IV with a Sony FE 24-105mm f/4 G OSS Lens and it never once had any stability issues. I took shots for as long as 25 seconds in portrait orientation as shown below and never did an ounce of shake get introduced into the shot both indoors and outdoors – even with my kids running around me while I was shooting.

Rock solid stability even in portrait orientation
Here's the result of the shot taken above:

Sony a7R IV with 24-105mm for f/16 @ 36mm for 6 sec at ISO 100
I also found the useful head almost flawless. My only real gripe was the bubble level was very hard to see as shown below, but if your camera has a level (as the one I was reviewing did) then its not really a big deal. Here's an overhead view of the head:
My biggest complaint about the head is that the level bubble is hard to see
I also agree with other reviewers that the plate for the camera needs support for screwing on with a coin vs requiring a tool which I lost about three times during my review – the last time for good as shown below in the slot where the $20 USD tool once lived:

My recommendation is to NOT leave this plastic mount with the toolkit attached to the tripod as the odds are high you'll lose it.
Below is a photo that shows the universal plate installed, although the lack of a metal lip does mean you have to re-tighten it time to time to avoid drift when shooting in portrait orientation:

Arca Compatible Standard Plate fits all cameras and only cost $20
It Does Everything Very Well

This thing can almost get to table top size as well as full size
My most heavily used accessory is my Leica Tabletop Tripod & Large Ball Head combo. I literally don't go anywhere without it, but while I had this tripod out on loan it never left my bag. I enjoyed that I could use this one as a slightly larger but still super low table top tripod (as I did in this random shot when I first unboxed it) as shown above.
Front heavy lenses like the one shown above were no issue for this very solid tripod and ball head combo. I never had any issues with drifting for long exposures either – something that frustrated me with my Really Right Stuff BH-55.
Even my big Canon 1DX Mark II with the 24-105mm f/4L IS II USM lens was no problem for this tripod in portrait mode, but L-Brackets are available for those who get stressed seeing this setup.
Hands On Video
I very rarely do hands on videos, but this tripod just begged for it. Sadly when I got out to shoot I had an equipment failure with my mic so my apologies for using the built-in mic of the iPhone XS Pro with rushing water in the background:

Video Review
(sorry for the bad audio, my remote mic broke)
How Low Can It Go?

It really can go lower then your mama's ever seen it in her life time
If Ludacris was a photographer, he'd approve of this tripod for its ability to get the low shots as shown in these two iPhone snaps I took while out shooting with this tripod.

Even portrait orientation I never would've imagined did not even in my right mind
See the photo above to compare to see how low this tripod starts at compared to my Gitzo GT1541 with a Arca-Swiss Monoball Z1 head mounted on it. Yet even when you put both at max height, its not much shorter as shown below:
The actual tripod is only 2.5 inches taller but the big Arca head on the Gitzo adds another 4 inches of shooting height.
Click here to see a full view of both side by side iPhone snapshot if you are interested.
Easy To Carry Around All Day Long
Because my old tripod was so big I used to carry it on the outside of my bag, but when I did that with this tripod it seemed so unnecessary as shown above. As a result, I started putting it inside my back when I could which was very convenient – especially when sitting down with my bag on my back.
This is a really big deal when you are travelling or hiking with a bag on your back all day, so to say I was excited about this is an understatement.
But Wait There's More – Mobile Phone Support!
One of the coolest, yet simplest features of this tripod is the fact that the center stalk hook actually hides a cell phone attachment in it. It's so small and subtle that I almost missed this wonderful feature.

An excellent cell phone tripod mount included and nicely hidden in the center stalk

This is the best cell phone tripod I've ever used
Conclusion

My New Favorite Tripod In Its Cool Box
In case you haven't figured it out yet, I love this tripod. Yes, its expensive but if you consider the fact that it has a ball head included then its actually about $500 USD cheaper than most recommended carbon fiber tripod and head combos.
If your budget is tight and you don't mind an extra half pound of weight and 20% less stability then you can save $200 USD (at the time this article was written) and get the aluminum version. At that point its cheaper than the average ball head and you get the head, mounting plate (again which usually costs extra), a great mobile camera mount, and carrying case.
Simply put, this is is the best tripod and head combo I have ever seen so I highly recommend it.
Where to Buy?
CLICK HERE to learn more or buy today at B&H.
You can also see some cool videos and more details about the carbon fiber and aluminum models on the Peak Design website.
Other articles you may enjoy
Enjoy more reviews on the Reviews tab as well as Ron's Recommendations.
Sales Tax Reimbursement with Payboo
Don't forget, with the B&H Payboo card most buyers can get the sales tax reimbursed. Click here to learn more.
Disclosure
If you make a purchase using links found in this article, I may make a commission. It doesn't cost you a penny more, but it does help to support future articles like this.