As a kid I was a football junkie who followed his favorite team carefully and knew what was going on with all of the players. I knew the other divisions and opponents well and I dreamed of the day when my little league football practices would pay off big as I got my shot to be a NFL football player.
Of course, I was young and idealistic so I eventually realized that my 6'1" 120 lbs frame in High School was sure to face certain death if I continued to play ball, so I hung up the cleats and became a TV fan like the rest of the world. However, the passion and desire to be on the field for an NFL game was intense, but I accepted the reality that day would probably never arrive. Instead, I chose other sports to shoot and enjoyed my successes as a motorsports photographer.
Shortly after I got my Canon 1D Mark III the passion to be closer to football burned again when my good friend Fred Nava sent me a link to a blog on the Seattle Times called The Best Seat in the House by sports photography legend Rod Mar. Rod has 25-years experience shooting sports so his great images captivated me. I watched his blog with great enthusiasm and day dreamed at what it would be like to sit in the best seat in the house with my camera one day.
Fast forward to 2011 when a charity event at work happens where I get to meet Rod. We exchange some emails online and eventually I got the courage to ask Rod if he'd be up for doing a guest blog article reminiscent of one of his old Best Seat in the House articles. Rod's a super nice guy so he agrees, but the reality of his busy work schedule kept causing delays.
While heading to my day job one day I get a phone call from Rod . He is now the team photographer for the Seahawks asks me if I could help him out as an assistant for a game. I immediately said hell yes. Since Rod doesn't make offers like this very often (so please don't ask), it was like getting called up to the big leagues.
The Big Day – A Dream Come True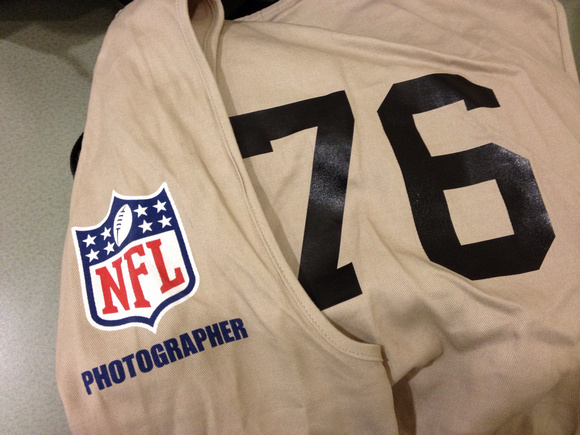 A Dream Come True
It was the ultimate Christmas gift to be able to join Rod Mar on December 24th, 2011 against the San Francisco 49ers, so I was on time and ready to go.
After meeting up with Rod at the stadium I was given a vest to use for the game that labeled me as an NFL Photographer for the day. I immediately whipped out my iPhone 4s and snapped the shot above to send to my wife as I tried to contain myself from doing the equivalent of a touchdown celebration. At that moment the perma-grin was so big on my face that my cheeks started to obscure my vision! Here's a shot taken by Rod as we walked out on the field prior to the game for the first time:

All grins looking like Tim Taylor of Home Improvement with my Think Tank Photo Modular Components and Keep It Up Shoulder Strap as well as a Black Rapid Strap
Happy? Oh hell yeah – you bet! In fact, it only got better from here! I took my turn taking a shot of Rod and Blitz as well:
Pre-Game Warm Up

Getting Prepped
The stage was set so I got my chance to warm up shooting the pre-game practice. Naturally my camera of choice was the Canon 1D Mark IV with the 70-200mm f/2.8L IS II USM, but a few shots were taken with the 24-105mm f/4L IS. I had a lot more gear of course, but in my frantic pace of keeping up with Rod as his assistant I didn't feel like futzing with it. As a result, I could have (and should have) left nearly all of it home.

Off to a Running Start
(Canon 1D Mark IV, 70-20mm f/2.8L IS II lens @ 200mm, ISO 400, 1/640 sec., f/2.8)

I was also glad that I didn't rent a 400mm because I had such great access that I was able to get most of what I needed or wanted with the 70-200mm with insignificant cropping when the action was farther away down the field. I could easily print a 16x24 or larger with the images I took, so the great image quality of my camera was a blessing.

Hangin with the Big Boys
(Canon 1D Mark IV, 24-105mm f/4L IS lens @ 60mm, ISO 640, 1/500 sec., f/4.0)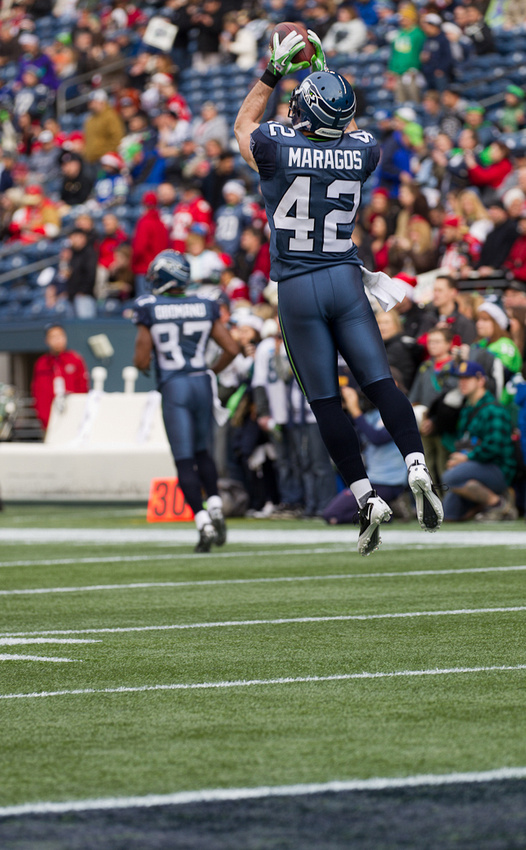 Lucky grab
Wrong settings but the stars aligned and I got the shot
(Canon 1D Mark IV, 70-20mm f/2.8L IS II lens @ 200mm, ISO 160, 1/250 sec., f/4.0)

Newbie Mistake
Doug Baldwin hands a kid in the stands a ball and I totally missed it – DOH!
(Canon 1D Mark IV, 70-20mm f/2.8L IS II lens @ 70mm, ISO 320, 1/500 sec., f/2.8)

Seagals 2012
Yeah, I could get used to this!
It was cool enough that I was this close to the players, but when the Seagals took the field I was like "oh yeah, awesome"! Rod is also the official team photographer for the Seagals too (lucky bugger), so he was getting some great shots of them that day as well (starting with #10).
Ready – Action!

Rod breaks out the big boy toys
It was game time and it was time to get down to business. Now technically I was supposed to be Rod's assistant where I help him schlep his gear around so he can get some great shots of the Seahawks (typically from the end zone with the Seahawks facing us), but I was beside myself with excitement so Rod was gracious enough to let me fire off some rounds. Here's a shot he took of me during the actual game:

The Worst Assistant – Ever!
(FYI that film camera is for this)
Instead of doing my job, I was too busy grabbing shots like this from across the field:

Too Slow Joe
Cool shot, but lame compared to Rod's (Search for Sherman here)
(Canon 1D Mark IV, 70-20mm f/2.8L IS II lens @ 200mm, ISO 1000, 1/250 sec., f/2.8)
Rod was nailing shots left and right using a 400mm lens with a 1.4x teleconverter (which if you've tried to follow action with that level of zoom, you know that's tough!). However, I was struggling to get a good composition. I managed to get a few here and there like this:

(Canon 1D Mark IV, 70-20mm f/2.8L IS II lens @ 145mm, ISO 400, 1/1000 sec., f/2.8)
but it was tough. I've got the geek skills to know how to get the most out of the Canon 1D Mark IV so I was getting crystal clear sharp shots all day long (nearly 2800 by the end of the day), but getting the shot at the right moment framed properly is where you separate the posers like me from the legends like Rod.

(Canon 1D Mark IV, 70-20mm f/2.8L IS II lens @ 200mm, ISO 400, 1/1000 sec., f/2.8)
Sure I managed to get some good shots like the ones above and below, but when you take as many shots as I did with the right gear (and you know how to use it) then you are going to get lucky eventually.

(Canon 1D Mark IV, 70-20mm f/2.8L IS II lens @ 200mm, ISO 500, 1/1000 sec., f/2.8)
But often times I had accidentally let my shutter speed drop too low so the perfectly timed shot would be a tad blurry: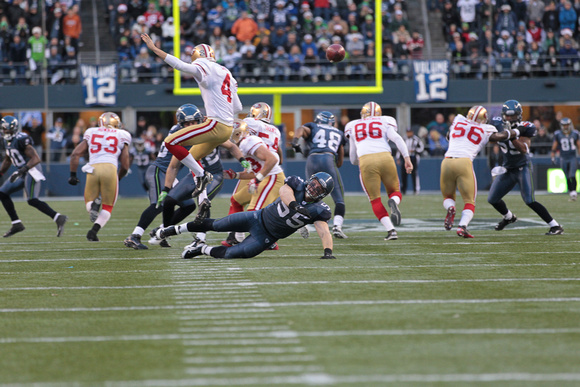 (Canon 1D Mark IV, 70-20mm f/2.8L IS II lens @ 200mm, ISO 1000, 1/800 sec., f/2.8)
I was also stupid and didn't bring enough memory cards, so I ended up shooting half the game in JPEG instead of RAW and that hurt the image quality quite a bit. In my rush I just set the camera back to some old settings I had registered and they were too aggressive with the in-camera noise reduction (see above) – vs – RAW shots like the one below: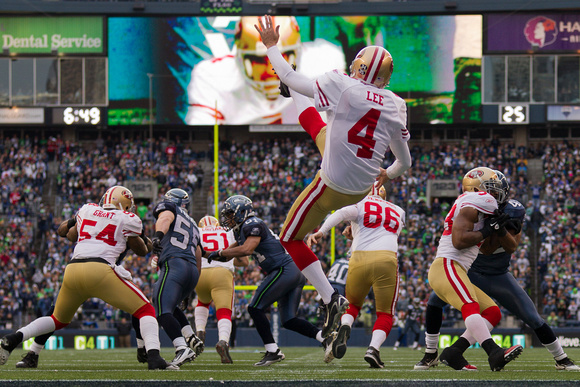 (Canon 1D Mark IV, 70-20mm f/2.8L IS II lens @ 70mm, ISO 320, 1/1000 sec., f/2.8)
Lessons Learned
I had the time of my life, but I feel guilty for letting Rod down by not being a better assistant. Hopefully I'll get a chance to do this again one day, but even if I didn't I'm eternally grateful to Rod Mar for this incredible opportunity.
With respect to gear, I was very happy that I packed my Black Rapid RS-Sport (Adorama & B&H) as it worked brilliantly during the game when I was running around with my camera on my side. I was also thankful to Glazers Camera in Seattle giving me a Stuff It Microfiber Lens Cloth which I loved. I also made the right choice to use the Think Tank Photo Modular Components and Keep It Up Shoulder Strap (brilliant for phone and memory cards) as that kept all of my gear ready for me to get to quickly and easily (even if I was afraid to grab some of it due to fear of missing something).
My only regret was not getting some good knee pads as you spend a lot of the game on your knees and my bad knees weren't built for that. They literally still bother me since that day, so that a was a big mistake on my part.
My Canon 1D Mark IV New Users / Shoppers Guide was balls on with its advice. If you REALLY understand the AF system of the 1D Mark IV (and few do), you can get a large number of sharp and in-focus shots.

Seagals transitions between movement and still
was actually harder to get perfect than game play!
The camera's biggest flaw is that there's no fast way to toggle the One Shot AF mode (needed for still shots) to AI Servo (needed for tracking moving subjects) unless you have a big lens with a AF Stop button that can be re-programmed. Given this fact most photographers find that using the AF On button to manually control focus and the shutter button for metering and shooting only works better. However, that takes practice so I'm super excited that the upcoming 1D X will allow one its front buttons to be programmed to be a focus mode toggle so I can get more sharp shots during transition periods.
Thanks Rod Mar

(Canon 1D Mark IV, 70-20mm f/2.8L IS II lens @ 105mm, ISO 640, 1/1000 sec., f/2.8)
I'd like to thank Rod Mar for giving me the opportunity to scratch this dream off the bucket list. My day shooting a NFL game between the San Francisco 49ers at the Seattle Seahawks is a memory I'll never stop talking about.

(Canon 1D Mark IV, 70-20mm f/2.8L IS II lens @ 70mm, ISO 400, 1/1000 sec., f/2.8)
Here's Rod's game shots used by the team on their blog. Keep in mind that Rod literally got all of these shots processed during halftime and shortly after the game. It took me nearly a month to go through my shots and lightly process them!
Here's a photo gallery of game action and the Seagals taken by other pros during the game.
Disclosure
If you make a purchase using select links in this article, I may make a commission. Thank you for supporting this blog by using my links.