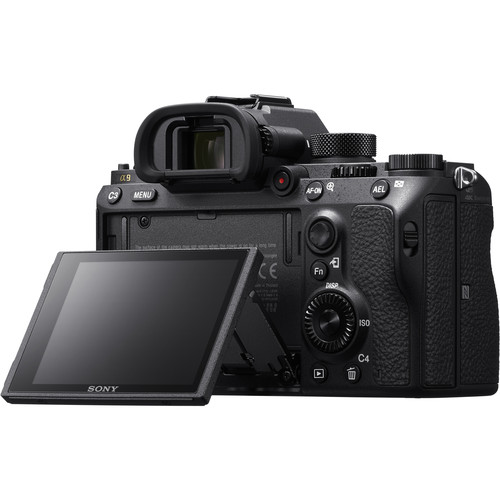 In Part I of my review I asked Sony a9 - The Ultimate Action Camera By Which All Others Will Be Judged?, and I think the answer has to be yes. It's a very impressive AF system that almost guarantees you'll get the decisive moment for an action scene. However, this is a big investment and most of us aren't paid sports photographers, yet this camera has a lot of reasons why you might want to buy. As a result, I thought I'd spend the second half of this review discussing its value as an all-purpose camera to see how it does with typical shots that the average person might take.
Would this be a case of yet another expensive camera that's really just a one trick pony, or did Sony really make one camera to rule them all? Read on to find out and see my final conclusion.
Real World Shots
Real world shots is my way of saying examples of photos that an ordinary person might take as compared to ones that a paid professional being hired to photograph something would take. I like to include these types of shots in my reviews because it reflects exactly what you can expect to see if you buy this camera and examine the results on your computer.
All of the photos are 100% unedited (not even cropping unless noted) and you can click the photos to see the exact unedited JPEG that came out of the camera.
While I might use white balance (shade) and creative style (vivid) adjustments to enhance the in-camera image, the rest of what you see is what you'd see at home yourself if you took this same shot yourself.
All images are copyright, Ron Martinsen - ALL RIGHTS RESERVED, but you may examine the originals to your hearts content while viewing this article in your web browser. After closing the article, you agree to delete any local copies and you also agree not to print, re-post, re-distribute, link to or otherwise use these photos in any way without written consent.
With that said, please enjoy my thoughts on these and all of the photos found in part 1 of my review and in the galleries associated with this review.

f/2.8 @ 70mm for 1/160 sec at ISO 250
Using full resolution (6000x4000) you can't get a good shot of this subject from the fixed viewpoint

f/2.8 @ 70mm for 1/250 sec at ISO 400
However, if you switch to the APS-C mode, then you get some extra optical zoom without sacrificing quality - but you do get a smaller 3936x2624 file so you've essentially just done an in camera crop. That said, I still liked this mode and it will still print and look gorgeous on a 4k TV.

f/2.8 @ 70mm for 1/250 sec at ISO 500
Using the Clear Image Zoom feature at its maximum 4x means you can't pick the focus point but you get impressive reach and quality using this intelligent digital zoom technique.
Again, I have a file that needs no editing to show friends on a 4k TV - impressive

f/16 @ 24mm for 1.3 sec at ISO 100
In this intentional dynamic range torture test, I was reminded that this definitely no a7R II
The highlights were pretty blown despite the cloudy conditions

f/22 @ 24mm for 2 sec at ISO 100
However, if you shoot within the dynamic range of this camera,
the landscape results are very satisfying



f/4 @ 70mm for 1/800 sec at ISO 100
I snatched a frame of the distant boat,
but I was surprised to see how much detail still remained in the power lines

f/4 @ 68mm for 1/3200 sec at ISO 100
(cropped - click for unedited original)
As I was taking the shot above, I heard this plane overhead so I took a quick shot
Despite being underexposed, I was impressed with the detail in the shadows
and especially the wires going from the vertical stabilizer on the tail

f/5.6 @ 70mm for 1/100 sec at ISO 640
Zoom in to the original for a scary look at this spider shot done at full frame at roughly the minimum focus distance of the 24-70mm f/2.8 GM lens

f/4 @ 70mm for 1/200 sec at ISO 800
Decent bokeh and amazing detail make the kit a great deal for those getting started with Sony

f/3.2 @ 70mm for 1/1250 sec at ISO 100
Wild unpredictable boys are no problem with this camera

f/3.2 @ 70mm for 1/500 sec at ISO 100
Clear Image Zoom is excellent for hard to reach flower macro shots at the botanical garden

f/4 @ 70mm for 1/2000 sec at ISO 500
There is enough dynamic range to keep cheek highlights in check
when photographing family members in the harsh sun
Slow Motion Video Autofocus Test
I don't do much with video, but I think slow mo videos are cool so I couldn't help but play around with that feature on this camera. In this test, I was curious to see how the AF would hold up to the torture test of keeping up with my son's eyes. It failed, but honestly I thought it did better than expected given the fact that I was using eye focus mode on such a challenging scene.
Bookshelf Test

f/5.6 @ 50mm for 10 sec at ISO 100
ISO 100 quality was excellent even by today's standards
and the shadow detail above the books to the back wall was impressive
Where many special purpose cameras fail is how they perform when pushed to the extremes. In this case, I'm happy to report that the a9 did a respectable job in my bookshelf test that I use to just shadow detail, dynamic range and ISO performance. The full gallery of shots lets you examine full ISO stops from 100 (shown above) to 51,200 (shown below) where you can decide what your maximum tolerance is for sensor noise and noise reduction control. However, I found 51,200 to be usable in a pinch and 12,800 to be good enough to consider it a default top ISO for regular shooting.

f/5.6 @ 50mm for 1/50 sec at ISO 51200
As this shows, unless you are going to be viewing at large sizes, images of your vacation or kids shown a social media sizes is going to be totally fine at ISO 51,200
Conclusion
Yes, I have to say that this is the most impressive camera that I've tested this year and one of the best ones I've every shot with. While I won't be getting rid of my Canon 1D X Mark II because if its superior line up of sports lenses, better metering and excellent flash system, I did find myself looking at my camera and wondering why Canon can't do that!
I've also shot with the Nikon D5, and I'd prefer it over the Sony for the same reasons. Yes, I've seen adapters used with Canon and Nikon lenses and I'm extremely underwhelmed at AF performance when used with adapters, but manual focusing is fine. That kinda defeats the purpose of this camera and sports lenses, so I'd still say that if you are a sports shooter that this is a good second camera for close range action, but stick to Canon or Nikon for your >200mm needs.
With that said, if you are an event or wedding photographer then I think this is the camera you have to own. While you might want a a7R Mark II also around your neck or in the hands of your second shooter for its superior dynamic range, this will be the camera that helps you to get the shots that bring tears to your clients eyes. It's also got the high ISO performance to come home with concert and evening event shots that are totally usable.
Now this is an extremely expensive camera, so it's tough to suggest it for parents based on price. However, if you are a financially successful dual income household that can easily afford it then I can say without hesitation that this is the camera you want to photograph your precious little angel.
Overall, I'm extremely satisfied all around with the first Sony camera body that I didn't hate (thanks to its wealth of programmable buttons) and can easily give it MY HIGHEST RECOMMENDATION.
Where to Buy?
CLICK HERE to learn more or buy today.
Other articles you may enjoy
If you enjoyed this article, you may also enjoy these:
Disclosure
If you make a purchase using links found in this article, I may make a commission. It doesn't cost you a penny more, but it does help to support future articles like this.
Unless noted, ALL shots in this article are unedited and come straight out of the camera as shown. In-camera JPEG's were used with in-camera Creative Style (vivid) and White Balance (shade) being leveraged to give shots an improved color over the camera default.