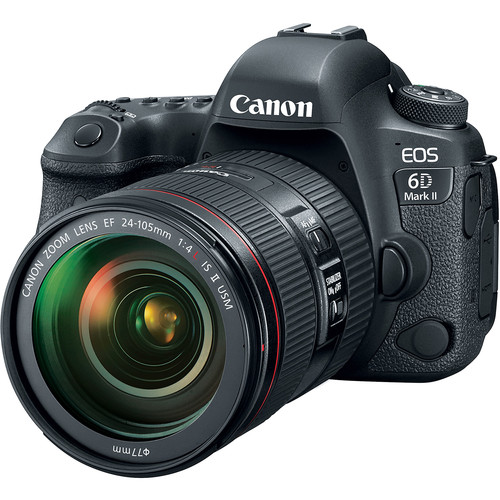 Canon 6D Mark II and 24-105mm f/4L IS II USM Kit Lens
I was a fan of the Canon 6D because its sensor performance was identical to the 1D X I owned at the time I did my review, so the idea of a second body that could get the same high quality results was very appealing to me. Yeah, it was a dated body but all could be forgiven at the time it came out.
Fast forward to 2017 and the world of photography has changed quite a bit. iPhones are capable of outstanding images, the a7R II is the undisputed king of the sensors by which other cameras are judged, and even cameras like the Fujifilm X-Pro 2 have excellent autofocus.
As a matter of disclosure, the camera I reviewed before this was the incredible Sony a9 which may have been a really bad thing for Canon because I got to see what cameras should be capable of in this day and age. As a result, when I unboxed and shot the 6D Mark II for the first time my first thought was WTF?!!!
To be fair I decided to extend my review time a little longer than normal to see if I could judge this camera fairly based on what it offers instead of comparing it a very different and far more expensive a9. I think I accomplished that goal, but that said I still found myself scratching my head at how much this camera has been forced to used outdated technology compared to what I've seen in the 7D Mark II.
Camera Body Thoughts
I love joystick controls so when I first got this camera and saw it didn't have one I almost boxed it back up and refused to review it. This body is almost identical to the 80D and I didn't review it for that same reason, but my appreciation of what the original 6D did forced me to give the 8 way multi-selector a shot. While I still much prefer a joystick, it was usable - but I still don't like it much.
The articulating touch screen was excellent and makes macros, difficult shots of children down at their level, and selfies (including group shots) all very easy to do. Honestly, I wish all cameras had this type of screen. I also like how it can be closed up so that the LCD is protected.
This camera also features a WiFi, BlueTooth, NFC, built-in GPS and the anti-flicker technology. The later helps keeps flickering lights from ruining a shot, so there's good tech in this camera. However, you only need to look at the limited AF points and the range of those AF points from the edges to feel like you've been transported back to 2007! Why this camera has such a small cluster of AF points is unforgivable in 2017, but with that said the AF was reliable and worked well.
The construction of the body was excellent and the controls, aside from the lack of the joystick, were nicely placed and easy to use. The addition of a touch screen helped make up for some of the stupid features removed like the ability to rotate a dial to change the AF selection modes. Seriously Canon, why disable this functionality?!!!!!
Another software imposed block is for HDR that only works in JPEG only mode and doesn't allow you to keep the original shots that are captured to render the in-camera HDR (which typically looks lame). As a result, they took a handy feature from the 5D Mark IV and ruined it making it utterly useless. I'd suggest ignoring this feature and just do bracketing and external processing of your HDR shots.
Overall I was very disappointed in this body because a lot of things are made intentionally harder for marketing rather than technical reasons.
Real World Shots
The following shots are 100% unedited in-camera JPEG's that can be clicked on to view the full-size original. All images are copyright Ron Martinsen - ALL RIGHTS RESERVED and may not be used for any purpose, copied, printed, linked to or edited without written consent.
Most of these shots are taken using Aperture Priority or Manual with Auto ISO (so metering still comes into play). The shots that seem overly yellow are ones where I had Landscape Creative Style turned on along with Shade White Balance under the wrong lighting conditions, so that's user error. I always shoot RAW+JPEG, so these are all salvageable shots.

f/5 @ 50mm for 1/200 sec at ISO 200
The evaluate metering mode did a good job of taking everything in this scene into consideration and coming up with a reasonable balance between the dark and bright areas. This is one area that Canon really shines in a significant way over Nikon and Sony

f/5.6 @ 105mm for 1/1000 sec at ISO 400
While this is definitely NOT a sports camera, it didn't suck as much as I thought it might so casual photographers looking for a better sensor than 80D should be pleased

f/5.6 @ 105mm for 1/500 sec at ISO 5000
While this was just the kit lens, this sensor is capable of delighting macro photographers

f/5.6 @ 50mm for 1/100 sec at ISO 2500
Canon is famous for great in camera color especially in the warm tones and reds. The orange tones in this flower were excellent right out of the camera even with auto white balance

f/5.6 @ 91mm for 1/200 sec at ISO 640
I forgot to reset my white balance from shade to AWB, but I was pleased with the texture and details in the beard and hands so I thought it was still worth sharing this shot

f/5.6 @ 56mm for 1/125 sec at ISO 125
Again, the textures and tones in the linen on this fair maiden and her cotton demonstrate the strength of lugging a DSLR like this around instead of relying just on a cell phone

f/5.6 @ 35mm for 1/60 sec at ISO 10000
One of my typical torture shots and the exposure and tonal range were great, but the guy who photo bombed wasn't so great

f/7.1 @ 105mm for 1/500 sec at ISO 250
Using Highlight Tone Priority (D+) with auto white balance and aperture priority,
it did a good job with the sky, bright boat and dark areas in the woods.
It doesn't have the tonal range of a a7R II but this is a great starting point for post-processing

f/4 @ 105mm for 1/640 sec at ISO 200
Again a brilliant metering of a darker foreground and a bright background with good preservation of the pink tones

f/5.6 @ 30mm for 1/640 sec at ISO 6400
HDR mode did a good job bringing detail back on the walls that was lost in a default exposure

f/5.6 @ 105mm for 1/200 sec at ISO 12800
Another excellent example of evaluate metering nailing the exposure as the bulb is exposed nicely while still preserving details in the background. The dynamic range of this sensor is quite respectable so combined with a fantastic meter, your artistic vision for a shot is easily captured. Doing this shot with any other brand of camera requires a lot of effort or full manual mode to get the exposure right.

f/6.3 @ 24mm for 1/250 sec at ISO 1600
A metering torture test that performed well but definitely shows the limits of the range on the bright side, but also the improvements Canon has made in the preserving shadow details

f/4 @ 40mm for 1/40 sec at ISO 25600
Okay quality for ISO 25,600 but the colors definitely suffer at this ISO

f/5.6 @ 50mm for 1/100 sec at ISO 10000
Colors are great at ISO 10,000, so I'd have no reservations about shooting at up to ISO 12,800

f/5.6 @ 105mm for 1/250 sec at ISO 3200
I hate to keep harping on the great metering, but this was another one where I thought it was just bang on - first try - with evaluate metering and no user intervention - anyone could get this shot. The anti-flicker technology probably played a big factor on this one too.

f/5.6 @ 31mm for 1/60 sec at ISO 6400
One problem I did notice is that starting at ISO 6400 and up the built-in noise reduction is terrible about smearing the details, so I'd disable the built-in if you aren't shooting RAW

f/5.6 @ 29mm for 1/80 sec at ISO 25600
Hand-held and aside from the high ISO smearing, I was quite pleased with the result

f/4 @ 105mm for 1/200 sec at ISO 5000
I love the new 24-105mm but my copy definitely needed an auto focus micro adjustment with this camera body. Too bad there isn't an auto feature to do this like Nikon is starting to offer!

f/7.1 @ 105mm for 1/200 sec at ISO 4000 Auto White Balance
If you are in to shooting reds, you'll enjoy this Canon a lot more than other brands

f/7.1 @ 40mm for 1/60 sec at ISO 640
The tiny range of AF points made this a tough shot to get without doing a focus and recompose

f/9 @ 55mm for 1/100 sec at ISO 1600
Again, textbook perfect metering that balances the darkness inside of the building with the outside to render perfect red tones and utilizing all of the dynamic range from the darks to the whites.
If this meter was on a a7R II, then HDR wouldn't be necessary for most shots anymore!

f/7.1 @ 55mm for 1/125 sec at ISO 200
Gorgeous details in the texture and once again excellent metering

f/7.1 @ 64mm for 1/160 sec at ISO 200
At this point you know what I'm going to say, but you have to admit that this is impressive for an in-camera JPEG with default camera settings!

f/9 @ 95mm for 1/200 sec at ISO 400
The metering is so good that it makes the most of the dynamic range that this sensor has to offer to create in-camera JPEG's that are way better than the auto exposure you get with Lightroom from a RAW image. As a result, I'd encourage shooting RAW+JPEG!

f/5.6 @ 93mm for 1/200 sec at ISO 1250
This is a camera where I'd shoot RAW for insurance, but JPEG as my starting point for most of my images as you'd be hard pressed to get results this good with Lightroom without a lot of manual effort

f/4 @ 38mm for 1/500 sec at ISO 200
The articulating touch-screen LCD was excellent for getting shots like this at odd angles while I was high and dry and not killing my knees
Click here for a gallery of more unedited images taken during my testing.
Conclusion
If you are a JPEG only shooter who wants good in-camera results, but you aren't satisfied with the beauties you can get from Fujifilm cameras, then this is definitely a great camera choice. This a good camera for photojournalists or people who shoot a lot of images that need to be ready to go clients straight out of the camera as that's the strength you get out of this body.
With that said, if you are a "I only shoot RAW" type then go with a Nikon D750 instead. Canon has artificially neutered this camera, whereas the D750 is an excellent example of an affordable camera body where Nikon threw a ton of technology into it. It's one of the best cameras on the market, BUT the metering leaves a lot to be desired and you won't get in-camera JPEG's like this so you'll commit yourself to a lot more time doing post-processing.
Where to Buy?
CLICK HERE to learn more or buy today.
Other articles you may enjoy
If you enjoyed this article, you may also enjoy these:
Disclosure
If you make a purchase using links found in this article, I may make a commission. It doesn't cost you a penny more, but it does help to support future articles like this.