Canon PRO-1000 17" Photo Printer
If you've followed my printing series, you know that I love printing quite a bit and that I've got a lot of time invested in both Canon and Epson printers. Both brands have their strengths and weaknesses, but I'm so excited about my two new printers that I had to write a quick blurb before the reviews are ready.
While I am disappointed that it lacks the roll support that my Epson SureColor P800 offers, and the larger ink set on the Canon (12 vs 8) means higher ink costs, so far that's where my concerns have ended. With excellent build quality, a much more durable finish that looks fantastic, and most importantly gorgeous prints sent seamlessly over wifi, I've been very happy in my early testing with this printer.
All of the ICC profiles I've tested for this printer from Canon, Red River Paper, and Ilford have been excellent so far.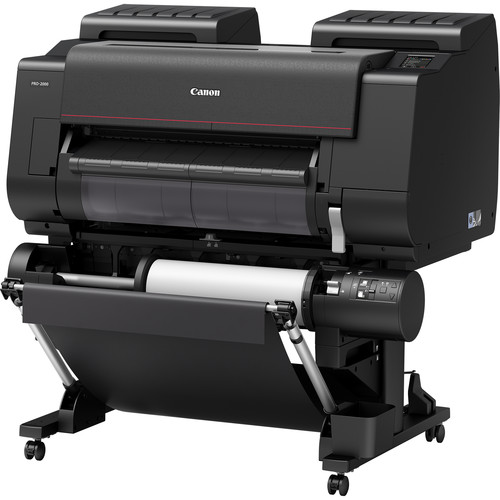 Canon PRO-2000 24" Photo Printer with Optional Multi-Function Roll
I loved the prints I got from my iPF6300 and I loved the hard drive feature of the iPF6450, but the quality of the ICC profiles created for the 6450 never matched the quality that I enjoyed with the 6300. This meant that if I wanted a good print, I had to go through the effort of generating the profile myself.
For the PRO-2000, the print quality has been excellent and all of the ICC profiles I've tried so far have been very good. I did have one for the Ilford Galerie Prestige Smooth Pearl 310gsm paper that was slightly darker than I think it should have been, but the PRO-1000 profile was great so I think this was an anomaly. All of the Canon and Lexjet profiles have been great too.
The optional multi-function roll support has been fantastic and loading sheet paper has gone very well so far. However, the biggest news here is that the phenomenally improved unibody construction makes this printer significantly more stable (and heavy) resulting in less movement and noise than its predecessors. This is a good thing and the looks of this printer just puts a smile on my face every time I walk into my studio - it's stunning to look at!
Features Video
Here's a great video that Canon did that shows how sweet these printer are, and much more is to come from me when I do my official reviews:
Black & White

Black & White support is on par with Epson Advanced Black & White (ABW)
One thing that Canon has always done an excellent job with is black and white prints, and the chroma optimizer makes those blacks look even more incredible.
The new Print Shop Pro software is like a scaled down RIP that replaces my beloved Canon Export Module, but you get to this one off the Automate menu in Photoshop to create print jobs with more features than the export module supported. Sadly it lacks the roll preview feature, but I'm getting used to it despite some quirks.

Pattern Print (aka Print Variations) lives on in both color and B&W
Initially I thought my beloved variations / print pattern feature was gone, but it's alive and well in both color and black and white modes. As usual it does better with big prints vs smaller sheets, but I got up to 45 thumbnails on a letter size sheet (not that you can see squat but it's possible).
Other than size, ink capacity and roll support, these printers seem to behave identically in every way. The software and print results have been identical which is a good thing for people who like to have a dedicated sheet printer to go with their big roll printers (which is great if you can afford it as you don't have to fight the curls on smaller prints).
Both supported easy to setup wireless and wired network printing. The PRO-1000 does have the added support for integrating with Google Cloud print and AirPrint, so that makes it handy for every day jobs as well. The PRO-1000 also features a night mode to make it a little quieter at night, but neither one made enough noise to wake my 13 month old daughter in an adjacent room with the doors open, so I wouldn't consider either model to be noisy.
I'm thrilled to have this combo in my studio!
Conclusion
I'm quite excited about both of these printers which is why I'm doing this early sneak preview. I've got a couple dozen prints under my belt with them but need more testing before I can draw any official conclusions. I can say that it's everything I liked about the PRO-1 print quality with the amazing LUCIA PRO ink set and the fantastic Chroma Optimizer has been very, very good so far. The Canon faithful should be extremely pleased based on what I've seen so far.
See my full PRO-1000 review here and my PRO-2000 review here.
Where to Buy?
Here's where you can learn or buy your own:
Other articles you may enjoy
If you enjoyed this article, you may also enjoy these:
Disclosure
If you make a purchase using links found in this article, I may make a commission. It doesn't cost you a penny more, but it does help to support future articles like this.