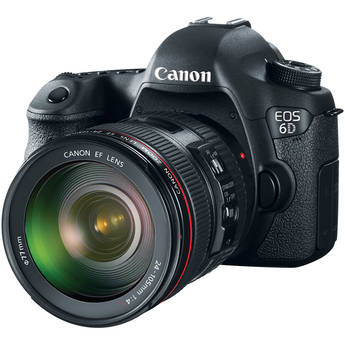 I'll admit it, until I tested the new Canon 6D, the Nikon D600 was my camera of the year for 2012. Now that's not to say it was the best camera made, but when you consider price, performance and features, it was a pretty tough camera to beat. When I got my review unit of the 6D from B&H, I wondered – would it be Canon's answer to the D600?
Now as a Canon shooter, I am very fond of my 5D Mark III which I declared as the best camera for parents due to its great high ISO performance and advanced auto focus performance (an area where the D600 is very weak by comparison). However the 5D Mark III was nearly $1500 USD more than the D600 when I did my 5DM3 vs D600 comparison article, so it was tough to deny the value of the D600. My hope was that we'd get a 6D that was a cheaper version of the 5D Mark III, but where would the corners be cut to reduce the price?
Sample Images – Yeah, this sensor rocks!
This camera creates some delicious images that seem to even out perform the 5D Mark III at the highest ISO's. The images you see below that weren't shot in a studio are real world shots with NO flash, filters or enhancements. They are literally point and shoot shots usually in auto white balance (AWB) with Auto ISO and either Aperture Priority (most common) or Manual.
You can visit http://www.ronmartinsen.com/canon/6d to see more of my test images which includes both real world and studio images.

ISO 12,800 looks as good as the Nikon D600 to me

ISO 1250 has great detail and color with no objectionable noise
One quick pass in Noiseware or Dfine and it's as clean as ISO 100

Gorgeous detail and pleasant bokeh even at ISO 2000

ISO 6400 looks better than ISO 1600 on the 5D Mark II to my eyes

ISO 4000 – Every bit as good as the jaw dropping D600

ISO 12,800 – Even nasty situations like strong shadows
resulted in an impressive in-camera result
In-Camera HDR
Here's a quick snapshot of a non-HDR image (no highlight tone priority either):
HDR enabled with Auto "Adjust dyn range" and Auto Image Align enabled resulted in an image that addressed the blown out flower in the background at the expense of both noise and detail/pop of the subject flower.
To me this feels just marginally better than the s110 and G15, so this feature shouldn't be a major influence on your purchase decision. I still think you'll want Photomatix or HDR Efex Pro if you want to do any serious HDR work.
Studio Images
Except where noted, all of the following images were shot in a studio using my Elinchrom lighting setup. These images are the original in-camera JPEG images that have been exported as originals from Lightroom with no modifications. There is no cropping, adjustments or anything, so please excuse the well known flaws in all of the images.
While these are my outtake images, these are all copyright Ron Martinsen – 2013 and ALL RIGHTS ARE RESERVED. You may click to download the original images for your personal review, but you must delete them after viewing. You may not modify, edit, or use these images for any purpose without a notarized contract.

Yeah, there's plenty of detail with a much less hassle than the D800

The colors on the 6D with the 24-105mm lens are excellent

Using shade white balance, I got a nice warm look right out of the camera with this shot

This vintage blue dress was tough to capture as blue
because other cameras I've used would render it closer to black

I'm very pleased with the dynamic range in this shot

This was natural light only with a reflector for fill
Early Thoughts
Overall, I like this camera. It's got a great sensor and 5D Mark II users will feel right at home.
While I still think wedding and event photographers would be better off getting the 5D Mark III or 1D X, this camera is perfect for the family or hobbyist shooter. It's definitely a must upgrade camera for anyone with a xxD series (i.e., 40D, 60D, etc…) with the caveat that this is a full frame camera so your EF-S lenses aren't going to work.
My Biggest Complaints of the 6D So Far…
The joystick multi-controller on the 5D Mark III is replaced by a 8-way pad on the rear dial like you find on the 60D, and personally I despise it. It seems to be touch aware so it's very easy to get your AF point in the wrong spot or change your aperture while adjusting your AF point. It's a horrible design, so the lack of a joystick is almost a show stopper for me.
The low-light AF speed reminds me more of the 1D Mark III than it does the 5D Mark III, so that has been a big disappointment. Now before everyone flips out and starts rumors, I'm not saying it's unusable or any worse than the D600. However, I have noticed that it doesn't acquire focus as fast as the 5D Mark III and 1D X in identical conditions with the same exact lens switched between cameras. Granted they were very tough low light conditions (like you'd find in a night club), but there is definitely a measurable downgrade.
Just like the D600 – I wish there were more AF points. However, the 6D AF points feel better spread out to the edges to me than those of the D600, but that could be because I'm a Canon shooter and I'm used to the 5D Mark II. 5D Mark II users won't feel much of a difference, and I didn't find it unusable – just different to what I'm used to with my new fancy schmancy cameras.
The last gripe I have is the fact that HDR Mode is disabled when RAW image quality is selected, and if you go JPEG only you still can't have it keep the individual exposures like the 5D Mark III. That really annoys me when I don't think that was a cost cutting feature, but rather a marketing decision. Boo, I hope this gets addressed in the firmware down the road!
Conclusion
The 6D creates stunning images that feel on par with my 1D X and it does so for a fraction of the price. It's also about the same price as the D600 (based on the current sale that ends on Jan 5th). All of the important features are present and it definitely feels to me like an upgrade from the 5D Mark II in every way except for the lack of a joystick.
Click here to read my part II of this review.
Where to Buy
Click here to go to see the best deals on the 6D including the latest rebate offers.
Other Articles You Might Enjoy…
Disclosure
If you make a purchase using links found in this article, I may make a commission. It doesn't cost you a penny more, but it helps to support this blog so I appreciate your support!
B&H loaned me a 6D for this review but has had no other influence or input on this article.
Neither Canon nor Nikon previewed or worked with me in any way for my 6D and D600 reviews.