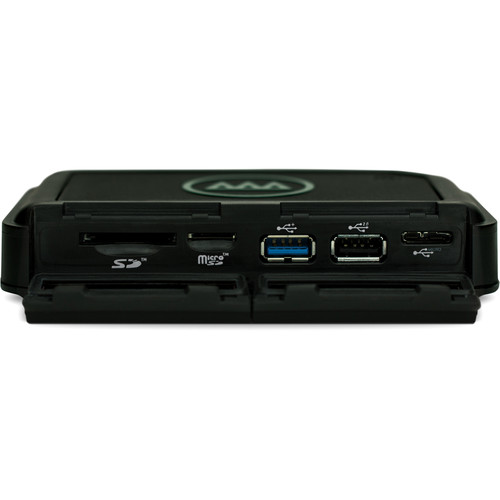 GNARBOX Portable Backup & Editing System at B&H
For the past couple weeks I've been giving the GNARBOX 128GB Portable Backup & Editing System some real world testing. Some of its product highlights include:
Edit 4K Video from Your Phone
View, Edit, and Share RAW Photos
128GB Flash Storage Capacity
Data Transfer Rates up to 4GB per Minute
1.92 GHz Intel Quad Core CPU
2GB of RAM
USB 3.0, USB 2.0, SD, and microSD Ports
Redundant Backup to External Drives
Rechargeable Battery Lasts 4-6 Hours
iOS & Android Compatible
all for the reasonable price of $299 USD for the 128 GB version and $399 USD for the 256 GB at the time this was written (check here for latest prices).
4GB per minute - yeah, not really
Of all of the claims above, I think the one about the data transfer rates of up to 4GB per minute are closer to theoretical than reality as I couldn't anything even close to that using both CFast 2.0 and XQD using readers that were sold bundled with their respective Canon 1D X Mark II and Nikon D850 camera bodies.
In fact, copying just 133 files (RAW+JPEG combo) at 2.58 GB taken with my 1DX Mark II and copied over via USB 3.0 connection with the Sandisk CFast 2.0 reader took 51 before the red "Transferring Files. Do Not Remove Drive" banner went away (and the task manager reported it was done). It used 1% of the battery life, but when I wasn't copying files the battery level hardly moved. Using the exact same card and reader only took 8 seconds to copy over to my Windows computer, so it definitely isn't as fast as I was hoping.
Copying 1990 files (26.4 GB) from a Sony RX100 V (RAW + JPEG) with the direct SD slot using a SanDisk 64GB SDXC card took a staggering 26+ minutes (~12% battery life) vs 5 minutes 35 seconds using the slow built-in SD slot on my Windows computer. The GNARBOX reported 2 files weren't copied either, but I couldn't see which ones or why. The XQD reader with Nikon D850 files wasn't any faster, but I didn't time it or compare it to the latest Macbook Pro my client was using.
It should be noted that I did have the latest firmware update (1.7.4 3/2/2018) at the time this test was run, and again I was using the blue USB 3.0 port.
Setup
I used my iPhone X with the latest updates and didn't have much trouble setting it up.
Like most devices these days, you start by connecting to the Wi-Fi of the device itself using the password included in the box:
From there you get the app from the store for the type of phone you have and it links to videos to give you more instructions if you need it.
One thing I thought was odd was that I couldn't rejoin my network - it required me to always connect to MyGNARBOX when I was in the app which meant I didn't have internet access. If I disconnected from its WiFi then I lost my connection to the device itself. Odd.
Connecting to your card or card reader
When you plug in a card via its available slots or you use the USB ports it reports drives like this:
Sadly, if you have two untitled cards then it doesn't seem to know what to do with them and will only show you the first one no matter which of the entries you tap. I assume this is a known bug that will be fixed in a future firmware update, but the only fix I could find was removing one so it had no choice but to get it right.
Copying Files
Selecting files is fine if you want to select all as you simply do a select all and then choose Copy Files:
This will be followed by a very stupid warning message that tells you it is Moving files but your files won't be deleted.
Hey GNARBOX folks - that's called a copy! A move is when you copy and then delete, so simply say copy!!!
Since file copy is so slow, I'm happy to report that you can still work while it's copying your files over. When this is happening you'll see a red banner like this:
You are still free to go look at your other files and running tasks while this is happening though.
Editing Files
Speaking of files, I was pleased to see that RAW files from the Canon 1D X Mark II, Nikon D850, and Sony RX100 V all seemed to be supported. While I couldn't get a full list of what IS supported, the file types supported page seems to be happy to tell you what it doesn't support.
When editing for the first time you get help tips which can be shown again in the future by tapping the question mark icon. Here's how editing looks the first time:
The support is very, very basic so I wouldn't really consider this much of an editing solution, but if all you need are some very basic adjustments or cropping then it gets the job done - both on RAW and JPEG images.
When you are done with your edits you can export them as shown here:
This gives you an easy way to save space on your phone until you are ready to export final images to your phone in JPEG format. Unfortunately when you export to your GNARBOX you aren't given a chance to provide a name nor is it super obvious where the file went.
Settings and Mass Storage Mode
When you want to use your GNARBOX with your computer as hard drive you simply need to go to the app and switch the USB3 mode from Normal to Mass storage. While simple, one does wonder why this is necessary.
Conclusion
During my 2 weeks with this product I experienced very slow copies, reports that it was done transferring files yet, the files were unreadable or missing when I tried to retrieve them - despite it saying the transfer was complete AND using the eject feature before removing the drives (with no warnings).
Overall I had high hopes for this product, but in reality I was very disappointed with what I saw. Even though I got mine for free for the purpose of doing this review, I don't feel it was worth the hassle and data losses I experienced. As a result, I have to give this product a Not Recommended rating based on the experience I had with the unit I tested.
This product has great potential and is a good idea, so I hope they figure out how to work the kinks out. However, it's definitely still a work in progress from what I saw.
Where to Buy?
CLICK HERE to learn more or buy today.
Other articles you may enjoy
If you enjoyed this article, you may also enjoy this one:
Enjoy more on the Reviews tab as well as Ron's Recommendations.
Disclosure
If you make a purchase using links found in this article, I may make a commission. It doesn't cost you a penny more, but it does help to support future articles like this.