While I'm a Canon shooter, I was very impressed with the image quality I got out of the Nikon D850 that I reviewed earlier this year. However, the Sony a7R and a7R II were the sensor by which I judged all others based on their dynamic range. As a result, I was very much looking forward to this review - especially after the camera body of improvements of the new a9 answered my prayers for a Sony body that properly built for photographers.
Since the Sony 24-70 is such a poor lens, I decided this time around I'd have some fun and get the best Sony lens I've ever tested - the Sony FE 90mm f/2.8 Macro G OSS Lens: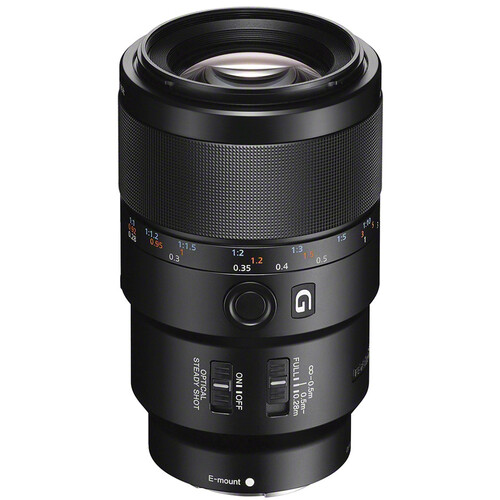 Sony FE 90mm f/2.8 Macro G OSS Lens
This was a good choice as this lens is crazy sharp with gorgeous bokeh, yet it's a macro lens which means you can get as close as 11" to your subject and still use auto focus. It's inclusion of Optical Stead Shot also means that you can get super sharp shots despite being handheld.
Everyone who has followed this blog knows that I'm a huge fan of the Sigma 85mm Art, so it would take a lot for this lens to impress me. I'm also reviewing the new Canon 85mm f/1.4L IS at the same time as the Sony, so I have experience with great lenses in this focal length so I was excited to put this lens through its paces.
Body Impressions
Simply put, this and the Sony a9 offer the only bodies that compete with Nikon for an excellent use and placement of physical buttons. In fact, the improvements to the wheel, joystick and button placements on the a7R III make it the most comfortable one yet.
The joystick support for moving the AF point is my biggest improvement as I've grown so used to this that I can't hardly use a camera without it. This change along with the much better feeling selector wheel (which Fujifilm should look closely at), means it's a natural fit for those coming from Canon and Nikon pro bodies.
The improved electronic viewfinder mean you can leave the hoodman loupe at home and just use the viewfinder on a sunny day to review your images. The resolution and color is excellent, and doesn't feel artificial like the old alpha series cameras.
The articulating rear display is handy for shooting in tight spaces, and optional touch means it works for those who both love and hate touch. Should you want to do more, like a family selfie, the PlayMemories Mobile app can be used to easily remote control the camera.
I was also happy to discover that the phenomenally good eye tracking AF was pre-programmed into a push of the joystick, so this camera was configured perfectly for me right out of the box. In fact, I never found myself using that f*@king Fn menu that you had to live in on other and older Sony models.
While the menus still suck and are just as illogical as ever, there's great support for creating your own favorites and there's lots of great options built in. You also can program many buttons to put your favorite features at the tip of your fingers, or into the blasted Fn menu should you be so inclined.
While this camera touts a cool "Pixel Shift" feature described in the video above, the lack of in-camera support of it was enough of deterrent that I didn't bother with it. Perhaps if Lightroom took advantage of it, I might be interested, but currently it's not for me unless I have a moiré pattern issue AND the opportunity to go back and shoot the subject again with this feature to address the problem. It doesn't seem practical as is for everyday use though.
One negative change from its predecessor is that you can't use Sony's in-camera apps which means you lose the only way it previously supported doing time lapse photography. I had hoped that the PlayMemories Mobile app would have this feature, but I didn't see it when testing in December 2017.
First Look - Real World Shots
I've only had a few hours to play with this camera, so here's some early shots. However, I'd like to point out that these are all the 100% unedited in-camera 8-bit sRGB JPEG's shot in bad light (ISO's 2000 - 8000). All shots are handheld with the standard creative style and auto white balance (ambience) unless otherwise noted.
To quote my friend Douglas Dubler, any mammal can see this camera has excellent dynamic range.
All shots are copyright Ron Martinsen - All Rights Reserved. You can review them while your web browser is open to this article, but you may not edit, print, save, link, or re-publish them in any way without written consent.

f/4 @ 90mm for 1/200 sec at ISO 3200
Are you f'ing kidding me? Look at how much detail is in the highlights in the jpeg and I haven't even touched the RAW yet! Look at that incredible bokeh despite ISO 3200!

f/4 @ 90mm for 1/200 sec at ISO 2500
If there's a fault to this camera, the dynamic range is so wide that it can make specular highlights vanish! This leaf is wet and in the light and no filter has been used!

f/2.8 @ 90mm for 1/500 sec at ISO 4000
It's true this a macro lens, but the resolving detail of this sensor and lens combo means every shot is like a science lesson!

f/5.6 @ 90mm for 1/200 sec at ISO 5000
Vivid mode with shade white balance gives nice warm tones that in this case create an image that is identical to how my minds eye saw it. Look at all of that splendid detail!
See the camera default color here

f/5.6 @ 90mm for 1/200 sec at ISO 2500 -1 EV
Same color settings as the previous shot and with a little under exposure, every detail in the highlights of the log moss is very detailed

f/5.6 @ 90mm for 1/200 sec at ISO 2000
This time with default color settings, but zoom in to 100% and it's like going to biology class and looking at the leaves under a microscope

f/5.6 @ 90mm for 1/200 sec at ISO 2500
The detail in the highlights of the rocks is unlike anything I've shot with before. Sure, this shot is in bad need of a circular polarizer, but this handheld in-camera 8-bit sRGB JPEG shot shows great details in the shadows and darks

f/5.6 @ 90mm for 1/200 sec at ISO 5000
Once again, 5000 ISO - in-camera 8-bit sRGB - holy cow! The wet leaves lack the typical hot spots you'd get unless you used a circular polarizer, yet I didn't. Very impressive!

f/4 @ 90mm for 1/200 sec at ISO 800
A nice example of the contrast between smooth bokeh and crazy sharp detail

f/2.8 @ 90mm for 1/200 sec at ISO 5000
While this is a little underexposed for my taste, the default exposure with auto white balance (ambiance) did result in nice skin tones. The bokeh from this lens made the messy background vanish as well

f/2.8 @ 90mm for 1/200 sec at ISO 5000

100% crop of the eye from the from the above shot. Sony's auto eye AF absolutely nailed the pupil in horrible light while my daughter was dancing around

f/2.8 @ 90mm for 1/200 sec at ISO 3200
This was like the 6th frame I shot with this camera and it was the typical shoot a photo at the closest thing next to the box when opening it up. I was immediately impressed with the detail and rich colors

f/2.8 @ 90mm for 1/200 sec at ISO 8000
Since this is a macro lens, I went in closer and was highly impressed - especially given the resolution of this camera. I couldn't do this shot handheld and get this kind of sharpness out of the highest resolution Canon and Nikon cameras
First Shots from Douglas Dubler
At the same time I am reviewing this camera, so is industry legend Douglas Dubler who destroys most photographers with a simple point and shoot. He is world famous for many things, including his ballet shots, so these photos come from his first test with the a7R III . He was simply blown away.
The following photos edited by the incredible photo editing master, Irfan Yonac, are used with permission and highlight what this camera can do in very low light.
Follow Douglas on Instagram for more photos.
Handheld Video
I don't do video as everyone who follows me on this blog knows, but that said here's a couple handheld videos that I tossed on YouTube (which completely destroys the quality):
Sony a7R III Unedited Video - XAVC S 4K 30p 60M
Sony a7R III Unedited Video - XAVC S 6MBs 30p 120fps S&Q
Terrible conditions, low-light, roughly ISO 2500, but still you can see this is nothing to sneeze at.
Conclusion
See part II for my full conclusion, but it's already safe to say that if you were on the fence about getting one of these my recommendation is an resounding YES! The dynamic range is simply incredible and with a lens like the Sony FE 90mm f/2.8 Macro G OSS, magic is sure to follow.
Despite my significant investment in Canon, I am seriously wishing Santa would bring me one of these cameras - it's that outstanding. Simply put, nothing I've tested - including Phase One and Hasselblad medium format digital cameras - comes even close.
Where to Buy?
CLICK HERE to learn more or buy the a7R III today.
CLICK HERE to learn more or buy the 90mm.
Other articles you may enjoy
If you enjoyed this article, you may also enjoy these:
Enjoy these and more on the Reviews tab as well as Ron's Recommendations.
Disclosure
If you make a purchase using links found in this article, I may make a commission. It doesn't cost you a penny more, but it does help to support future articles like this.