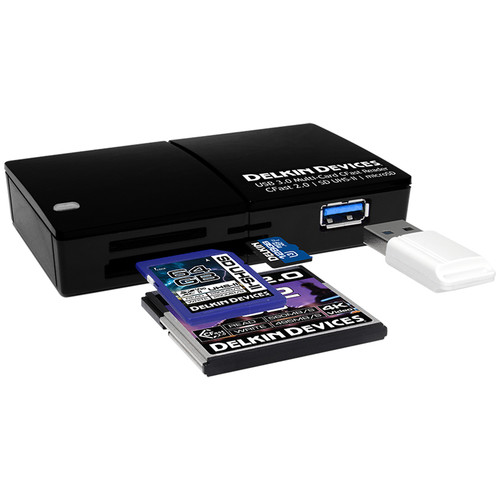 Delkin Devices USB 3.1 Gen 1 Multi-Slot Memory Card Reader
When I got my Canon 1D X Mark II I ordered the kit bundled with a Sandisk CFast 2.0 card and reader which turned out to be a wise move as the cards were very scare and the reader is still near impossible to find in-stock. Since that time people have asked me countless times if there's any other brand of CFast 2.0 card and/or readers that I recommend, but I didn't have anything to suggest.
As luck would have it, my friends at B&H reached out to ask me if I would be interested in reviewing Delkin's new CFast 2.0 card and reader and I was happy to oblige.
Now if you are like me there's pretty much only two questions you have about memory card readers and that is "how fast is it" and "will it last"?
Well I'll start with the second question first and say that I've only had this product for a couple weeks so obviously I can't speak to long term durability, but I've seen nothing to suggest that either one is externally much different than their Sandisk counterparts in my camera bag.
Performance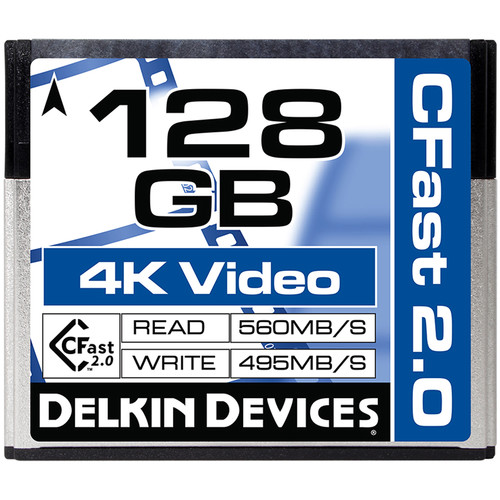 Delkin Devices 128GB Cinema CFast 2.0 Memory Card
To test performance, I transferred 58.6 GB (62,934,351,872 bytes on disk) from my combo of JPEG+CR2 RAW files taken on a recent shoot in South Korea from my Sandisk CFast 2.0 card to the Delkin card.
Test 1 - Sandisk Card Reader
Using my Sandisk Card CFast 2.0 Reader connected to a USB 3.1 slot on my WIndows 10 machine, I observed that the Delkin card took 3 minutes and 17.24 seconds to transfer the data to my new and and near empty Samsung 1TB 960 PRO M.2 Internal SSD at a transfer rate that averaged 297 MB/sec.
The SanDisk 64GB Extreme PRO CFast 2.0 Memory Card was faster at 3:07.27 and 313 MB/sec.
Test 2 - Delkin Card Reader
I repeated the same test using the Delkin card reader and with the Delkin card the transfer time was a little slower at 3:24.21. Once again the Sandisk card was faster at 3:16.68, but it was slower than with the Sandisk reader.

Conclusion
I repeated both tests 3 times and got near identical results, so I feel confident in saying that the Delkin card and reader were both a little slower, but both performed equally well in my Canon 1D X Mark II which seems to not take advantage of the improved performance of the Sandisk card.
Both cards were excellent 4K movies at the fastest FPS and bit rates possible.
In the end I did switch from using the Sandisk reader to the Delkin reader because its front USB 3.1 slot means that I don't lose a slot when I have my reader plugged in. Previously I always had to connect and disconnect my reader which was annoying.
I also preferred the Delkin reader because it took the microSD's for my DJI Phantom IV drone and the SD card I use for a variety of purposes and devices in my household. Now my desk loses two readers and doesn't lose any USB slots.
I also found that the Delkin didn't get hot and cook my cards like the Sandisk did, so if this was a problem you experienced too then the tradeoff of slightly slower performance might be worth the longer life you are likely to get out of your cards by not cooking them.
I'm happy to have had a chance to try these out and I'll definitely keep the Delkin card in my bag. What's more, with the Delkin cards offering 2x the space as the Sandisk, I'm likely to pick up a few more of them too!
Enjoy these and more on the Reviews tab as well as Ron's Recommendations.
Where to Buy?
CLICK HERE to learn more about the card reader and CLICK HERE to learn more about Delkin CFast Memory Cards.
Disclosure
If you make a purchase using links found in this article, I may make a commission. It doesn't cost you a penny more, but it does help to support future articles like this. I was given a card and reader to keep as part of testing these devices for this review.