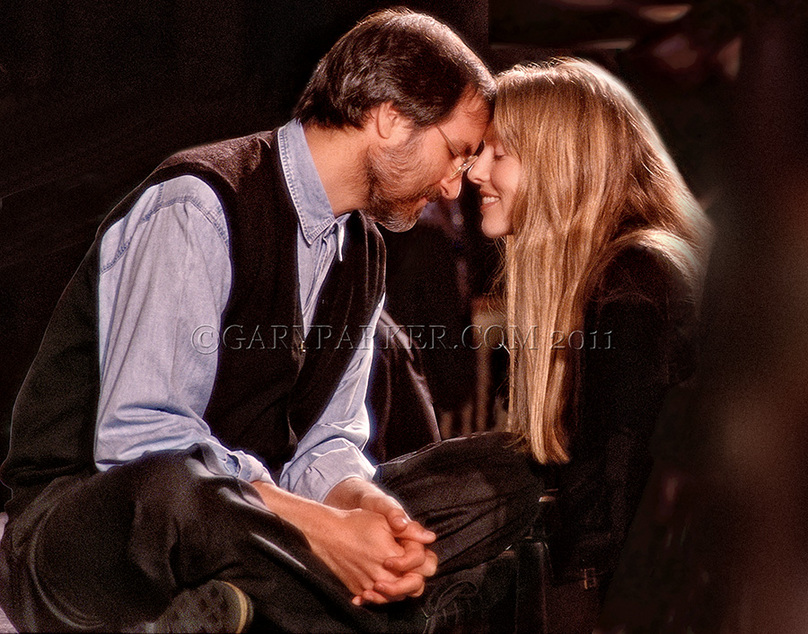 Copyright Gary Parker – ALL RIGHTS RESERVED
It was about 9 pm in the evening when my studio phone rang. I answered casually instead of with my official business voice and name. The voice on the other end asked, "Is this Gary Parker?" then "Hi Gary, this is Steve Jobs. Great picture you made of Laurene and me yesterday! Can I get a copy to give my wife for Christmas? Really nice job, man!"
I wasn't really expecting a call from Steve Jobs… Sweet!
Steve was not famous for his complimentary style – yet this is exactly why he called! He could have let his people simply order a print. Cool!
In all truth, I thought Steve might be calling to chew me out for defying his instructions by making flash photographs the day before at a worldwide Apple product release. The problem was I made strobe pictures after Steve's people directly relayed his last-minute instructions, "No flash…" (Steve hated strobes) I wondered if maybe Steve was calling to personally fire me out loud?!!! Was I about to be fired in a burst of fury by a world icon?!!!
This phone call from Steve Jobs came just one day after August 15, 1998, the day he announced the release of the original iMac, those groovy psychedelic, vividly colorful computers that dominated the end of the millennium. NOT your Grandmother's ordinary beige computer…
At the time, Apple's stock was around $25/share and as it turned out, incredibly, this was the very product release which began the amazing turn of Apple's fortunes by becoming the best selling computer in the world! Steve's excitement about the release was smack on the money! Steve Jobs really did know a big deal when he had one in his ragged, holey cutoffs… (Steve's rumored dress code at the office…)
The fact this picture of Steve and Laurene exists at all is remarkable since it's lit with a ceiling full of large strobes – even though Steve was literally famous amongst photographers for truly despising flash. Of course the truth is I was excited about lighting this large venue – just for fun – and because it was for Steve Jobs and no telling what new product, whatever, it was bound to be cool.
I also felt the place needed to be fully lit. What a great opportunity to make the kinds of crisp images you get with the increased apparent sharpness and contrast of multi-strobe lighting!
I was initially shocked when my Apple contacts called to say Steve AGREED to let me light the large venue, though only because this product release was SO BIG. Really big…
I was stunned, in disbelief by a "yes" answer to strobes. Steve had been known to stop live worldwide satellite feeds to chew out photographers when strobes were fired after his "1st minute only" flash curfew. Steve really really really hated flash of any kind! YET he was going to let me light this big worldwide product release??? Hmm… No way… I just couldn't believe it… Each day as the event approached I called my Apple contacts to make sure lighting Flint Center was still ok by Steve.
My big-huge-gigantic FEAR was we'd show up, spend hours sweating over custom lighting this entire event center, climbing rafters, only to have Steve pull the plug at the last minute. Yet, by the day of the event, I'd been assured, reassured and double-dog-rest-assured lighting the place was fine by Steve – this was something REALLY BIG! I bought in…
On the day of the event just before daylight my talented assistant, Andrew Nielsen, and I showed up to light the place for a 10:30 worldwide keynote with satellites pointing in all directions as if Captain Kirk was materializing as a guest speaker. By 9:30 am, five 2000 watt-second power packs and 12 strobe heads were mounted, tweaked to my desired settings, tested and double tested - good to go with an hour to spare!!! The stage and crowd were lit to perfection! I was in the most perfect location. Good to shoot in all directions. Nice, yet still just a wee bit antsy…
Sure enough, 60 seconds before Steve took the stage, I notice his personal assistant up to whisper, "Steve changed his mind. NO STROBES." SAY WHAT????!!!! (long string of expletives deleted!!!!) There I sat, stoked about making the best pics of Steve Jobs ever made on a stage and suddenly the plan changed entirely with only a literal single minute to switch gears and decide what to do?!!!!
The obvious only-recourse was to increase the ISO of the early-digital Kodak/Nikon digital camera to a noisy ISO 800 and push the Fujichrome 100 two stops to ISO 400. Since the stage was not brightly lit, this meant I could only shoot Steve at peak moments – when he paused or reached the apex of a gesture – at around 1/30th of a second with the 300/2.8 wide open to f2.8. Fortunately, Steve made many emphatic points, which required a prolonged gesture. From a tripod that meant I got lots of peak moments, yet back to a more risky natural light look, rather than the easy, crispy edge strobe look I was expecting.
So, it seems a bit ironic this sweet picture of Steve & Laurene Jobs made after the event is the only image made with flash, even though the lighting was intended for the entire grand Apple event.
Still it was ALL well worth it if only for this one priceless moment as Steve plopped on the edge of the stage once the auditorium had cleared. Laurene approached to softly connect with Steve for a good long head to head moment. Sweet… This was just time enough for me to whip my trusty Pocket Wizard out of my pocket, toss up the 300 2.8, and fire three quick frames – with ALL THOSE STROBES - until Steve shot me a murderously piercing glare… YIKES! Fade to black…under the stage…
It occurred to me that this glare may well have come with a twinkle, since my suspicion was Steve intuitively knew exactly what I'd photographed, as he and his wife shared this rare public moment, head to head, soul to soul.
About Gary Parker (by Ron Martinsen)
Gary Parker is on of my favorite photographers and this photo is just one of many in his portfolio that make me go "WOW"!!! Not only is Gary talented at photographing people, but his pet photography at CatDogPhotography.com is going to look familiar to you if you've ever owned a pet.
Among Gary's long list of accomplishments is being a member of the Pulitzer Prize-winning Team for the San Jose Mercury News coverage of Loma Prieta Earthquake; Southern Photographer of the Year; and Newspaper Photographer of the Year (twice!).
As you can see from this photo and hear from this story, Gary is a man that knows how to get the shot! You can learn more about another one of Gary's photos in his LEARNING FROM THE PRO'S: Gary Parker on Having Fun on a Commercial Dog Shoot article.
Gary Parker Workshop
If you'd like a chance to learn how to make great shots from Gary, he and Ron will be doing a workshop in Seattle in May. Click here to learn more.