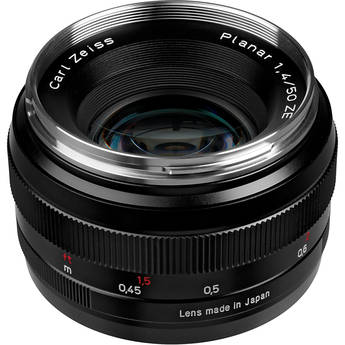 Zeiss Normal 50mm f/1.4 ZE Planar T* Manual Focus Lens
for Canon EOS Cameras
While I was out shooting with one of my private training clients this past weekend, we decided to do a simple real world test of his new Zeiss 50mm lens versus my Canon 24-70 f/2.8L II lens at 50mm. We were shooting this waterfall shot next to each other so we thought it would be fun to see if there was much advantage to the Zeiss prime over the new Canon zoom.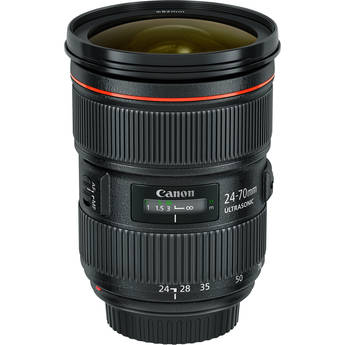 Canon EF 24-70mm f/2.8L II USM Zoom Lens
After my client took his picture with a 1D X using his lens, we repeated what we had done by using my lens in the same spot so I could get the same shot. Given the length of the two lenses we had to compromise on position which resulted in some slight differences in the image position. To resolve these differences I simply loaded the images into Photoshop as layers and let it align the images as shown here:

Guides were used to set the common overlap, then the excess was cropped
In both cases the camera was stabilized, manually focused using 10x Live View, and mirror lockup was on as was the 2 second timer. The test exposure was f/16 for 1.6 sec at ISO-50. While I recognize this introduces diffraction, the idea was to see which lens was sharper at f/16 – even with diffraction.
I toggled the layers back and forth and I used a layer mask to poke holes through to the other layer to examine the top two layers. The JL image was the Zeiss image and the other two were mine (more on the bottom layer later). What I found was that the detail in the back of the image was significantly sharper with the Zeiss (duh), so much so that if found myself having Zeiss envy – ha, ha!
The Results
The image above represents a 100% crop taken from the CR2 (RAW) file of both images from Lightroom 4.4 with the default settings. There was no camera shake for the 1.6 sec exposure for either image and mirror lockup was used with the 2 second timer. As you can see the Zeiss was quite a bit sharper when focused at the same point in the center of the image.
As you can clearly see the Zeiss is significantly sharper, so I wondered if I took another shot with my manual focus optimized for the rear of the image if that would help. As you can see below the second Canon shot was much sharper than the first that had focused in the middle:

Canon Top (focus center) AND Bottom (focus on tree) – separate exposures*
The problem with the focus to the rear was that it increased the exposure to 3.2 seconds because the evaluate metering mode indicated that the scene was darker so a longer exposure was necessary. I had forgotten I was in Av mode when I was doing this test so I regretted not doing this in manual to avoid that difference. The result here was that the Canon was almost as sharp as the Zeiss, but still softer.

Zeiss - Top, Canon (2nd shot – rear focus) – Bottom
To my eyes the Zeiss was still sharper up front, but not by much.
But what about…
I know this article will generate a bunch of questions like:
But you should have compared it to the Canon EF 50mm f/1.4 USM Autofocus Lens…
Did you compare it to the <insert some other 50mm lens here>
Why didn't you do bookshelf shots?
Why didn't you test other apertures and avoid diffraction?
The answer to these and other questions are quite simple – this was just an informal test done while we were out shooting. I wasn't able to do testing in my studio, and I don't own any Canon 50mm prime lenses anymore. This is what we had, so we simple compared with what we had on hand.
I knew the Zeiss would be sharper than the zoom, but I was curious to see if it would make much difference once diffraction kicked in. This is why I intentionally and only tested at f/16.
You can pixel peep to your hearts content with these JPEG's created from the RAW files.
Conclusion
This was all just a fun exercise to informally see how much better the Zeiss prime lens was over the zoom. The differences are so subtle that sharpening would probably make it hard to tell the difference between the two unless they were viewed side by side as very large prints.
I wouldn't give up my auto focus Canon zoom lens for the differences seen here, but if I was a landscape shooter I'd probably consider the Zeiss (after comparing it closely to the Canon 50mm f/1.4 prime).
My client also had the Zeiss Distagon T* 21mm f/2.8 ZE Lens for Canon, Zeiss Makro-Planar T* 100mm f/2 ZE Lens for Canon, and Zeiss 135mm f/2 Apo Sonnar T* ZE Lens for Canon on this trip. My subjective, not scientific, opinion was that all of these lenses performed very well against their Canon counterparts – except the 21mm which had above average vignetting problems even without a hood or filter. They were all super high quality with fantastic German build quality that really made me want to own any or all of them, even though my lenses are good enough for my needs!
Where to order
Click here to order the Zeiss Normal 50mm f/1.4 ZE Planar T* Manual Focus Lens for Canon EOS Cameras at B&H, or click here to buy the Canon EF 24-70mm f/2.8L II USM Zoom Lens.
Other articles you may enjoy
If you enjoyed this article, you may also enjoy these:
Disclosure
If you make a purchase using links found in this article, I may make a commission. It doesn't cost you a penny more, but it does help to support future articles like this.