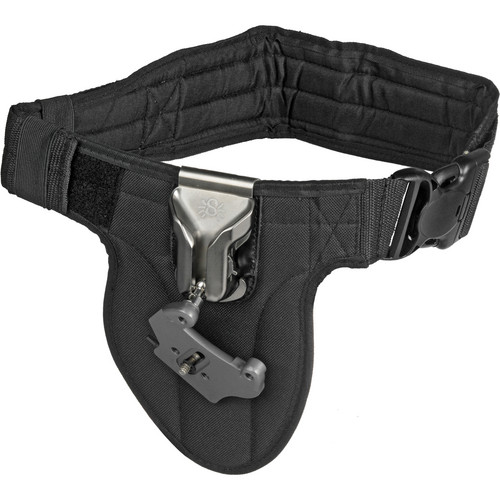 Spider Camera Holster SpiderPro Single Camera System
For a few years people have been asking me to Spider Camera Holster series of products, but with so many products to review I've never got around to it. I'd also been very happy with my BlackRapid products so I didn't see the point.
This past March in Las Vegas, I had the opportunity to finally get to see this product in action and I was impressed. With all of the good things I had heard about it in the past I decided it was time to finally give a try for myself.
Here's a little video of my first impressions of both the elegantly designed holster and the handy Spider Monkey that I love for my flash:
This product is extremely well built and designed. My long-term testing found that it does put a lot more stress on my back when used as I had it configured, so I found myself avoiding it and going back to the BlackRapid system. I do think that if I had shoulder straps that took the weight off the waist it would have easily resolved the problem. I should also note that I have a very bad back with a pinched nerve, so this problem may not bother someone with a healthy back at all.
In all my testing, even with the lock disengaged, never once did I have the camera accidentally come out of the holster. While the holster was too awkward to use while sitting in a car, the camera still stayed put. When used as directed, it works great – exactly as promised.
Conclusion
This product is extremely well engineered and the price reflects that reality. While I was disappointed that I couldn't keep it on while I rode in the car (something that I often do with my BlackRapid strap), the flexibility of not having a strap was liberating. In addition, the support for dual wielding, which is something you can do with straps, makes it a brilliant choice for sports photographers.
The addition of the spider monkey also made it a great choice for event / wedding photographers as I loved being able to carry my battery pack and have them more readily available than I do with my Think Tank Photo modular system.
While I'll stick with my current BlackRapid RS-Sport and ThinkTankPhoto Modular Components configuration due to my back problems, anyone who likes the idea of being untethered should be very satisfied with this product. I highly recommend it for those are willing to pay a little more for being untethered or those who want a solution that allows you to hold two cameras at once.
Where to order
Click here to learn more or order on the B&H web site. My friends at Amazon have it available here.
Other articles you may enjoy
If you enjoyed this article, you may also enjoy these:
Disclosure
If you make a purchase using links found in this article, I may make a commission. It doesn't cost you a penny more, but it does help to support future articles like this.