Professor Parker was a big hit
My workshop with Gary Parker was held this past Saturday and by all accounts it was a great success!
Great Co-Instructor
Gary wow'd students with lots of practical tips and advice you are only going to get from a seasoned pro. Here he is demonstrating one of his tips using a Leica Tabletop Tripod with Ballhead in a way that blew everyone's mind – including mine:

Add a tabletop tripod to my wish list now
Great Model
The lovely Raia was on-hand as our model and she was fantastic as usual. From swimwear: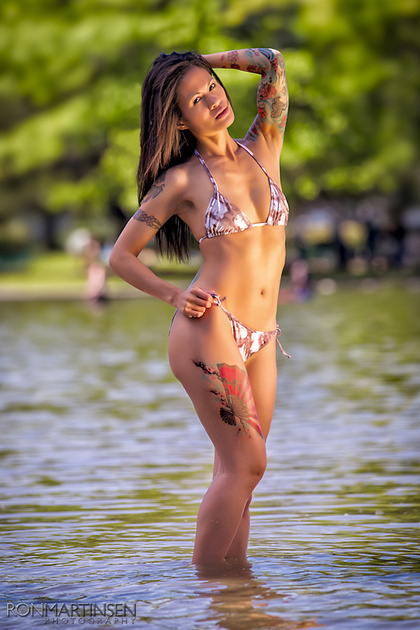 to wild wear:
to Memorial Day BBQ clothes:
She was super patient and so versatile that everyone – including myself and Gary – that we ended up running late. I'd like to shout out a big thanks to Raia for being such a trooper on this holiday weekend!
Great Assistant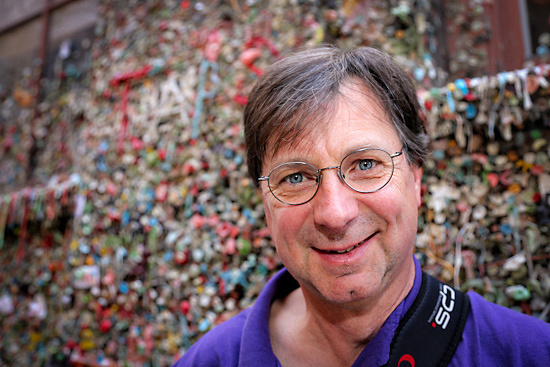 Luc - The Best and Most Friendly Assistant / Instructor
One of our students was so happy that she asked if we could do another workshop in the Bay Area and in Turkey. That's cool, but the more impressive fact is that she specifically asked for Luc to join us as she felt he was a critical part of the team. I couldn't agree more, and if we take this show on the road I'll definitely be giving Luc a call!
Great Locations

Two students wanted to learn how to catch the fish with their camera
The park was fantastic and surprisingly not as busy as we expected it would be. However, the crowds were in full force in Seattle but that just gave us more opportunities to do things like take photos of flying fish much faster! Of course a trip to the market wouldn't be complete with some instructions on shooting flowers as well:

The market never disappoints when it comes to flowers
Because I teach I don't actually spend much time grabbing shots for myself, so the above flower shot may not be textbook but it turned out okay given that its only one of 2 frames I had time to take (while I was teaching a point).
We also had great fun doing street photography with random people like these: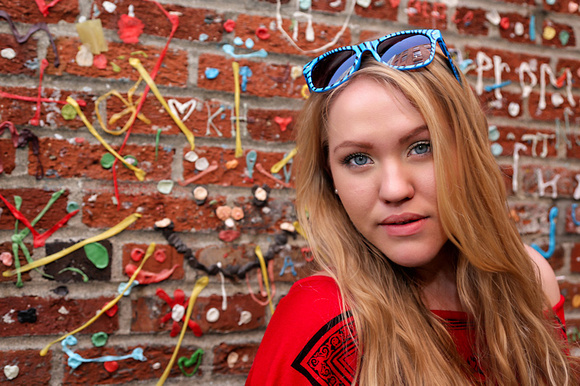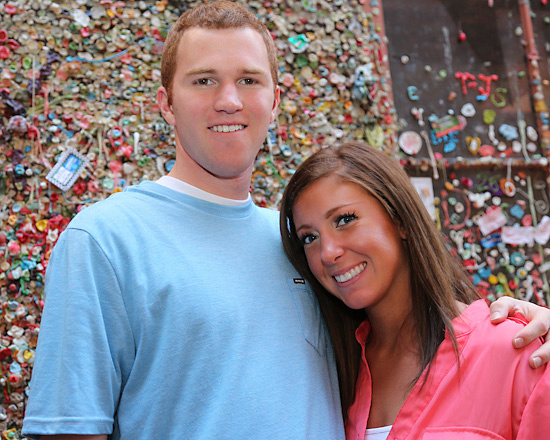 If you know this couple, tell them I have a shot for them
Great Students

Standing in for Raia for a camera check is always dangerous with me. ;-)
While this student may not look super happy here, it's only because he didn't expect my quick snap to test my camera as Raia was changing would end up on the web. ;-) All the students were ready and willing to try new things as the day progressed.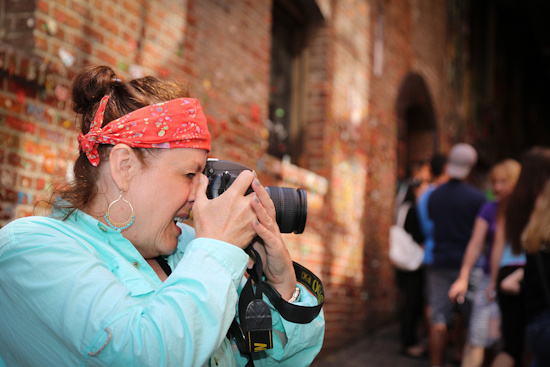 I'm pretty sure this is your next photojournalist of the year at some point in the future!
Everyone had a nice collection of keepers that I hope to show you in the upcoming post-mortem article. In the meantime I've included my shots to show you how much fun we had and to force the rest of the students (and Gary) to get some shots to show to you as well!
Future Workshops
If this seems exciting to you, then let me know as I prepare future workshops. As of right now my next workshop will be in Kyoto Japan in early December, but there may be more so if you are interested then let me know.
Disclosure
If you make a purchase using links found in this article, I may get a commission.