One beautiful, sunny but mild California day we played on a remote beach near Santa Cruz with our dog Smarty Jones, then crossed Hwy 1 between Santa Cruz and Half Moon Bay to have a burger and a brew on the outdoor patio of a bar & grill facing the sea, watching the perfect sunset and the sun quickly dipping down to the sea.
We sat in what felt like the patio on the edge of the world, only maybe 50 yards from the Pacific, watching the sunset, enjoying sitting in a chair after a day of running around making photographs of our athletic son and Smarty Jones, our Golden Retriever.
Perfect, for sure, BUT is there a picture here? Looking for any cool person, place or thing to photograph is always the constant photographers quest. I sat, looked and pondered. Something to photograph always presents itself…
The view was incredible as the sun slowly sank to become a tiny sliver of brilliant light then – poof – it disappeared into the sizzling sea as twilight faded while still illuminating things just a tiny, wee bit. The neon beer signs behind us reflected onto the cars, creating a cool glow of color reflecting from shiny paint jobs.
Suddenly a car drove up, it's good-fun occupants bailed out for their own burger & brew, then a gorgeous snow white American Bulldog presented itself in the driver's seat, clearly concerned with where his owners went, possibly pondering why he'd been left alone out in this slightly scary place. Silently, attentively the dog sat, snow white – looking like a white ghost glowing out of darkness – his gaze glued to his owners inside the bar & grill, a mellow sentinel, though one who could most likely bite your your leg off... (American Bulldogs are the largest bulldog and, though often good natured, are known for extreme strength and power.)
It was too cool a moment not to photograph, yet it was seriously DARK, way too dark to hand-hold my beach camera, a Canon 1Ds Mark II with the Canon 85mm/f1.2 lens I've learned to love, mostly. The camera was an old but good one, bearing an incredible but sometimes hard to "get sharp" lens. Having owned most major camera brands over the years, I have never seen a lens quite like the Canon 85mm/f1.2 lens. This lens alone will not make you a good photographer but is a great and serious tool in any good photographers arsenal.
At f1.2, the Canon 85mm f/1.2L can be very difficult to use and know without doubt you have a sharp photograph, considering there is no depth of field at that shallow aperture. Since digital cameras often back focus, any such issues result in an awful, dreadfully unusable frame. It's a serious task to get lots of sharp frames at f1.2, so using that aperture is always a risky proposition, even in sunshine.
Another problem is it was dark and I had no tripod. Technically, there was one across the highway in my truck but this was a "now moment." It was much more fun to risk the shot than sprint for a tripod and risk the dog laying down to take a nap during my mad dash.
I set the camera to ISO 1600 and the lens to f1.2. Since I didn't have a tripod, I sat the camera and lens on the 4' concrete wall next to our patio table.
The bare tinge of twilight, coupled with the glowing neon beer signs, gave me the minimally acceptable shutter speed of 1/20th second. In order to resolve the "no tripod" problem, to keep the camera from moving during the exposure I physically put my weight on the camera from above, basically pushing down on the camera so it could not move, and fired off several frames – while holding my breath - and refocusing a couple of times, to hopefully insure sharpness at this incredibly risky, extra-shallow depth of field.
The resulting American Bulldog image is surprisingly sharp and, after a bit of processing, ended up one of those color cool photos I love yet might easily have missed, had I not thought to turn a short brick wall into a tripod, to focus the camera manually for more accurate focus in the dark and by yet again being treated to seeing the amazing miracle of photography turning night into day or, at least, night into a cool, found-moment bulldog image!
Check out some of Gary's guest blogs here:
Workshop With Gary in Seattle
Gary Parker and Ron Martinsen are teaming up to teach you how to make great photographs of people outdoors in Seattle, WA on May 26th, 2012. Click here to learn more about our workshop!
About Gary Parker (by Ron Martinsen)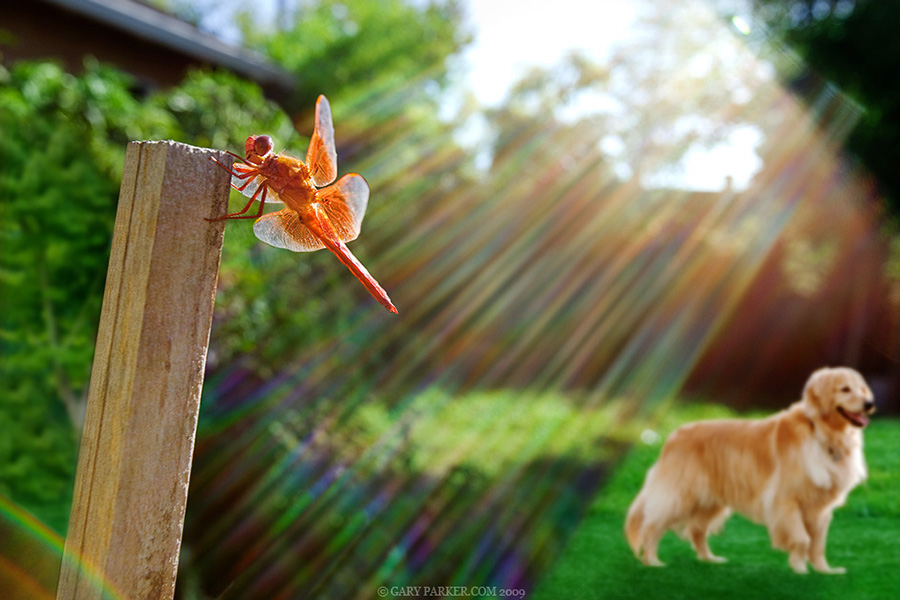 Gary Parker is one of my favorite photographers and this photo is just one of many in his portfolio that make me go "WOW"!!! Not only is Gary talented at photographing people, but his pet photography at CatDogPhotography.com is going to look familiar to you if you've ever owned a pet.
Among Gary's long list of accomplishments is being a member of the Pulitzer Prize-winning Team for the San Jose Mercury News coverage of Loma Prieta Earthquake; Southern Photographer of the Year; and Newspaper Photographer of the Year (twice!).
Disclosure
This article contains one or more links that may result in a commission if you make a purchase.