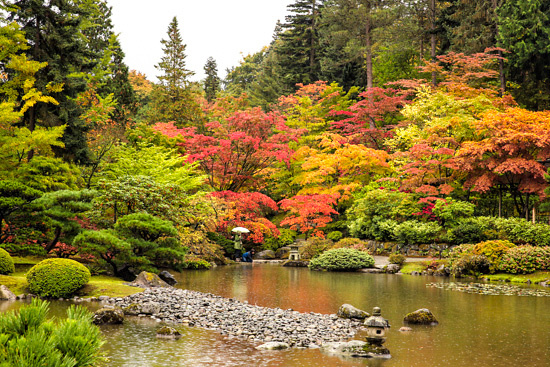 Canon EOS-1D X, f/13 @ 70 mm (24-70mm f/2.8L II),1/100, ISO 1600
The Fall colors are out of this world in Seattle right now. How are they in your area? Post your favorite fall colors shot you've taken recently to the ronmartblog.com Flickr group or Facebook page and let's see the beauty of your area! I'd especially love to see shots from all around the world (you hear that readers from Japan, UK, Germany and Russia?).
This image was editing using Color Efex 4 which as great filters like Foliage, Skylight, Tonal Contrast, Polarization and more to help make your fall colors pop as much as you want. You can find a discount for Nik Software on my discount coupon code page.
A word about saturated colors and resizing
I intentionally did this one a little over the top to exaggerate the variety of colors in the shot, but downsizing it and converting it sRGB will exaggerate your colors even more (as pixels are discarded). To keep it from having that oversaturated HDR look (and this isn't an HDR), then you'll want to desaturate it about 20% to give it a little bit more of a believable look. To see the difference, hover over the above image for a less punchy version. (NOTE: Internet Explorer will typically show the most extreme saturation, with Chrome showing the most accurate color. Firefox tends to show colors more washed out).
You'll also notice that this image has a lot of detail so when you resize it all of that detail gets crushed which makes the image look soft and kind of blurry. This is why your great foliage images are best shown big, so be sure to print out your favorite images at 13x19" or larger. I like the Epson R3000 or Canon PRO-1 for personal sized prints at an affordable price, but the best results are found on the pro printers featured in my printing series on premium fine art papers like Epson Exhibition Fiber or Red River Polar Pearl Metallic.
Disclosure
If you make a purchase using links found in this article, I may make a commission.