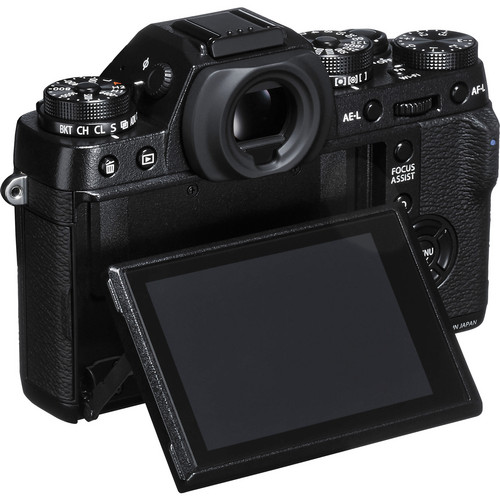 Fujifilm X-T1 Mirrorless Digital Camera
I've reviewed a lot of Fujifilm products, and there is no question that the X-T1 is an impressive camera on many levels. I'm not ashamed to admit that over time I've become a bit of a fan boy of the X-Series simply because they do so many things right. However, I also review a lot of cameras from other makers so I'm not blind to the fact that these cameras are far from perfect.
On paper this camera seems to be the perfect one and when I look at the images I'm very satisfied with what I see, but I'm also a X-E2 owner so is this one so much better that it warrants an upgrade?
To find out I decided to do an extended review which is much longer than I often allow for a camera. This was partially due to my busy schedule, but also because I wanted to really live with this camera as if it were my own and see if it one that I'd keep or return. As a result, I had to break up my review into three parts and honestly I probably could have done a fourth. Here's the first two:
While I tested with the very respectable Fujifilm XF 18-55mm f/2.8-4 R LM OIS Kit Lens lens, my love for the x100s and rumors of the awesomeness of the Fujifilm XF 23mm f/1.4 R Lens had me reaching for the 23mm more often than the kit lens. Sure, I eagerly await the chance to test the Fujifilm XF 56mm f/1.2 R Lens, and Fujifilm XF 10-24mm f/4 R OIS Lens, but I didn't have a chance – for now.
I loved this camera in many ways, but there were also things I hated which had a significant impact on my final opinion. Read on to see what I loved and hated about this camera.
Burst Mode Performance

f/4 @ 46.3 mm, 1/350, ISO 12800, No Flash (18-55mm)
I tried a variety of scenarios and I was very pleased at the burst mode performance of this camera with the continuous auto focus mode engaged. It did an above average job of detecting the right subject and tracking that subject sufficiently as well as sufficiently switching when I'd want to if I were personally controlling the innards of this camera. The buffer was slow to fill which meant that I could rattle off 22 images with RAW+JPEG Fine enabled before the buffer would hiccup. At 8fps, that's enough to catch most action situations. If you go just JPEG then I was able to get 46 before it dropped from full speed and nothing would cause the buffer to fill completely with either RAW or JPEG. Of course my test conditions are in blackness with manual settings so your performance in the real world will be slower, but the takeaway here is that this is very fast burst mode camera.
Here's more info from the creators at Fujifilm about this camera's excellent burst mode performance.
For my testing I used this card, but Fujifilm says maximum performance will be possible with a UHS-II card.
AutoFocus Performance Indoors

f/7.1 @ 20.5 mm, 1/60, ISO 2500, Flash
With burst mode and sufficient ISO this is the first Fujifilm that I feel comfortable recommending for parents as being suitable for kids. What's more it has a very good flash with a quick refresh rate that makes it great for capturing wild toddlers and pre-schoolers as shown above (in single shot mode only).
The fact that the flash can be used in single shot mode at a rate of about one shot per second means that parents can often get shots that would be impossible with many cameras they've used in the past.
With that said, all isn't not perfect in paradise. There were plenty of focus misses indoors as this camera struggles at times to find focus as I've always seen with Fujifilm cameras. A good DSLR like a 5D Mark III or Nikon D7100 will destroy it when it comes to AF performance, but in skillful hands with manual settings and sufficient contrast you'll typically get a keeper shot out of your burst mode series without the flash.
I wouldn't call this the perfect camera for parents, but it's definitely the best performing mirrorless I've used with my hyperactive son.
Bookshelf Test
The following sample images were all taken on a tripod with a timer and no flash. The images are not processed in any way (no crop, rotate, sharpen, nothing). These are the in-camera jpeg's that have simply been renamed and uploaded. You can click the photos to download the original files and you can visit the gallery to get more samples not featured in this article.

f/5.6 @ 23 mm, 5.3s, ISO 200 XF 23mm
While the gallery has shots with the 18-55mm kit lens, the best results are with the best lens so I'm focusing on the XF 23mm for my bookshelf comments. Simply put, this is a sharp lens with very good results that compare favorably to the Sony a7 but not quite as jaw dropping as the a7R. Since this camera is much more usable overall and has better in-camera processing (for those who care about the JPEG's), I'd personally take this camera over the Sony's – especially since Fujifilm has a better lens selection for the X mount cameras (compared to Sony's E mount).

f/16 @ 23 mm, 30s, ISO 250 XF 23mm
Like the x100s, this camera shows remarkably good image quality even when a sharp lens is closed down to its largest f-stop. The XF 23mm has a range of f/1.4 to f/16, and at f/16 it is pretty sharp edge to edge without a significant drop off as you'd see with cameras with optical low pass filters. Fujifilm claims on the x100s that they've virtually eliminated diffraction with lens modulation optimiser, and from what I see here I'd say they have accomplished it on the X-T1 as well. This is a huge feature for landscape shooters who want the depth of field without the tax of soft images.
Don't believe me? Click the two bookshelf images above shot at f/5.6 (the sharpest aperture of the XF 23mm lens) and f/16 (it's largest f-stop number). While the f/16 is a tad bit softer, I suspect that is more of a factor of the lens itself than the camera sensor. What's more, it's a very sharp image for f/16 that I'd have no reservations using for my own landscape shots. On my Canon cameras, I'll typically start to worry about diffraction after f/11 and use large f-stops with caution, but not with the X-T1.
ISO Noise

f/4 @ 23 mm, 1/10, ISO 6400 XF 23mm with Noiseware Landscape Preset
Click here to see the NR –2 version as it came out of the camera
As I've mentioned in most of my other Fujifilm reviews, if you want the best results at higher ISO for this camera you MUST set the Noise Reduction setting to –2. The in-camera noise reduction is horrible, so you'll be much better off using a product like Noiseware (Tutorial) to preserve the maximum amount of detail and remove the most noise. You can click the photo above to see the full size version with Noiseware's Landscape preset noise reduction or click the link below to see the full-size version as it came out of the camera with the –2 setting (which honestly would print just fine without noise reduction).
I'd classify ISO 6400 as suitable for commercial work with Noiseware and 12,800 & 25,600 usable for personal work. While people may find some faults in this camera, ISO noise shouldn't be one of them.
It should be noted that while Fujifilm advertises ISO 51,200, I only tested using the default camera controls up to H2 which maps to 25,600. H1 and H2 may be programmed to be 1 stop greater allowing for 51,200, but I saw no practical reason to test that feature. The quality I saw at 25,600 clearly is the maximum resolution I would feel comfortable using on a limited basis, and practical speaking I'd try to stay at 12,800 or less whenever possible.
Hands On Video Review
Fujifilm also has a great mini-site on this camera here. I encourage you to check it out, but come back here when you are done!

f/16 @ 23 mm, 0.6s, ISO 200, Tripod (XF 23mm lens)
The x100s sealed body means no dust spots as I ended up with here on the X-T1
While the lack of an optical viewfinder on the X-T1 might turn some people off, I'm glad that Fujifilm elected not to put the expensive hybrid viewfinder found in the X-Pro1 and x100s in this camera. The electronic viewfinder on the X-T1 one is so good that I honestly don't miss it, and the real-time exposure and focus peaking really deals with any concerns about low light scenarios.
I have despised electronic viewfinders (EVF's) because so many I've used have been terrible, but 2014 seems to be the year of the great EVF! What's more, the X-T1's is a lot bigger and better than any other models I've used. In fact, the EVF reminds me a lot of the optical viewfinder of my 1D X which is one of my all-time favorite optical viewfinders, yet it features more data and overlays than I get on my 1D X so I find it to be better overall.
Subjectively speaking, I'd call this viewfinder slightly better overall in terms of practical usability than the Sony a7/a7R, but the Sony's are very impressive too.
The focus speed, burst mode, and the lack of any shutter lag whatsoever make the X-T1 SIGNIFICANTLY better than any previous Fujifilm that I've used. The x100s is pretty good, but the fact that I can change lenses and still get better performance on the X-T1 than on my X-E2 really makes me love this camera.
As a video camera, Fujifilm's suck – big time. The Sony a7/a7R and just about any other camera wins that battle hands down over Fujifilm. You can see some video examples in the gallery here which simulate a standard consumer handheld video shooting result.

X-T1 Selector Buttons shown up top,
X-E2 shown at the bottom
The obvious place where the X-T1 wins hands down is its wealth of knobs that make it very easy to get the settings you want without fumbling through menus. This is great and it makes this camera one that's easy to love, but the damn selector button change makes that part of this camera totally useless. Given the importance of the selector buttons, this is the ONLY thing that holds the X-T1 back from being the best overall Fujifilm camera ever made.
Aside from that design which I very much dislike, the X-T1 wins hands down with a better grip and overall layout of all the controls. I've seen a complaint about the record button being too easy to hit, but I never accidentally hit it. I would prefer to see that button be programmable (which seems doable with a firmware update) so that I could change or disable its functionality, but personally it never tripped me up once.
Conclusion
I said in my first article that the selector buttons on this camera are so bad that I couldn't buy or recommend this camera due to this horrifically bad design, and I'm sticking to that. If it weren't for that horrifically bad feature, I'd declare this camera my 2014 Camera of the Year until something else comes along this year to take that title. This camera is THAT GOOD, but the selector buttons are THAT BAD!
The folks at Fujifilm are smart and I don't think I'm alone in my disdain for these unusable selector buttons. I'd personally pay money to change them out with the old kind (similar to feature upgrade programs Canon offered for the 5D Mark II/7D and Nikon offered for the D3). With that change I could easily see myself upgrading my X-E2 to to this camera because it's just so much more enjoyable to use in every other way.
Fujifilm has been great at listening to customer feedback and issuing significant firmware updates to improve their cameras. However, their response for the selector buttons issue has been puzzling.
I wish they'd offer an upgrade program to get the better buttons or crank out a new model (like Nikon did with the D610).
The selector button issue aside, if you are in the market for the best overall mirrorless camera money can buy the X-T1 is at the top of the list. Sure the Sony a7/a7R will win in some categories, but when you look at the entire user experience and system quality – the X-T1 is at the top of the heap.
If you haven't already, please be sure to check out the other parts of this review here:
Where to order
Click here to learn more or order it on the B&H web site. My friends at Amazon have it available here.
Click here to order the Fujifilm XF 23mm f/1.4 R Lens.
Other articles you may enjoy
If you enjoyed this article, you may also enjoy these:
Disclosure
If you make a purchase using links found in this article, I may make a commission. It doesn't cost you a penny more, but it does help to support future articles like this.
I'd like to thank B&H for loaning me this equipment for this review.