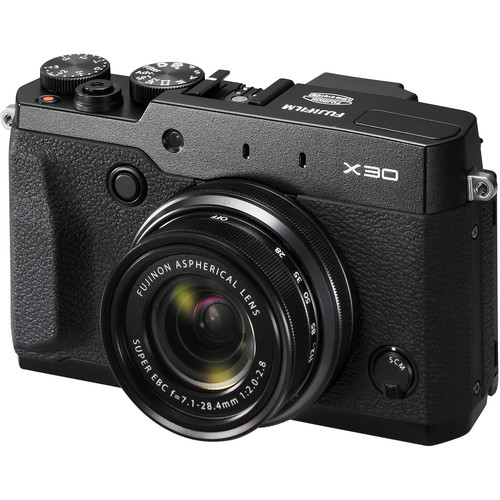 Fujifilm X30 Digital Camera (Black)
When I first got the x100 to review I remember thinking "wow, this thing is special" (despite my later disdain for the fixed lens). When the x10 & x20 came out I had high hopes, but the x20 (at least my silver one) seemed to pale in comparison the likes of a x100s. Fast forward to this third version and it appears that Fujifilm has got it right. The x30 feels like a camera that deserves its hefty price.
The changes are plentiful and noteworthy. From a proper electronic viewfinder to a huge new LCD and wonderful control ring, this camera feels improved from the ground up. The net result of all the good new changes means this camera is heavier (12.45 oz / 353 g for the x20 vs 14.9 oz / 422 g for the x30), but I like the solid feel. The selector buttons make a great clicky sound and this camera is loaded with new and greatly improved features from end to end.
I can confess that this cameras weight is actually a positive to me. It feels as solid as a German luxury sedan, yet it's super fast. All this new tech requires a bigger battery which doesn't help either. The x10 & x20 were never going to win awards for their bulky design, but it was so charming you looked past it. The x30 is a bit like a Lamborghini where it's big, bold and non apologetic about it!
I'll discuss more in my next installment, but so far this camera has definitely made me a big fan.
Real World Sample Images
If you read my Nikon D750 review, this gallery might seem like déjà vu! The reason why is because I duplicated many of the shots I took with the D750 on the x30 shortly thereafter.
While the x30 is no match for the dynamic range of the incredible D750, you do see the advantage of a small cropped sensor when taking macro shots thanks to the greater depth of field. It's also quite impressive how good many of these are when compared against one of the best DSLR's on the market.
If you are new to my blog, what follows are in-camera JPEG's with no modifications taken through the course of a normal day. The camera is mostly set to camera defaults but I do chose my AF single point and adjust the white balance as I see fit. Most shots are aperture priority but a few are using automatic modes as well. All but one shot long exposure shot in the gallery were also taken handheld.
You may view the photos for your pleasure, but please delete them and/or remove them from your cache when done. You may not edit, print, or otherwise use these photos. All rights are reserved. The full gallery can be found at http://photos.ronmartblog.com/fujifilm/x30.

f/2.2 @ 12.2 mm, 1/140, ISO 100, No Flash
This is one of those wow, I can't believe it's a "point and shoot" images. It looks so real and vibrant that I want to reach through the screen and grab it (especially on my 4k review display)!

f/2.8 @ 21 mm, 1/220, ISO 200, No Flash, Provia/Std Film Simulation
Fujifilm is known for great color, but as good as the standard Provia film simulation is, I still prefer the Velvia film simulation shown below. I use this often in my review because I just prefer the vibrant colors and deeper (sometimes shadow crushing) blacks

f/2.8 @ 28.4 mm, 1/220, ISO 200, No Flash, Velvia Film Simulation
Admit it, those leaves look pretty awesome with a simple film simulation mode change, huh?!!!

f/9 @ 7.1 mm, 1/850, ISO 100, No Flash, SP Sunset Mode
The x10 won my heart with the sunset shot I took in Hawaii with this auto mode (and a plate full of food in my right hand – ha, ha). In fact, that shot is still my Facebook cover page photo. The x30 didn't disappoint here either. While it naturally doesn't have the shadow detail of the similar shot taken with D750, I have zero complaints with this shot straight out of the camera

f/2.2 @ 10.4 mm, 1/125, ISO 100, No Flash, SR+ Mode
This camera is so good that I joked that I could just point it at the ground and press and it would make a vibrant and interesting shot. I think it did and that's what you want from this class of camera – you want good results so you can capture the moment and move on

f/4 @ 13.7 mm, 1/340, ISO 200, No Flash
The sunset was raining down some serious yellow on these trees so this is actually still Auto White Balance in Velvia mode

f/2.2 @ 12.2 mm, 1/170, ISO 100, No Flash
The macro mode is still just as addicting as ever on this one

f/2 @ 7.1 mm, 1/60, ISO 1000, No Flash
Despite being such a high ISO, I see photorealism that makes me want to reach into the screen and touch it. There's definitely an improvement in high ISO performance over the x10 & x20!

f/5 @ 7.6 mm, 1/30, ISO 2500, No Flash –1 EV
This was a case where I actually preferred the X30 results to the similar shot I took during my Nikon D750 review. With a point and snap it it managed to capture the vibrant colors of the trees very well yet still not get too dark for the train tracks

f/2.2 @ 12.7 mm, 1/20, ISO 400, No Flash, SR+
Clearly the beauty of the x10's EXR mode still isn't in this model It is sad too because the x10 nailed tough exposures like these

f/4 @ 10.4 mm, 1/30, ISO 3200, No Flash
ISO 3200 starts to show some grain but with a little Noiseware this shot is totally salvageable and impressive for a small sensor camera!

f/2.5 @ 18.7 mm, 1/40, ISO 800, No Flash
See my Nikon D750 review and notice how the Nikon needed ISO 12,800 to get this shot taken minutes apart. As a point and shoot it once again does a great job that I feel confident IS better than your new fancy smartphone (yes, even that one)
For more photos see my On Vacation with the Fujifilm X30 (Includes a Mom's 2 Cents) article and visit http://photos.ronmartblog.com/fujifilm/x30.
Conclusion
CLICK HERE for part II and my conclusion.
Where to order
Click here to learn more or order on the B&H web site.
Other articles you may enjoy
If you enjoyed this article, you may also enjoy these:
Disclosure
If you make a purchase using links found in this article, I may make a commission. It doesn't cost you a penny more, but it does help to support future articles like this.