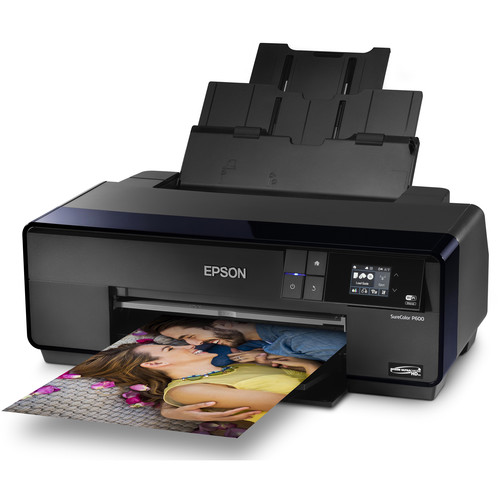 Epson SureColor P600 Inkjet Printer
PRODUCT HIGHLIGHTS
Max Resolution: 5760 x 1440 dpi
Max Printable Area: 13 x 129"
Borderless Prints up to 13 x 19"
Accepts Roll Media up to 13" Wide
9 UltraChrome HD Pigment-Based Inks
Auto-Switching Black Ink Technology
Tilting 3.5" Color LCD Touchscreen
Advanced Media Handling & Disc Printing
USB 2.0, Ethernet, & Wi-Fi Connectivity
I've finally had a chance to do some initial testing on the all-new P600 and thus far I must say that I've been very happy. While it does lack ICC profiles that are as finely tuned as those on legendary printers like the 3880, they have been of acceptable quality.
Setup was done in a room separate from my computer and thanks to WPS support, I was able to get it working my computer without any trouble at all. The total time I spent from unboxing to my first print was about 15 minutes, and 10 minutes of that was purely unboxing and tape removal.
Thus far I've printed on the following papers with very good results:
4x6 prints have been so hassle free that I've done multiple as part of my 2015 plan to print more (see why on my last ScottKelby.com blog post).
No ICC Profiles needed?
One surprising bonus is that printing using Epson color management instead of Photoshop color management with Epson papers has been very good for everyday non-color critical printing jobs. As a result, I've been comfortable with setting things up where my wife can print her own 4x6 images and the results have been very good.
Did what I say confuse you? Well here's what it looks like in real world terms if you print from Photoshop:

Notice the Color Handling is set to "Printer Manages Colors"
and here's what it looks like in Lightroom 6:

Notice how Color Management Profile: is set to Managed by Printer
To make this work the Epson printer driver has to have its Mode setting set to EPSON Standard (sRGB) as shown here on the PC:

Notice how The Mode option says EPSON Standard (sRGB) – this means the printer does the color management on its own – only recommended with Epson papers
This is advice I have never given in the past for any other printer model as ICC profiles are typically critical to get a good print. It's a VERY big deal for me to say that you can get good prints without an ICC profile using Epson's built in color management, so if you get a chance to try one of these printers out I'd encourage you to check out this feature.
Does this mean that no ICC profiles are really needed? No, not at all – the best results are still achieved with the best ICC profiles, but I honestly can't see a huge difference between the profiles that come with the printer and the built-in printer color management. As a result, if you want results that are significantly better than this feature then I suspect you'll have to create your own finely tuned ICC profiles.
Conclusion
I loved the R3000 as it was a great printer that produced excellent results with great ease of use. From all of my testing thus far, I can easily say it does everything as good as or better than the R3000.
Yes, I'm really loving this printer!
The wireless connectivity has been excellent and much faster than my R3000, and the new touch screen interface on the printer is excellent! I look forward to seeing how it performs over a longer testing period as much of what you see here is going to be in the P800 – the replacement for the legendary 3880!
CLICK HERE to read my conclusion in part II.
Where to order
Click here to learn more or order on the B&H web site. My friends at Amazon have it available here.
Other articles you may enjoy
If you enjoyed this article, you may also enjoy these:
Disclosure
If you make a purchase using links found in this article, I may make a commission. It doesn't cost you a penny more, but it does help to support future articles like this.