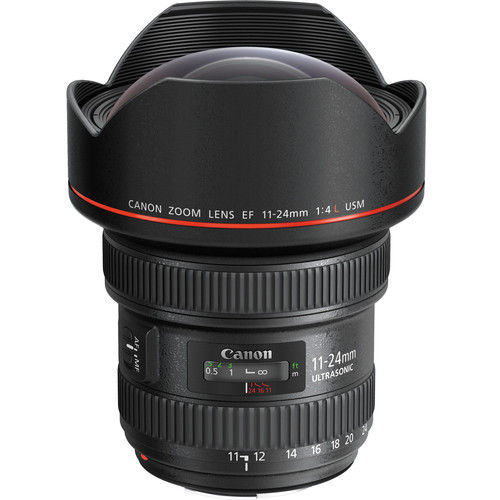 Canon EF 11-24mm f/4L USM Lens
I hate to gush over a product in a review because it can give some people the wrong idea, but in this case I can't hold back my enthusiasm for this product. In the first part of my review entitled Canon EF 11-24mm f/4L USM Lens–One of the Best Lenses Ever (PART I of II), I throw down the gauntlet and name it one of the best lenses ever because I honestly believe it is completely justified. If you aren't blown away by the sharpness and color of the details captured by this lens in the sample gallery, then your standard for lens quality exceeds what is on the market today.
Bookshelf Test
Frequent blog readers know the drill here – I use this bookshelf test to just have a controlled comparison to other products I test. These unedited in-camera JPEG's show that the sharpness, color and contrast in the image files from the 11-24mm are epic. I honestly haven't seen images this good come out of my 1D X, but the Sigma 50mm Art Series and Zeiss Otus 55mm came close. Click the images below to view them at full size:

f/4 @ 24mm for 8 sec at ISO 100
Wide open at f/4 there's really nothing I can complain about – it's excellent sharpness and expected bokeh for an 11-24mm wide open. Below at f/8 shows that no image quality is lost for stopping down….

f/8 @ 24mm for 25 sec at ISO 100
You can go to the gallery for the 11mm images, but due to setup configuration challenges I couldn't get a fair comparison. Simply put, I had to get so close that I needed up at a odd angle the tripod and a shadow cast over the scenes. I've included the shots for sharpness consideration, but the distortion is more my fault due to setup issues than the lens itself. Yes, there is some 11mm distortion, but it's exaggerated in my results.
For reference you can see how the 16-35mm f/4L IS and f/2.8L II performed on on the bookshelf test here.
A few more parting words

f/4 @ 24mm for 1/125 sec at ISO 800
The shot above was never intended for the blog because it was one of the first throw away shots I took with this lens. When my wife saw the results on the camera LCD she blurted out "oh my God, you've gotta get that lens". That's only happened twice before in my life – for anything – so this review unit isn't going back – I've paid B&H and am the proud owner as this really is a special lens.
Too sharp for people?
During the same time taking shots I had planned to delete, my son and I were playing around with the distortion to create fun house faces. The sharpness and fantastic color I got was so insane that I decided to share them with you. Even at ISO 1250, the images were so sharp that nose hair, eye veins, Iris detail, etc… were painfully sharp:

Careful, don't make your clients look like this!
(NOTE: This is also the same look I made when I saw the price)
Keep this in mind if you will be photographing people – women especially – as you'll make enemies in a hurry if you show them the unedited images! In fact, the test shots I took of my wife had her threatening my life if I posted them!
Now that I've subjected you to my ugly distorted face and nose hair, how about something a little more beautiful…

f/4.5 @ 24mm for 1/800 sec at ISO 2500
If you shoot head on it actually takes wonderfully sharp and vibrant photos but you do need to pay attention to your edges. With this in mind, it makes a wonderful lens for photographing people where you want to take in the scenery around you. I love a wide angle for travel photography and Canon Explorer of Light Hanson Fong has said this is going to be his new primary lens at weddings.
Bokehlicious? You bet!
When talking about a wide angle lens, you don't typically think of good bokeh but this lens has a buttery smooth blur that will make you drool.

f/4 @ 24mm for 1/100 sec at ISO 2500
I love a wide angle for portraits because it allows you to get in close for the subject yet still taken in the environment. However, shooting wide open helps to keep your viewers attention on the real subject. In this shot the start contrast between the super sharp foreground subject (the boy) and the silky smooth bokeh that blurs out the rest of the scene make this a great lens for this kind of shot.

f/5.6 @ 22mm for 1/400 sec at ISO 320
Now the shot above isn't one I'd normally do with a wide angle, but since it was the only lens with me I decided to see if I could leverage the great bokeh of this lens to create separation from the background noise. The result is that the background ends up enhancing the shot by giving more context and color while the foreground is razor sharp so there's no mistake as to what the viewer should be looking at. This lens is extremely effective for this type of shot so I'm glad to add it to my arsenal.

I loved the fun of the 8-15mm – especially at 8mm,
but it's no match for the razor sharpness of the 11-24mm
On the Canon front it destroys the 8-15mm (click for review) and 16-35mm f/2.8 & f/4 (click for review). The 16-35mm f/4L IS has the advantage of lighter weight and image stabilization while the 8-15mm offers an addicting wide 8mm that was both soft and had massive chromatic aberrations. However, neither lens had the contrast, color and sharpness that this lens offers.
The 16-35mm f/2.8L II offers wonderful warm colors that yield nicely saturated images straight out of the camera which is why I loved it. It had great contrast too, but its weakness was that it was about the same sharpness as the dated 24-105mm (another lens I still own and love). Of the three the 16-35mm f/2.8L II is still probably my favorite, but none really compete with this magical lens.
At 3.7 pounds it is heavy, but like the 1.7 pound heavier 70-200mm f/2.8L IS II – some things are worth the weight! This makes it the 2nd biggest lens I own and a problem for when I want to pack light or be discrete. There's also the reality of the obscene price of this lens which makes it untouchable for most people.
As a result, I think for people who can't make the financial commitment to this lens, the 16-35mm f/4L IS is probably the best overall choice. The 8-15mm is fun and the 16-35mm f/2.8L II has the most stunning out of camera results of these three lenses, but at the end of the day the newer 16-35mm f/4L IS is going to be the right choice for most.
Goodbye Old Friends

Goodbye Canon 16-35mm f/2.8L II - You've served me well
This lens is so good that I am not only parting with my beloved 16-35mm lens but I'm also having to part with my Canon 1D Mark IV (but I still have a 1D X and 5D Mark III). This lens isn't cheap so both have to go to make way for this excellent lens, but after seeing the results I get with it I'm not too heart broken to clear out the closet.
Conclusion
Until I tested this lens, the Nikon 14-24mm was the defacto standard in this range by which all others were judged. Sadly, I couldn't do a head to head comparison but an informal comparison of old images and talks with photographers who have shot both point to this being the new king of the hill. I also wouldn't begin to suggest that Nikon users should switch camps as their 14-24mm is still an outstanding lens, so this is really about Canon both catching up and leapfrogging Nikon on this spectrum of the lens line up.
With Zeiss Otus pricing that feels more like a pro camera body purchase than a lens purchase, I understand this lens isn't for everyone. However, I am confident that if you make a living off your work that this lens incredible quality will take your images to the next level. The results are so fantastic out of the camera that it leaves little to do after the fact, plus it puts you in a good future proof position for the inevitably better and higher megapixel sensors of the future. Like the 70-200mm f/2.8L IS II, I doubt any pro who invests in this lens and looks back 3 years later will say that it was a bad investment. This is a money generating lens that helps images to stand out from the rest, so I highly recommend it!
Considering a 5Ds or the even sharper 5Ds R? If so, then this is one you should aspire to save for as it will take advantage of the megapixels to give you you crisp details when you zoom in.
Believe the hype and what the pros at WPPI have said about it – this is really a game changer lens that will make you look at your other lenses and wonder why they can't all be this good!
Click here for a complete gallery of sample images.
Where to order
Click here to learn more or order on the B&H web site. You might want to consider placing an order for a 5Ds R while you are at it as this lens definitely knows what to do with 50.6 megapixels!
Oh, and consider getting a NEC PA Series UHD 4k display while you are at it – you'll need a high resolution display to truly appreciate the images it creates.
Can't afford it? Rent it from LensRentals.com at discount
This lens is a huge investment, so I realize many people won't be able to justify the cost. The cool thing is that as of the time this was written, LensRentals.com was offering a 4 day rental for only $99!!! It's even less with my blog reader discount!
Click here to learn about my latest discount offer from lensrentals.com, and click here to find it on their web site.
Other articles you may enjoy
If you enjoyed this article, you may also enjoy these:
Disclosure
If you make a purchase using links found in this article, I may make a commission. It doesn't cost you a penny more, but it does help to support future articles like this.