A few months back ILFORD sent me four new papers to test out to see what I thought. I'm very picky about my papers, so it took me a little while to warm up to the idea of trying something different than my beloved Epson Signature Worthy papers. Finally I got the chance to try it on both my Canon and Epson printers and was quite pleased with the results. What follows are my opinions of these new papers just released to the public today.
GALERIE Prestige Gold Cotton Smooth 330gsm & Gold Cotton Textured 330gsm
The new 100% rag GALERIE Prestige Gold Cotton Smooth and Gold Cotton Textured products lead the way within the GALERIE range in meeting the needs of professional fine art printers. Featuring a traditional mould-made base from a traditional fine art paper mill, print-makers can rely on the new products for portfolios, prints-for-sale, as well as gallery and museum-quality prints.
With no optical brighteners and the longevity, image stability and a matt surface required for the very best in fine art printing, Gold Cotton Smooth is offered as the perfect choice for crisp detail, while Gold Cotton Textured features a contoured surface for more creative expression. Gold Cotton Smooth and Gold Cotton Textured are available in sheets and rolls and achieve best results with pigment based printers.
GALERIE Prestige Fine Art Smooth 220gsm & Fine Art Textured 220gsm
GALERIE Prestige Fine Art Smooth and Fine Art Textured paper complement their Prestige Gold Cotton counterparts by offering a bright white base alternative capable of delivering excellent contrast and sharpness along with enhanced colors.
Created from an alpha-cellulose base with the latest advances in matt coating layer technology, these products offer double-sided print quality and a choice of either a smooth or textured surface. These new products allow professional and enthusiast fine art photographers and printers to achieve the artistic interpretation of an image by drawing out sharp crisp details or adding a textured look and feel to the final print.
Fine Art Smooth and Fine Art Textured are available in sheets and rolls and are compatible with both pigment and dye based printers. All four new GALERIE Fine Art products will be available on shelves in January 2013.
Ron's Print Master Notes on these papers
I had a chance to work with these papers on several printers. I didn't have enough paper to do intensive testing, but I was able to form some opinions and compare it next to some equivalent papers. The notes below are my miscellaneous ramblings about what I thought about each paper.
Seemed closer to Epson Hot Press Natural than HP Bright and clearly doesn't have as much, if any OBA's.
I'd call this a warm paper which makes sense given then "Gold" moniker
There seems to be slightly more texture that feels good in the hand that doesn't have a negative impact on the printed image. What I mean by this is that it definitely behaves like a smooth paper so it's appropriate for people or images that would traditionally be done on glossy or RC papers without any textures that would detract from the image.
The ICC profile was good and nearly identical to Epson's, but the Epson paper or profile seemed to print slightly darker which might indicate a higher DMAX in the Epson paper.
Unless carefully scrutinized in a GTI PDV-2020EX light box, most people wouldn't be able to detect the slight Epson advantage.
This paper seems to have less flex than the Epson Hot Press papers which gives it a richer feel, but it's not so ridged that it's hard to work with.
I would recommend this to a friend if the price was slightly cheaper than the Epson Hot Press paper. If prices were equal I'd recommend the Epson instead.
Final Thought: This is a great high end paper that with a wonderful warm tone that is well suited for fine art prints sold in high end galleries.
Doesn't appear to have any OBA's
I'd call this a warm paper worthy of the "Gold" moniker
I love the texture of this paper and I appreciate how the print side is smooth enough not to detract from the image (like a canvas typically does), but the back has lots of texture that feels wonderful in the hands. This is definitely a high quality paper that I'd aspire to print on when giving fine art images to my premium clients. It's slightly brighter than the Epson Cold Press Natural, it has a smoother front but a more textured back. The paper texture has a pattern that feels more natural or like a handmade Japanese paper than the Epson which has more of an embossed unnatural pattern.
The ICC profile was good and nearly identical to Epson's, but the Epson paper or profile seemed to have more tonal range and didn't block up in the shadows as much as GCT. The colors felt slightly more saturated on GCT and a little too dark.
Side by side, the Epson print feels a little more washed out, but the colors are more true to the original and the detail in the shadows is superior.
The Epson paper is slightly more rigid with a textured that is more raised, but I liked both. The GCT felt more premium despite being slightly less rigid.
I think a better paper profile is in order for this paper, but assuming the tonal range issues were addressed via a profile I'd recommend this paper to a friend and would prefer it over the Epson Cold Press Natural (which is a paper I really love so that's saying A LOT).
Final Thought: This is the crown jewel of Ilford's new matte papers. It has a print surface that has the character of a handmade Japanese paper, but it's smooth enough not to distract from the print. The back of the paper has such a wonderful texture that clients are sure to know that what they hold in their hands is something special. With a warm tone and a brilliant paper profile for the Epson 3880, I'd put this Ilford Gold Cotton Textured at the top of my list of papers to use when I want to impress a client.
Fine Art Textured (Printed on Canon imagePROGRAF 6450 vs Canon Fine Art Velvet 225gsm)
Seems to have OBA's
It is a very cold paper – perhaps a little too blue – but bright as well.
Nice texture with a natural feel – much like a thinner version of the Cotton Textured (but also lacking the warmth)
Significantly better ICC profile than the Canon with way better DMax, but the darkest blacks were blocky – just like what I saw with the Gold Cotton Textured.
Easily superior in any light to even an untrained eye
Really flimsy, but I'm not a fan of 220gsm papers.
I would no longer use the Canon paper and would easily choose the Ilford instead. I'd consider this a good paper for test prints before printing the final on the Gold Cotton Textured, but I really wish this was a Gold paper too. I would recommend it to a friend looking for a cooler paper (great for winter photos, Antarctica, etc… <g>).
Final Thought: A bright and easy to use paper that would be well suited for your best glacier images.
Fine Art Smooth (Printed on Canon imagePROGRAF 6450 vs previous prints from above)
Seems identical to the Fine Art Textured, but just a smooth version of it
Cold and bright
Nice smooth texture
ICC profile has a slightly smaller color gamut than the Fine Art Textured (in ColorThink Pro 3.0.3, this profile gets swallowed by the Fine Art Textured profile)
Identical to the Fine Art Textured, not as good as the Epson paper prints (more blocky darks).
This paper seems to have a little less flex and feels a bit more rigid than the FA Textured. I prefer this aspect of this paper over the textured, but I liked the textured feel. Then again, for smooth papers I tend to go thinner / lighter.
I'd prefer this paper over the Fine Art Textured when printing on 220gsm papers. I would recommend this paper to a friend.
Final Thought: Its silky smooth surface is sure to please those looking for something with less sheen than resin coated papers.
Paper Profiles
ILFORD ICC profiles are available for printing equipment from a range of manufacturers and are free to download at the ILFORD website
Where to order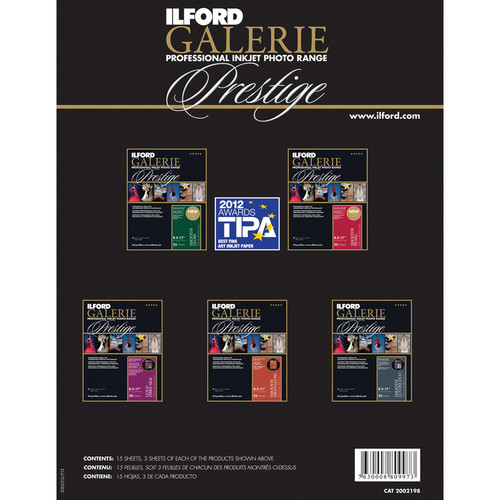 Ilford Galerie Prestige Professional Inkjet Photo Paper
2012 Complete Smooth Range Sample Pack (8.3 x 11.7", 15 Sheets)
NOTE: This does NOT include the new papers yet!
There's lots of ways you can get these new papers. Here's links for all the options currently sold at B&H:
Gold Cotton Smooth
Gold Cotton Textured
Fine Art Smooth
Fine Art Textured
Gold Mono Silk
I didn't talk about this true black and white media paper because I didn't get to test it, but you can learn more about it on ILFORD.com here. Here's links to order:
Sample Packs
Other articles you may enjoy
If you enjoyed this article, you may also enjoy these:
Disclosure
Ilford provided me early samples of this paper with no obligation so I could try it out and share my thoughts with them about it. What you see in this article is almost a verbose version of my feedback to them and is what I'd tell a friend. I was not compensated in any way for my evaluation or this article.
If you make a purchase using links found in this article, I may make a commission. It doesn't cost you a penny more, but it does help to support future articles like this.