Those who know me, know that I love my iPhone – I carry it with me everywhere (yes, there too). However, as a Photographer, I've not really been excited about the offerings I've seen in the AppStore. Sure, I've been contacted by some vendors to try their apps, but I was so underwhelmed that I didn't feel it was worth spending the energy to write about them – until now.
When one of the members of my former photography club pointed out this cool app called Easy Release by a company called ApplicationGap, I immediately thought – hum, this could be good. Fortunately, I was right as this is the kind of game changing app that every photographer with a iOS or Android device will want to have!
Seriously, how many times have you been out shooting and found yourself ending up doing an impromptu shoot of a pretty girl, college kids playing volleyball, a couple in love, etc…? The rule of thumb is to shoot first and ask questions later, but one of those questions you SHOULD be asking is - "can you sign a release"? If you are like me you frequently discover "crap, I'm out of releases" or "dammit, I left my releases in the other bag". While you may have just scored a great shot for your personal collection, there's not much you can do with it without that release so you are SOL!
Finally a solution
This problem has plagued photographers for as long as lawyers and photographers have co-existed, but now there's a great solution – Easy Release. If you have an iOS or Android device, then you probably don't go any place without that thing, so having a program that can conjure up a release on the fly is a godsend! Of course, when I first heard about it I immediately thought:
Yeah, but the contracts must suck
It's going to be a pain to fill out all the data
It's probably faster to just do it the old way
How am I going to get this thing off the phone?
It's probably not flexible enough for my needs
It's probably way too expensive
How are people going to sign it?
Good news, I quickly got answers to all my questions and the results were exactly as I wished they would be! Of course, they have most of the answers right here on their web site, but I'll enumerate my skepticisms along with what I discovered.
The contracts are very good and cover both adults and minors as well as property releases. They were better than the ones I use and better than the templates on iStockPhoto, etc…
The first time is a little cumbersome, but it remembers past data so it's easier moving forward (especially if you work with a previous model). In the future it will also draw from the address book so it should get even better.
Perhaps the typing and signing part, but the nice thing is that you can do this on the fly and in the field. You can even send an email with a PDF of the contract right there on the spot, so your model can have their copy on their phone instantly – that's pretty slick!
Easy – it creates a PDF that you can mail to yourself and/or the model.
Sure there's some features I wish it had, but it has almost everything you'd want including localized contracts! I frequently work with Asian models, so having a contract in their native language is a BIG plus!
Get this – it's only $9.99! That's dirt cheap, because you know if it were on a computer it'd be like $99 or more! This is a no brainer impulse buy!
Simply put – with their finger! Yes, that's right and it works much better than you'd think! Using a Pogo Stylus you can have a much better experience, but the finger method works much better than I thought it would. See below for an example (a little crude, but about the same as I give UPS and FedEx for package deliveries – WITH a stylus):
It's more than a template
One cool thing I discovered when using this app is that it is much more than a template - it is actually smart! For example, for illustrative purposes I just chose the current date for my model's age and it figured out this must be a newborn and that a parents signature would be required. I thought that was pretty clever, and I discovered other cases where it actually applies logic behind the scenes, so that helps limit some of the useless questions you might get from a simple template app.
Conclusion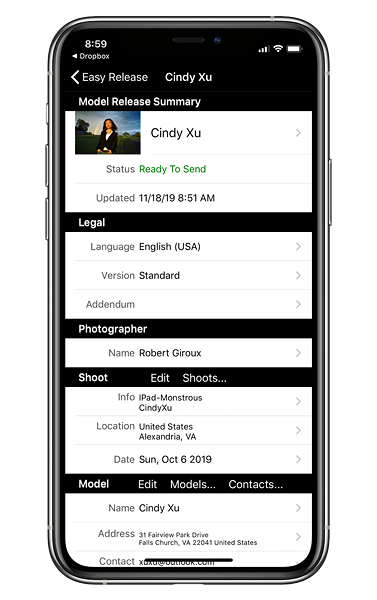 The above animation was jacked from
http://applicationgap.com/apps/easyrelease/
Overall, I'm very pleased with this app. It's a dream app for photographers and definitely a MUST OWN. If you own a iOS or Android device then do not delay – get it today! It's a fantastic value for what you get, and on an iPad it totally rocks!
I do wish they offered it for Windows Mobile phones, and easier contract editing would be a welcome addition. Better integrated support for TFCD/TFP, compensation, etc… would be a nice touch as well. Overall, I expect those features to come with time, so this app has my highest recommendation!
Other articles you may enjoy
If you enjoyed this article, you may also enjoy these:
Here's some other useful apps you might enjoy:
Disclosure
I was provided a review copy by ApplicationGap. If you make a purchase using links in this article, I may make a commission.