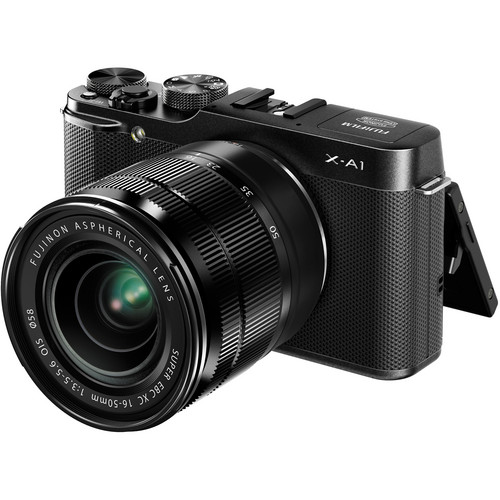 Fujifilm X-A1 Mirrorless Digital Camera with 16-50mm Lens
FUJIFILM LAUNCHES THE X-A1, AN ENTRY-LEVEL CSC FEATURING
A 16.3 MP APS-C CMOS SENSOR AND POWERFUL EXR PROCESSOR II
New X-A1 offers entry into the premium X-Series while delivering outstanding image quality, modern design, sharp 3" tilting LCD screen and wireless image transfer
Valhalla, N.Y., September 17, 2013 – FUJIFILM North America Corporation today announced the new FUJIFILM X-A1 compact system camera (CSC), the fourth interchangeable lens system camera introduced within the award-winning FUJIFILM X-Series. The ultra-light
X-A1 gives consumers an affordable entry point into the X-Series line of digital cameras and delivers outstanding image quality using its large 16.3 Megapixel APS-C CMOS sensor, easy operation and wireless image transfer for quick photo sharing.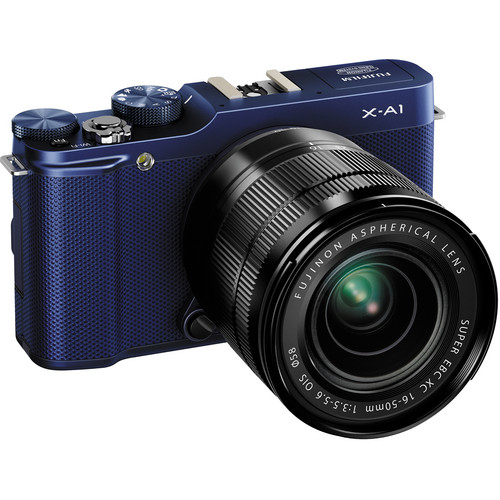 Fujifilm X-A1 Mirrorless Digital Camera with 16-50mm Lens (Indigo Blue)
The FUJIFILM X-A1 kit will ship with the FUJINON XC16-50mm (24-76mm)*1 F3.5-5.6 OIS zoom lens. The XC16-50mm is a versatile lens that is ideal for a wide range of photographic subjects, including clear low-light scenes, beautiful portraits and vivid landscapes. The lens consists of 12 all glass elements in 10 groups including 3 aspherical elements and 1 ED element. The lens features seven round-edged aperture blades, which offer 17 stops in 1/3 EV increments for precise aperture control.
"The lightweight X-A1 and versatile XC16-50mm lens combination gives consumers extraordinary value and the opportunity to experience the outstanding image quality that the X-Series is known for," said Manny Almeida, senior vice president and general manager, FUJIFILM North America Corporation. "Together with a high definition tilting screen and wireless image transfer, consumers of all skill levels can capture truly memorable images that can also be shared on Facebook and Twitter quickly and easily."
Large 16.3 Megapixel APS-C sensor and EXR Processor II
The FUJIFILM X-A1 uses an APS-C sensor and powerful EXR Processor II that captures rich tones, breath-taking dynamic range and stunning low-light images using its extended ISO range of up to 25600. With the X-A1, users can set the sensor sensitivity from ISO200 to as high as ISO6400 in 1/3 step increments, to obtain remarkably clear images even when shooting indoors and at night.
Together with the EXR Processor II, the X-A1 also gives customers fantastic speed with a start-up time of 0.5 seconds*2, a shutter time lag of 0.05 seconds and a maximum burst speed of 5.6 frames per second (max. 30 frames*3).
Compact performance and advanced features
The X-A1 CSC combines advanced features in a go-anywhere design. The X-A1 weighs just 11.6oz*4 and is about a third of the size of a traditional DSLR body. With a slim profile of 1.3" at its trimmest point, the X-A1 is easily carried anywhere.
The X-A1 also features a 3" tilting high resolution LCD screen with 920,000 dots for easy image viewing and framing at various angles. The 3" LCD monitor tilts at variable vertical angles, facilitating both low-angle and high-angle shots whether on or off a tripod.
The X-A1 uses a built-in high precision flash, with the guide number 7*5, and Super Intelligent Flash technology that uses scene recognition and automatically controls flash strength to reduce highlight clipping.
Easy Image Transfer with WiFi® button
The X-A1 includes a WiFi button that lets users transfer high quality photos and movies*6 to social media sites for easy sharing from the camera to smartphones, tablets and computers.
To connect the X-A1 to a smartphone or tablet, users can download the free dedicated "FUJIFILM Camera Application" to their iPhone™ / iPad™ or Android™ smartphone or tablet device to transfer up to 30 pictures at a time from the X-A1. The app also lets users download movies, expanding the range of options available for enjoying pictures taken with the camera.
Intuitive design and easy operation
The X-A1 has its key operation buttons and dials positioned on the right side of the camera's rear panel for easy use and quick picture taking. The Mode Dial for selecting the optimum setting for each scene gives access to the Advanced SR Auto function, which automatically recognizes each scene and selects the best settings for sharp and clear images.
The Advanced Filter function and Film Simulation modes give users a range of creative filters and film effects to apply and achieve unique and artistic looks.
FUJINON XC50-230mm (76-350mm) F4.5-6.7 OIS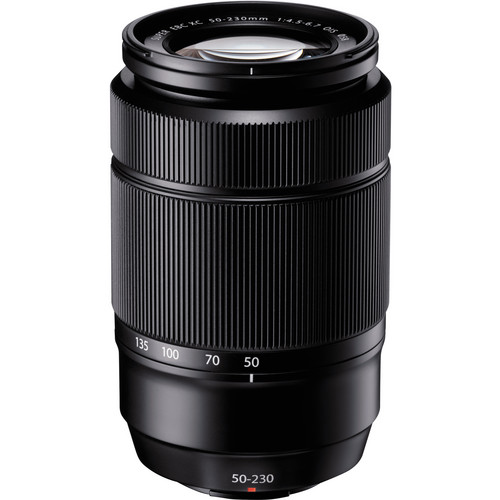 Fujifilm XC 50-230mm f/4.5-6.7 OIS Lens
The all new FUJINON XC50-230mm (76-350mm) F4.5-6.7 OIS lens adds even more versatility to the X-Series line of compact system cameras by offering an expanded zoom range that delivers consistently outstanding optical performance throughout. The XC50-230mm uses optical image stabilization to ensure superb performance and effectively reduces blur when shooting at longer focal lengths and in low light.
FUJIFILM X-A1 key features list:
16.3 Megapixel APS-C CMOS sensor

EXR Processor II

Start-up time of 0.5

Shutter lag time of 0.05

Shooting interval time of 0.7

3" (920K dot) tilting high resolution LCD screen

Full range of ISO100 – ISO25600

Wireless image transfer

Q Menu shortcut button

In-camera RAW processing

Film Simulation modes (Velvia, ASTIA, PROVIA, Sepia, and Black & White)

8 Advanced Filters (Toy Camera, Miniature, Dynamic Tone, Pop Color, Soft Focus, High Key, Low Key and Partial Color)

Multiple Exposure mode to superimpose a second exposure on the first exposure

Full HD movie 1080P\30fps and built-in stereo microphone
Available accessories include: Leather Case, Hand Grip, and Clip-on Flash
FUJINON XC16-50mm (24-76mm) F3.5-5.6 OIS
· 24-76mm equivalent F3.5-5.6 lens
· Fully compatible with FUJIFILM X-Mount
· 12 all glass elements in 10 groups including 3 aspherical elements and 1 ED element
· Seven round-edged aperture blades, which offer 17 stops in 1/3 EV steps
FUJINON XC50-230mm (76-350mm) F4.5-6.7 OIS
· 76-350mm equivalent F4.5-6.7 lens
· Fully compatible with FUJIFILM X-Mount
· 13 all glass elements in 10 groups including 1 aspherical lens and 1 ED element
· Optical image stabilization that minimizes blur at longer focal lengths and in low light
· A precision stepping motor for high-speed autofocusing
· Available in black and silver
The FUJIFILM X-A1 and XC16-50mm (24-76mm) F3.5-5.6 OIS lens (kit) will be available in September 2013 for $599.95 in black and indigo blue.
The FUJINON XC50-230mm (76-350mm) F4.5-6.7 OIS lens will be available in November 2013 for $399.95.
The FUJIFILM X-A1 uses the same FUJIFILM X-Mount as the X-Pro1, X-E1 and X-M1, and all FUJIFILM XF and XC lenses will work with all X-Series interchangeable lens cameras.
The current Fujifilm lens family includes the following FUJINON XF and XC lenses:
*1 35mm format equivalent
*2 Quick Start mode
*3 Maximum number of frames can be shot in JPEG setting, using a "Class 10" or higher SD card
*4 Including the battery and memory card, excluding the lens
*5 ISO200・m; When shooting at ISO200, the light reaches a subject up to (7/F number) meters away
*6 FUJIFILM Camera Application for iOS can save movie files up to 1280 x 720
About Fujifilm
FUJIFILM North America Corporation, a marketing subsidiary of FUJIFILM Holdings America Corporation consists of four operating divisions and one subsidiary company. The Imaging Division provides consumer and commercial photographic products and services, including: photographic paper; digital printing equipment, along with service and support; personalized photo products; film; and one-time-use cameras; and also markets motion picture archival film and on-set color management solutions to the motion picture, broadcast and production industries. The Electronic Imaging Division markets consumer digital cameras, and the Graphic Systems Division supplies products and services to the graphic printing industry. The Optical Devices Division provides optical lenses for the broadcast, cinematography, closed circuit television, videography and industrial markets, and also markets binoculars. FUJIFILM Canada Inc. sells and markets a range of Fujifilm products and services in Canada. For more information, please visit www.fujifilmusa.com/northamerica, go to www.twitter.com/fujifilmus to follow Fujifilm on Twitter, or go to www.facebook.com/FujifilmNorthAmerica to Like Fujifilm on Facebook. To receive news and information direct from Fujifilm via RSS, subscribe at www.fujifilmusa.com/rss.
FUJIFILM Holdings Corporation, Tokyo, Japan, brings continuous innovation and leading-edge products to a broad spectrum of industries, including electronic imaging, digital printing equipment, medical systems, life sciences, graphic arts, flat panel display materials, and office products, based on a vast portfolio of digital, optical, fine chemical and thin film coating technologies. The company was among the top 10 companies around the world granted U.S. patents in 2012, and in the year ended March 31, 2013, had global revenues of $26.7 billion*. Fujifilm is committed to environmental stewardship and good corporate citizenship. For more information, please visit www.fujifilmholdings.com.
* At an exchange rate of 83 yen to the dollar.
Conclusion
I'm pretty jazzed about the indigo color and the new mega zoom, but I'm starting to get confused by all of the Fujifilm offerings. This camera does not have the X-Trans Sensor which seems to be the big differentiating factor between this and the X-M1. This helps to keep the price down by $200 USD, so perhaps this is a good entry level camera for those who want to get into the X mount system. With the wide variety of lens offerings, I think this is quickly becoming a very compelling system to invest in, but personally I'm holding out for the X-E1 and X-Pro1 replacements based on the incredible performance I saw with the x100s.
Where to order
Click the following links to order:
Other articles you may enjoy
If you enjoyed this article, you may also enjoy these:
Disclosure
If you make a purchase using links found in this article, I may make a commission. It doesn't cost you a penny more, but it does help to support future articles like this.