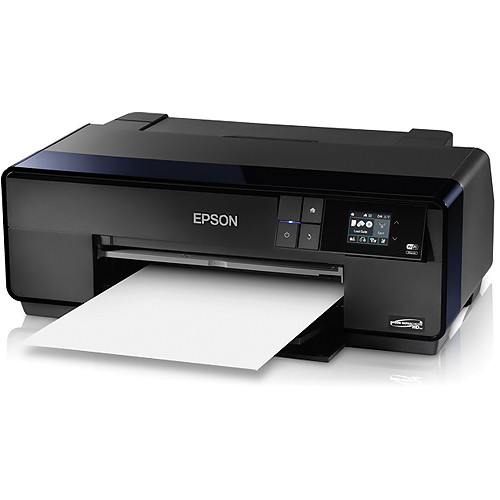 Epson SureColor P600 Inkjet Printer
At the time this was written I've had my Epson SureColor P600 printer for about 3 months and have done doing quite a bit of long-term testing before releasing the 2nd part of my review. I do this because I really like to live with a printer and get to know it for a variety of situations before I give it my seal of approval. Thus far this printer has been exceeding all of my expectations and has been a delight to work with, but the ultimate test for any printer is always how it deals with canvas.
For this article I decided to try out roll printing on the P600 and do a long-overdue review of Epson's Exhibition Canvas Natural Gloss (which also comes in Satin and Matte versions). This is the highest quality canvas product I've tested to date (as of July 15, 2015), so I'm now kicking myself for waiting so long to review this awesome canvas!
Roll Printing with the P600
I'll be blunt and flat out state that printing sheets of canvas on any printer is something I enjoy about as much as getting a root canal, so I always advise people to print canvas via rolls. The P600 has roll paper holders included so I've been testing it out to see how it performs with various papers, including canvas.
If you are coming from a larger printer that features a built-in cutter then you'll probably be disappointed, but if you are new to the process of working with rolls this system works fairly well. You simply need to feed the roll in the back and choose roll paper in the printer driver. The Windows printer driver also features a print page frame option that I like when using roll paper with the borderless option:
Unfortunately I didn't see that option offered on my Mac, but fear not. When you eject the print from the printer it will print a faint cut line that you can use to get a strait print line and Photoshop supports crop marks that basically do the same as the page frame feature.
Printing from Photoshop & Lightroom CC 2015
Epson offers this handy Managing Color guide for getting prints on Photoshop and Lightroom, and I've featured this before in many of my paper reviews (i.e., Exhibition Fiber) and Advanced Black & White (ABW) guide in my Printing Series.
I've printed from both Photoshop and Lightroom from Windows and the ICC profiles were excellent. I could hardly believe that a printer that is so affordable could create such high quality canvas prints!
How To Print, Wrap and Finish a Canvas
The EPSON Exhibition Canvas Printing and Finishing Guidelines is a handy guide show you how to get the best results from your canvas printing, and this video shows how the pros do it:
To do it this way you'll need to have at least:
Staple gun (preferred) or holding pins
Canvas trimmer or your razor of choice
Breathing Color EasyWrappe
My friends at Breathing Color also have a nice system for easily wrapping your canvas prints, but the previously mentioned tools are still needed:
Click here to learn more and order the Breathing Color EasyWrappe 1.25" Stretcher Bars for Canvas Prints (12 x 18") – 5 Pack. You can also visit there site here, but please keep in mind if you order direct then I will not get a referral commission so a donation is very much appreciated.
Gallery Wrap Printing for Canvas
My old review on Perfect Resize shows just how good it is at resizing images compared to everything on the market (even in 2015), but one of its handy features is the gallery wrap feature. You can see how this works in the video below, but basically this helps you to leave some space on your print for the sides of your canvas that wrap around the stretcher bars.
Click here to learn more or order the latest copy of Perfect Resize. Please keep in mind that it makes much more financial sense to buy the entire bundle if you ever intend to get more than one product. See my review of Perfect Photo Suite 9.5 for more info about what this kit offers.
Please note that occasionally I'll have discount coupon codes for products like this, so be sure to check the discounts tab for the latest deals.
Exhibition Canvas Gloss - Sean Davey
Each "Signature Worthy" paper features an interview of a pro who endorses the substrate, so here's the video for this one:
You can skip the first three minutes if you want to get to the part where he starts to talk about his experience using this canvas.
Conclusion
There's a lot to learn to get great canvas prints which is why many people just use a third party service like the ones below to do their canvas prints. However, you can save a lot of money and get the best results doing yourself.
Epson Exhibition Canvas is really the best product on the market and offered in Satin, Matte and Gloss finishes. If you love Exhibition Fiber (aka EFP) then you'll definitely love these canvas, and the P600 is perfectly capable of giving you professional quality prints like those you'd find coming off an Epson 3880. I did find the Gloss to be crazy reflective so you have to be careful where you place it, but the quality is also the amazing when you can avoid reflections. If that bothers you then definitely consider the Satin if you still want some extra pop without the extra shine and the matte if you want deep blacks without the glossy look.
I highly recommend any of the three types of Signature Worthy Epson Exhibition Canvas and the Epson SureColor P600 for those who want an affordable way to do their own small canvas prints.
Where to order
Click here to learn more or order the 13"x20' roll for the P600 on the B&H web site. My friends at Amazon have it available here as well.
Click here for the full listing of Epson Exhibition Canvas Natural Gloss at B&H.
Click here for the full listing of Epson Exhibition Canvas Natural Gloss on Amazon.
Other articles you may enjoy
If you enjoyed this article, you may also enjoy these:
Disclosure
If you make a purchase using links found in this article, I may make a commission. It doesn't cost you a penny more, but it does help to support future articles like this.