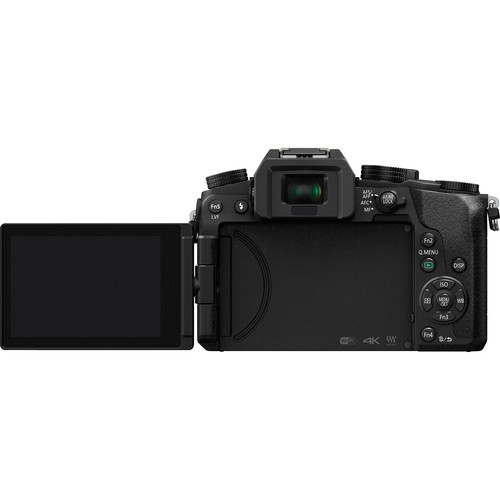 Panasonic Lumix DMC-G7 Camera with 14-140mm Lens (Rear View)
Click here to read Part I of this review.
After more hands on time with this camera, I've decided that I'm not very impressed with it beyond the 4k video support. A camera like a Sony a6000 is a bargain competitor that cost less yet significantly outperforms this camera in all but one place – 4k video recording.
Bookshelf Testing

f/5.6 @ 46mm for 1/5 sec at ISO 6400
The more I used this camera I realized that it was really built as a way to tout 4k video, but as a camera there's nothing that impresses me. In my bookshelf testing I was so underwhelmed that I didn't even do a complete series of shots.
ISO 6400 was as high as I could comfortably go, but the image quality felt very noisy with details crushed by the internal noise reduction software.
With the use of my preferred vivid mode the colors are very neutral as shown.
Click here to see more bookshelf shots at different ISO's
Real World Samples
The following images come straight from in-camera JPEG's using the camera default noise reduction settings. Most camera settings are the default with the exception of RAW+JPEG, a desired White Balance (only Shade or AWB), and a desired focus point. I chose to use the Vivid Photo Style as I found it to be pleasant and not overly done with i.Dynamic set to Auto and i.Resolution set to standard.
Click here for a full gallery of unedited images.
All images are copyright Ron Martinsen – ALL RIGHTS RESERVED. You may not save, print, edit, modify or otherwise use any images featured in this article or the gallery without expressed written permission.
Fireworks

f/4.9 @ 32mm for 1/4 sec at ISO 1250
My wife likes to shoot the fireworks with her iPhone and gets pretty good results, but this year I convinced her to try using the G7 – the net result was as any photographer would expect with someone who didn't use a tripod for an evening shot – lots of camera shake.
Short of shooting on a tripod, there weren't any built-in camera features that really helped with this scenario.
Other Shots

f/3.5 @ 14mm for 1/320 sec at ISO 640
I was impressed I could focus on the bubble gun and Kai's face under tough shooting conditions.

f/5.6 @ 140mm for 1/25 sec at ISO 3200
This image captures much of what I don't like about this camera
No enough dynamic range to capture the reds of this flower accurately

f/5.4 @ 109mm for 1/125 sec at ISO 3200
Macro shots were tough so I had to stand back and zoom in. I did discover that if you use the Vivid photo style mode it looks so much nicer on your subjects. Below is a flower shot that uses the default photo style.

f/5.4 @ 109mm for 1/125 sec at ISO 3200
The default photo style is neutral to the point of blah!

f/5.6 @ 37mm for 1/2000 sec at ISO 200
I had to shoot full manual to get an exposure that wasn't completely overblown
Click here to see more real world sample photos.
Conclusion
With so many great cameras (Including cell phone cameras) on the market today, I can't recommend purchasing this camera – as a still image camera. It does take nice 4k video, if that's your thing I'd day go for it. For everyone else, I'd say go look at my which camera should I buy? article as the starting point for your research on what's right for you.
Click here to read Part I of this review.
Where to order
Click here to learn more or order on the B&H web site.
Other articles you may enjoy
If you enjoyed this article, you may also enjoy these:
Disclosure
If you make a purchase using links found in this article, I may make a commission. It doesn't cost you a penny more, but it does help to support future articles like this.