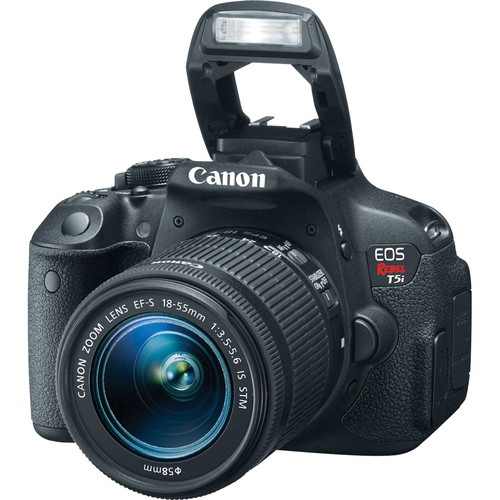 Before you buy the Canon T5i/700D or the Nikon D5300, read this ENTIRE article!
In a hurry? Skip to the recommendations in bold orange, but hopefully you'll take the time to read this entire article for maximum benefit!
One of the articles that put this blog on the map was my famous "Which DSLR should I buy?" article. I've updated it several times throughout the years, but enough in the industry has changed that it's time for an all-new rewrite. Things aren't quite as simple as they used to be, so my current advice might surprise my long-term readers as my views have evolved.
This article is a bit long and involved, but I encourage anyone looking to purchase a new camera to read it as my objective is to steer you down the right path with information you need to know. Hang in there, as I think it'll be worth the read.
FACT: Photography is more expensive than you think
Photography is more appealing than ever before with our friends posting great images on Facebook, Google+, Flickr, 500px, etc… When we go to Costco, Fry's, Best Buy, etc… the allure of the cool new camera is super tempting, but before you bite the bullet you should take a deep breath and know what you are getting in to. In fact, in my DSLR Photography on a Budget article I quickly prove how that entry level $489 camera quickly becomes $4000 in a heartbeat.
Hardly a day goes by where someone doesn't ask me or my colleagues:
I'm currently shooting with a point and shoot and have decided to step up to a DSLR camera. What camera should I buy?
This of course begs the question "what do you plan to do with the camera and what is your budget?" The usual answer goes something like this:
I want to spent about $1000 (maybe as much as $2000 if necessary) and I want to do portraits, sports, landscapes, travel, indoor shots and macros.
Their response pretty much encompasses the entire world of digital photography, so it's get real time – you aren't going to be able to do all of that for $1000 (or $2000 for that matter) with the quality level that you are expecting to get.
After probing the typical buyer, the story usually goes that they have (or will soon have) a new baby and they've managed to convince their spouse that they need a better camera to take good pictures of the baby. This is a great and often successful argument which make camera companies billions each year thanks to this excuse.
However, the fact about photography is that there are lots of hidden costs in lenses, lighting, accessories, software, education, etc… that can easily consume tens of thousands of dollars. Don't believe me? Take a look at the price of Hasselblad cameras where you quickly see the sky is the limit. Of course, you aren't thinking about that now – you are just looking to get a $400 camera via that great end cap deal at Sam's or Costco right? That's where we all start, but this drug called photography takes hold and the next thing you know you are spending $500 here, $1000 there on lenses, tripods, camera bags, Photoshop, Lightroom, plug-ins, flashes, lens filters, memory cards, and so much more. The list of things to buy just never ends!
With this in mind, THINK CAREFULLY about what you really can afford to spend and read on with what is the best path for you to take.
Deciding What You Really Need

Camera Purchase Decision Tree - Yes up, No down
Now this is a decision tree that a typical guy doesn't want to see because your probably thinking – but I saw that kit at Costco for $450 and it has a DSLR with a mega optical zoom lens – that's everything I need! However, that's like buying one of those cheap Android laptops for $79 and thinking it has everything you need. Now if you own one of those cheap Android laptops and are happy then read no more and go get that camera, but if you are the type that has discovered the pitfalls of cheap electronics then read on.
Now for the first green rectangle I say $500, but realistically I should put $3000. I'm being optimistic here for those who really have self control – you know, the kind of people whose entire household electronics gross purchase price is less than $2000. If that's not you, then replace that first box with $3000.

Camera Purchase Decision Tree #2 - Yes up, No down
Now there's really another spin on this to keep in mind that I'll get into later on in this article, and that's about how important it is to shoot indoors and sports. The reason why is that when you go indoors you need a camera that performs well with higher ISO's to reduce the amount of digital noise in the image as well as allowing you to have faster shutter speeds so you can capture images without motion blur. As of the time this article was written, ISO 25,600 was about the maximum usable ISO any camera I've ever seen (despite actual ISO's being has high as 204,800 which produce unusable images). Of course, this comes from a $6,799 DSLR! Nikon fans can argue that the D4 (or future D4s) can do that much, but it's a $6000 camera too!

Canon EOS 1 DX ($6,799) in-camera image at ISO 25,600
Noise reduction software (at an additional expense) can help quite a bit with the noise, but if the source image has too much noise the noise reduction software will destroy the detail.
As of the time this article was written, the maximum ISO I'd feel comfortable using from the best of the best mirrorless cameras is 25,600 but all but the best start to do poorly by ISO 6400(similar noise to 51,200 on the $6000+ cameras).
This is VERY important to know because every exposure you take requires a:
Aperture adjustment (for depth-of-field creative intent),
Shutter speed adjustment (to freeze or blur motion), and
ISO adjustment to add light so that larger depth of field or shutter speeds can be used
The smaller the aperture f-stop number, the more light you have so the faster your shutter speed can go (up to a point). The higher the ISO, then larger aperture f-stop numbers can numbers can be used and/or shutter speeds. Flashes are a bit of an exception to the rule, but generally speaking your take away here should be:
Small f-stop number (i.e., f/2.8) means shallow depth of field with the benefit of more light
Large f-stop number (i.e., f/22) means greater depth of field at the expense of light
Fast shutter speed (i.e., 1/125 sec for people, 1/250 sec+ for moving objects) means action freezing ability for sharp images. Sports is even more demanding because it often needs 1/1000 to 1/2000+ sec which comes at the expense of light (i.e. faster the speed, more ISO and/or smaller aperture needed).
Slow shutter speeds aren't good for moving objects, but with tripods they can be used to keep ISO's low for long exposures (i.e., seconds) for pictures of static objects (i.e., landscapes)
Lower ISO means less noise but needs more light. Typically ISO 100 – 200 is the preferred ideal for minimal noise.
Higher ISO means more noise but more light for larger aperture f-stop numbers and/or faster shutter speeds
So here's the rub – if you want small f-stop number lenses, or high ISO cameras that means money and that's what's needed to get the best indoor performance and it's required for sports (especially at night).
Got Toddlers? You're an Indoor Sports Shooter!

Canon EOS 5D Mark III
70-200mm lens, f/2.8 @70 mm, 1/160, ISO 25,600 with Noise Reduction
The #1 mistake people make when they upgrade their camera is that they forget that the absolute most difficult subject to shoot is a moving toddler indoors at night. Why? Because typically our houses aren't lit like a movie studio. Our dim orange tungsten light means we need super high ISO's and our toddlers are constantly moving which means fast shutter speeds. I'm doomed if I'm not using at least 1/320 sec with my son – 1/500+ is ideal. Kid's are also super unpredictable so they need the most advanced auto focus system to perform in these extreme conditions.
The shot above doesn't look like much, but let's take a look at how much my gear cost me to get that shot:
Total cost – $7,067.80 USD for a shot that honestly isn't that special. Why is this shot so expensive? Because I'm shooting a moving kid which requires a fast shutter speed at night in my house which requires high ISO. You'll notice that 1/160 sec shutter speed, f/2.8 and ISO 25,600 are all numbers that require big money and even that required post-processing. Here's a link to how the shot looked when it came out of the camera before post-processing, so the $6000 worth of camera and lens were just the beginning!
Now, I could have used a cheaper f/2.8 lens and you can do things to reduce your software cost, but realize this point up front – THIS STUFF GETS EXPENSIVE FAST! If you don't spend the money, you aren't going to get the results you expect! Kids indoors at night (when we most often shoot them – after dinner/work), is the most challenging thing you can do so be prepared! (Oh, and the 2nd worst – indoor sports/plays at school).
2014 Update
I just recently tested the Fujifilm X-T1 and I must say that this is really the first mirrorless camera that has the potential to keep up with the DSLR's for the tough duty of indoor shooting with active kids (when paired with a fast focusing lens). While it suffers from focus hunting quite a bit, if you can get enough light and contrast on your subject and you manually set the shutter speed appropriately then it can get the job done. A DSLR like a Nikon D7100 or 70D (or better) will certainly outperform it from a focusing performance standpoint, but the X-T1 has the burst mode and continuous focus improvements to almost keep up with the big boys.
The focus hunting will mean its tough to get it going and sometimes can result in an entire series being blurry, but under the right conditions it will perform very well. It also has a reasonable performance at ISO 25,600 so you can crank your shutter speed up enough to get the shot.
Pro Point & Shoot Cameras Taken with a Fujifilm x10, but now its replacement (the x20) is my favorite pro p&s camera
Don't have $7000 to spend on camera gear? Well, fear not – you can still get some decent shots on your vacation or of your kids with a high quality point and shoot. Now, when I say high quality I'm not talking about the sub $300 crap you find at your typical electronics store. I'm talking about the stuff that pros use when they need to pack light for their own personal outings.
I'll be clear and say that cameras in this price range aren't going to outperform mirrorless or DSLR cameras because they have a tiny sensor that makes compromises to quality. However, the higher end models (typically $399 and up) have come a LONG way to create results that can beat some older model digital SLR's. Of course, the bigger the point and shoot, typically the better the quality, but it comes at the expense of size.
Currently, my recommendation for the best camera in this class is the Fujifilm X20. It's predecessor, the X10, was my 2011 point and shoot of the year, and the x10/x20 are what I use for my own personal vacations and family snapshots. While you aren't going to freeze motion from your fast moving toddler in your family room at night, you can get some great shots under less challenging conditions. See the right hand column for a link to my articles including my x20 review. My second runner up based purely on its burst mode performance would be the Canon G16.
If you want a more compact camera at then my next recommendation (based purely on size) is the Canon s120 (my s110 review) and Sony DSC-RX100 II are probably the best choices.They both offer a great size and outperform the cheaper models I've tested, but they don't meet my minimum quality bar so I do not own one. Some might also prefer the Panasonic DMC-LF1, but I found it to have a great LCD which gave the illusion of great shots, but once I got the images on my computer I was always disappointed.

Sony NEX-7 f/4.5 @ 33mm, 1/60 sec ISO 1250 AWB Aperture Priority
The hot area in digital photography right now are mirrorless cameras which offer a compact size (compared to DSLR's) and often offer interchangeable lenses. This makes them appealing because their larger sensors (compared to point and shoots) translate to much better image quality. In fact, some current generation mirrorless cameras can outperform last generation and entry level current generation DSLR's. Of course, this comes at a cost as typically these cameras have a price that exceeds the entry level DSLR and rivals that of the mid-range pro DSLR's.
When the quality of these cameras sucked like the much over-hyped Nikon 1 (both V1 & J1), I told people to stay away from them. I am still not impressed with the V2 or J3 either, but they have addressed several of my concerns about their predecessors. Instead I suggest you consider Panasonic, Sony, Olympus and Fujifilm when looking for smaller body cameras. They have come out with some great models that are sure to please.
Now one word of warning is that some excellent performing popular mirrorless cameras like the Fujifilm X100s and Sony DSC-RX1 (and its replacement the RX1R) do not offer interchangeable lenses. In fact, the built in lens doesn't even zoom so I consider these to be specialty cameras for geeks rather than something a typical camera buyer will enjoy. Sure they take amazing photos, but I DO NOT recommend this class of camera. Yes, their quality can be good, but it comes at a steep trade off in flexibly so I consider this an option for people who are looking for their third > $1000 camera.
I loved my Fujiflim x10 (& now the x20), so I was desperately hoping that the X-Pro1 would be the ultimate mirrorless camera, but it suffers from poor indoor focus performance. It creates gorgeous images and has fantastic lenses but this again is a camera that is better suited to enthusiasts with advanced camera experience. The Fujifilm X-E2 addressed many of the quirks quirks and offers a better price, but with the new firmware the X-Pro1 helps it to perform slightly better. However, the new king of the Fujifilm cameras is the X-T1 which offers fantastic burst mode performance with easy access the controls a serious photographer needs (without fumbling through menus).
My primary recommendations in this class are the Sony a7 (or Sony a7R if you only care about megapixels) and the X-T1. See my X-T1 review as the selector control issue could be a deal breaker for some, so in that case the next nod goes to the Fujifilm X-E2. These cameras have outperformed everything I've ever tested in the mirrorless category (see a partial list on the right of this blog). The Canon EOS M sounded exciting on paper, but disappointed me just about as much as the G1X so I don't recommend either one. Panasonic's GF6 is another camera you'll hear people recommend, but it left me disappointed.
There's lots of cameras in this category, and I don't have all of my reviews online so if you want to know more then just contact me. However, please be respectful of my time – if you have no intention of making your purchase via my links or making a donation then please do not contact me.

Nikon D800 100% Crop Eye Detail
To the uneducated, more megapixels means better right? Well, not exactly. Have you ever noticed how some cheap point and shoot cameras like the Sony DSC-WX300 offer 18.2 megapixels but when you compare them to the 18.1 megapixel Canon EOS 1D X (for $6799) they don't even come close in quality? The reason why is that the larger the sensors physical size then the more pixel data for creating the image is available, so pixel density and other technology factors come into play to determine the real quality. Despite this fact, people still don't get it.
When the pixel quality is good as is the case with the Nikon D800 (36.3mp), when you get too many pixels you also face other new challenges. These include more noise at lower ISO's and faster shutter speeds become required to avoid registering movement as motion blur with all of those pixels. As a result, shutter speeds which might be fine for the Nikon D4 or D610 with the Nikon 70-200mm f/2.8 VR II lens end up introducing motion blur with the D800 (which I found to require 1/200 sec at 200mm even with VR enabled vs the D4 where as little as 1/30 sec was possible for static subjects).
How many megapixels are really necessary?

The Canon 6D has plenty of detail without the challenges of shooting with the D800
The image above is an in-camera 6D JPEG with ZERO post-processing
When deciding on megapixels, what you really need to think about is what will you be doing with your images. For most of us, it's putting them on the web and very rarely we print them – typically at 4x6". If that is the case, then if you take a high resolution pro printer like the Epson 4900 at its 360 pixels per inch and do the math ((4 x 360) x (6 x 360)) you end up with only 3 megapixels needed for the perfect image that isn't scaled. If your output is to a display, then you don't even need 1 megapixels because you'll throw most of them away for your 72 to 96 pixels per inch display. What's more, with products like Photoshop or Perfect Resize you can easily triple the size of your image and get fantastic results printing, so 12 megapixels can get you a reasonable quality print that is 24" wide by 36" tall. Granted, printers will take advantage of those extra megapixels when doing large prints and avoiding resizing is going to give you better results, but the reality is that most of us will never print larger than 8x12" which is what 12 megapixels will do without scaling. (For more info on printing, see my Printing Series or read my Printing 101 book).
With this in mind, who really needs a 36.3 megapixel Nikon D800 or the 36.4 Sony a7R? The answer is only pros printing billboard size images because for most of us we'll have to downsize those images and throw away most of the pixels anyway! I personally think the Nikon's cheaper sibling, the Nikon D610 and Sony's a7 are probably a better choice for most. Even the much cheaper D7100 offers such high resolution that most will never have a practical real world output (print or web) that ever shows the benefit of the D800E.
If you're the type who can't think beyond more megapixels, the best > 25mp camera I've ever tested was the Sony a7R. It has lots of faults, but not even the medium format cameras I've tested had better overall performance than the a7R.
DSLR's - Canon, Nikon or Sony?
The big players in the Digital SLR market are Canon and Nikon, but since Sony makes Nikon's sensors they have become a value option that many consider. Personally, I think if you are going to go with a Digital SLR there's really only two choices – Canon or Nikon. The reason why is because of the wealth of lenses and accessory products available for these brands make them a better long term investment. After all, you saw above how you can spend thousands on DSLR gear, so when you pick a platform you want to make sure you don't switch later as you'll lose your shirt by selling all of your used gear.
There's also the "friend factor" whereby you can typically find a friend with a Canon or Nikon lens that they may be willing to let you borrow (at least in their presence) so you can try to see if a lens is right for you. There's also great lens rentals companies like LensProToGo.com, LensRentals.com, CameraLensRentals.com and BorrowLenses.com which offer more selection in the the top two brands.
Please note, that I'm not saying that Sony products are bad – I'm just advising you on the reality of the market and how to best protect your investment in a platform. Sony fan boys will disagree, but don't be fooled. Even Nikon cameras with "the same" sensor as Sony's will outperform them due to both better lenses but more importantly better supporting image processors. When compared head to head (and you can see for yourself on dpreview.com), my eyes always see a clear advantage of Nikon over Sony equivalents.
Personally I prefer Canon as that's where I've made my investment, but Nikon is an excellent platform too. Each has their pros and cons, but my eyes prefer the images I get from Canon better IN THE CURRENT GENERATION over Nikon. For the last two generations of products, I preferred Nikon's superior high ISO performance over Canon. Both are sure to please and post-processing puts them on an equal plane, so ignore the haters out who argue their preferences as intensely as Apple vs Android, Windows vs Mac, Democrat vs Republican, Pro-Choice vs Pro-Life, etc…
What I DO NOT recommend is switching back and forth between Canon and Nikon. Once you pick one, stick with it as the odds are "the best" camera or lenses will alternate from release wave to release wave. As a result, if you are feeling Canon or Nikon envy, your views will likely change a few years later when those in the other camp envy your platform.
Mirrorless - Sony, Fujifilm, Olympus, Etc…
When you go to the mirrorless platform, Canon and Nikon underperform my opinion. Fujifilm's X series does almost everything right – except for its indoor autofocus and it lacks full-frame. Sony has stepped into the lead from an image quality standpoint, but has issues that keep me from really wanting to own one. Olympus is probably the distant third based on my testing, and nothing I've tested beyond that has captured my attention. Overall my favorite platform has to go to Fujifilm, but image quality wise the new a7/a7R are pretty impressive.
2014 Camera Recommendations
As of March 25, 2014 my recommendations are as follows:
Given the great advancement with mirrorless cameras, I no longer feel comfortable recommending the Canon Rebel T5i or Nikon D3300 for the DSLR category. I think the better mirrorless cameras will outperform them in all but indoor autofocus performance. This is not to say that these are bad cameras, but more times than not I think that buyers will feel disappointed with these models. If I was forced to recommend a entry DSLR model, I'd favor the Rebel T5i/700D (my review) purely for its ease of use and advanced video features (especially with the new STM lenses). However, I still think the Nikon D7100 and Canon 70D blows most of the budget models away so I'd encourage buyers to consider them instead. The D5300 is a nice camera, but it lacks some of the controls of the D7100 which can make it harder to use if you go beyond shooting in full auto. Click here to see my D7100 review and look at the right hand column for more reviews.
The Canon 7D offers great 8 frames per second performance especially with the new firmware update which added features, but its image quality is inferior to the D7100 and 70D in my opinion. It's a nice camera with a great value, so if you want to stick with the Canon platform then that's the way to go. It's also smoking fast compared to the D7100, so its my recommended Sports on a Budget camera.
Recommended Accessories
Check out this article to learn about the things I think you'll need after you get your camera. It's common for people to underestimate what's required beyond just the camera and lens, so I strongly encourage you to read my Things You Need AFTER You Buy Your New Camera - Must Have Photography Accessories article.
For computers, both Windows 7 or Windows 8.1 PC's from Asus are great but so are Macbook Pro's. I use and like both, so don't get into religious wars here. Use the platform you have now and just get the good software like Lightroom and Photoshop. Good plug-ins help too, so be sure to read my What plug-ins should I buy? (for Photoshop & Lightroom) article.
IF YOU LIKED THIS ARTICLE
If you found this article helpful then please share it with your friends via social networks like Facebook, Twitter, Google+, etc… as well as posting links to my article(s) on your favorite online forums. This helps me a A LOT!
In addition, if you purchase using links found on my blog then I may make a small commission which supports this blog. If you wish to purchase elsewhere or can't purchase from my partners then please consider making a donation to help keep this blog going!
Other articles you may enjoy
But my friend says I should get something different than what you recommend…
Everybody is an expert in Photography just like with computers, but as with computers when you dig deep you usually find that many so-called experts speak more from hearsay than hands on experience. However, to question is natural so if you want more opinions besides my own might I suggest:
Please help support this blog by coming back here and using my links to external sites when purchasing as it helps to support bringing more content to you like this article. It doesn't cost you a penny more, but it really helps me out!
Where to buy? Local versus Online
I buy all of my gear from B&H or Adorama as they are the most respected online retailers in the industry. I also save sales taxes so it's a win, win for me. Returns are also never a hassle (and don't have restock charges like most local retailers).
Here's a tip though – if someone is selling something for cheaper than B&H or Adorama, then odds are something isn't legit. If it is, then contact me and I'll see if I can get one of my partners to price match reasonable factory sponsored deals.
Shopping local is typically higher and you have to pay sales taxes which can be hundreds of dollars, so only do it if you have some emotional reason to.
Suspicious? Compare and see for yourself!
ResellerRatings.com can be helpful in identifying bad online resellers. Remember, if you purchase from a non-factory authorized reseller then your warranty is null and void.
Whatever you do, only shop from authorized resellers if you care about your warranty. While anybody can sell you a camera, when you make a warranty claim your purchase receipt from an authorized reseller will be required before the warranty claim will be processed. If the seller wasn't authorized then you'll be picking up the cost of the repair yourself and in extreme cases where your product can't be validated as legitimate (i.e., 3rd party knockoffs/clones) your product could be returned unrepaired.
What about Gray Market Products?
These are cheaper because they are from out of the country and don't come with a warranty. It's not typically worth the few dollars you save, so I personally avoid these items.
Disclosure
If you make purchases using links found in this article, I may make a commission. It doesn't cost you a penny more when you use my links so you can decide if the reseller or ronmartblog.com gets credit for your decision to purchase.