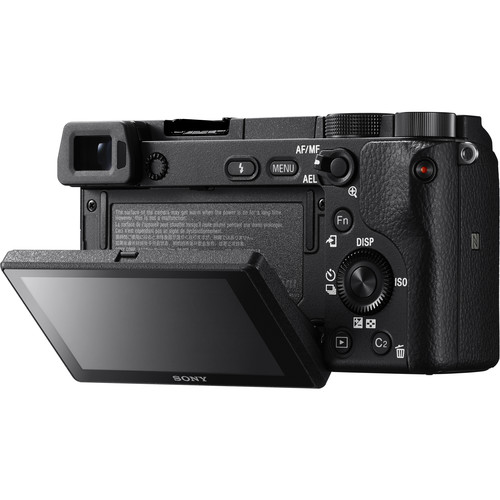 Sony Alpha a6300 Mirrorless Digital Camera
Click here to get it now via Amazon Prime
The Sony a6300 is an impressive camera, no doubt, which is why I couldn't contain my praise in the first part of my review entitled REVIEW: Sony a6300 with Sony 16-70mm f/4 Lens (Part I of II)–The best Sony AF ever?.
The more I used it, the more I liked it. What's more, my wife even started asking me if we could get one as she loved the size and performance. Given the great 4k video, it's not out of the question that I might invest in one of these for my personal use as it is a heck of a lot of camera for this price.
Video Review
Here's a short video that gives you some basics about what I like about this camera and shows off some of its cool features:
Video Sample
Despite my disdain for doing video, I couldn't help but share at least one 4k video that gives you a basic idea of how good it is:

You must view full screen via here on a 4k display like the NEC PA322UHD to see the full 4k
Be sure to view the "stats for nerds" by right clicking on the video to ensure you are really seeing 4k – you may have to play it again to see the full 4k video.
Here's a 4k frame grab from YouTube that illustrates what you should see if you are really viewing the 4k version:

Click the photo to see the full size 4k screen grab of the 4k video playback in YouTube
Bookshelf Test / ISO Performance

f/8 @ 70mm for 20 sec at ISO 100
Even up to f/8, the image quality is super sharp
Personally I found ISO 6400 to be my comfortable maximum ISO as shown here:
Click here to view over 20 bookshelf shots that you can download and view in full resolution to see how this camera performs at various ISO's and apertures.
The results here are definitely better than some lower end DSLR's I've tested, so don't let the small size fool you – this is a highly capable cameral for photographers of all skill levels.
Real World Shots
People don't read manuals and they rarely take time to learn how to use their cameras, so when I test I like to have a combo of brain dead shooting (like many would do with cell phones) sprinkled with some serious shooting where I actually dial in all settings manually. This results in what I call real world shots because they are unplanned, unedited shots that just occur during the course of everyday life.
I hope you enjoy them compared to the heavily processed shots found elsewhere as they more closely represent what real people will really get out of this camera if they were to take it home and use it themselves.
The shots below and elsewhere in this article are completely unedited in-camera JPEG's that feature camera defaults unless otherwise noted. These images may be viewed when reading this article, but you may not print, edit, modify, redistribute, etc… any of these images in any way. They are copyright Ron Martinsen – All Rights Reserved.
Click the photos to see full-size, unedited original in-camera JPEG's.

f/4 @ 70mm for 1/250 sec at ISO 6400
Not too shabby for ISO 6400!!!

f/4 @ 70mm for 1/250 sec at ISO 400
While this may not have been the best lens, it still did a decent job and offered some respectable bokeh it was summoned such as was the case in this shot

f/4 @ 20mm for 1/200 sec at ISO 100
Kids don't stay still, and Kai is no exception. I was happy with the face detection that still gave me a decent focus on the face even when Kai was totally random and unpredictable. I couldn't have got this shot with most high end DSLR's

f/4 @ 59mm for 1/400 sec at ISO 4000
I stuck my camera in a log and took a shot without even seeing where my son was. While this may not be the most perfect shot, I was impressed that it still came away with a relatively decent focus on the eye – especially since my Kai was running

f/4 @ 18mm for 1/250 sec at ISO 100
Lens flare is inevitable for a shot like this, but that green flare at the bottom was something I wish wouldn't have happened. Perhaps a better lens like the Sony FE 24-70mm f/2.8 GM would have avoided doing that.

f/5.6 @ 70mm for 1/125 sec at ISO 125
My eyes couldn't spot the two moose in the 9 o'clock position but fortunately the camera could and it got decent focus, so this was something that made my wife a fan of the AF system

f/4 @ 23mm for 1/1250 sec at ISO 1000
You won't confuse this for the a7R Mark II when it comes to dynamic range, but its images will be better than you think on your display than they appear through the viewfinder LCD.

f/4 @ 70mm for 1/125 sec at ISO 800
The in-camera noise reduction smears textures too much, but this camera gets the shot and it's RAW images give you the option to try using a third any noise reduction product like Noiseware

f/5.6 @ 70mm for 1/640 sec at ISO 100
Default in-camera processing with auto white balance is a little bland, but it often gets the shot that gives you something that will clean up nicely during the photo editing process

f/4 @ 70mm for 1/500 sec at ISO 125

f/4 @ 64mm for 1/500 sec at ISO 500
Look carefully at the tallest flower and you'll notice some speck on it. If you zoom to 100% of the full-size file you'll see that it's actually a bug – that's pretty decent resolution!

f/4 @ 61mm for 1/500 sec at ISO 200
Great sharpness on the subject and butter smooth bokeh elsewhere – you've gotta love it!

f/4 @ 56mm for 1/80 sec at ISO 1000
If your settings are dialed in properly, the built-in stabilization will increase your chances of a sharp shot even if you have a shaky hold like I do!

f/4 @ 70mm for 1/500 sec at ISO 320
Shooting into the sun with a dark subject, but the AF did great and the meter was spot on for an accurate exposure

f/4 @ 70mm for 1/500 sec at ISO 100
You sacrifice some sharpness for this bokeh as you can see in the f/5.6 shot

f/4 @ 70mm for 1/500 sec at ISO 200
Click here to get a full gallery of images taken while I was reviewing this camera..
Conclusion
With outstanding autofocus featuring brilliant eye tracking, excellent 4k video support, impressive burst mode speed and all the features any serious photographer would really want – this is a camera that I can easily give my highest recommendation.
Yes, this is a serious camera for serious pro photographers so if you can justify it then get even better results by skipping this lens in favor of the Sony FE 24-70mm f/2.8 GM Lens and go for the Zeiss Batis 18mm f/2.8 Lens if you need a pro quality wide angle lens.
Where to order
Click here to learn more or order at the B&H web site, or click here to buy it at Amazon.
Need to edit your photos?
Click here for info about the best free software on the web that used to cost over $800, but Google has made free.
Interested in something even better? Check out my What plug-ins should I buy? article.
Other articles you may enjoy
If you enjoyed this article, you may also enjoy these:
Disclosure
If you make a purchase using links found in this article, I may make a commission. It doesn't cost you a penny more, but it does help to support future articles like this.